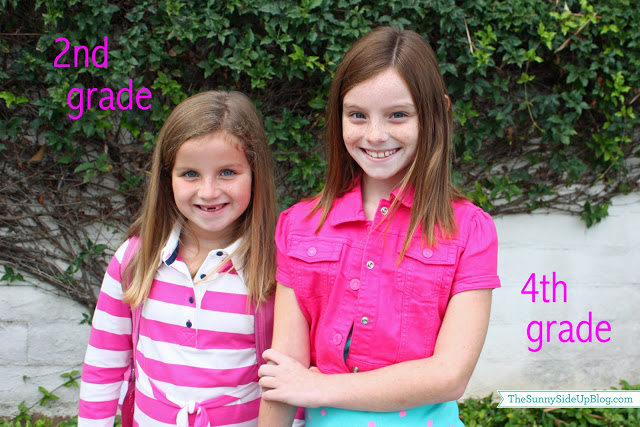 2nd and 4th grade. Makes my heart hurt just a little to say that out loud. They look so grown up to me in these pictures. First day at a new school today! The girls were so excited. And nervous. They wanted their nails painted and Ad wanted straight hair for the big day (to go along with her new toothless smile). :) I did it for her but told her only once in a while because I miss her curls terribly when they're gone and oh my word. It took a looong time to get those curls straight.
It was strange not knowing many people. The first day of school is usually such a fun time to greet friends and familiar faces. We were happy the school mascot was waiting with a hug. :)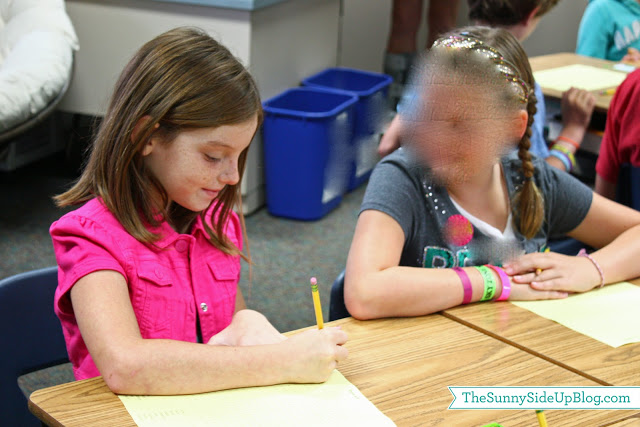 Kenny took Ad to her class and I took Ellie. El was a bit nervous and I could tell she didn't want me to leave right away. This was definitely a harder transition for her. After four years at our old school she was so well known and was really missing all of her good friends. We found her name tag and she sat down at her table. A darling girl next to her instantly introduced herself and then said "what's your name? welcome!" She and Ellie smiled at each other and it was all I could do to not reach right across the table and hug that girl so tight. But instead I snapped a quick picture, gave El one last squeeze, whispered that she would have an amazing day and left. Lingering at the door with a few other nervous parents.
I had a busy day but couldn't help watching the clock waiting for pick up.
And was thrilled to greet them with a hug and see huge smiles on their faces! They had a terrific day. According to Addie this school is amazing because she has a class bunny as a pet, the playground was awesome and the desks are made of a cool kind of wood. :) El said she was a little homesick for her friends and old school, but really liked her teacher and she made a few new friends. Our conversation walking to the car…
"You'll never guess mom – one of my new friends LOVES panda bears!"
"Well! There you go. We were meant to be here so you could meet a panda loving kindred spirit. It's going to be a great year."
Now. Fingers crossed I can meet some nice moms and feel better about this transition myself. My girls weren't the only ones with that "will people like me? will I make friends and fit in" nervous feeling in the pit of their stomach today. (Does it ever go away?)
My plan is to follow the example my 2nd and 4th grader set.
Hold my head high, smile big, and just be myself.
Who knows? Maybe I'll meet a new friend who loves to organize.
:)
xoxo, Erin