So you may have noticed my blogging time these days is LIMITED to say the least. Summer is all about survival, right moms? And this summer feels especially that way for me. We are about two months away from having the house finished and ready to move in and every day that is pretty much all I've been doing. I go up to the new house first thing in the morning. Take a break at lunch. And head back up until Kole's therapy at 3:30. Sometimes I have the kids with me. Sometimes I get a sitter. Sometimes Kenny works from home while Kole naps. Sometimes I don't know where my kids are. Do I have kids? I can't remember. My brain is clogged with too many things to recollect. :) Actually the kids are having a ball and love being at the new house. They are getting so excited to move because of a certain little surprise that came in the mail last week…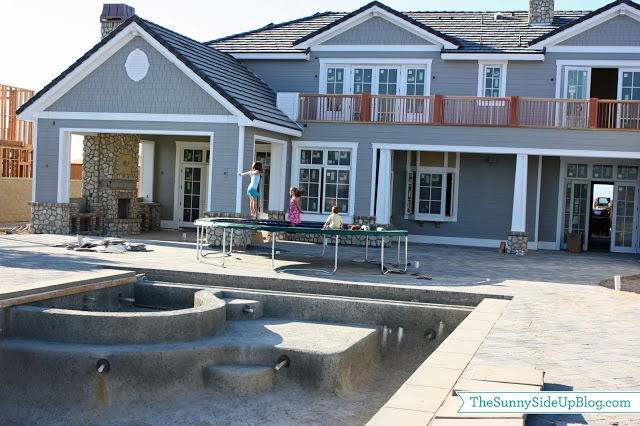 Testing out the new trampoline! This is hands down the best money we've spent so far. Looking forward to the hours of entertainment it will provide!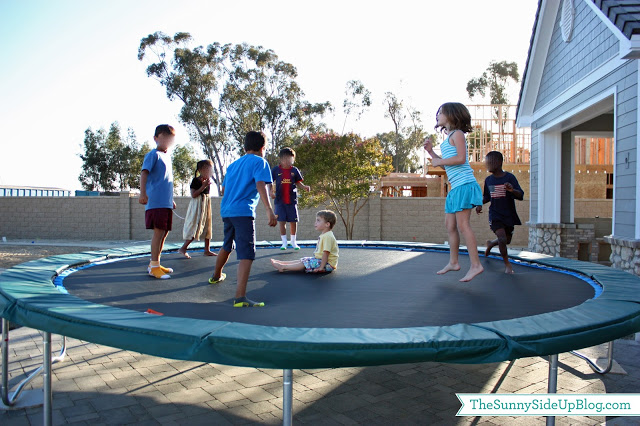 Our new neighbors on one side just moved in and our new neighbors on the other side are in the framing stage. We lucked out big time with our neighbors. Nicest people! We love them all! The kids have been having a blast on the new trampoline. This isn't its final destination of course (and the kids weren't allowed to jump high and w/o adults right there until it's a bit safer!). I especially bonded with one of my neighbors last week when I learned she doesn't love to cook. We stay up late emailing each other pics from houzz.com and she mentioned one night that she needs to learn to cook in her new kitchen – that she'll feel bad just serving up plain pasta and cheese quesadillas. I laughed out loud and responded that we had plain pasta for lunch and quesadillas (cheese tortillas my kids call them) for dinner that day! Too funny. Clearly we are kindred spirits. Kindred spirits who need to take a cooking class at some point. :)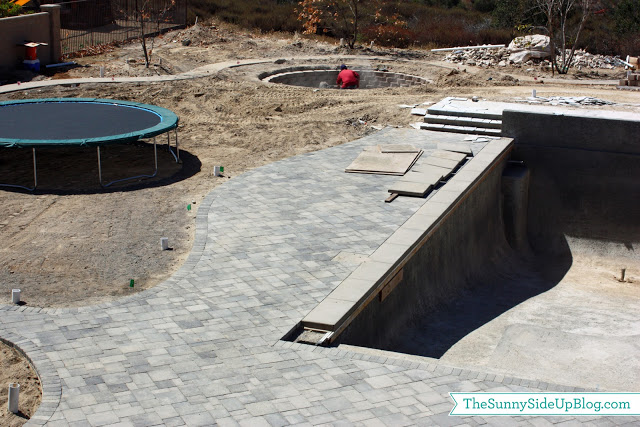 Anyway! Back to the trampoline. They just dropped it in the hole in the ground today!
It will have grass all around it. A much safer landing pad.
Kenny and I have been having a bit of a discussion this week. And by discussion I mean disagreement. :) These are the stairs leading up to the house. Inside the house I kept everything straight – straight lines and edges – no arches or curves. But the yard I wanted curvy – winding paths, etc. I love the way these stairs turned out. They are curvy and free flowing just like I pictured them.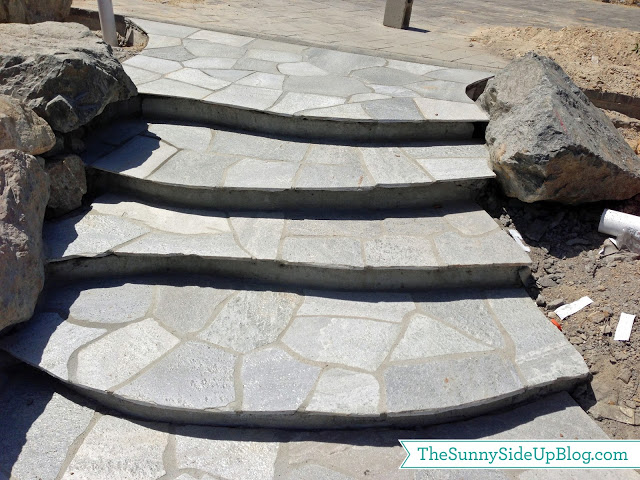 I chose a light grey flagstone to go on the stairs and the porches. I thought this material would be used for the whole stairs.
But Monday I pulled up and they were starting to put the stone we used on the house in the front of the steps. I wasn't so sure about that. It looks too busy to me. I was going to have them stop and change it to the flagstone but Kenny wasn't on the same page. He loves the stone on the steps. And so does every other person whose opinion we've asked.
So I lost that battle! And I'm ok with it. This process has definitely been a give and take and really my husband hasn't had an opinion about much. So I told him I'm happy to give him the stone steps – and anything else he wants for the yard. Just don't mess with my kitchen. :)
We are 2-3 weeks away from grass and flowers and I can't wait! I know it will make such a huge difference. Everything is so neutral right now. I'm ready for some pops of color!
I'm also so excited to start sharing inside pics now that the cabinets are in! I just have to wait a bit because things are so messy at the house right now. And everyone working on the house keeps covering floors and counters and cabinets to do tile work. I've told the crew that they are making it awfully hard for me to take pictures of everything. I know it's a real concern for them. :)
This weeks' homework has been moldings, shutters, hardware, paint, lighting, and wrapping up backsplashes. I have also been starting to think about bedding for my girls' rooms. That has of course inspired a total room design plan. Ellie presented me with this yesterday:
I love the "working desk" in the corner for her to draw.
Totally doing that at some point.
I'm also sort of ok with the color scheme:
Purple wall. Hot pink bed. Turquoise rug.
I can work with that.
Then she informed me she also wants panda wall paper. And not just hot pink bedding, but it needs to be hot pink My Little Pony bedding.
Clearly there will have to be some give and take in this space too.
:)
xoxo, Erin