Sharing some pics from the past couple of weeks. Most of them are from my iPhone. Just a few things that are making me happy right now. :)
Ahhhhh! I'm home. In the Martha Stewart office supply section of Staples. I had a particularly lousy day last week so I decided to cheer myself up with a quick trip to one of my favorite hang outs. And I bought a new planner! With accessories! Squeal! And I haven't had two seconds to organize it and it's killing me! Hopefully this weekend. Gives me something to look forward to. :)
Thank you for the pick me up Martha.
El made "food" for her pandas. They've been eating with us at the table for every meal. Tonight we had homework and food and stuffed animals and art projects all over the place at dinner time and I felt like I was losing my mind! So starting tomorrow there is now a "no stuffed animals on the table" rule. I'm assuming the pandas will still join us. Just most likely nearby on the couch or floor.
Speaking of art projects – here is one the girls came up with last week. (And yes, it's typical for my kitchen floor to look like this. No room at the table you know. The stuffed animals need their space.) They took one of Kole's Huggies diaper boxes and cut it to pieces. I wasn't sure what they were up to but before long they had made these…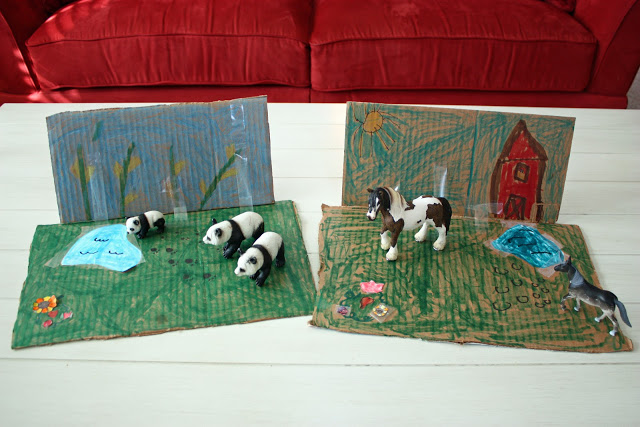 El made a home for her pandas.
The foot prints are my favorite part.
And Addison made a home for her horses.
:)
These two make me smile. When I'm not tripping over their toys and crafts. I just took my Christmas cards down. I was hoping to keep them up until Valentines Day but as you can see in this picture a few of them slowly started to fall so I took it as a sign. But I loved having them up for a while greeting me each day when I walked down the stairs.
Making me beyond happy right now is this picture. Our crew is getting ready to wrap the house for drywall and yesterday I got a call to come up and approve the window molding. Giddy doesn't begin to describe my reaction when I saw this window! They nailed it! Exactly what I told them I wanted. I met the whole siding crew and hugged them all. They were excited that I was so excited. I don't think they usually get that big of a reaction from some window molding. :) But ahhhh!!! Just picture that in white! My idea of heaven is a combination of The Container Store and white trim.
Oh and I guess Kenny and the kids would be there too. ;)
And speaking of trees Kenny and I started picking out the trees to go in our yard for the new house this week. It was so much fun tromping around the nursery! I'm going to have trees with leaves that change colors in the fall! I'm so excited about that! Not a big deal to many of you, but not so common around here. I tried to pick out a good mix of San Diego flowering trees/vines with a few trees/plants that remind me of Utah and Virginia. Next year when I decorate my mantel for fall I will have real leaves baby! :)
And a few pictures from the Cove during our last visit. It was a cloudy day but still fun to check out the seals and the scenery…
Kole was getting so mad at the birds for running away from him. It was hilarious.
The last time I took pictures at the Cove my girls were three and five! Oh my word.
That feels like last week. Look how little they were.
Anything making you happy lately? :)
xoxo, Erin