Hello friends. Sunday night confession time. I am SO exhausted. Can I just say that being a mom is such hard work. How are you all doing it!? :) I feel like I am hanging on by a very thin thread lately. Last week just about did me in. Kenny was in San Francisco most of the week and I had too much going on. House meetings and regular therapy and additional assessments for Kole and El had a big project due for school and then Kole got sick and then Addie got sick again (which put me on ultra high alert since our weekend at the hospital). Kole was up in the night and not napping well so I felt a bit like I was in newborn land again getting little sleep. Up at 5:30 to get me ready and then everyone dressed and fed and lunches made and to school on time. Going going going until 8:00 when they are all in bed and then so much stuff to do before I can sit down. Clean the kitchen, do some laundry, answer e-mails, plan my schedule for the next day wondering how in the world I'm going to be in three places at once with sick kids. I had to drag Addie in her pjs to a speech assessment for Kole and it was raining and I forgot an umbrella. I felt like mom of the year. By Friday afternoon I was so burned out. I put Kole down for a nap, turned on a movie for Addison, walked over to my closet under the stairs and just started pulling everything out of it.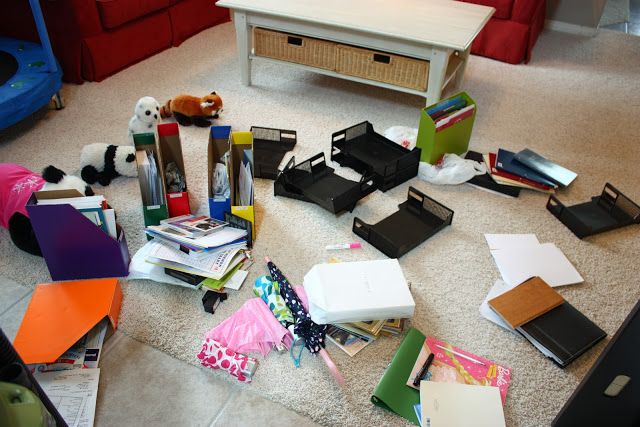 Ha! I don't know what I was thinking!? I don't think I was thinking! I didn't really even need to organize this space and I knew I wouldn't have time to put everything back the way I wanted it anyway! I just had to clean and organize something to feel some sort of control.
Please know that I am not complaining right now. I love being a mom. I love my life. I am blessed beyond what I ever could have hoped for. But some days and some weeks are hard. And I want to record the hard days right along with the wonderful days because it makes me appreciate the wonderful days that much more. Like I said, being a mom is tough. And you can't really understand how much work it truly is until you become one. I feel tired and pulled in so many directions every single day. And since I'm being so open right now, can I just be honest and say that because of my current schedule I am having a really hard time blogging. In fact, I have considered taking a break. Putting my blog "on hold" for a bit. But every time I think I'm going to really do it I feel sad. I love blogging so much and I know that the second I stop I will miss it and I will miss all of you so much. Last week I got several e-mails from a few of you. Random thank yous from readers saying they enjoy my blog. The e-mails all made me cry. Big tears just rolled down my cheeks. They came at such a perfect time and reminded me of how much I love this blog and connecting with all of you. So thank you. Thanks to those of you who wrote last week and to all of you who have written or left a sweet comment in the past. Your kind words mean so much to me. And I am not taking a blog break. :) At least not right now anyway. But I am sending out a disclaimer that I might not be posting as often and my posts will most likely be LAME for a while. Until things slow down. And maybe they never will. But they better! They will.
:)
Kenny is home this week (hallelujah!) and I spent a lot of time today getting on top of the house work so that next week will feel better. I whipped out this little list over the weekend:
My girls were really good to pitch in and help. They knew I meant business!
I also had them lay out their clothes for the week.
There have been several weeks that I haven't done
our little weekly outfit system
because I forgot or I was just lazy and I always regret it! Mornings run so much smoother when we have outfits organized and ready to go.
And last but not least (for this ridiculously random post) –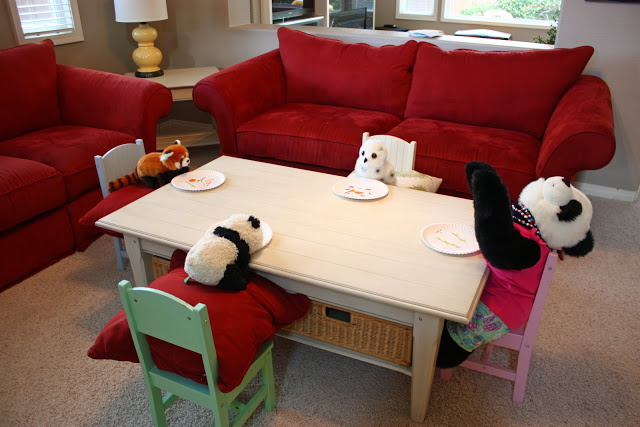 I woke up to this Saturday morning. Can I just say that I KNEW as soon as I came up with my "no stuffed animals on the kitchen table" rule Ellie would figure out another place for her pandas to eat!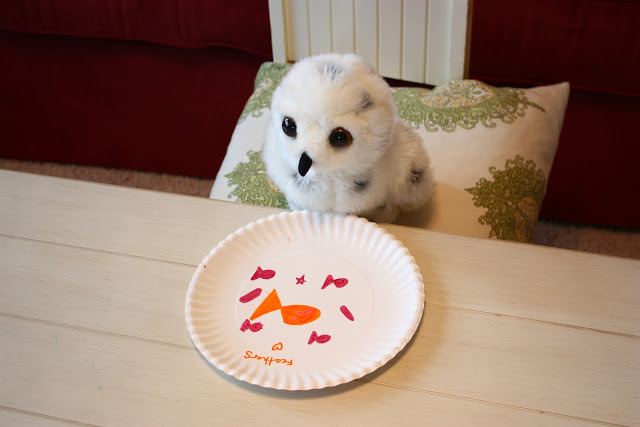 Feathers the owl even won a place at the table. Lucky little thing.
That girl makes me laugh.
Enjoy your Monday everyone!
And thanks for always making me feel like this blog is a safe place to vent. :)
xoxo, Erin