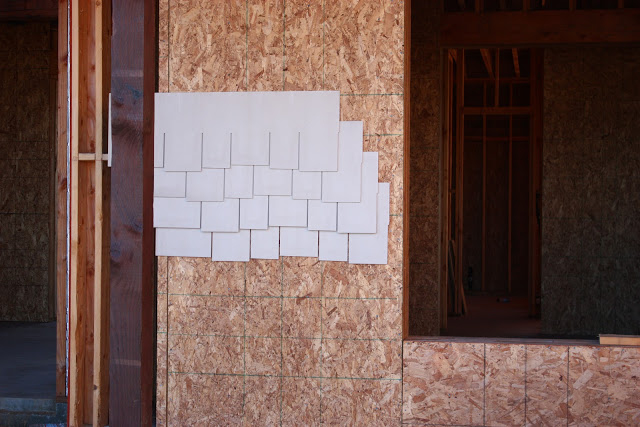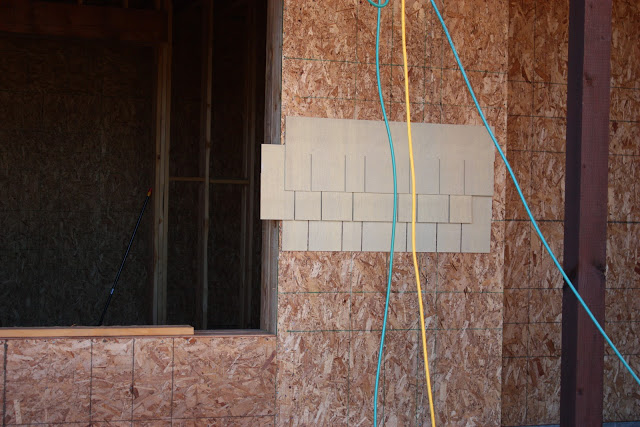 (obviously these aren't painted the right color yet)
I love that he did that because I'm such a visual person. I was still a little unsure so last night I pulled up some of my exterior inspiration pics that have the shingle siding on them. I love all of these houses and pulled pieces from a lot of them when we were in the design stage…
A few other house happenings in the past 5 days. We have completely re-designed my girls' bathroom to give them a separate tub and shower vs. a tub/shower combo although I had to shrink the linen built-ins to do it so I'm still debating that change. We've decided to change the location of our family room fireplace to the side wall instead of the corner of the room like I originally had it. LONG story on that one! I still need to see and approve the new sketches but I think I'm going to like the new plan better. We've started talking about swimming pool options (fun!). I'm still debating some open shelving in my kitchen. SO torn about that one. I love the look but don't want to do something that I'll regret like having too many clear/open cupboards and not enough closed cupboards to store things that aren't so pretty (thoughts on open shelving anyone?). We've changed and finalized the formal dining built-ins and ceiling plan. Kenny is sending our builder an e-mail this very second about all of the soffit plans throughout the house. I didn't even know what a soffit was six months ago and now I could write a book about them. Kenny is also working on finalizing plans for the solar panels that will be on the side of the house (I lost one of my fireplaces because of them – boo). Air conditioning and heater ducts have been established throughout the house. The block wall between us and our neighbors that will be in the whole development has been chosen and agreed upon. Fireplaces just arrived at the store and are waiting to be installed. And Thursday I have a meeting to go over stair case design.
See why my brain is fried? I'm sure there's more but right now I'm too tired to keep typing.
Who's crazy idea was it to build a house!?
:)
Here are a few inspiration pics I'm taking to my stair meeting this week —
This is what I want the banister to look like. Love the window seat in this picture too. I don't have a window seat in my stair landing, but I have others throughout the house. I hope Kole ends his pillow obsession at some point so they will actually look pretty and not completely bare like my couches and beds currently do. :)
I'm thinking of doing a wood/carpet combination on the stairs like this picture. I love all wood stairs, but want them to be safe and comfy for the kids.
And I'd LOVE some planks on the walls (or any other type of molding), but I doubt that's happening near the stairs. Every time I say the word "plank" Kenny gets a nervous twitch. I'm trying to reign it in and not over plank the house (if there even is such a thing). And I'm trying to not blow the budget. And I'm trying to not send my husband off a cliff. Especially since he is dancing awfully close to a very steep one. :)
To be honest, we both are these days!
Did any of you build your house? I'd love to hear some survivor stories.
;)
xoxo, Erin