Gratitude has been on my mind a lot lately. Aside from the fact that it's November and almost Thanksgiving (a natural time to think about gratitude) I've also been thinking a lot about gratitude because a few weeks ago I read this quote and can't seem to stop thinking about it:
I know this is true. I know that happiness doesn't come from buying the next thing or by moving on to the next stage in life. I know that to be happy we need to live in the moment and be grateful for what we have right in front of us. We need to be grateful for how our life looks right now in its present state (regardless of whether or not it is how we thought our life would look). But how do we do that? That is what has been on my mind a lot this month. How do we recognize and appreciate all of the wonderful things in our life on a daily basis? Life can be so busy and sometimes stressful and just overwhelming. I have been feeling that a lot lately. Busy, stressed, overwhelmed. How can we make gratitude a part of our every day lives? I was talking to Kenny about this a week ago on Saturday and was suggesting some things I want to do in our home to help us focus on all of the positive things in our lives. Then on Sunday I went to church and was asked to speak the following week… on gratitude. It gave me chills! Although I have to say that maybe I'll think twice next time before pondering topics like this. Speaking in church was NOT the outcome I was looking for! :) But I did speak in church – today – on gratitude. And I was nervous. But I was more nervous for Kenny because he had to manage all three kids while I was sitting in the front of the room with the other speakers and he definitely had his hands full. Let's just say that Kole didn't do him any favors. :)
I don't want to bore you with all of the details of my talk, but I thought I'd just mention three things I spoke about – the three ways that I think we can make gratitude a part of our daily lives.
Find Joy in the Little Things
Accept that God is in Control and Trust Him
Love and Serve Others
When I was talking about
finding joy in the little things
I mentioned a time in my life when I was really unhappy. About a year after Kenny and I were married we moved to Virginia for him to attend Law School. The first few weeks were so fun – being in a new city, decorating our little apartment. I was all ready for a new adventure! But soon the "newness" and excitement wore off. I was always working – teaching school, tutoring students after school, and working several nights a week at a clothing store at the mall. Kenny was always studying. We hadn't made many friends, we had no money, and I was terribly homesick. It was the first time I had ever been away from my family and friends and all I could think about was how much I missed my life in Utah and how miserable I was. I had a bit of the "poor me" syndrome and I didn't like it. So I decided to start a gratitude journal. I had read about it in the book
Simple Abundance
. I started writing down five simple joys from each day – a funny e-mail from my sister that made me smile, the beautiful trees on my commute to work, and some days – harder days – I wrote that I was grateful that the day was over. That was ok. Real life isn't perfect and wonderful all the time. In the beginning I was just looking for the good in my life so that I would have five things to write down, but before long I was looking for the good in my life period. An inner shift was happening. Taking time each day to reflect on the simple, every day joys and the abundance in my life (instead of what my life was lacking) made me realize how wonderful my life really was.
My situation didn't change – the way I looked at it did
. Now I look back on those three years in Virginia with such good memories. My time there helped me become a better person and my gratitude journal I kept while we were there is so special to me. It is such a neat glimpse into my life during that time and it truly taught me how to find joy in the little things.
I want my girls to experience the same thing that I did. I want them to feel the happiness that comes from focusing on the positive things in their lives. We celebrate the every day joys already, but it's different when you have to write them down. All of the good in your life becomes even more apparent.
So I bought some inexpensive notebooks from Target. These are my girls' new gratitude journals. (I added a label with their names on them after I took this picture.) Every night after they read stories with dad they are going to write down what they are grateful for from that day. They can write down three things or one thing – it doesn't matter. I just want them to end the night thinking about how blessed they are.
I also bought this book to read to them to introduce the gratitude journals. It's called
Thanks for Thanksgiving
and is such a darling book. I love children's literature. I could spend all day in the children's section of Barnes and Noble! This is a perfect book for this time of year and also a perfect book to introduce gratitude journals because it just lists simple things to be thankful for…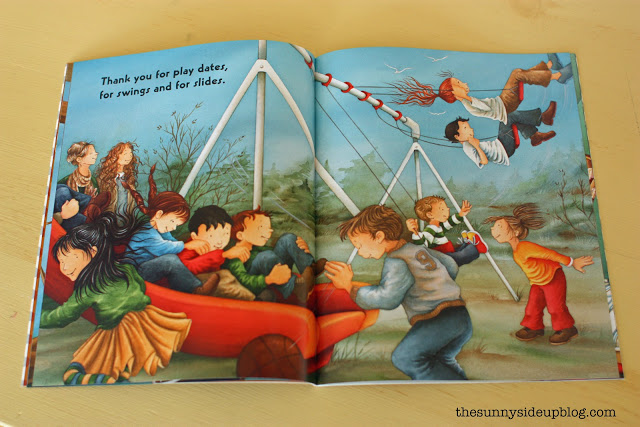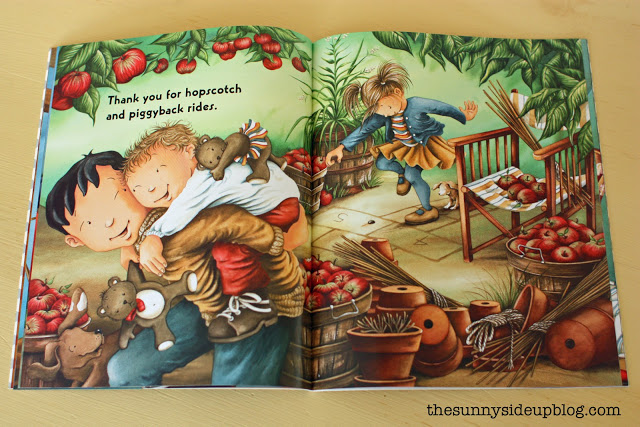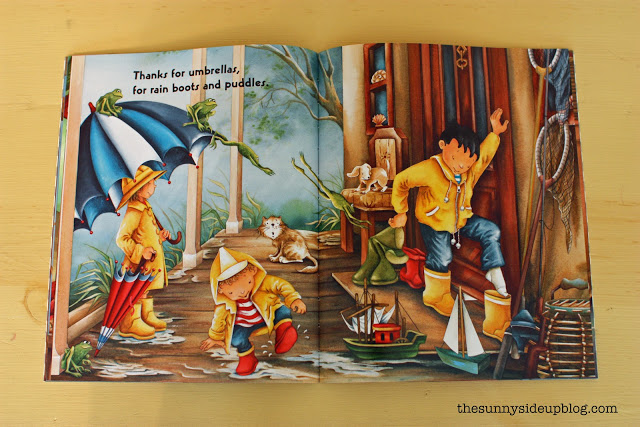 Isn't it fun!? I love the simple rhymes and the beautiful illustrations. A great book to add to our holiday collection.
Because I need to practice what I preach when my kids are involved, here are five things I'm grateful for today:
1- I'm grateful that my church talk is over. :)
2 – I'm grateful for a fun phone call with my mom. She is the queen of gratitude and positive thinking and sets such a great example for me.
3 – I'm grateful that the dinner I made tonight didn't blow up or taste awful. It was a newish recipe for me so the fact that it turned out ok is rare and in need of celebrating.
4 – I'm grateful for all of our Veterans.
5 – I'm grateful that our weather is finally cooling off. The heater clicked on for the first time last night and it smelled like Christmas! Plus I finally get to start wearing all of my boots. Oh happy day. :)
Kids are out of school tomorrow for Veterans Day. Here is our agenda:
– Meeting with our builder to establish where all of the air conditioner/heater vents will go (exciting stuff).
– Help El finish up her school turkey project
– 45 minutes at the gym (my girls love the kids club)
– Begin Christmas decorating (I just can't wait one more minute!)
– Potluck at the park with friends
Not bad! I'm also grateful for a fun/low key schedule. :)
I ended my talk today with my favorite quote on gratitude. I shared this quote last year around Thanksgiving but thought I'd share it again. I never get tired of hearing this and feel like I always need the reminder. Maybe some of you will enjoy it too. Have a great Monday!
xoxo, Erin