A new bike is always a fun surprise on Christmas morning.  This was our year to say good-bye to training wheels!  Woot Woot!
Several of you have asked where I got my play kitchen from.  It is called the Kidkraft kitchen and we've had it for years.  I found the newest model on-line and it is really similar.  I love the fun pastel colors.  Every penny we spent on this play kitchen was well worth it!  (So were the hours we spent assembling this thing.  It is quite a project to assemble so if you buy it give yourself plenty of time!)
Every little one needs a little table with little chairs.  :)
My kids all love these Boogie Board LCD writing tablets.  I only get them out when we are traveling so that they are a fun new thing to keep them entertained in the car.
They have played with these in the tub every night for YEARS.  I will be so sad when the day comes that they don't want to play with them anymore.  I can't tell you a favorite because they play with them all.  (And that's saying a lot since we have collected an embarrassing amount of these over the years!)
Another fun toy my girls have played with a lot this year are their La La Loopsy dolls.  Kenny's mom bought them each one last year for Christmas and the girls loved them so much that she bought them more for their birthdays.  (It seems both grandma's love to spoil!)  :)  These dolls above aren't in their original clothes by the way.  Another bonus is that they are skinny enough to fit in the barbie clothes.  My girls are all about switching up the outfits!  This crew was just settling in to watch the new Tinkerbell Secret of the Wings movie last weekend.  Another fun gift idea for little girls.  Of course Kenny and I couldn't wait until Christmas.  The two of us were more excited to see it than Ellie and Addie were.  True story.  (It didn't disappoint!)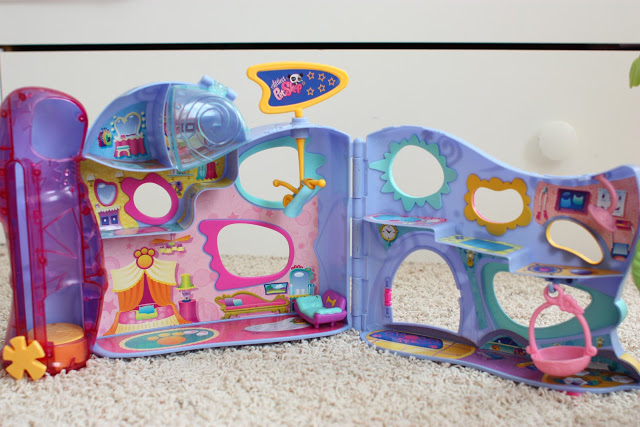 Another Littlest Pet Shop house of some sort.
Guess we will be seeing more of this kind of thing Christmas morning!
Other fun toys we play with a lot around here are kept in Ellie's closet.  I didn't have time to get individual pictures of everything, but here are a few items they love:
Polly Pockets
Jenga
Lincoln Logs
Zhu Zhu Pets
Magnetic Dolls
Disney Figurines
Of course I can't mention all of those "girl" toys without sharing what my little dude has loved this year.
Here are a handful of Kole's favorite go-to toys.
A My First Set of Legos.  Sounds like from all of you "boy moms" I have a lot of legos in my future??
A simple set of stacking/nesting blocks.  Funny how the simplest toys are often the ones played with the most.  Kole has LOVED this basic set of blocks.  He stacks them, crashes them, lines them up, nests them back inside each other, and then does it all over again.
Gotta love the Fisher Price Cash Register.  Kole loves it and my girls still play "store" with it.  I bought it because it brought back so many fun memories for me.  I was "queen pay lady" in my hood growing up.   That's right.  I had mad cash register skills and was proud of it.
Kole is getting too big for this now, but the Fisher Price Piano was beloved by all three of my kids at around age one.  It's perfect for when little ones are just learning to pull themselves up.  My kids would "stand" at this and play music for over 10 minutes.  Which is huge at that age!  I'm keeping this one for the grand kids.  :)  (Again check around because Amazon's price is high on this one.)
K – if you have a little boy age 1-2 this is my NUMBER ONE toy recommendation!  It's the iPlay Fun Time Tractor and Kole LOVES it.  You push the orange thing in the front to make the tractor drive.  When you lift the farmer out it plays "Farmer in the Dell" and when you take out or put in each of the animals, it makes their sound.  A great toy for teaching animal sounds which is why I bought it for Kole.  He honestly played with it every day for over six months.  Such a fun toy!
My sweet Kole is obsessed with "choo choo's" and this Melissa and Doug Wooden Farm Train is his current favorite.  It is such a cute train and comes with fun things that ride inside.  Who knows where they all were when I took this picture?  I'm sure the pieces will turn up under couch pillows or in the girls' beds.
I know I mentioned this in a previous post, but I have to include my ALL – TIME favorite book for toddlers.  This Wheels on the Bus book with movable parts has been such a hit with all three of my kids.  It's my go-to gift for baby showers because it is just such a fun book and all little ones love it.
Each page is so interactive and fun.  I've bought a new copy with each of my three kids because this book has been so trashed from each child reading it so many times.  A great Christmas gift for any toddler.
And last but not least, our Little Tykes red toy car.  Supposed to be for the toddler but always ends up carrying an extra heavy load.  :)
Hope this was helpful to some of you!
 Happy shopping everyone!
:)
xoxo, Erin