Yes. He's cute. I'll give him that. But FOR THE LOVE! This kid doesn't stop! He has two speeds – fast and faster. He ran away from me in the grocery store today and I swear I wished I would have had on my Nikes. If only you all could have witnessed the chase scene that ensued. Up and down the isles, around grocery carts, through the check out counter.
And here's how my little buddy entertains himself…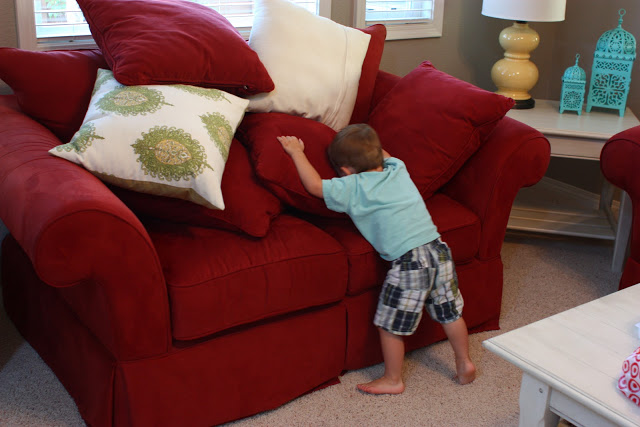 He is obsessed with moving all of the couch pillows and stacking them together on one couch.
You might think this is lousy photography, but no. This is just my boy stacking at lightning speed. (And ok – slightly lousy photography.) He does this with all of the upstairs pillows on the beds too. Moves them all to my bed in a big heap. As soon as he sees I've put them back, he gets to work stacking them all in one place again.
So I've given up and if you drop by to see me, this is what you will be greeted with.
Once the pillows are on their designated couch he moves on to the shoes in the garage.
Above is the "before" and below is the "after."
Clearly he doesn't get the whole "before and after" concept since he is taking my organized spaces and DESTROYING THEM.
I clean up this mess at least three times a day.
If I didn't need the shoes out of the way to drive I wouldn't bother.
And now today. His latest trick.
Remember how I cleaned out my girls' book shelf?
And I categorized everything so neatly and gave all of the books a happy home?
Kole decided the books needed a new happy home. On the floor. I knew there was going to be trouble when I found myself cooking dinner tonight without Kole under my feet. He did this in a matter of minutes and then moved on to "entertain himself" in the next room.
A couple of weeks ago while we were at a picnic for one of the girls' summer camps Kole kept himself busy with the sidewalk chalk.
He was such a mess that Kenny took off his clothes before we got to the car.
Then Kole decided it was his turn to do the chasing.
He was thrilled to have his clothes off. They clearly do nothing but weigh him down.
Yup. Doesn't look like things are slowing down any time soon.
:)
xoxo, Erin