First day of school was a success!
My little divas had a fabulous day. Loved their teachers. Loved seeing all of their friends again. Loved their new sparkly shoes that light up with each step signaling to the world that they are coming a mile away. I loved seeing them so happy. And I loved having an hour and a half of peace during Kole's nap (bliss!). And I loved that I didn't get nearly as emotional as I usually do. A few tears, but nothing I couldn't hide under my sunglasses. Like I said – the day was a success!
I got lots of questions yesterday about where I shop for my girls. Nothing special. I just head to the mall. All of the malls in San Diego are outdoor malls. They are very sunny, happy places to be. :) Here is a breakdown of where I bought the outfits in the picture I shared:
My go to stores for my girls are Gap Kids (has always been my favorite), Children's Place (hit and miss), Gymboree, and lately Justice (Addison's favorite – she loves anything that sparkles!). Once in a while I check out Old Navy. I had coupons to all of these stores so we got the girls some fun stuff for the school year.
I mentioned in my
"Back to School Checklist" post
that I was trying to find a way to organize my girls school clothes for the week. I really needed to come up with something to reduce the drama each morning that usually takes place when it's time to figure out what to wear. I had seen so many fun ideas on Pinterest and was going to come up with something really beautiful and spectacular. Then I remembered that I have no time right now for beautiful and spectacular so instead I did what I do have time for: easy and practical. I had the girls pick out their outfits for the week including socks and accessories.
Then I grabbed some scissors, a black marker and some gallon sized Ziploc bags that I had on hand.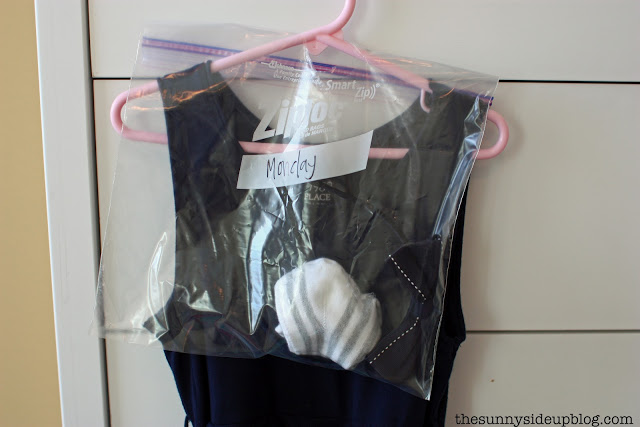 I wrote each day of the week on the bags (twice so El and Ad each have their own) and then cut a small hole in them to slip the hanger through. LOVE IT! The bags hold their socks and accessories and remind my girls what they are wearing each day.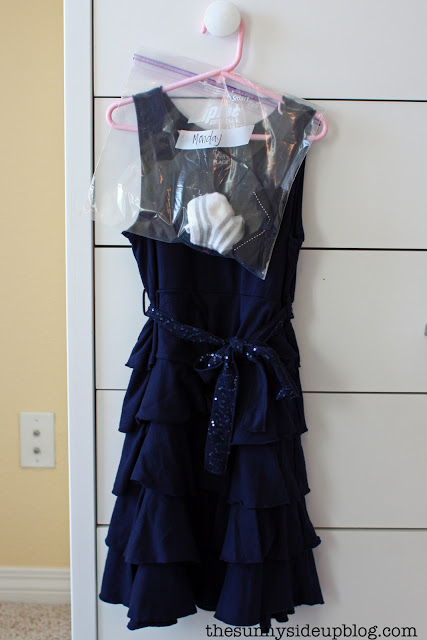 El's first day outfit ready to go!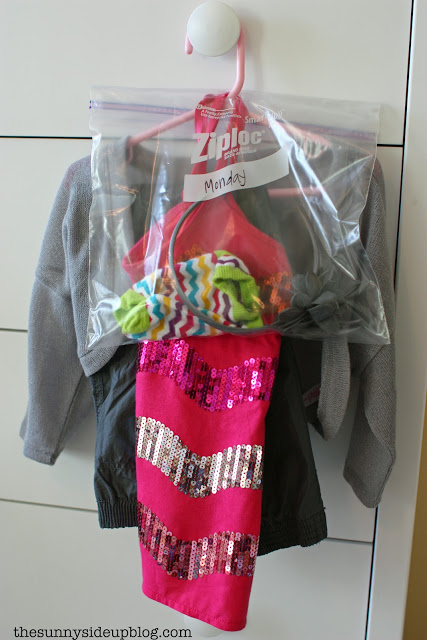 Addison's too!
A few more examples: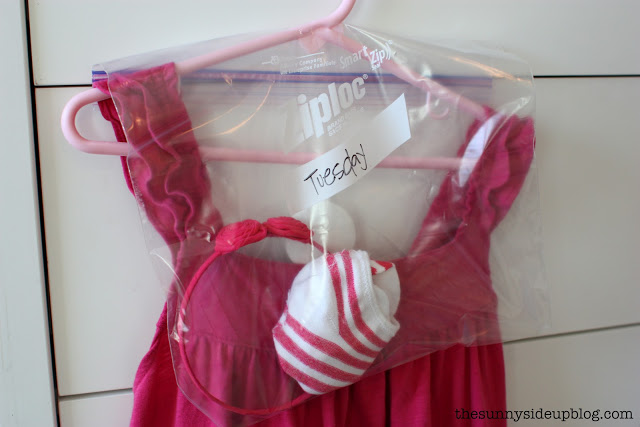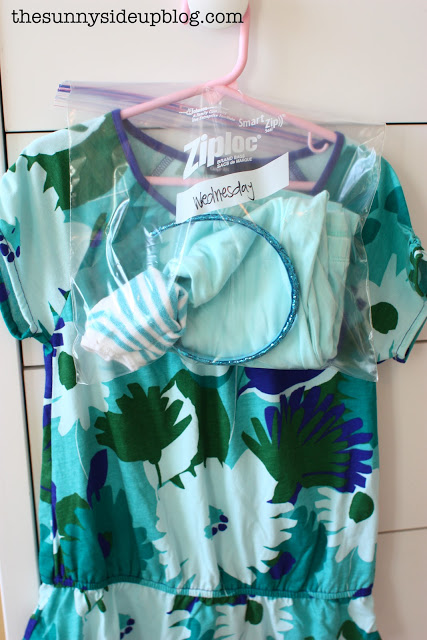 The bags are big and strong enough to also hold things like leggings and skirts.
Whatever doesn't go on the hanger fits in the bag!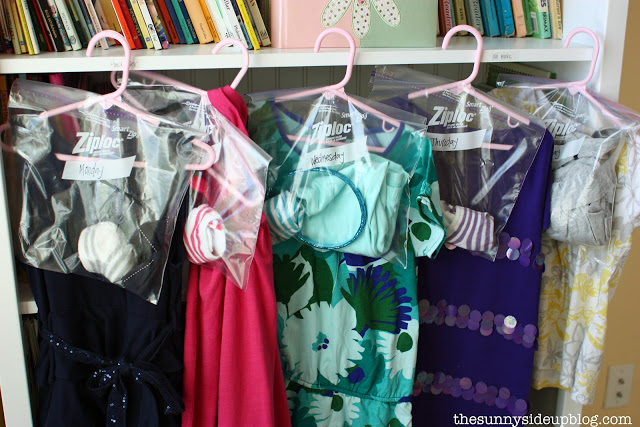 El's outfits for the first week. They are all Ellie approved: extremely comfortable.
Ad's outfits for the first week. They are all Addison approved: extremely fashionable.
My girls never change. :)
A lot of the ideas I'd seen on Pinterest were great, but took up too much closet space. I love that the outfits/bags fit nicely in the girls' closets and everything we need is all in one place ready to go! I also love that this didn't cost a cent and took me about two minutes to put together. I'm so excited about my new system for organizing outfits! One more way to minimize stress in the morning. Which we desperately need. Because a certain two year old is so good at maximizing it.
I guess easy and practical isn't so bad after all.
:)

Free printable of the paint colors throughout my home!
Enter your name and email address to get instant access to my paint colors along with other free organizing printables. More will be coming soon!
Exclusive to subscribers!