Hello friends! Another slooow week on the blog. Kenny and I have been consumed with new house stuff (what's new, right!?). We have been finalizing so many things. I'm such a mix of excited and exhausted which pretty much sums up the way I've felt ever since we started this building roller coaster. I still have some sketches I have to go through tonight before another meeting tomorrow so this will be quick, but I wanted to pop in and say hello and share a few of the decisions we've been making this week.
Some good news is that we are almost done picking out kitchen and bathroom fixtures. Hooray! I went through and changed half of what I had picked out earlier and now I feel better about fixtures. The bad news is that my "hey let's remake decisions we've already made and change things up again" attitude is happening more and more and Kenny is seriously about to kill me. My poor husband. I know I'm driving him crazy but I can't help it. I just feel like this is my one chance to do this and I have to do it right! I keep reminding him that after this house is built he will remember why he loves me. Ok… after the house is decorated. Then he will remember. :)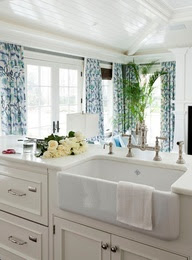 More good news – we've ordered my farmhouse sinks! Let's all just hold our breath and have a moment of silence for the beauty that is the farmhouse sink.
Ahhhhhh. Breathe out. K. Now we can continue. My love for them is indescribable. Whenever I see pictures of farmhouse sinks my heart starts to race much like it does when I see pictures of dutch doors. Do any of you share my passion? I know I'm not alone. :) I ordered the sink in the picture above for my food-prep island and a double farmhouse sink for in front of my kitchen window. I gave Kenny my sweetest smile and managed to talk him into getting one more for my downstairs laundry room. Quite a surprise since he was already about to kill me at that point. Good to know that after 15 years my "sugary sweet please can I have something" smile still does the job. I tried to pull off one more for the upstairs laundry room and that is where Kenny drew the line and my smile lost all its magic. That's ok. I really would have been over the moon with just one so to say I am flying high about my sinks right now is a serious understatement.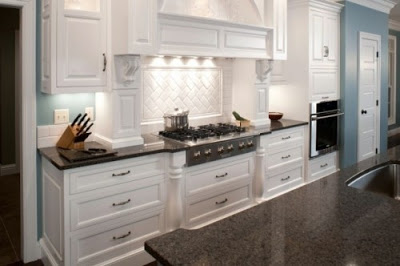 I have been ironing out lots of kitchen cabinet details this week and I'm so excited about the organization that will be taking place in my kitchen everyday! I'll share more of those details at some point. Right now we need to order our kitchen appliances and I am so torn. We have decided to go with
Thermador
and we
were
going to just get the cook top and do cabinets below like the picture above (with ovens on another wall). Now I'm debating the full oven again…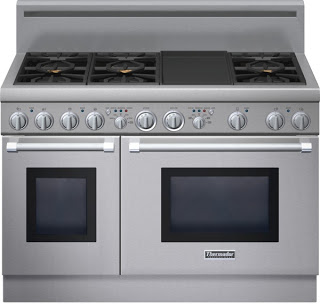 This is what we would get if we decide to go with the full oven. It might make more sense to do this because of some issues with the way I want my cabinets. I love the look of this oven, but also love the cooktop because then I can use the drawers below for pot/pan storage. Any opinions on a cook top vs. a full oven? Would love to hear your thoughts!
Want to see something really beautiful?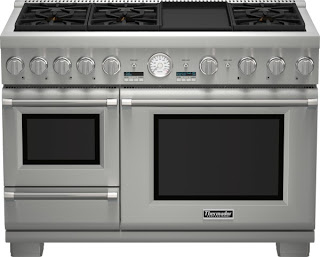 This is Thermador's top of the line 48 inch Professional series oven. When we very first started looking at appliances I walked into the store, marched right over to it and said "I want this one!" Then the sales man said "that's the most expensive oven made" and then Kenny said "of course it is" and then I said "ok – never mind." :) The sales man said "this has an exclusive built-in steamer, a titanium griddle and grill, a large capacity convection oven, and a top of the line warming drawer. Then I smiled and said "I just wanted it for that cool white vintage looking dial on the front." Then Kenny rolled his eyes (in that oh so familiar way) and said to the salesman "this is what I'm dealing with."
And that pretty much sums up the way most of our house discussions have gone thus far. :)
Ok – I'm off to look at my sketches. Lots to post next week when more of these decisions and meetings are behind us. We are finishing up windows Friday (I swear – windows are going to be the death of me!) and then I think house meetings will slow down for a few weeks.
Enjoy your day everyone!
P.S. I found this picture on Pinterest last week (couldn't find the correct source) —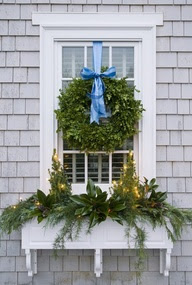 and it made me SO excited to decorate my new house for the holidays! Is anyone else getting excited for Christmas!? It's a bit early, but I can't help it. I'm counting down to November when I can start celebrating. It will be here before we know it!
xoxo, Erin