Today was an exciting day for our project "new house."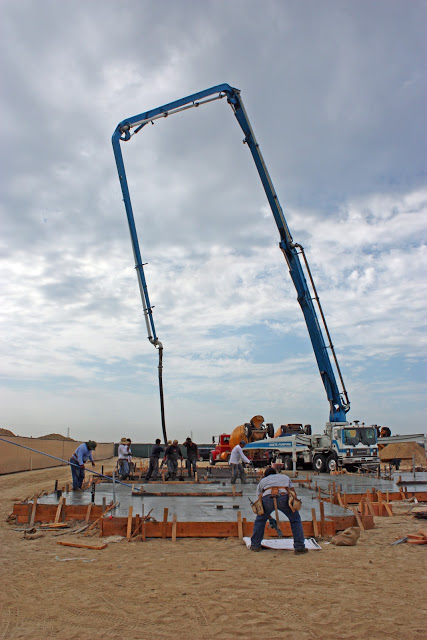 We have concrete!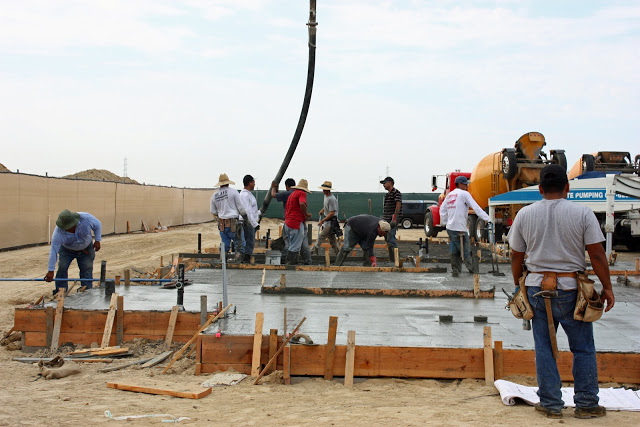 Kenny and I went up to the lot right after breakfast and it was so fun to see it buzzing with activity!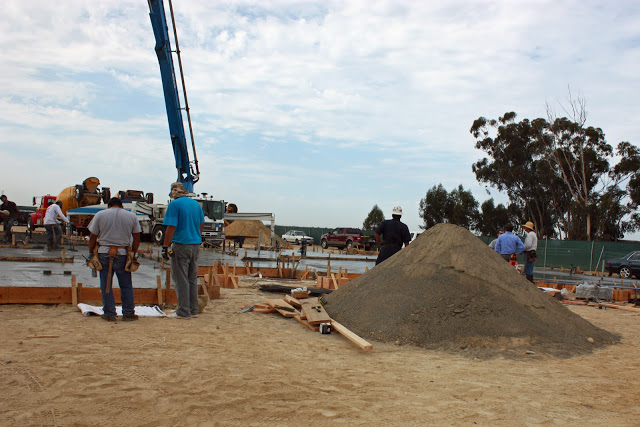 I have been so excited to finally get the foundation poured. Now things should really start moving!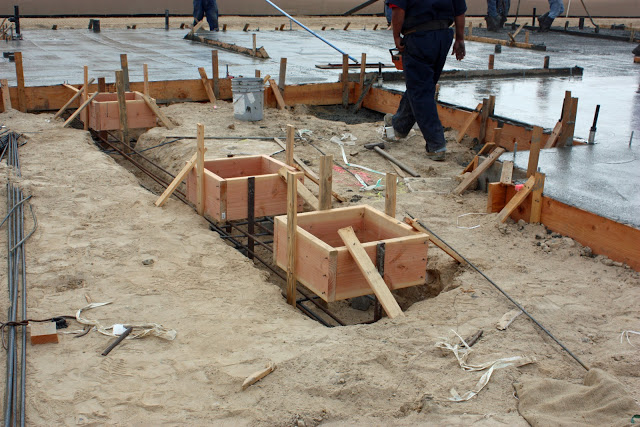 Framing for the porch pillars. :)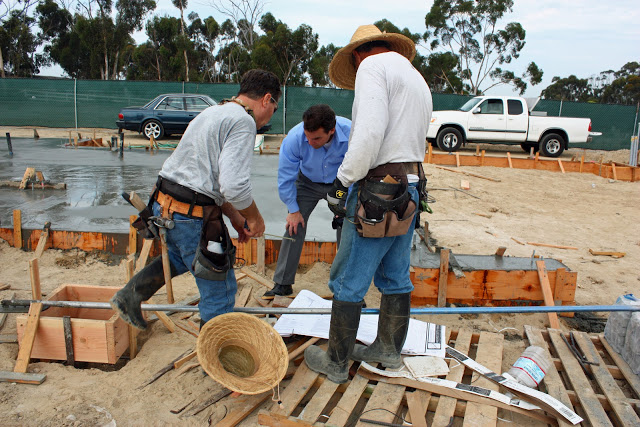 Kenny and our framers discussing the location of said porch pillars.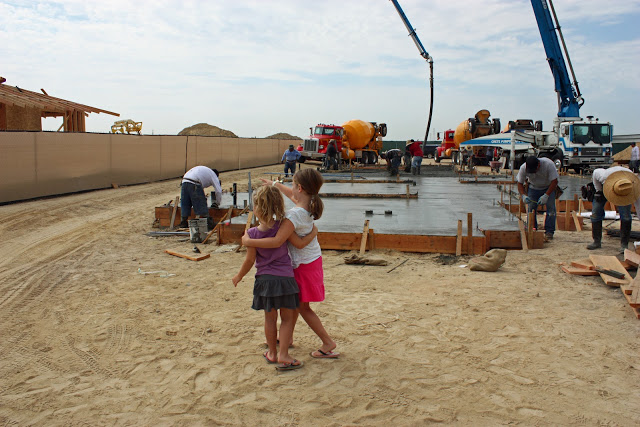 We let the girls come up to see what all the excitement was about.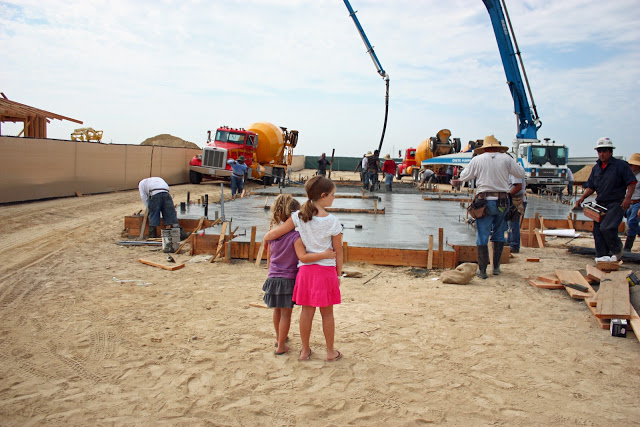 They won the crew over by hugging each one of them.
My girls always hug new people they meet.
It's so sweet.
Except for when it's scary.
But it was sweet today. We have the NICEST men ever working on our house.
They have all requested more banana bread muffins. I will be busy baking this weekend. :)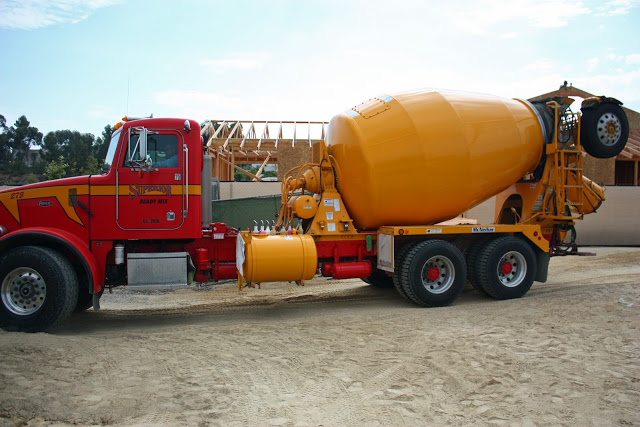 Poor Kole had to wait in the van. Can you imagine letting him loose on this scene!? :)
Luckily there were lots of big trucks passing by to keep him entertained.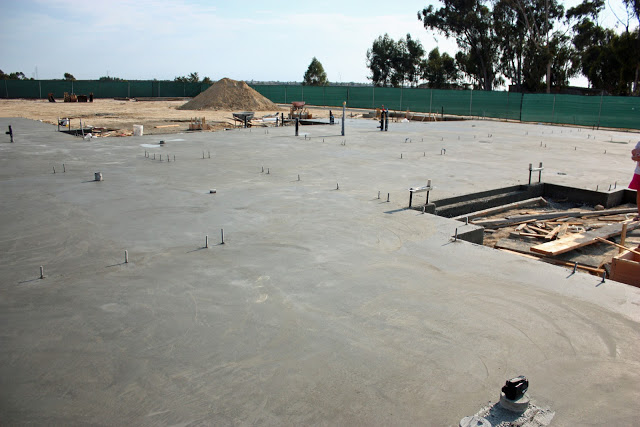 Kenny and I met back at the lot at 5:30 in the afternoon and this is what it looked like.
YEA! Foundation is set. We can now officially walk on the floor of our new house.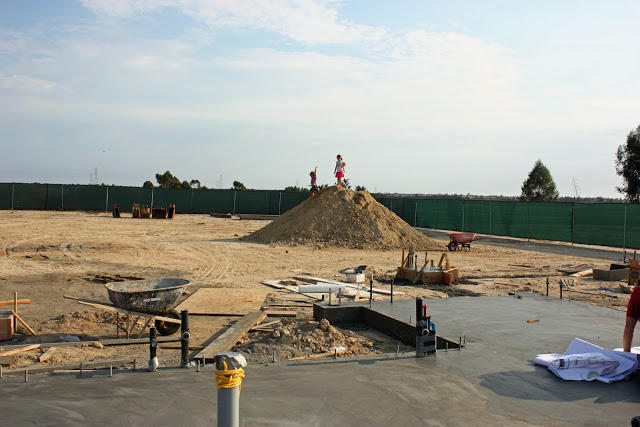 Exciting stuff!
Aside from everything happening with the concrete, this week we have also been plugging away at windows, design for all the built-ins, and the kitchen cabinet layout. This stuff is fun, but SO time consuming. It was great meeting Kenny at the lot today because that is the only time I have spent with him lately. It's well after midnight and he is still at work. Whenever it's IPO time I have to take a deep breath and gear up. It doesn't stand for Initial Public Offering to me. It stands for time to be a single mom again. I'm not complaining. After 10 years I'm pretty used to the hours that come with my husband's job. Plus it is after all the reason we can afford this house. (Maybe my blogging contribution can pay for the kitchen bar stools.) HA! ;) It has just been a long, busy week and I miss my husband.
But the weekend is here! And we have concrete! There is always something to smile about. :)
One more week of summer for my girls!
I want to PLAY with them as much as possible.
Then school will start and hopefully I can finish some of the projects I've started around here.
Or at least be able to keep the house picked up for longer than 20 seconds.
Nah. Who am I kidding!?
:)
Enjoy your weekend everyone!
xoxo, Erin