Sharing pics of one of my kitchen cupboards today! I updated it a bit for Spring. I have been slowly changing the colors in my kitchen and I'm only half way there. My kitchen right now is making me laugh! I'm bringing in more of the blues but I still have a lot of the reds and greens. It's just a really colorful space. I call it the RAINBOW kitchen. I'm kind of using this house to experiment with different looks and colors so I know exactly how I want to decorate my new house. But let's face it. I change my decor around about as often as I visit Pottery Barn. I'm sure whatever I start with in my new house won't last for too long. :)
I can't find a "before pic" of this cupboard but here is what it looks like (for now).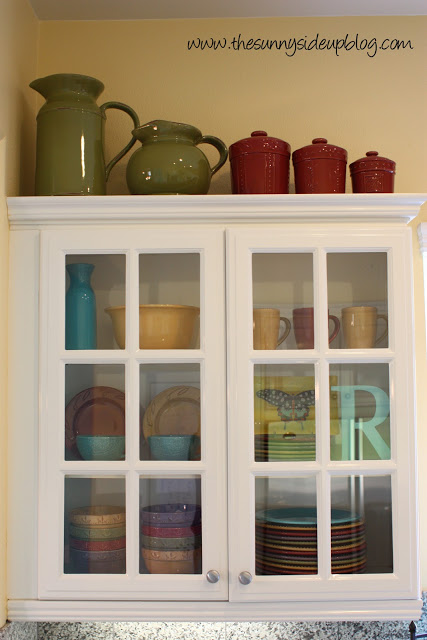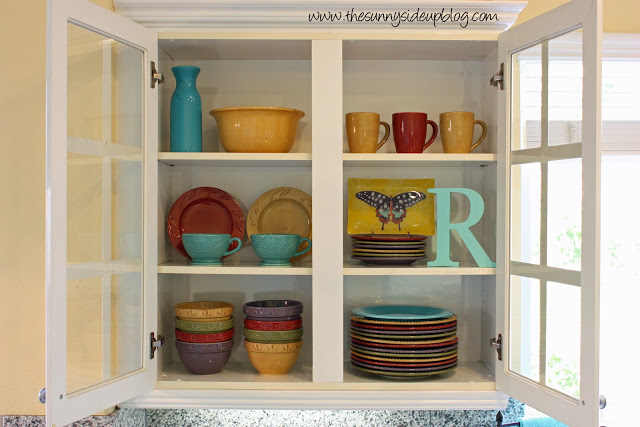 Same dishes I had before, but I re-arranged things and added some pops of blue.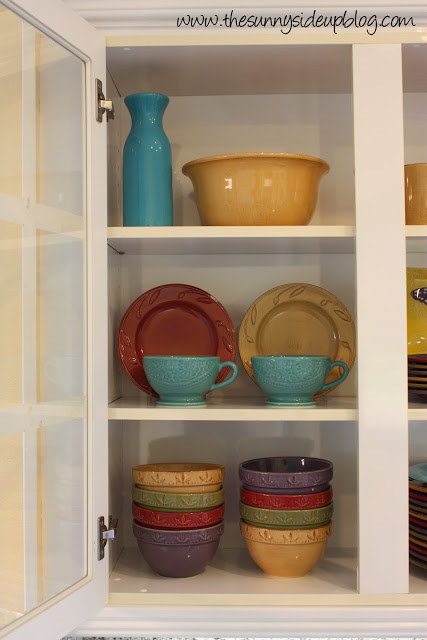 The left side…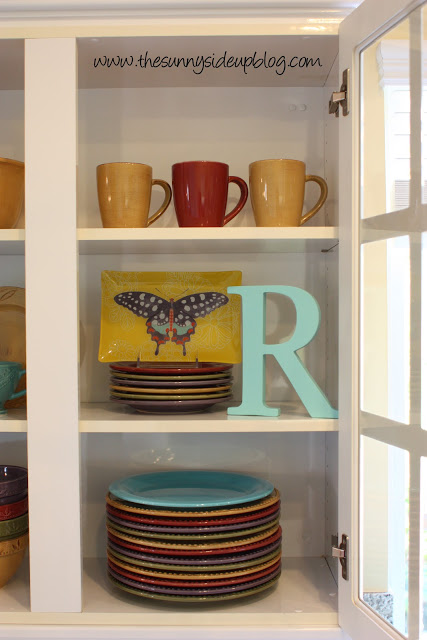 and the right. Do you recognize the aqua letter R?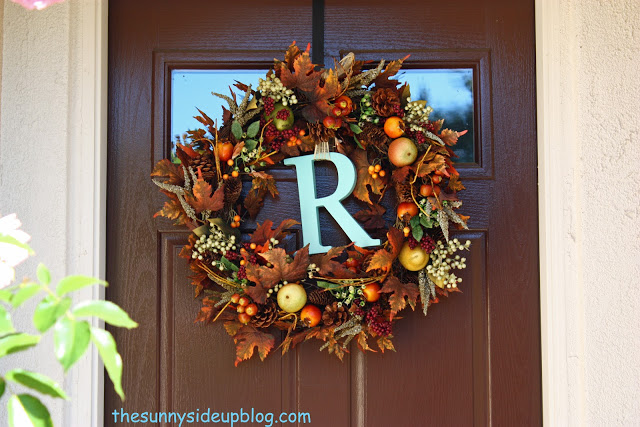 It's the one I painted for my Fall wreath. It was just hanging out once December hit and I took my Fall wreath down. It's happy to have a home again (for now).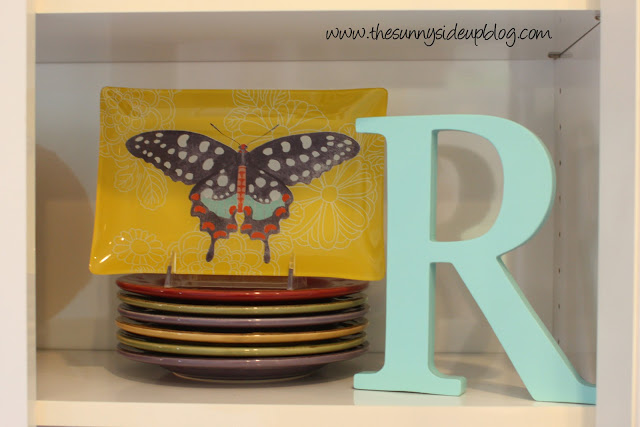 My favorite part of the shelf is this butterfly plate I recently bought at Pier One. Isn't she beautiful!? LOVE this for Spring. I bought it to go on my Spring mantel but it just didn't look right. Actually nothing is looking right on my mantel. I've had it about ten different ways and still haven't found the winning combination. Part of the problem might be that I only have 3 minutes here and 2 minutes there to actually play around with it. Oh well! As long as I have it done before next Fall I'll be happy. I'm so busy right now. Expectations are being set pretty low these days! As long as kids are fed and we all have clean clothes to wear I label the day a success. :)
So even though my kitchen cupboard has a lot of the old mixed in with the new, at least it sort of ties in with the rest of my kitchen…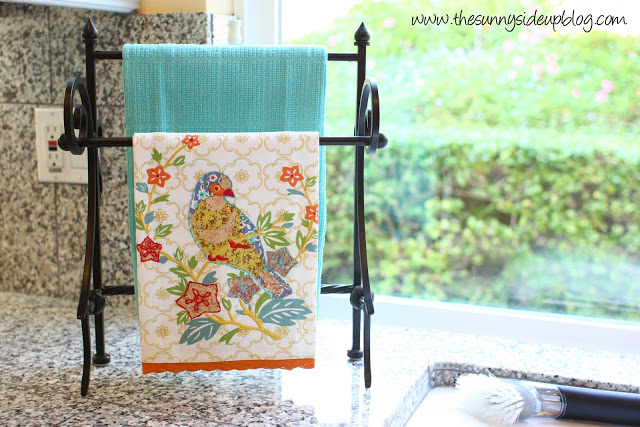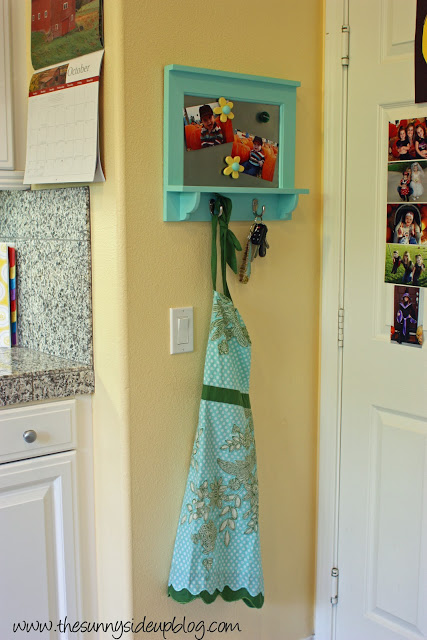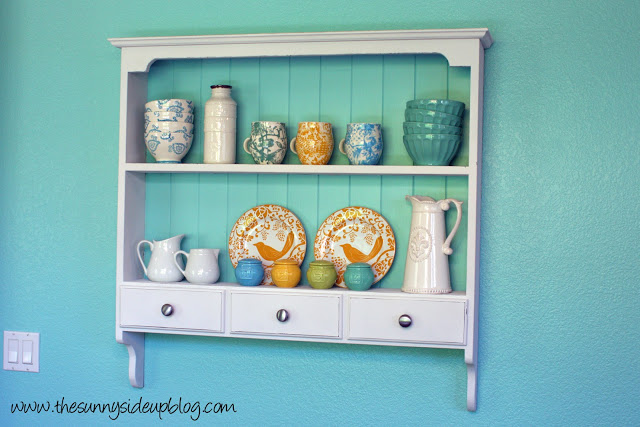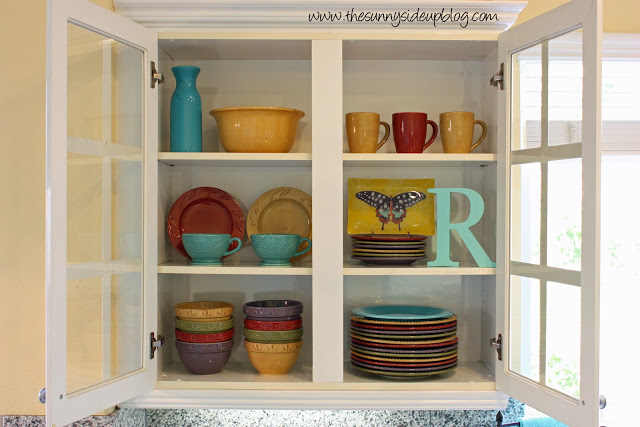 A rainbow cupboard for a rainbow kitchen!
Works for me (for now). :)
xoxo, Erin