Oh my sweet little Kole. You are two years old today buddy! It's hard to believe – the last two years have flown by so quickly.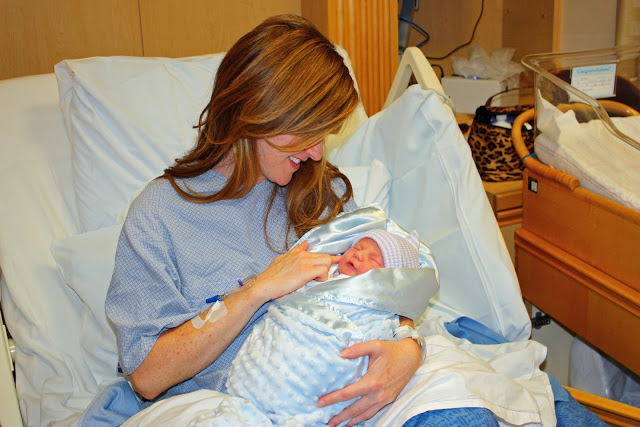 I was just bringing you home from the hospital admiring your perfect little head and features and thinking of how you were just all boy. Even as a newborn. And so incredibly perfect.
And now in the blink of an eye you are suddenly a toddler. An adorable, active, mischievous, cuddly, smart, (did I mention active?) toddler. You are still all boy and I have loved experiencing parenting all over again in a different way.
Things you are loving right now…
-Trains, cars, blocks, and puzzles.
–Dumbo, Mickey Mouse Clubhouse and The Wiggles.
-Opening and closing the garage door (we do this multiple times every day).
-Opening and closing bedroom doors.
-Walks with mommy in the stroller.
-Eggo waffles, pasta, sweet potato puffs, and strawberries.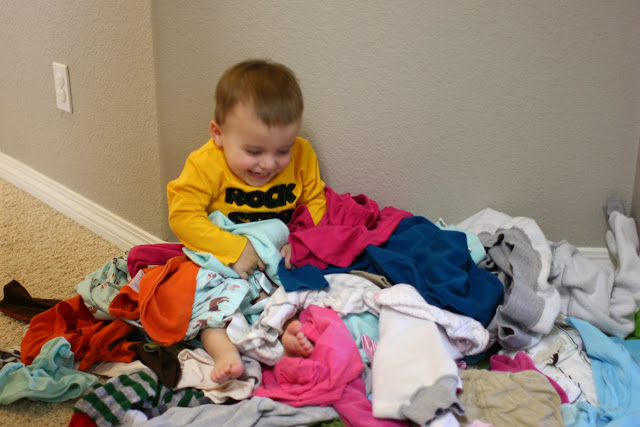 -Doing laundry. It's your favorite thing! Probably because we do so much of it together. :) You love having the warm clothes tossed on you. You pull me into the laundry room all the time and lead me to the dryer so I'll open it and throw the clothes on you. Sometimes there isn't any clean laundry to fold and you get so upset. Luckily this isn't the case that often!
-Bedtime – you have always been such a good sleeper Kole. You give me no problem at all when it's time for your nap/bedtime. When I pick you up and say it's time for bed you cross one little hand over the other arm. Your sign that you're ready to wind down.
-Cleaning and taking photos with mommy. Since you're home with me all the time you get a taste of my world every day! We clean a lot together. You love it and are always such a huge help. :)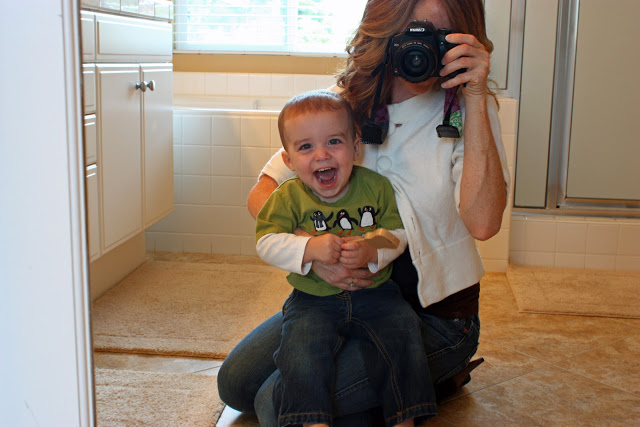 We take photos for the blog and you have become such a ham! I love it.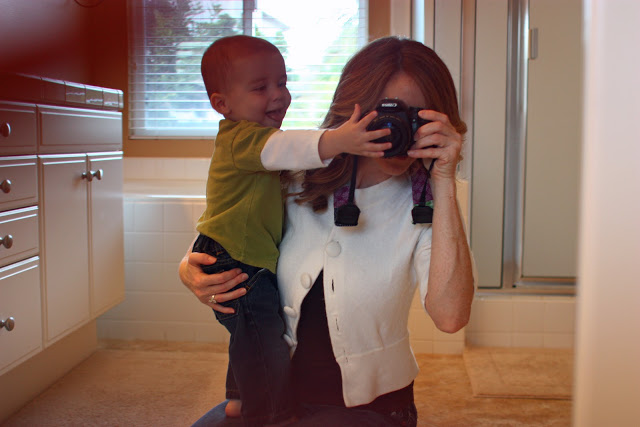 You have a special way of making my photos much more interesting. :)
-Your pacifier. You only use it when you sleep and once in a while if you find one laying around the house. I need to get rid of it soon. Waiting for the right time and frame of mind for that one!
-Reading stories with mommy in the rocking chair (favorites are Wheels on the Bus and Good Morning Good Night).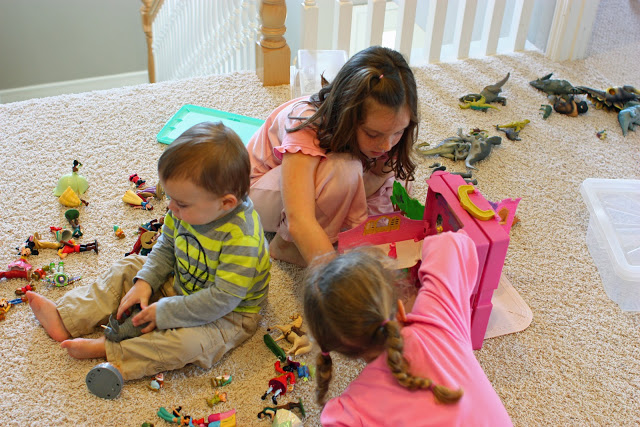 -Playing with your sisters. It always makes me laugh the way you park yourself right in the middle of things when they are playing. You like to feel like you are a part of the action!
-Stacking blocks and doing puzzles with daddy. You love it when daddy comes home from work! You run and hug him and he scoops you up and then you won't let him set you down. :)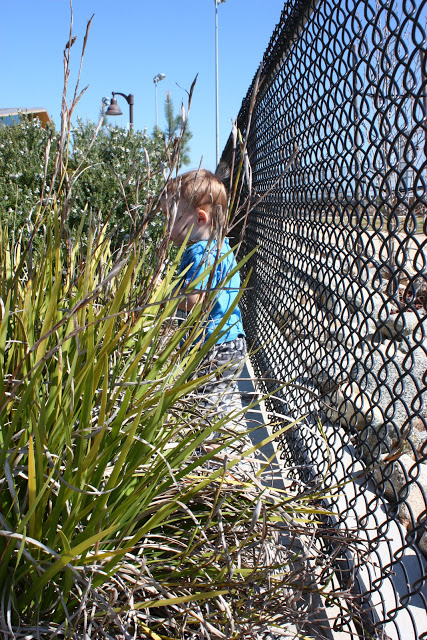 -Playing at the park. Actually playing around the park – in the trees, bushes, and parking lot. You basically go everywhere you're not supposed to go. Of course. :)
Things I want to remember…
– I love how social you are Kole. You always look at us right in the eyes to make sure we are watching you. Sometimes you take your little hands and move our faces right in front of yours. It's impossible not to smile when you do this. You like our full attention. At all times!
– You are such a mommas boy and follow me around everywhere! We do everything together. Everything. You cry when/if I leave you and aside from babysitters once in a while I don't leave you much! It's pretty rare to see one of us without the other.
-I love the way you take us by the hand to guide us to what you want. You aren't talking much yet Kole. Well, you "talk" all day long, but only say a couple of real words. We've started some behavioral and speech therapy and hope that it helps. I have gone from totally stressed out over this, to not worried at all, to worried that I should be more worried! Time will tell how big of an issue this is, but deep down I know that you will be just fine. I think you just like to do things on your own time line. And stress your parents out in the process. :)
-You are such a problem solver. Even though you don't talk I can always tell how much you understand. Your little wheels are always in motion and you surprise me daily with how smart you are and how much you are learning.
-You are extremely cuddly! It's one of my favorite things about you. You love to hug and snuggle in close to me. At night we read stories and you let me rock you. I close my eyes and try to hang on so tightly to those moments. I focus on what you smell like and how it feels to hold you close. I know our rocking days are numbered and they are moments I will never forget.
Juggling life with you and your sisters has been a challenge for me the last two years. There have been times, especially during difficult moments, that my mind has wandered back to the days before you were born when things were calmer, more orderly, and overall just easier. And then I immediately get a lump in my throat at the thought of my life without you in it. Deep down Kole I always knew I would have a son someday. I always knew you were meant to be a part of this family. And yes, you are in a busy stage of life. You climb on things you shouldn't, pull your sisters hair, dump food all over the kitchen, and scream when you can't do exactly what you want. Sometimes throughout the day you make me feel frustrated, upset, and overall just tired. But you also have a smile that lights up the room. And a personality that is impossible not to adore. And often throughout the day you also make me feel happy, loved, and overall just incredibly grateful. I am so grateful for you Kole. We had a scare soon after you came into this world and throughout that whole experience all I could think about was how much it meant to me to raise you and your sisters. To be here with your daddy to see you become an adorable, active, mischievous, cuddly, smart little toddler. I thank God every day that I'm still here and that our scare didn't happen before you were born. I thank Him every day for you Kole. You are so special to me and I love you more than words can express. Happy birthday sweet boy!
xoxo,
mommy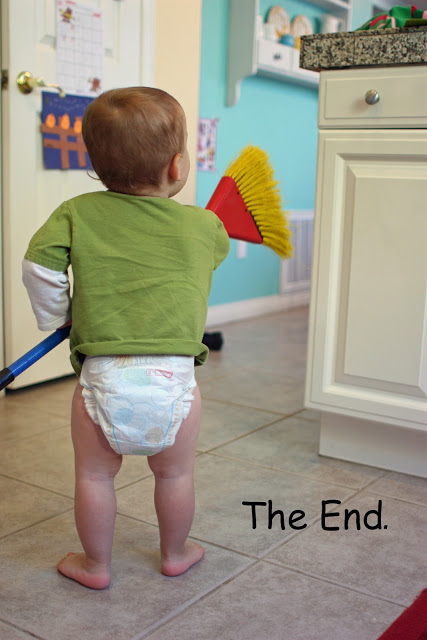 xoxo, Erin