El on her way to her first orthodontist appointment. Can she really be old enough for that!? I don't believe it. I'm in denial. Julie (El's BFF since
this memorable trip
) came along. She apparently needed her teeth checked as well.
We have been doing a MASSIVE clean out at my house — what's new, right? :) Most of you know we've been house hunting for over a year now and still haven't found "the one." So in the mean time we are renting a storage shed to help with the fact that we are running out of space in our current house. I've emptied closets…
and packed up many belongings. LOTS of boxes. Stuff that we are saving/keeping but not using right at the moment. Like this box of some of the girls' clothes that I just can't part with. Their hospital hats, favorite boots and fist little ballet shoes, El's favorite cupcake pajamas that she wore almost every night for two years straight and then they later became Ad's favorite cupcake pajamas. I am such a minimalist when it comes to keeping/saving extra "stuff", but my one weakness is my kids' clothes! So many memories accompany those little outfits.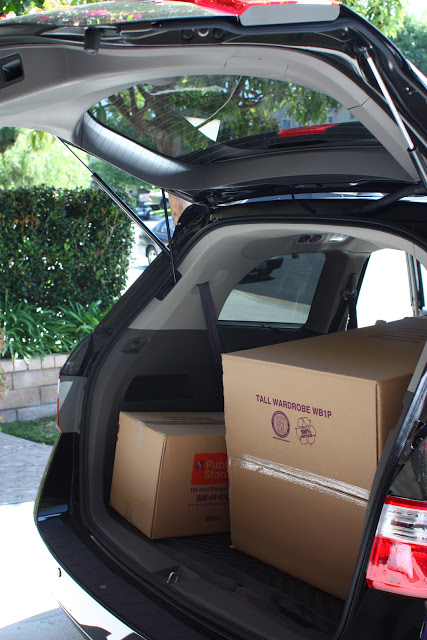 We loaded boxes into the van and made trip,
after trip, after trip to the storage shed. (So long baby gates! Don't let the door hit you on the way out!) And now we have so much more space! And I've been happily organizing and re-doing closets ever since! And at some point I'll be happily posting my newly organized closets! This is all making me extremely happy! It doesn't take much. :)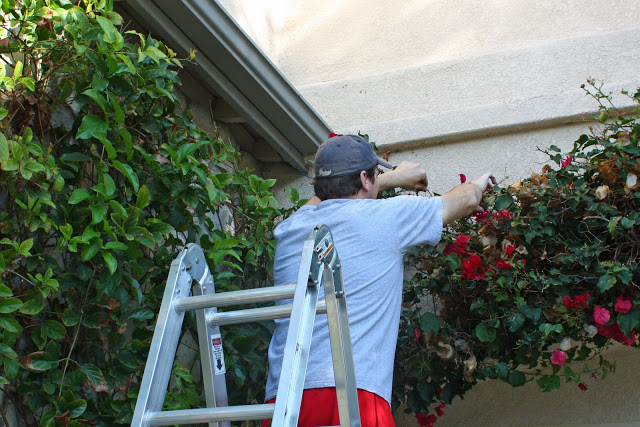 Also last weekend we did a little vine trimming. And by "we" I mean Kenny trimmed the vines while I took pictures of him doing it. He's lucky to have me. We make such a great team.
The girls went swimming for a friends' birthday party…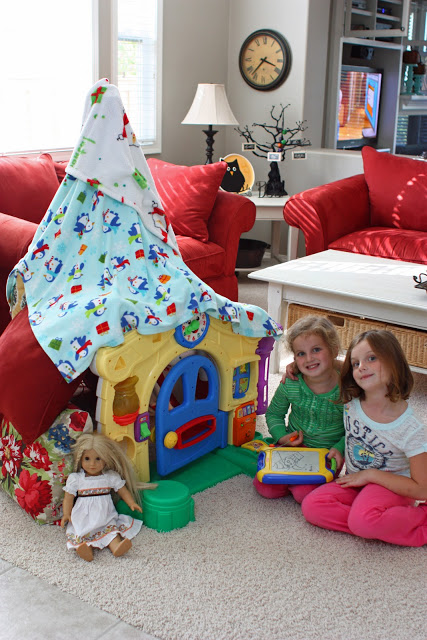 and then made a fun hut to play in when we got home. Wondering what's holding up those blankets? That would be my tripod. I set it up to take some pictures, stepped in the other room to feed Kole, came back and it had disappeared under some Christmas blankets. Guess I didn't need those pictures after all.
This weekend we got our flu shots taken care of! The girls did great (and by great I mean they had a major meltdown the night before when I told them we were getting shots the next morning, and then had a mini meltdown promptly following the shots) but still, we all survived and lived to tell about it in stylish barbie bandaids. Kenny took the girls to see Princesses on Ice (we've gone the past four years and it has become a fun tradition) while Kole and I stayed home. We had a delightful date. Kole napped. I lit my pumpkin spice candle, turned on some music, and cleaned the house. Then when he woke up we snuggled on the couch and enjoyed a nice episode of The Wiggles together.
Later in the afternoon I took the girls to get their toes painted for a fun little splurge at my favorite place to get a pedi.
Of course Julie and Elizabeth had to get their toes painted too.
Then we came home and Ariel helped us set up the outside Halloween decorations.
Pumpkin lights — check! Scary spider in bush — check! Orange and purple mini lights all over the yard — check! Bring on the trick-or-treaters!!
Oh. And another "friend" who pitched in. Little helpers seem to pop up all over the place around my house.
And the weekend wouldn't be complete without a drive through one of our favorite neighborhoods. We are patiently waiting for a house we love in this neighborhood to pop up for sale.
We might be waiting a long time. Good thing we've got our storage shed!
Happy Monday everyone!
xoxo, Erin