Sharing some pics of my hutch today! Most of you know I've been slowly trying to re-decorate my house to lighten things up a bit. Changing out blacks and reds for more whites, yellows and blues. I'm on a roll! Dropping one red rooster at a time! Die roosters! ;) My hutch has been hard for me because it has long, wide shelves that can look cluttered in a hurry if I'm not careful. (Clutter and I don't care much for one another.) I can't stop tweaking this hutch! Every time I walk by I quickly add something else, move something over. It will most likely change by this afternoon, but I thought I'd share what I have so far – the way it looks at the moment. :)
Here's what it used to look like —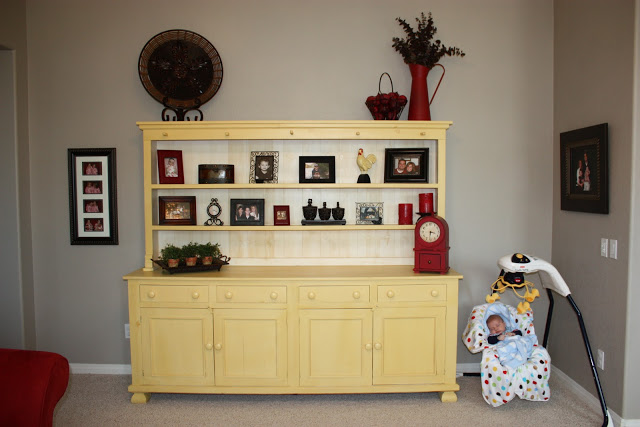 (my little boyfriend snoozing in his swing makes for a pretty cute accessory)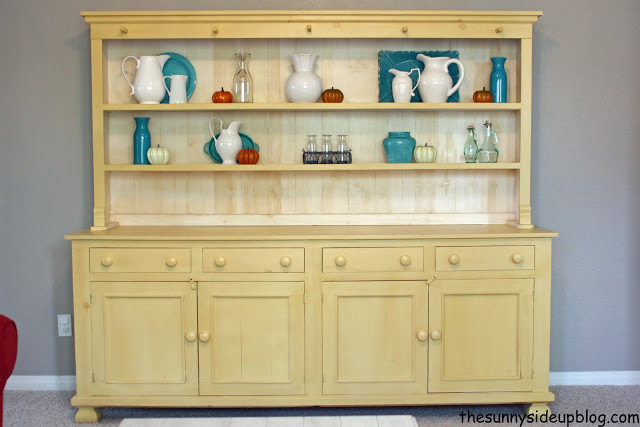 I've been having a love affair with white pitchers for years now and have been collecting them for our next house. But since finding our next house isn't happening as quickly as I'd like it to, I decided to display some of them now. The bead board on the back of the hutch is a light white wash that I love, but looks best with pops of bright color against it so I added some fun blue dishes and vases.
Here's a closer look.
Like I said, it's still a work in progress. I'd eventually like to find something for the top of it and maybe the base. I keep trying things that I already have around the house like my black wire baskets but I don't like anything yet. I'm sensing an excuse to go shopping! (Look at those baskets Kenny – not right. It's clearly imperative that I must immediately head to Pottery Barn to correct this tragedy. I know once you see this picture you'll agree 100%.)
Close ups of the decor –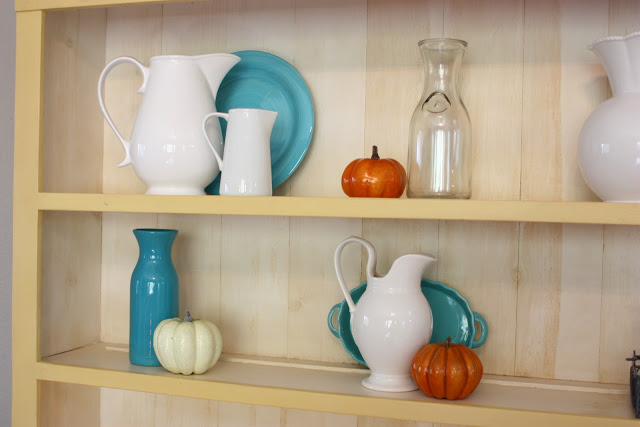 The clear milk jug belonged to my grandma. When I was a little girl she used to fill it with water for me and put it in her fridge because I always drink water and I love it really cold. We called it my "jug" and whenever I'd go visit the first thing I would ask her is if she had my jug in the fridge. She always did. It has been a treasured keepsake for me ever since she past away over 15 years ago and I'm so happy to have it out where I can see it everyday.
Set of six clear little bottles are from Pottery Barn (often used to hold flowers) and most of the other decor is from Home Goods and TJ Maxx.
The little pumpkins I picked up at Michaels and I'm loving the pop of orange for Fall.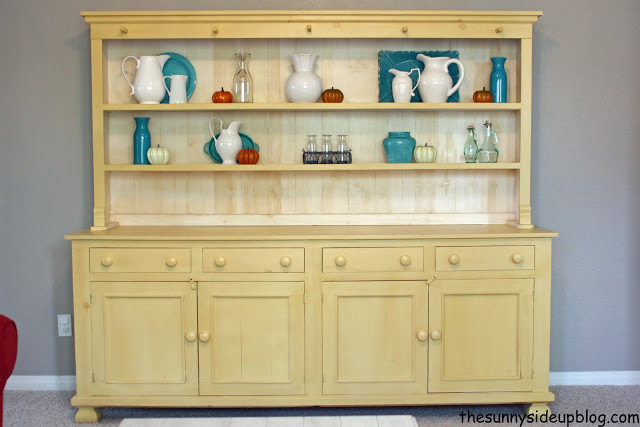 I have some fun plans for the wall on the left side of the hutch if I can find the time to make it happen. Several of you have asked if I am going to replace my red and green couches to go along with the changes I'm making. Here's the truth. If we weren't looking to move into a bigger home I'd have wood floors and new couches in this house so fast Kenny's head would spin! BUT. I just can't justify spending the money on that right now because we are saving our pennies for our next house (have been since forever). And I know I will want new furniture in the new house and if I buy new couches now they most likely won't look right in a new space. So for now I'm just going to have to work with what I've got! I bought slipcovers several months ago and tried them out, but with my cream carpet everything looked so bland (need those wood floors!) so I returned them. I'm currently hunting for some new couch pillows that incorporate the new colors but that will also go with my old couches. I'm really trying to make small, inexpensive changes that will make this house a happier space for me until we move into our next home. Which I hope to settle in and then never move again!
So there you go! Another space in my house that is on its way to becoming a little brighter, a little more current, and a little more me. :)
If you're new to my blog (welcome!) you can see more of my home decor changes here:
Kitchen shelf re-do
Fall Mantel
Picture frame re-do
Other small changes/Halloween decor
xoxo, Erin