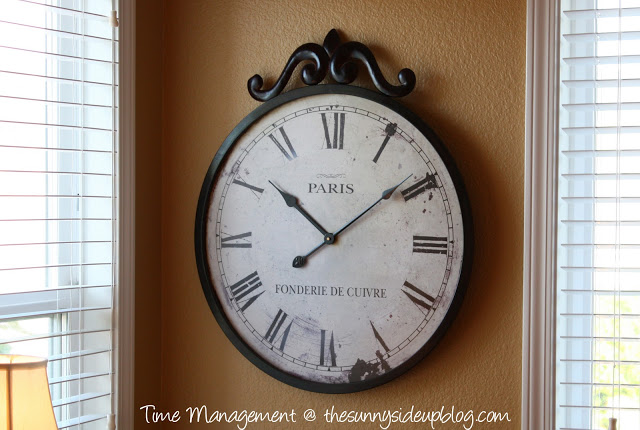 I've had some questions e-mailed to me lately from the sweetest readers.  Questions like: "how do you do it all?" or "how do you fit everything in?"  So this will be a really short post.  Here's my answer:
I don't.
Ha!  Seriously though.  These are questions I don't know that I have the answer to.  I don't think I have it all figured out and have found a way to magically "do it all."  Every day is a little different and every day (especially since I had baby #3) has been a huge challenge for me to make the most of the time I have.
Even though this is an area in which I'm constantly striving to improve and I don't consider myself an expert, I'm happy to share a few things that have helped me manage my time.
1)  Decide your priority for each day and write it down.  It's all about priorities and planning to make time for them.  Each night before I go to bed I glance at my planner and take a look at the next day.  I find the small pockets of "me time" (when Kole is napping and kids are in school, etc.) and I decide how I'm going to spend that time.  I always think "what is the most important thing I want to accomplish tomorrow?"  Exercise takes top priority for me.  I always figure out when I'm going to exercise first.  (I'll answer questions about my exercise routine in another post soon.)  My binder I shared in my paper organization post helps to remind me about things that need to be done soon (immediate/important actions and projects I am working on).  I look at my schedule and then fill in the "down time" slots with things from my binder I want to accomplish.
2)  Be specific.  When I write my to-do's for the next day I am very specific and realistic about what I'm going to get done.  I don't write "work on Project Life albums."  That is overwhelming to me.  I write "select next photos to develop" or "organize March – May art work."  I focus on just one step of the project I'm working on.  If I want to organize my closet (something I would never have time to complete in one day) I write "go through Kenny's shirts."  You get the point.  If I'm specific and realistic about what I want to get done I have a much better chance of actually doing it.

3)  Set routines for yourself.  I'm a routine kinda gal.  Having a set time to do certain things each day helps me a lot.  I always exercise as soon as I can in the morning, do housework in the late afternoon/evening, and blog at night.  I resist the urge to clean at other times during the day so that I can get more done on my to-do list.  There is always something that needs to be cleaned and if I didn't have my set cleaning routine, I would just clean all day long…and still have messes!  

4)  Make the most of every minute.  I have found that since I had Kole, I have really learned how to make the most of every minute.  Moms are amazing multi-taskers!  For example, I wrote the outline for this post in the carpool lane.  :)


5)  Watch the computer!  The computer is such a time trap, isn't it!?  I don't tweet and I haven't been on facebook since October.  Blogs are my weakness!  I've found that for me it pretty much needs to be all or nothing.  I can't sit down at my computer and think "I'll just check my blog and a couple of others…."  Before you know it I'm lost in blog land and 20 minutes has turned into an hour and there goes the only time I had to get anything done.  Since I had Kole (and my free time has become incredibly short) I don't get on the computer much at all during the day.  I answer most e-mails, upload and organize pictures, write my blog posts, and read other blogs all at night after my kids are in bed.  (I stay up WAY too late!)  I have also had to really cut back on how many blogs I read and how often I read them.  I still read all of my friends' blogs (and new friends I've made in blog land!) but as far as "just for fun blogs" I only follow six or seven.  If I find a new blog that I love and want to start reading, I make myself drop a previous one.  Harsh, I know, but there are only so many hours in each day and again, it's all about priorities.  

6)  No TV during the day.  When my girls were little I'd watch Oprah, or just turn the TV on during the day while I cleaned to feel like I had adult company in the house.  Not anymore.  There isn't time at all now for TV during the day.  (Still love listening to music though!)  My mom gets frustrated with me that I never know what's going on in the world because I don't watch the news.  The news hour is when I'm cleaning, doing laundry, bathing two kids, and entertaining a baby all at the same time.  Who has time for Brian Williams!?  ;)  Besides, the news is mostly depressing and if my TV is going to be on in the afternoon, you better believe we'll be tuned into Max and Ruby or The Wonder Pets so that I can have a short moment of peace to get something done!  

There you have it.  A few things I do that help me make the most of my time.  I hope that answers some questions.
What about you?  Any tips or tricks that have helped you with time management?

Free printable of the paint colors throughout my home!
Enter your name and email address to get instant access to my paint colors along with other free organizing printables. More will be coming soon!
Exclusive to subscribers!