Text me baby! My two years with Verizon was up (go "New every Two!") so I got a new cell phone. It's flat and opens up to a keypad so I can actually type my text messages. I'm excited -I feel so hip and cool and new age. I'm going to be a texting machine. Translation – now I'll text ten messages a month instead of five.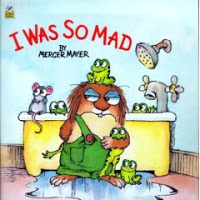 Mercer Mayer books
are simply the best. Loved them when I was little, loved them as a teacher, love them as a mom.
After being in St. George for a week I'm so happy to be back to San Diego freeways. I have a bit of a lead foot and a need for speed – lucky for me so does everyone else in this city. I love getting on the freeway and cruising everywhere I need to go. Nothing against St. George, but driving in that city drives me CRAZY! Stop…start…stop…start…pass retiree moving at 13 mph…oh wait…can't pass because there are only 2 lanes…stop…start again…slow down because speed limit is 30 (30????? Are you kidding me?) I actually like to get where I'm going. Love San Diego freeways.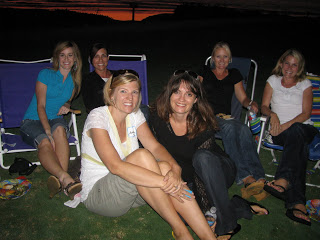 Night at the beach with girl friends.
Girl friends
are always a good thing.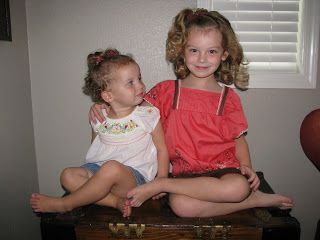 Pre-school started! Yea! Ellie went back to pre-school this week and the really great news is that Addie started a little 'pre' pre-school. It's only one day a week for four hours, but she loved it! She had so much fun and loved that she was a big girl going to pre-school like Ellie. Kept saying "Lolly (Ellie) goes to pre-school and I go to my own pre-school!" The best part is that I had four hours (FOUR!) all to myself. No kids. It was magical. I was so efficient! Unpacked from our trip, cleaned my house, went to the gym and still had time for a quick Target run! (It usually takes me a week to unpack alone) Three cheers for pre-school!
(The girls on their first day of school)
Last good thing for this week: Kenny and I celebrated our 11th Anniversary yesterday (Sept. 6). I can't believe we've been married 11 years! I met Kenny when I was 15 (he was 17) so now I've known him for over half of my life! I love our old high school pics when we first started dating because we were such little kids. I remember that before this picture we were BOTH so excited because I had just gotten my braces off! ;) Love you babe – Happy Anniversary!
(Nice pic Kenny – way to stake your claim. When is this hair style coming back??? I have big hair and love to rat!)
xoxo, Erin