*affiliate links used
Well hello! I hope you're all having a great month and moms I hope you're surviving May madness! We had a couple of not fun weeks being sick at our house. I spent Mother's Day in bed because of a lovely sinus infection and I kind of want a re-do on that one. Guess I'll have to wait a year! Ha. Really I'm just so grateful to be feeling better. It always make you extra aware and appreciative of your health when you go through not so healthy times doesn't it!? I'm especially grateful to be getting some of my energy back because I'm definitely going to need it finishing up this month!
Totally switching gears because today we are talking bike organization!
How was that for a transition.. bikes.. switching gears.. clever right? Yes.. the sinus infection may have affected a few brain cells as well.. ha. I can see my kids all shaking their heads right now. 
You might remember the original way we stored bikes in our garage on the floor using a system similar to this rack (our exact rack isn't in stock anymore.) We also stored our scooters next to them using these little stands that link together. I loved this system! It was perfect when our kids were little and were constantly riding their bikes. It made it so easy for them to safely get their bike and go on a ride and then put it back. We upgraded our bikes when life shut down in 2020 and (like so many others) we were riding them almost every day and I loved having our bikes so easily accessible.
Fast forward to today. Life is back to full speed with ALL the activities and we are lucky if we can find one day a month to use our bikes. (Hoping for more riding time this summer!)
Plus my little minis who used to look like this zooming around on their razor scooters in the back yard..
now look like this. My girls grew up (tear) and we now have TWO teenage drivers. Don't blink moms! I really don't know how this is even happening! But here we are and aside from not using the bikes as often we also needed more garage space for cars.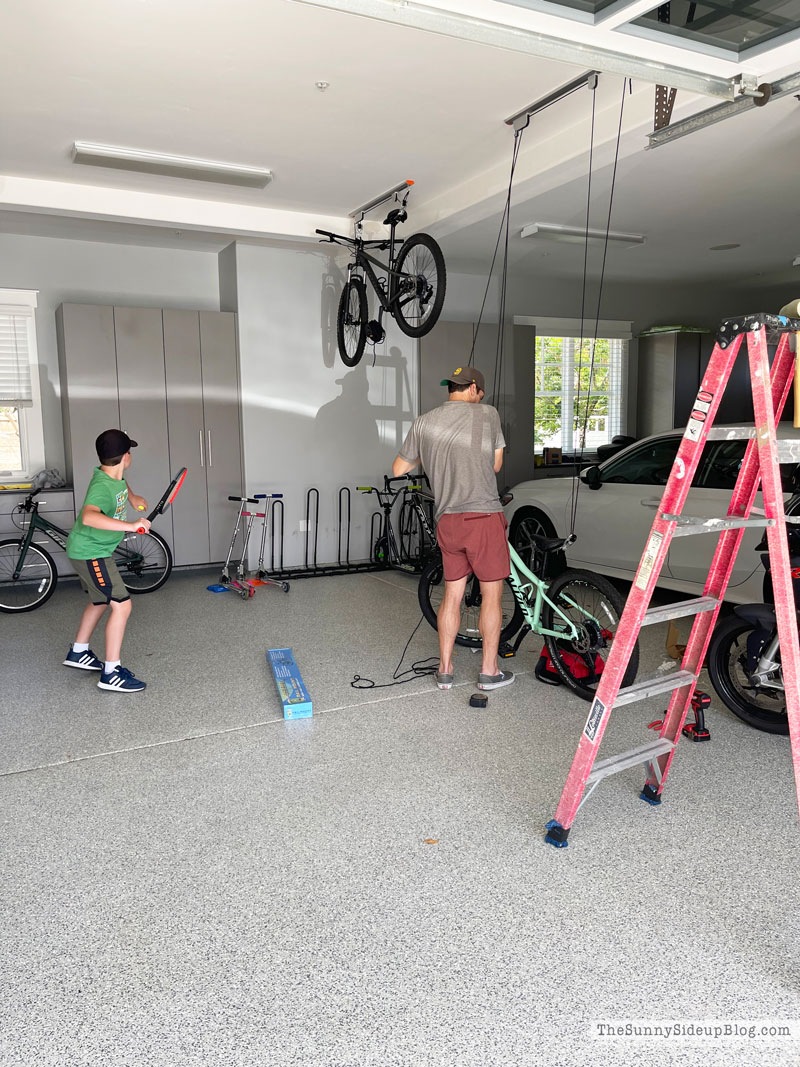 Kenny spent some time researching what would work best and finally decided to go with these rail mount lifts that would hold the bikes on our garage ceiling. He got to work installing the mounts and had no problems attaching them to the ceiling.
Two up.. two more to go!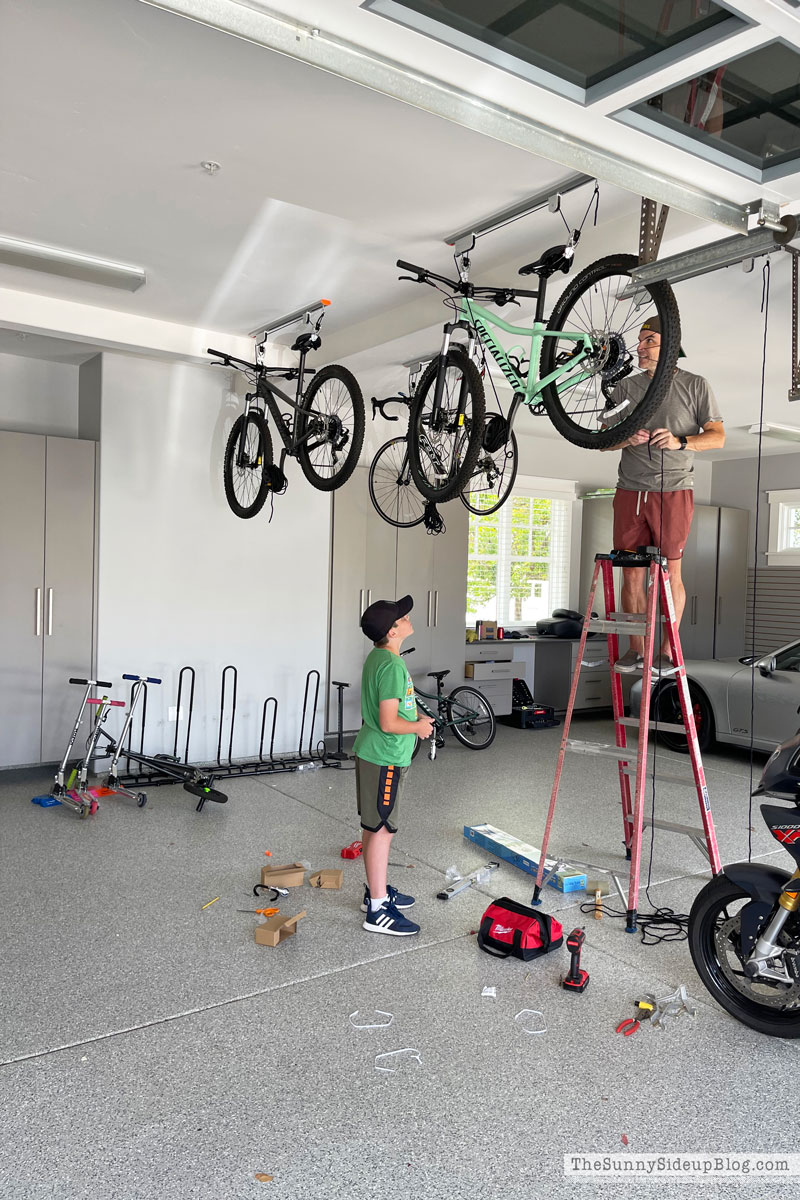 Of course he couldn't have done it without such a trustworthy and loyal assistant. :)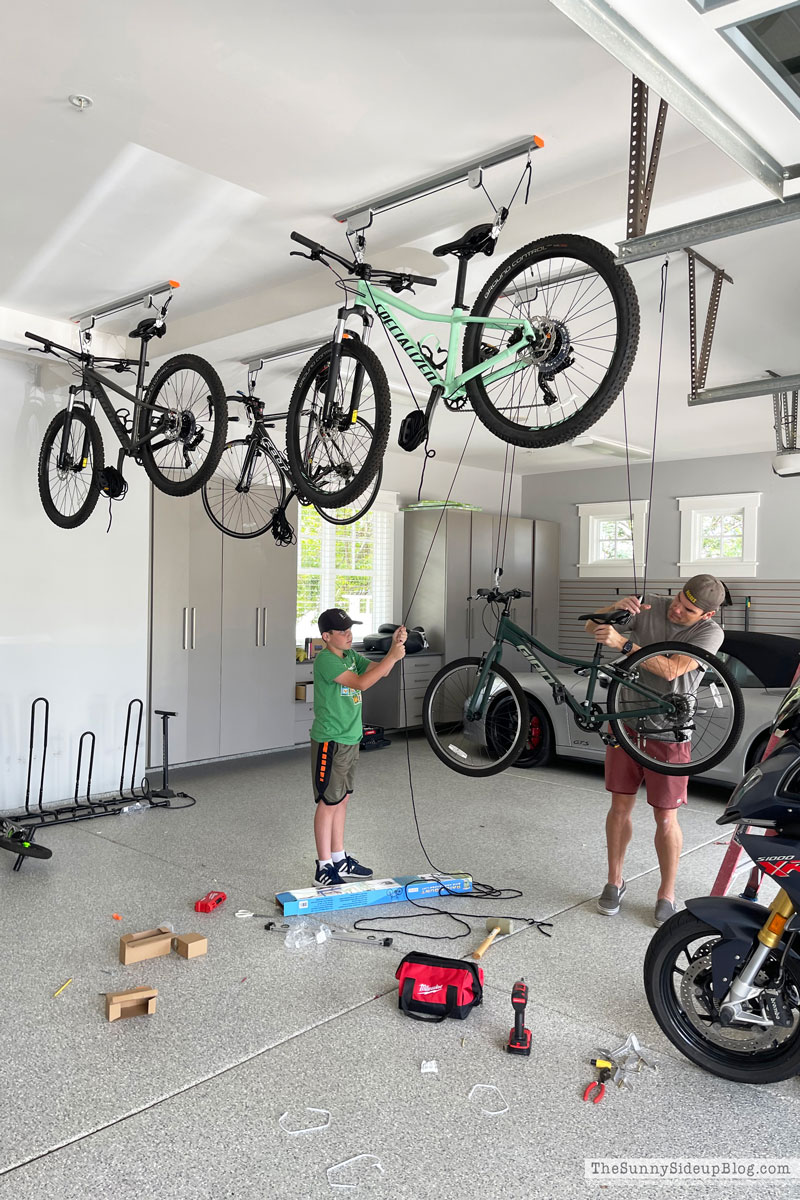 A few hours later and done! We now have a new system for bike organization and I have to say that we are obsessed! It feels amazing having the bikes off of the ground and out of the way. I can't believe how much space it gave us back. Now we can easily park all of our cars with room to walk around them.
I had Kenny come out to take these pics so that he could show me (and you!) how to get the bikes down and put them up. The bikes are attached with hooks and a rope. To get them down you pull and release the lock (just like using a blind!) and then use the rope to lower the bike.
There is a locking mechanism that keeps things secure and they are so easy to raise and lower. Really so simple!
You can attach the ropes to the wall but because of the way we hung ours it was easier to just tie the extra rope around a bike petal.
So nice to have our bikes off the floor and out of the way! I wanted to share our new system in case it's the right solution for any of you too. You can also use these mounts to hold ladders. Let me know if you have any questions! I'll also share more on IG stories and save it to a garage highlight if you hang with me there. :)
I'll be back with more organization (and other fun things) soon! There's no stopping the projects (or cheesy jokes) when mom is feeling like herself again.
:)
{POST SOURCES}

xoxo, Erin