*affiliate links used

Happy Sunday! I'm popping in to share a couple of fun spring arrangements today! I guess these could really be summer arrangements. Or even fall for this first one. But since it's spring at the moment let's call them spring arrangements shall we?
We shall. :)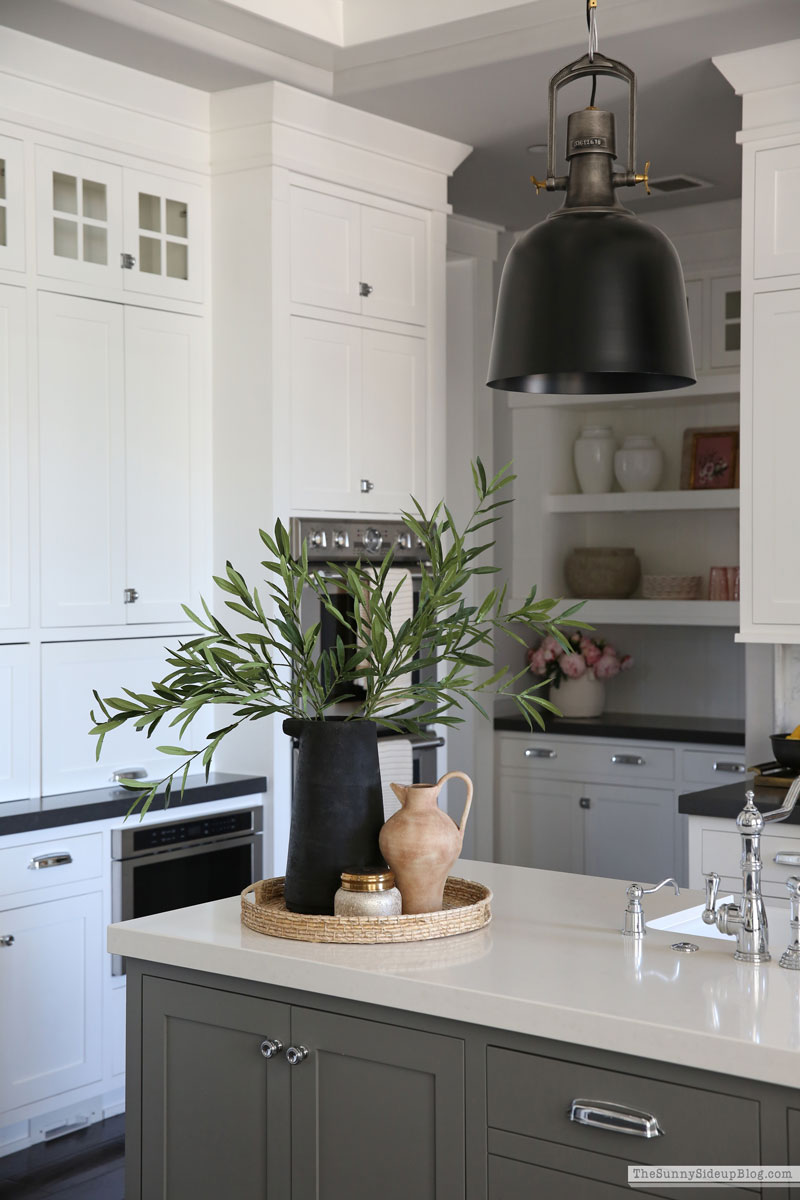 I added these pretty olive branches to my kitchen and love the look. They are similar to these olive branches I usually decorate with minus the olives and with straighter leaves. Fun for a semi change. :)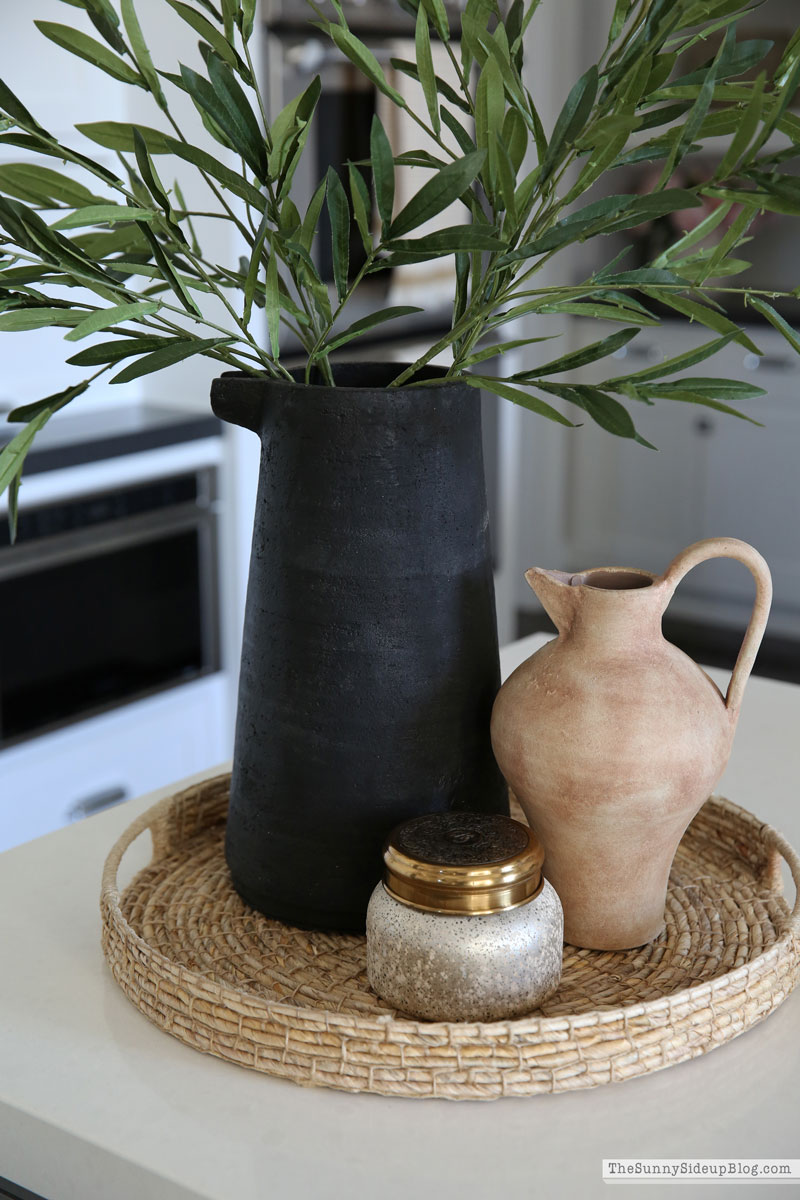 I've had this black terra cotta pitcher for a while and absolutely love it. It looks great with flowers or greenery in it, but also just on its own on a shelf. It looks especially good next to my beloved spectrum pitcher, but that little jewel goes with everything! (Both pitchers are on sale at the moment!) I set it all on this beautiful handwoven serving tray. Round woven trays like this are my favorite. No surprise there because I have them all over my house! I love that they work in every room – kitchens and bathrooms and living rooms and bedrooms. They look good on coffee tables and console tables and on islands and in all the corners. Staples! Candles are staples for me too so I added a candle to make a nice little grouping of three.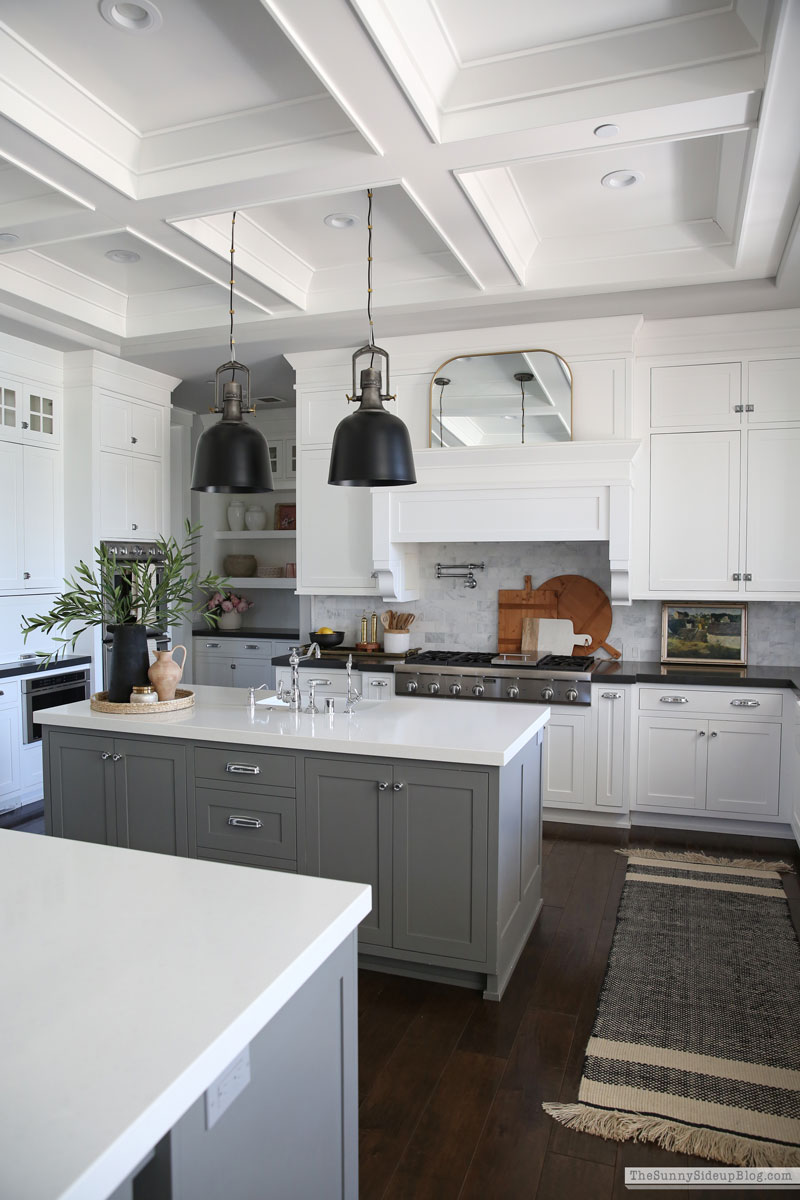 That's option one!
My second spring arrangement is all about these beautiful faux cherry blossom branches you might remember from last spring. They are STUNNING! And take no effort to style. I literally just plop them in a vase and the branches bend and land every which way and look amazing instantly. I love them on my black cheese board – the white and black are a fun contrast.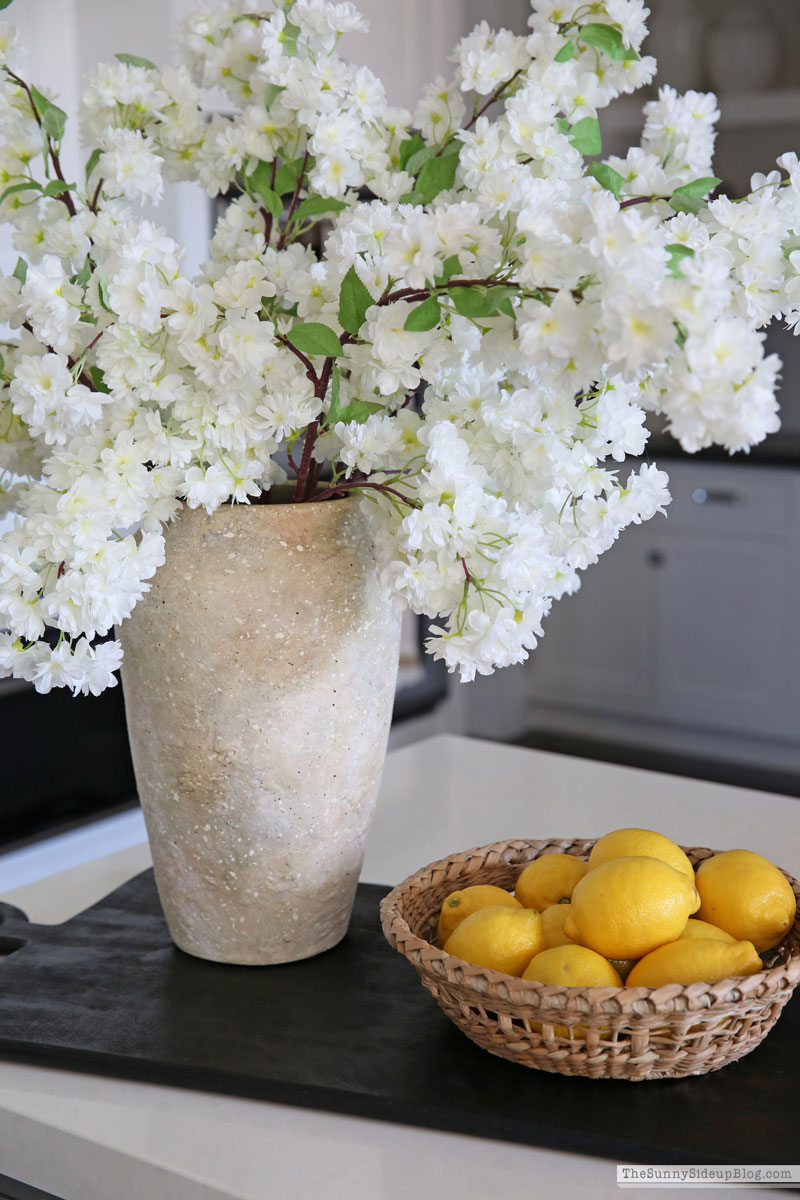 I use this artisan vase over and over every season because I love both the size of the vase and also the size of the opening. It tappers in a little at the top so you don't need a crazy amount of stems to make a nice arrangement. I have six of the faux cherry blossom branches in it now and could probably get away with just four or five. This cute little woven fruit basket is a recent find.. perfect for summer! You can never have too many lemons in my opinion. :)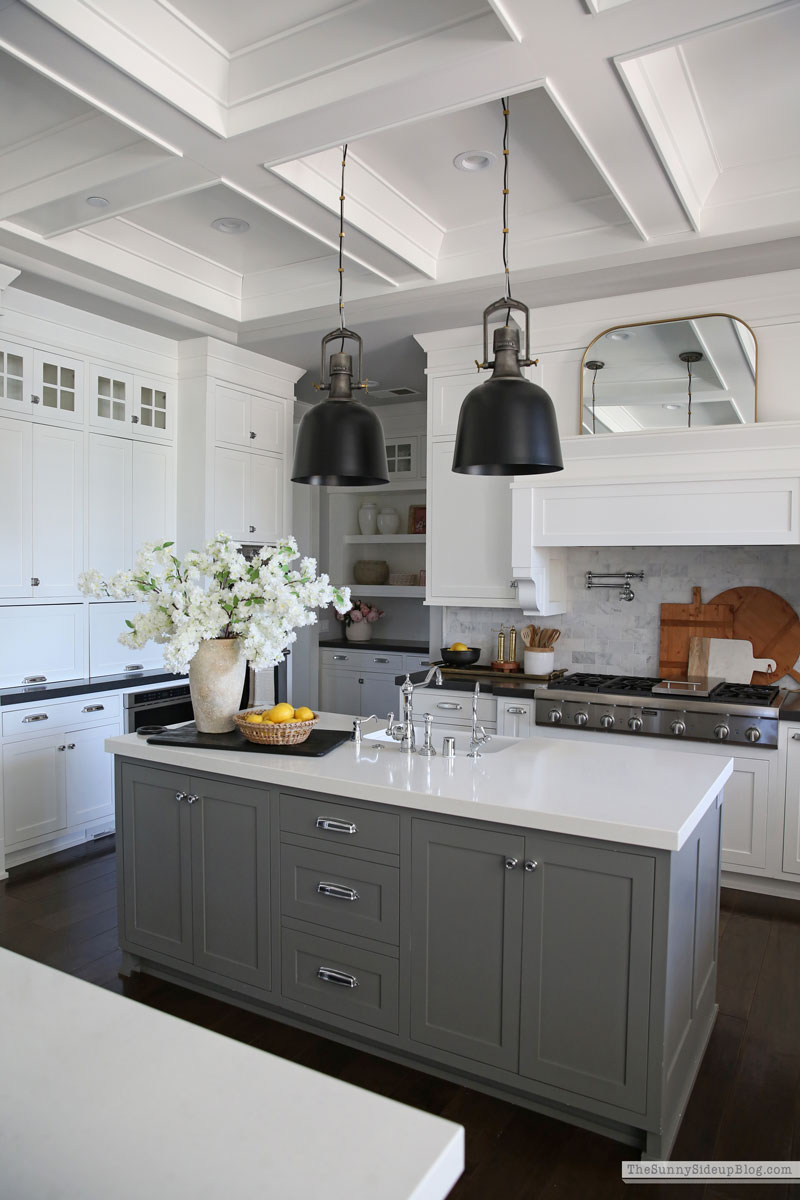 Which arrangement is your favorite? I don't think I can choose so one is going to land on my dining room table. :)
I'm sharing a few fun Mother's Day gift ideas below from Anthro that are all on sale this weekend! Most are items I have and love and all would make great gifts. I also added a few seasonal favorites! In other fun news Studio Mcgee's latest collection at Target released today and there are some beautiful options for spring/summer there too. Such a fun time of year to get our homes clean and organized (who is working on my list!?) and then add beautiful spring decor for the cherry on top. :)
Happy nesting and enjoy the rest of your weekend!
1- hand cream set   2- pitcher   3-monogram necklace
4- pacifico pot   5- wood serving board  6- decorative bowl
7- beaded jute garland   8- apron   9- capri blue hand soap
10- bracelet jewelry stand   11- brush set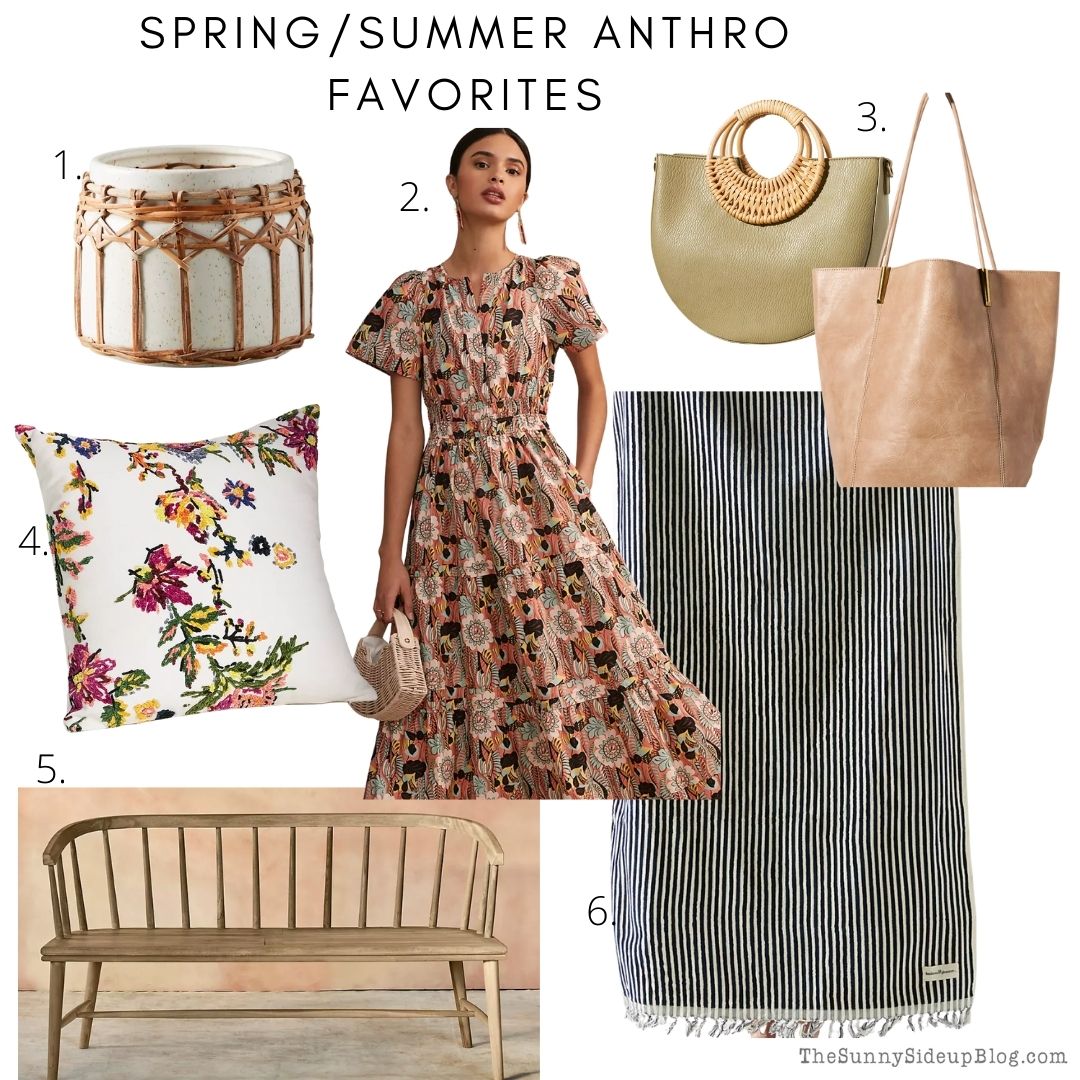 1-pacifico pot   2-maxi dress    3- half moon bag / large akimbo bag
4- chenille pillow   5- dining bench   6- navy striped beach towel
1- dish towel   2- floral scarf   3- floral doormat
4- indoor/outdoor rug   5- headband   6- rattan wrapped stool
{POST SOURCES}




xoxo, Erin