We made it though February! Heading into March is always a good thing. Spring is right around the corner and I'm feeling incredibly motivated to finish organizing everything on my challenge list. Once the weather is warm and evenings start staying lighter longer I just want to be outside! Now is the time to get things in order inside the house. If you're working your way through the organizing challenge with me don't give up! Commit to just working on a little bit each day.. even just 15 minutes makes a difference! On our way to an organized home. :)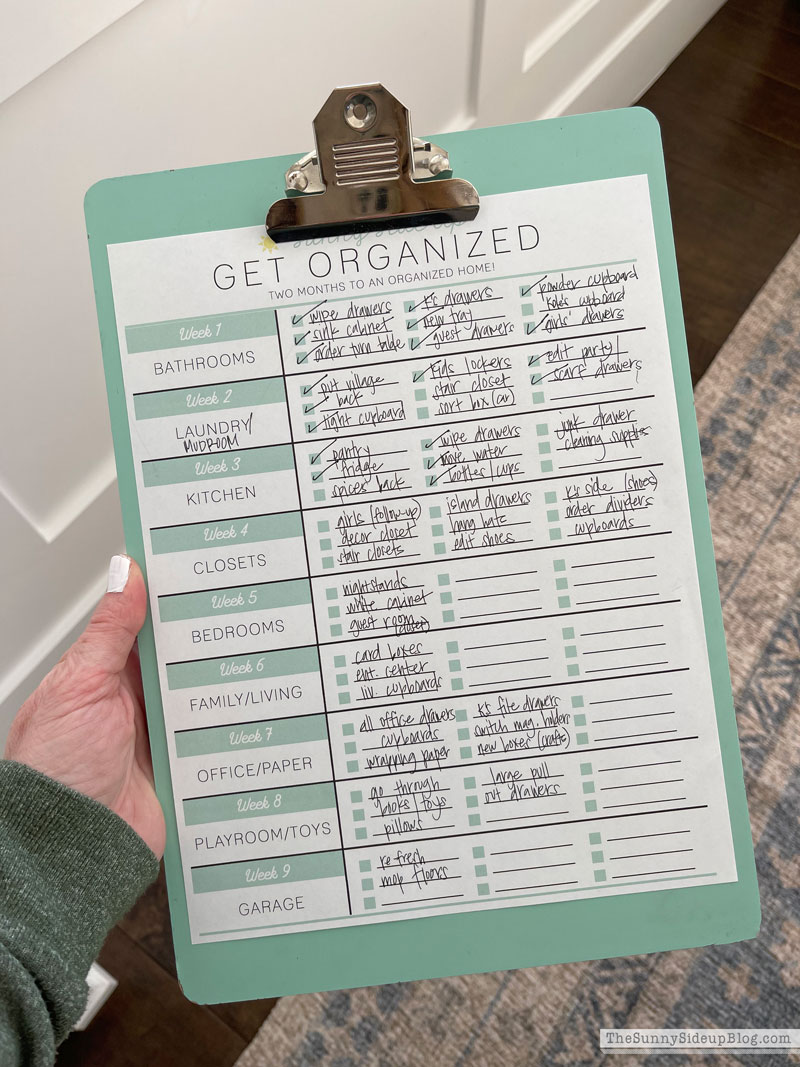 *You can find challenge details and this free printable HERE. I finished a lot of my closet to-do's last week (my closet is still a work in progress) and I'm moving into bedrooms. Goal is to finish my closet before April.. it has been a lot of work!)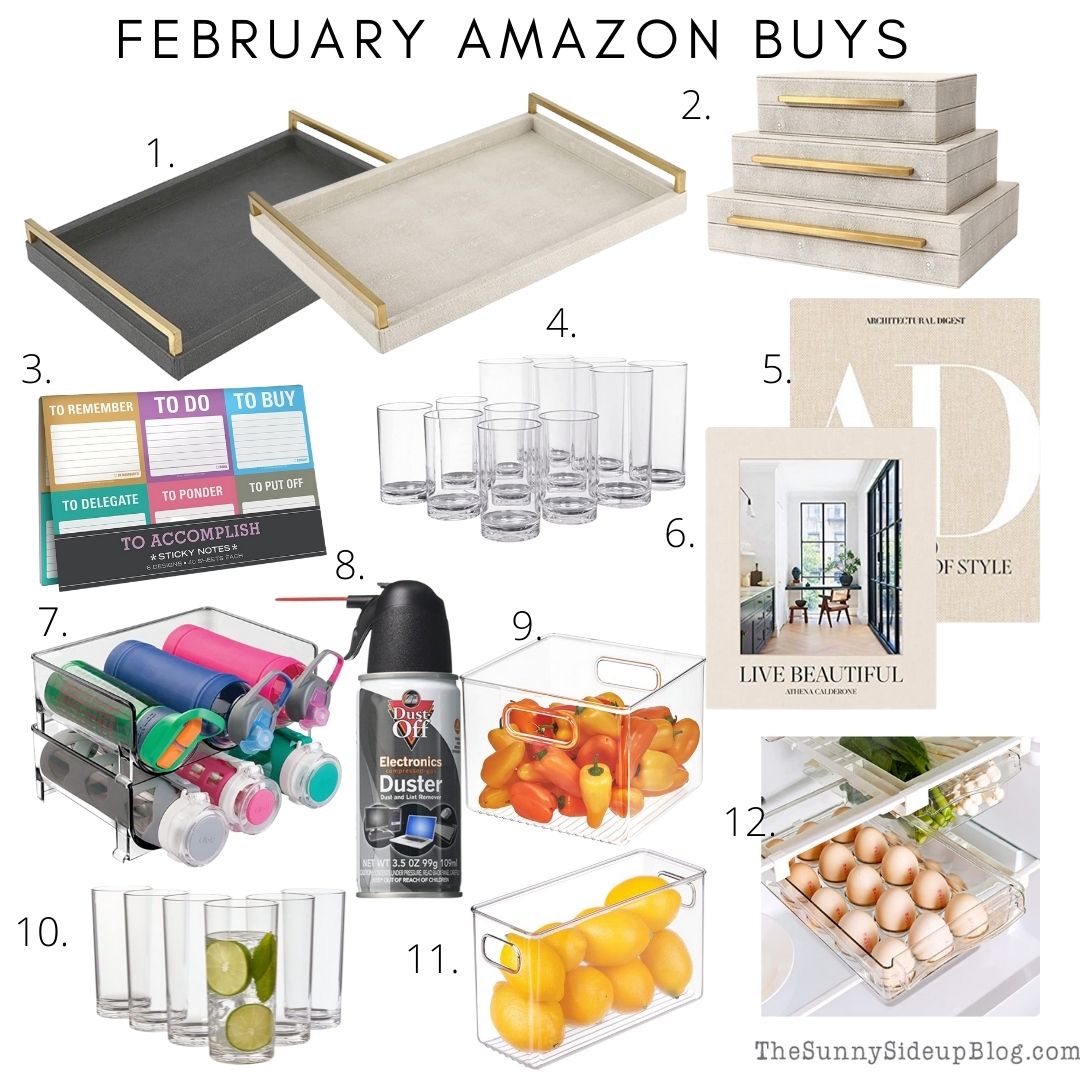 1- decorative tray   2- decorative boxes   3- sticky notes packet 
4- 12-piece plastic tumblers   5- architectural digest   6- live beautiful hardcover
7- stackable water bottle holder   8- cleaning duster   9- kitchen storage organizer 
10- set of 6 plastic tumblers   11- kitchen storage bin   12-  egg trays
I'm wrapping up the month with my February Amazon Buys! You can tell I've been doing lots of organizing and decorating by the Amazon purchases this month. :) You'll be seeing a lot of these items popping up in future posts! I picked up some beautiful trays and decorative boxes I've had my eye on for quite a while to use for shelf styling. I needed more of my favorite to-do sticky notes..I love the little "to do" "to buy," "to put off," etc. They are so fun. I use the "to remember" notes a lot with my kids. I left something in El's car for her at school that she needed a few months ago with a little "to remember: your mom loves you and is proud of you" note and she saved it. Made me smile when I saw it on her bedroom mirror. :) When I tackled my kitchen during the organizing challenge I tossed all of our old mismatched glasses/cups and ordered new clear every day drinking glasses on Amazon.. we've loved them! We were due. Some of our old cups were around when my girls were toddlers! The two coffee table books were from my husband for Valentine's Day. I've wanted them for a while.. he knows me well! :) Lately my favorite way to relax is to watch a show while I'm flipping through one of my home decor coffee table books. They are always so inspiring to me! I picked up a few other kitchen organizers that you'll see in more detail soon! And we were out of our electronic cleaning duster. :)
It was a fun Amazon delivery month! For my boys too because they ordered lots of cool things for their fish tank. I just didn't think you'd care too much about those items. ;) Fish are doing well by the way. We lost two and Kole was heartbroken (RIP Sunshine and Edward). Thankfully my fish Gilmore is swimming strong. Kole is feeling better after a trip to the fish store this weekend to pick up a few new friends. I feel like we need an Edward 2 (team Edward from Twilight forever). I also suggested Paul Anka to be besties with Gil (if you're a Gilmore Girls fan.. you know ;)) but Kole isn't feeling it. I'll keep working on him.
To be continued..
;)

Free printable of the paint colors throughout my home!
Enter your name and email address to get instant access to my paint colors along with other free organizing printables. More will be coming soon!
Exclusive to subscribers!