*affiliate links used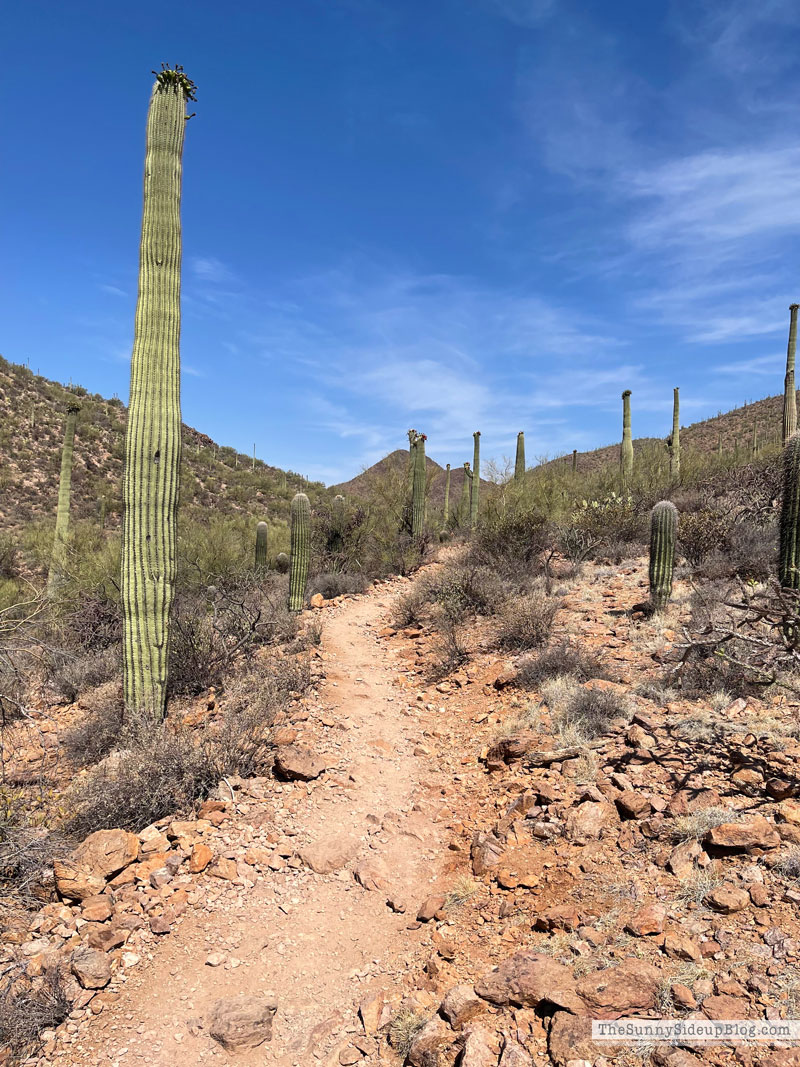 Kenny and I hiked this mountain trail last week.  I'm telling you that because it's a miracle we're still alive to tell about it!  We took a quick trip to Arizona (traveling to lots of states this summer to look at colleges for El.. I still can't believe she's about to be a high school senior!) and we were just there for a couple of days but wow.  That heat isn't messing around!  114 degrees!  We woke up early to hike both mornings, but it was still 100 degrees when we finished.  Kenny and I grew up in a small town in southern Utah that gets hot in the summer so we handled the heat a little better than our kids.  I thought they were going to DIE.  Half way up that mountain I thought I was going to DIE!
Nobody died. :)
We did however cheer and weep tears of joy when we pulled back into San Diego and our year round average temp of 73.  I might be able to keep Ellie from moving out after all. ;)
To all of my Arizona friends (and anyone else dealing with crazy heat this summer) I applaud your strength!  Stay as cool as you can (don't hike desert mountains) and come and visit me when you get the chance.  Then I'll come and visit you in the Fall when it's hot here on the coast and the leaves don't drop from the palm trees. We'll light pumpkin spice candles and wear tall boots and sweaters and drink cider and decorate with REAL Fall leaves.  Actually we'll probably still decorate with faux Fall leaves because they are low maintenance and we're busy but REAL Fall leaves will be right outside our window.
Deal?  Since this is a one way conversation that I get to decide the ending of..
Deal. :)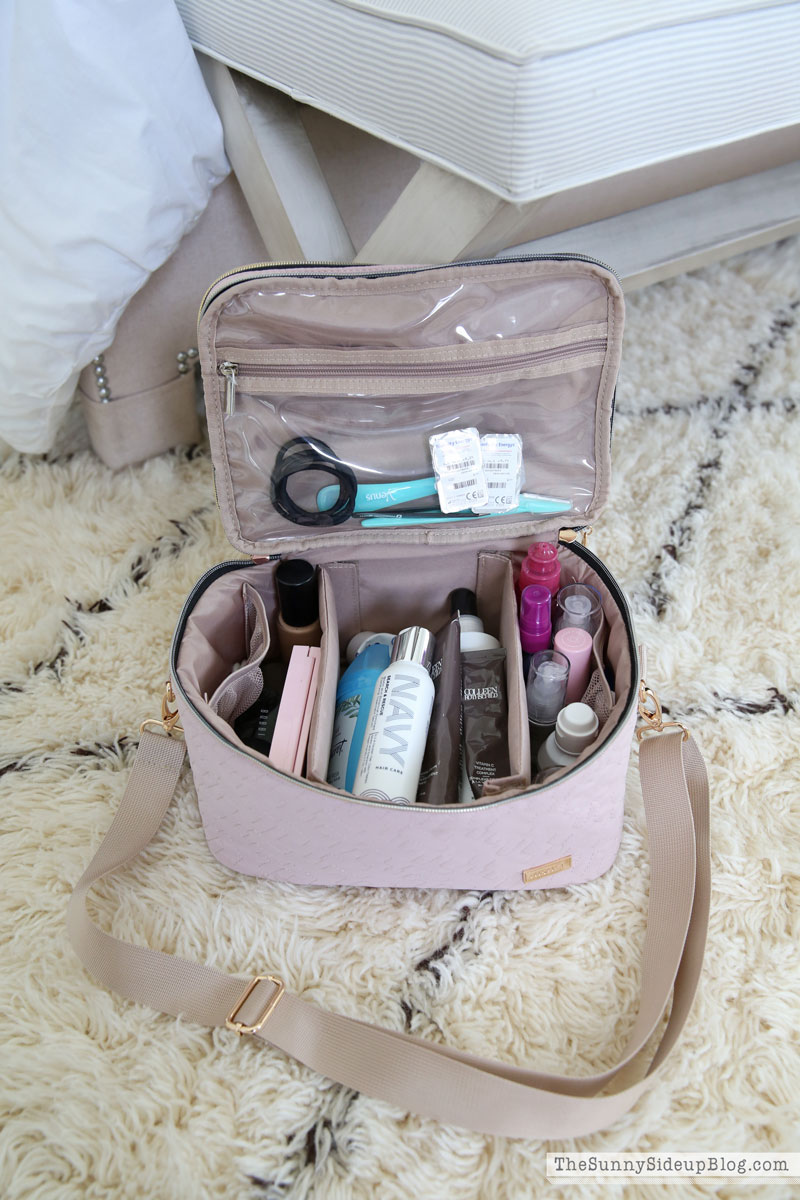 I was unpacking from our trip and thought I'd share a few travel bags I've been loving!  I ordered several to try this Spring because I knew we would be on the go so much this summer.  I found a few I love and one I REALLY love.  This double layer make-up travel bag is my latest obsession!  I've used so many different travel bags through the years and this is my new #1 because it holds EVERYTHING.  I love that I can lay larger products in the middle and keep smaller bottles upright on the side.  I put a lot of my make-up on the left and still had room in the top and side pockets for odds and ends like Q-tips, elastics, extra contacts and floss.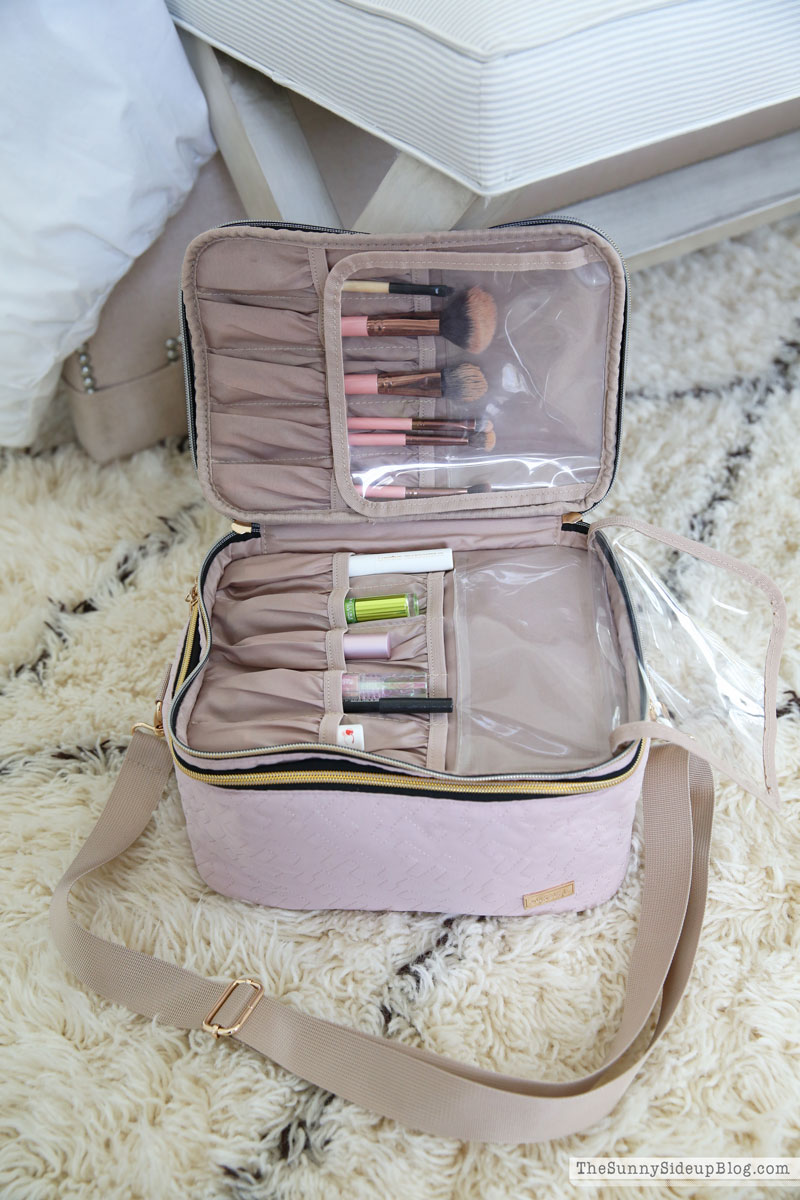 As if that wasn't good enough there is another zipper compartment on top for make-up brushes and other items!  I love the transparent cover to keep make-up brushes clean too.  Plus it has a strap and is easy to carry.  WINNER!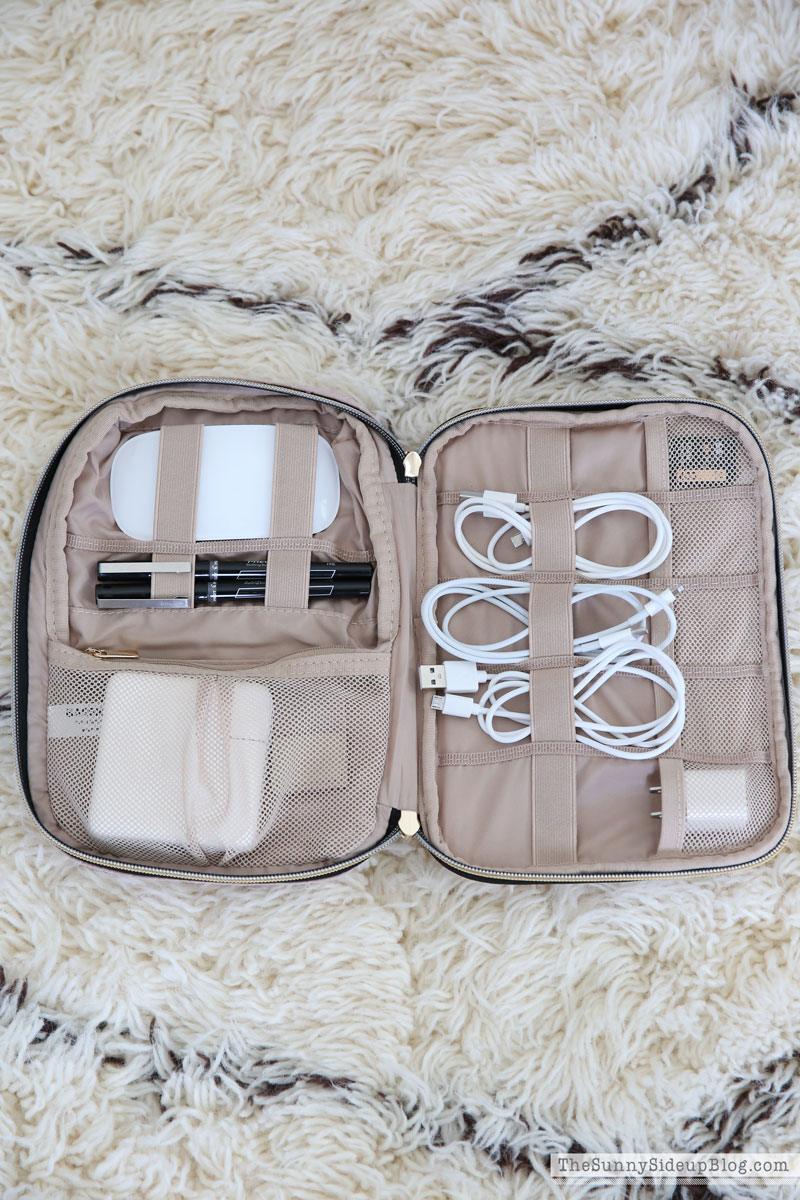 This electronic organizer is another favorite!  Perfect to hold all of your charging cords, camera items, pens, a mouse, your phone.. whatever you need!  I love having items like this all together and easy to find instead of loose inside my purse or bag.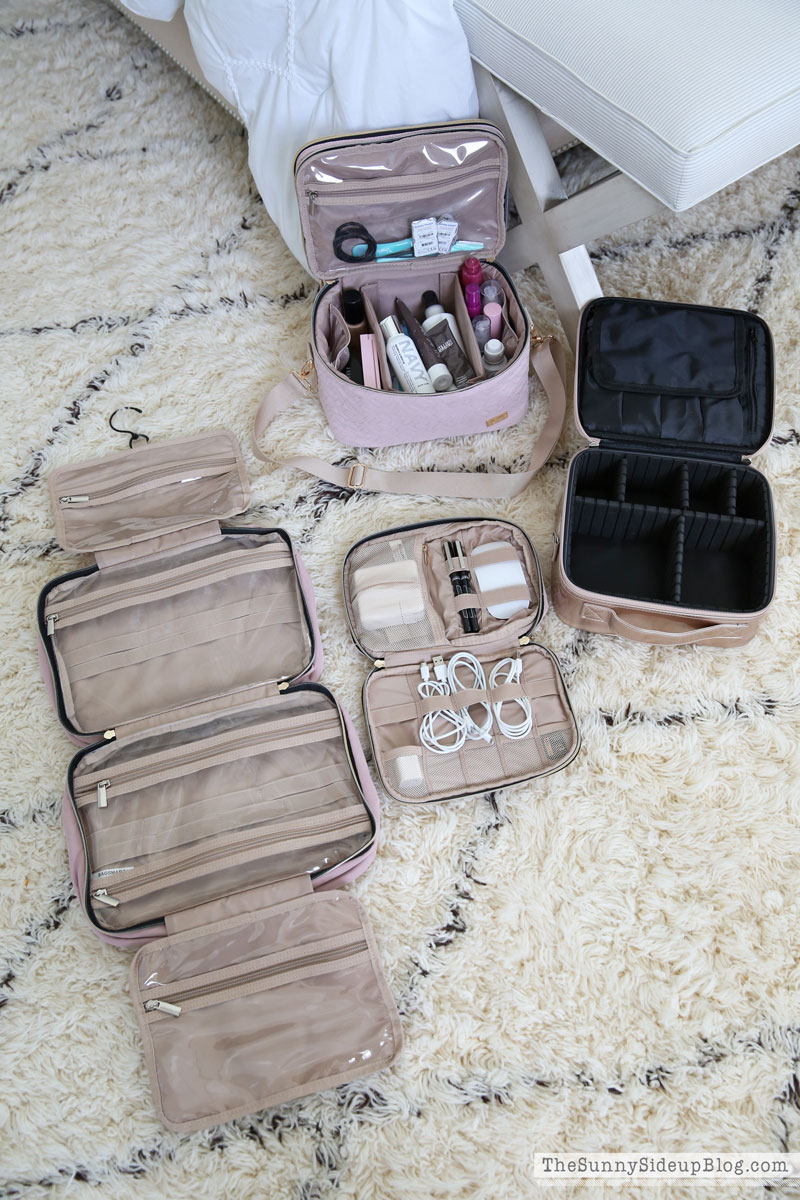 If you prefer hanging bags this toiletry bag on the left is a great option.  It also holds a lot and has elastics that help keep products upright.  I also really like this travel make-up organizer.  Similar to my favorite bag with a separate spot for brushes on top.  It also has dividers that you can move and customize.  (It's doesn't fit quite as much as the bag I used on this trip so I'm keeping it for airplane travel when I pack smaller bottles.)
Everything open..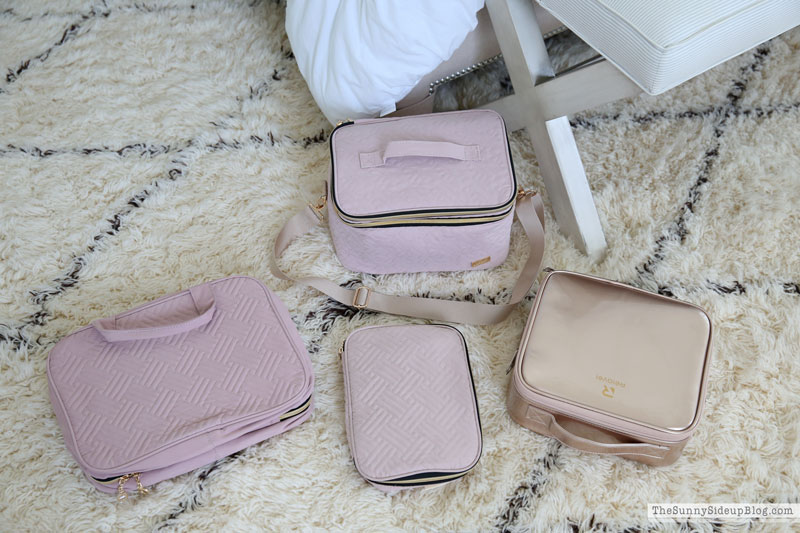 And closed.
These favorite travel bags are all linked below along with this jewelry organizer I also ordered to try.  Such a steal because it's on sale for Prime Day!
Organized travel makes me happy.  :)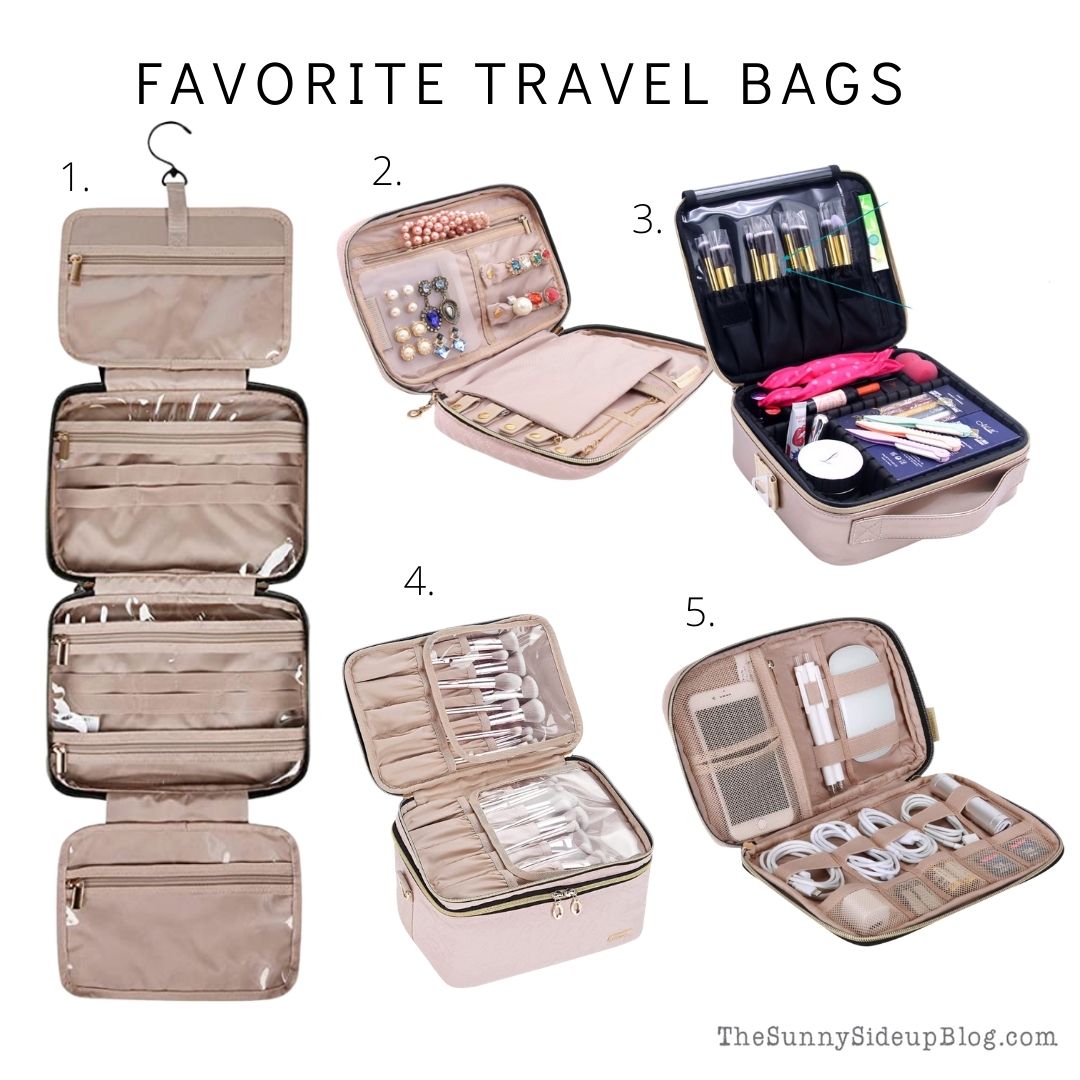 1- travel bag with hanging hook    2- jewelry organizer travel case 
4- large cosmetic case   5- electronic organizer travel case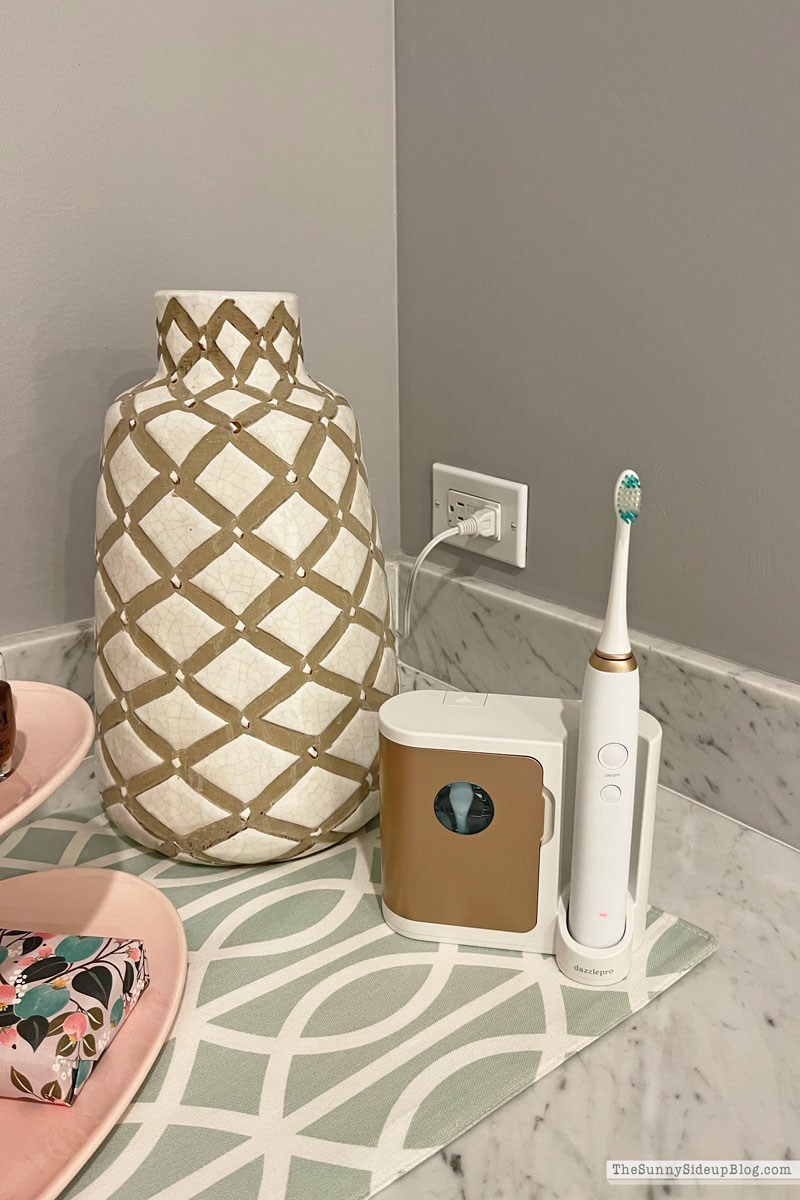 Aside from my travel bags I have another latest obsession – the Elements Sonic Toothbrush from Vanity Planet.  I've been using it for a while now because the last time I went to the dentist I was told that I have receding gums.  The lady cleaning my teeth asked me if I was a perfectionist (seriously!?  Is it THAT obvious!? Ha.) because I'm clearly brushing my teeth too long and too hard.  She suggested I use an electronic toothbrush that controls the power and length of brush time and now that I've been using this toothbrush for a while I'm wondering how I went so long without it!  This has a chamber that holds your brush heads and keeps them sanitized.  The toothbrush has a variety of settings and is so easy to use!  I love it and kind of look forward to brushing my teeth now.  Weird?  Maybe. :)
This picture is horrible because I snapped with quick with my phone after it was dark tonight but I didn't want to wait to share this with you because Vanity Planet has given me a code for you to use (LOVE them!) to get 78% off for a limited time.  Just use THIS LINK to purchase yours and the discount will be automatically applied.
I shared my other Vanity Planet favorites (including our beloved face steamer!) in this post if you're interested.  I'm pretty sure my codes from that post are still active too although I don't know how long they will last so don't wait if you are debating something!
I'm leaving you with some fun Amazon Prime Day deals I rounded up!  Last day to save big!  My go-to hand held vac is on sale and so are the hangers we love.  My favorite sheets and storage bags for pillows are also on sale!  (Back in stock.. they sell out often.)  Also we have the beloved nugget ice maker and love it!  It was a Christmas gift from my parents.  It's $100 off through today!  I'll try to share it tomorrow in IG stories.  The ice is amazing!  The only downside is that it's big and does take some room to store.  I have mine in our main floor laundry room.
Aside from favorite home items from Amazon I also added our favorite fashion/beauty products and electronics.
Happy last day of Prime shopping!  And happy summer.  I so hope you are enjoying yours so far. :)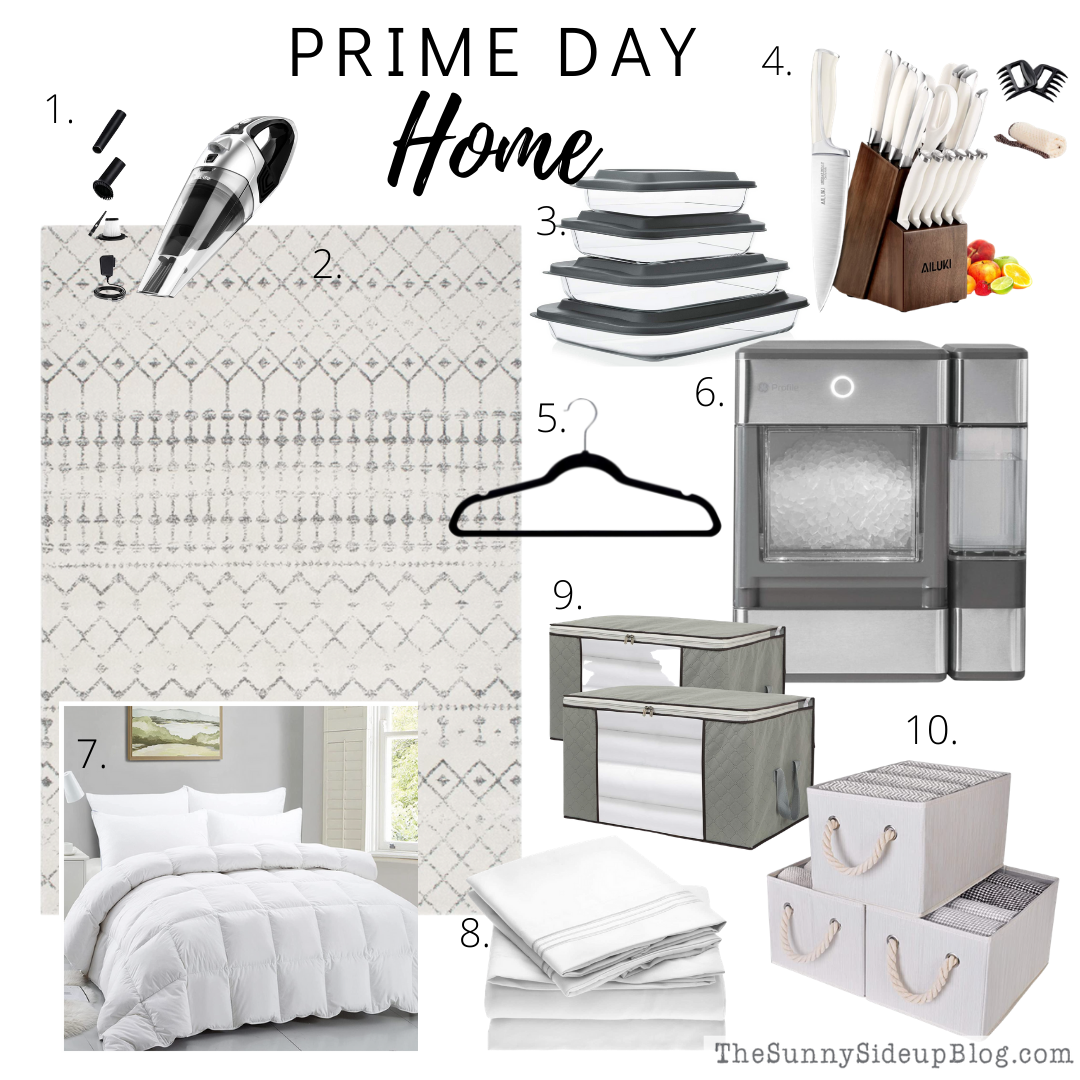 1- hand vacuum   2- area rug   3- glass bakeware set  4- knife set 
5- non-slip hangers  6- ice maker  7- king down comforter 
8- bed sheet set   9- jumbo storage bags   10- storage bins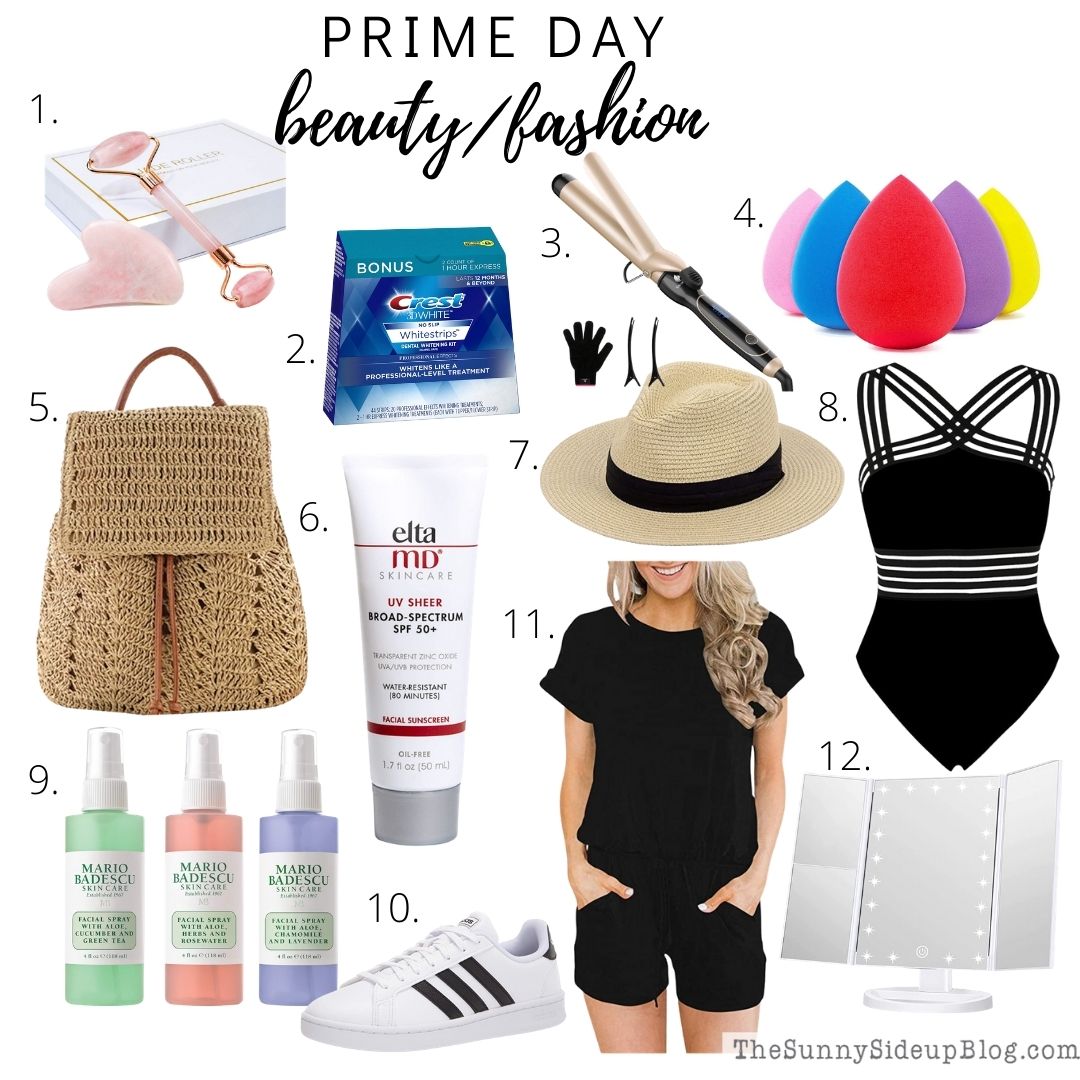 1- jade roller. 2- crest whitestrips   3- curling iron
4- beauty sponge set  5- backpack. 6- elta sunscreen 
7- straw hat   8- crossover swimsuit   9- mario badescu glow facial spray 
10- adidas sneakers  11- short sleeve romper   12- vanity mirror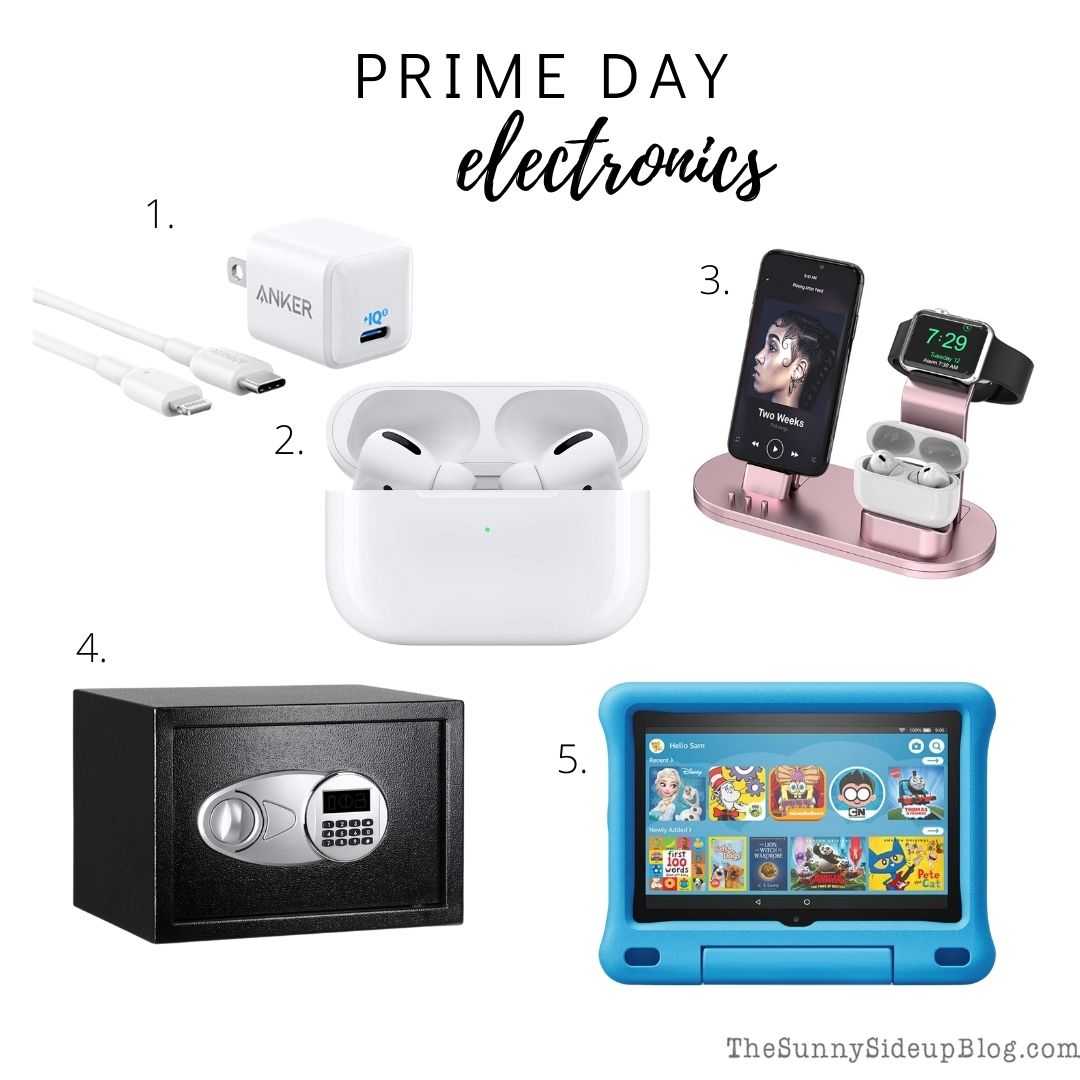 1– anker charger   2- apple airpods pro 
3- charging stand  4- security safe   5- kids tablet
xoxo, Erin