*affiliate links used
Happy Friday!  We're feeling festive over here after I gave our outdoor area a good cleaning.  It was due!  We're having a few get togethers before the 4th so I added some red, white and blue!  A lot of the flag pillows and banners I usually put in this space I used inside this year and I didn't want to spend a lot so I found some inexpensive options and I'm so happy with how it turned out!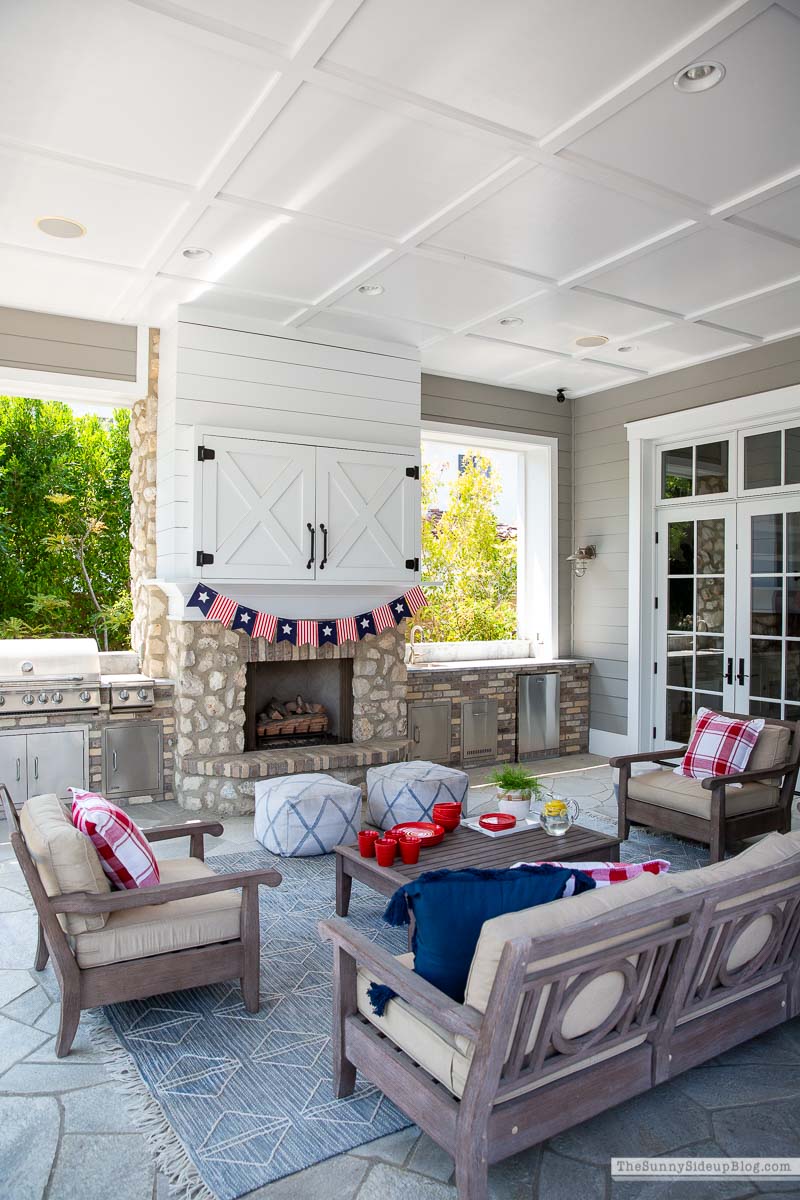 I popped up this simple banner with painter's tape in 2 minutes!  Then I added these cute $12 red plaid pillows.  They are 20×20 and so comfortable!  I've had them in navy for years and love the red for July.
These red dishes will be fun for summer and then I'll use them again in December (the mugs are perfect for hot chocolate!).  I've also been loving this glass pitcher for lemon water (comes in a set of 2) and I didn't photograph it but I picked up this cute utensil holder.  Perfect for outdoor dining!
Festive and fun and ready for guests!  And food.  Whose bringing the food?  I just like to be in charge of the cute pillows and dishes. :)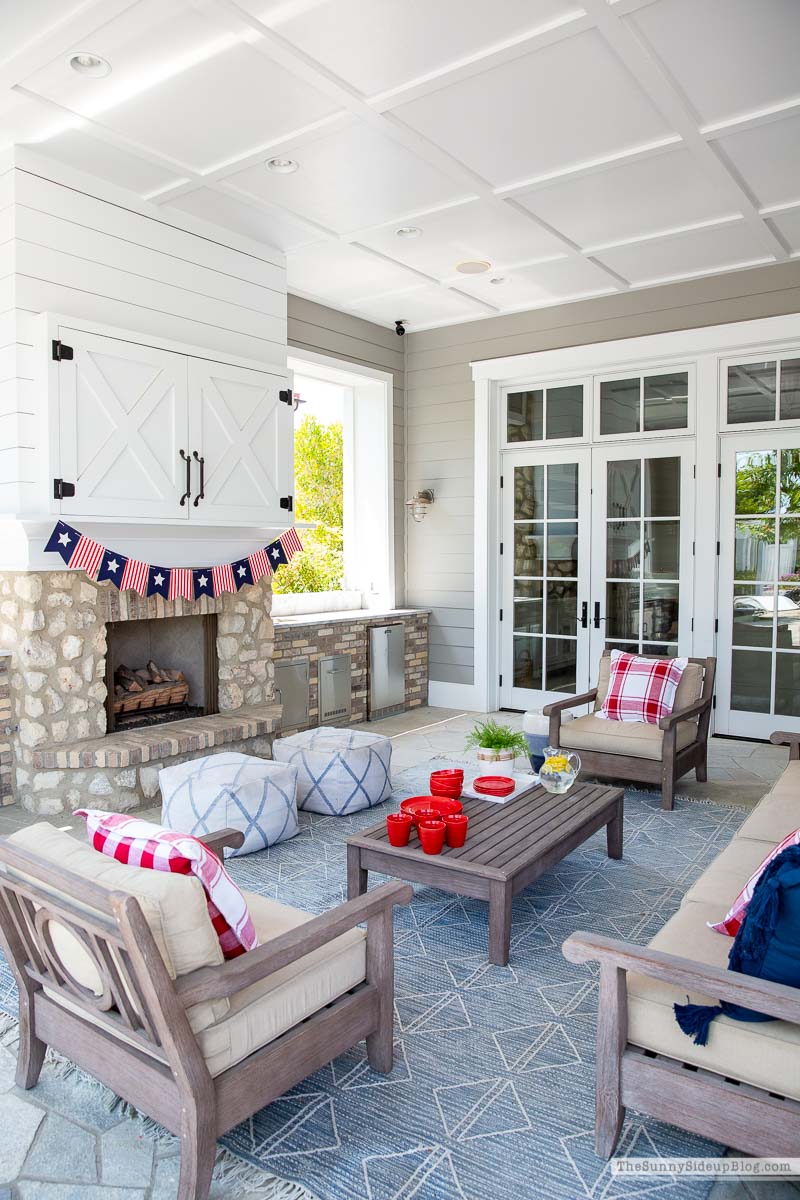 I also finally got around to hanging our 4th of July pics on my shiplap display wall.

I love this board because it forces me to get our pictures off of my computer and phone and out where we can enjoy them!  You can see more details about my shiplap display wall here.  You can also see more pics of how I've decorated my home in past years (inside and outside) for July in this post.
I was looking on-line last night for something cute to wear for the 4th (for me and the kids) and found so many fun options.  I went to my happy place putting outfits together. :)  You could mix and match all of the items below!  I stuck with mostly solid pieces because they can be worn after the 4th too.  Fun summer fashion!  I have a lot of these items already (I own and love all of the sandals).  I love #4 for a dressy look but outfit 1 & 2 & 3 are more what I would actually wear for the 4th to the parade/pool/fireworks.  I want the cute white dress in outfit 5!  And all of the fun earrings.  Tell me which outfit is your favorite!  I'm also dying over all of the cute options I found for kids!  I so miss the days of buying sweet little matching dresses for my girls.  I have a feeling that wouldn't go over so well now.  Ha.
1- slim ankle jeans   2- v-neck t-shirt   3- star drop earrings 
4- chuck Taylor sneaker   5- phone crossbody bag 
1- puff sleeved top    2- high waist demin shorts   3- tassel drop earrings 
4- riley clutch    5- granda slide sandal   6- selina sandal  7- a-line mom shorts
1- sleeveless dress    2- star power earrings 
3- straw circle handbag    4- slide sandal     5- sundress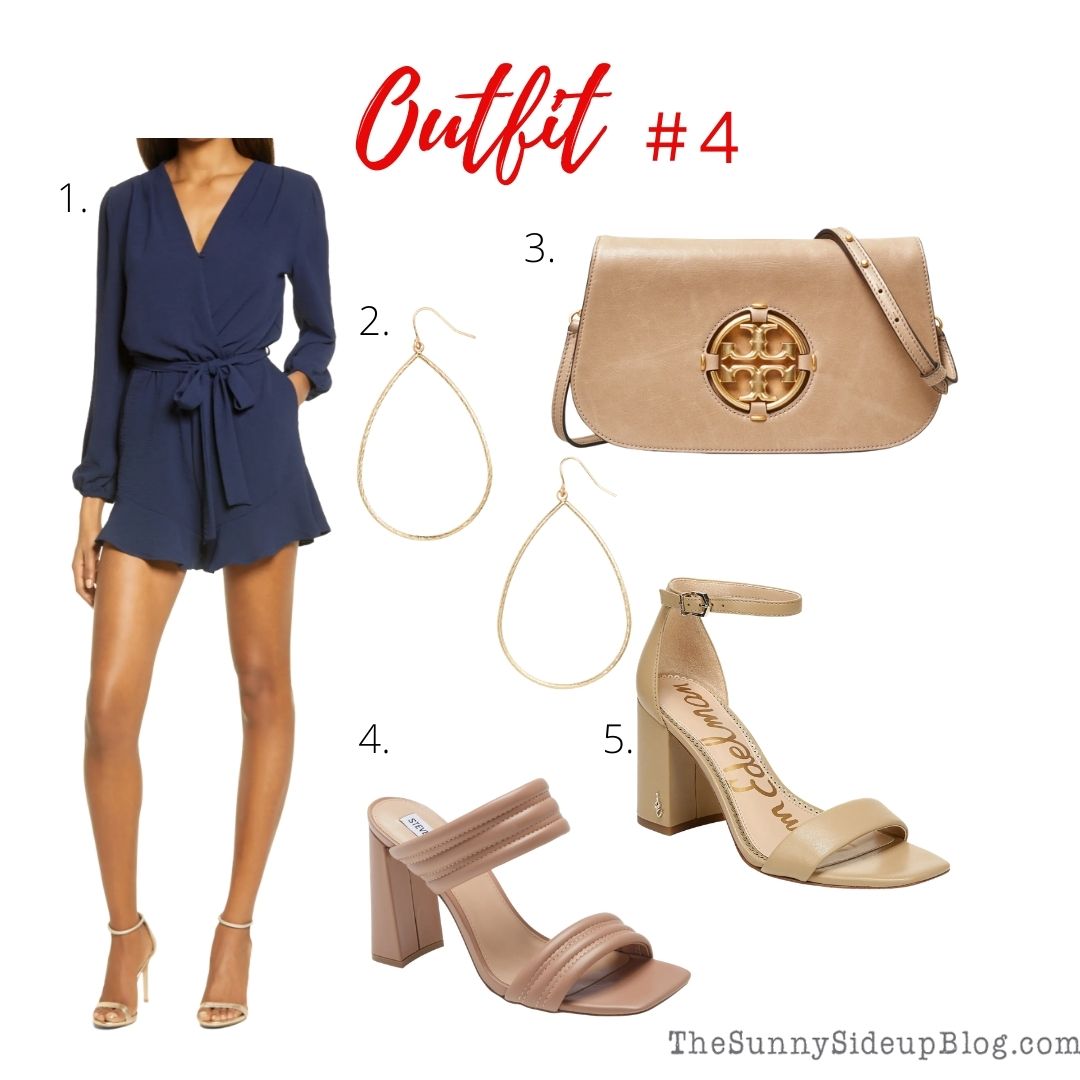 1- romper    2- teardrop earrings 
3- leather clutch   4- strap sandal   5- ankle strap sandal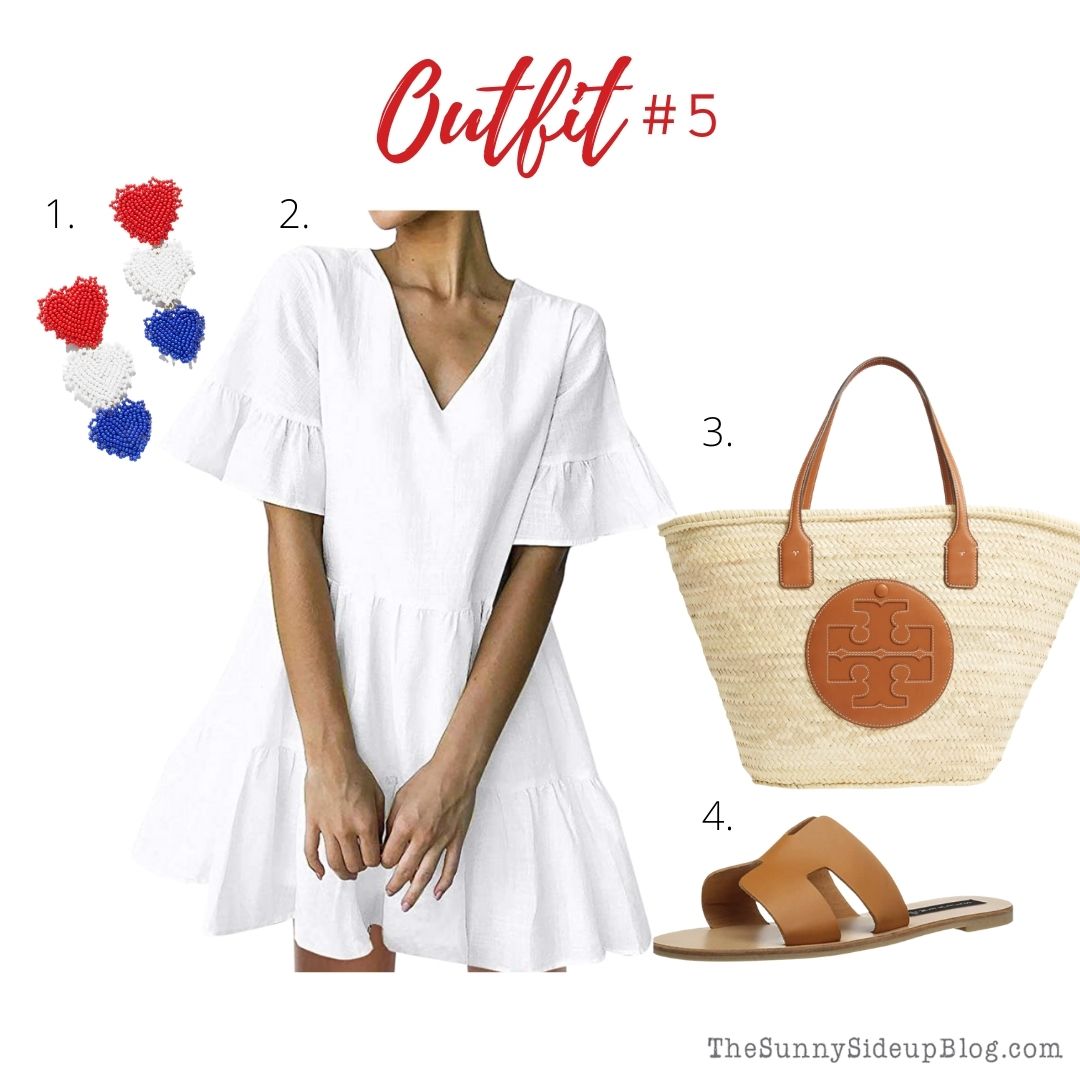 1- Americana heart earrings    2- bell sleeve ruffle dress 
3- straw basket tote   4-  greece sandal
1- tie dye romper    2- puff sleeve dress   3- floral print dress   4- button-up shirt 
5- graphic tee   6- chambray dress  7- kids printed dress   8- striped terry romper 
9- wide leg jumpsuit   10- slip-on sneaker   11- flag logo tee  12- crew socks 
13- athletic shorts    14- board shorts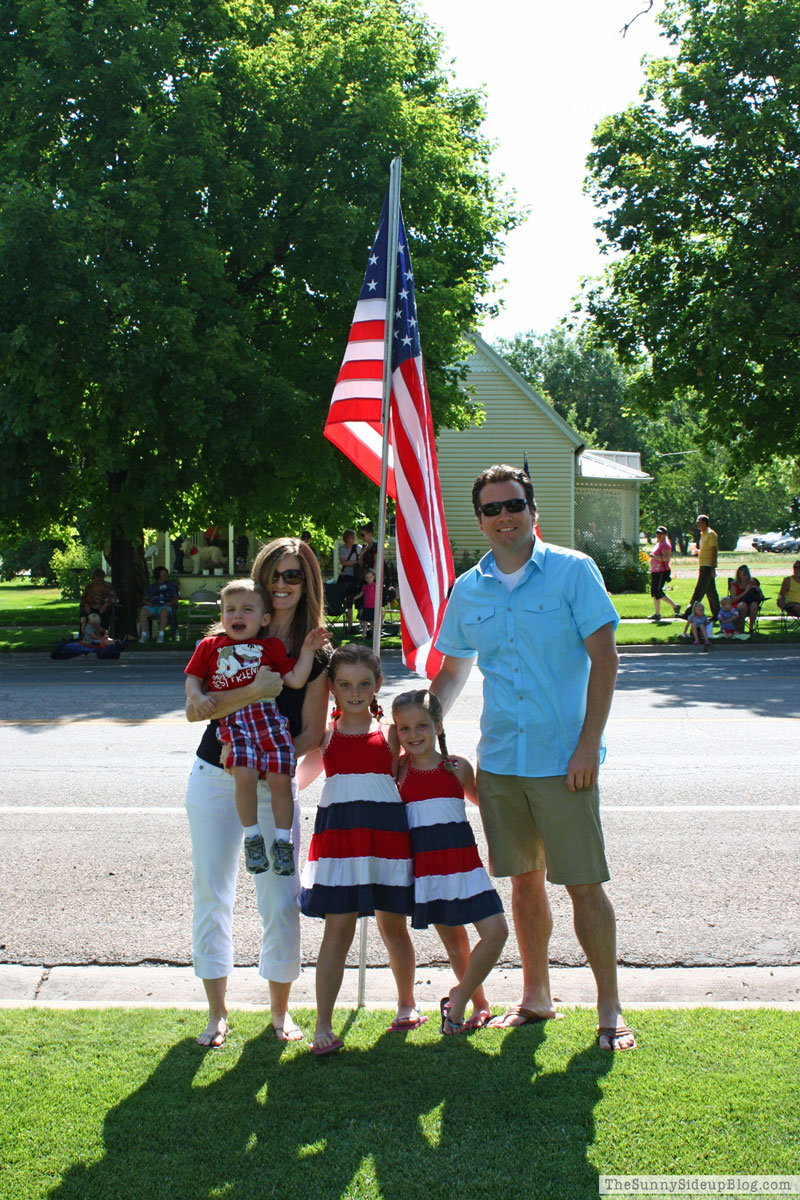 Nothing like July festivities.  I had a good laugh at some of our past 4th of July pics while I was going through them today.  Kole!  I swear he's screaming in every holiday picture I have of him when he was this age!  That boy did NOT like to hold still.  Look close at my arms in this pic and you can see the death grip I have on him.. ha!  Also if you remember pics like this of Kole in a death grip and my girls with braided hair and matching dresses you've been with me a while and I'm sending you a huge hug for sticking around so long! :)
Out of all of the pictures on the 4th we've taken through the years this is my favorite.  A pic I snapped quick as an afterthought getting into the car of El playing with Kole.  Oh my heart.  This one takes me right back!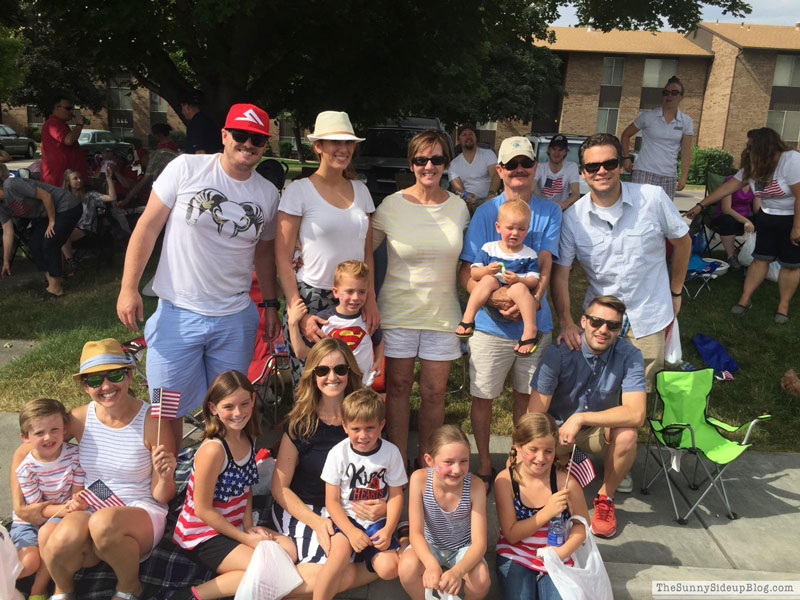 I love July because it's a month I get to spend with my whole family.  It's complete madness when we're all together.  The very best kind of crazy!
The boys act like idiots in their patriotic hats.
And admittedly.. so do the girls.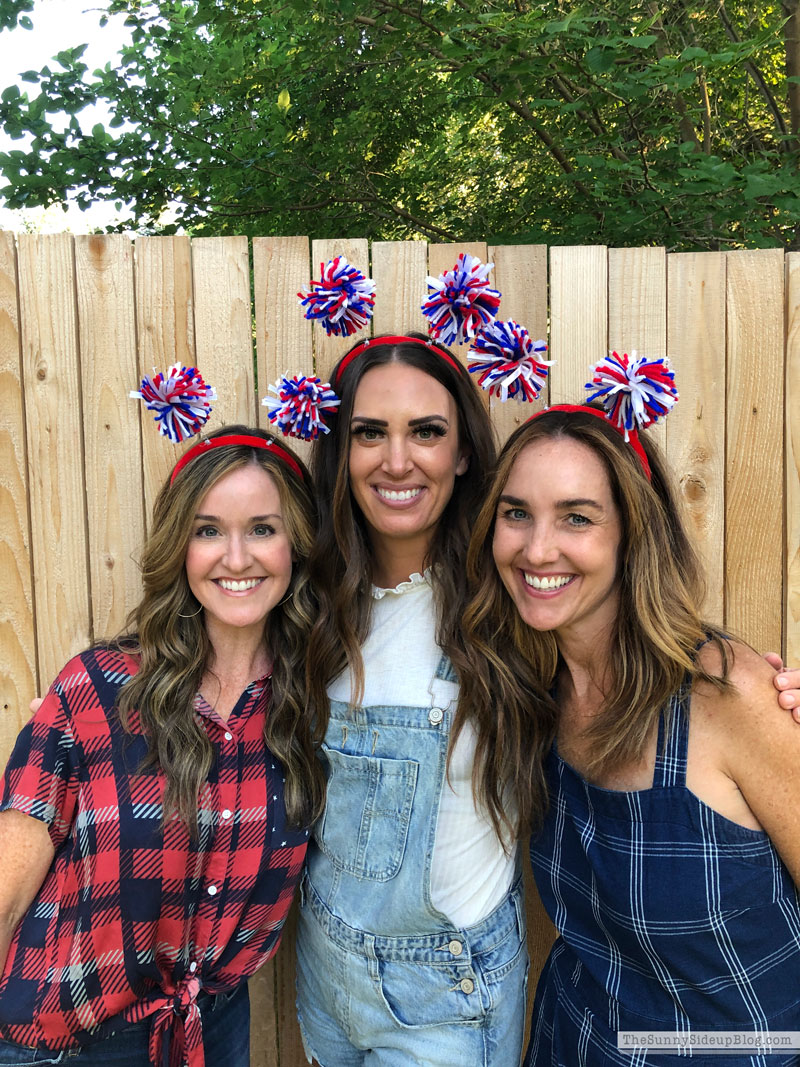 Bring on the fireworks!  I wouldn't have it any other way.
:)
xoxo, Erin