*This post is sponsored by Walmart and affiliate links are used.  All opinions and product selections are my own!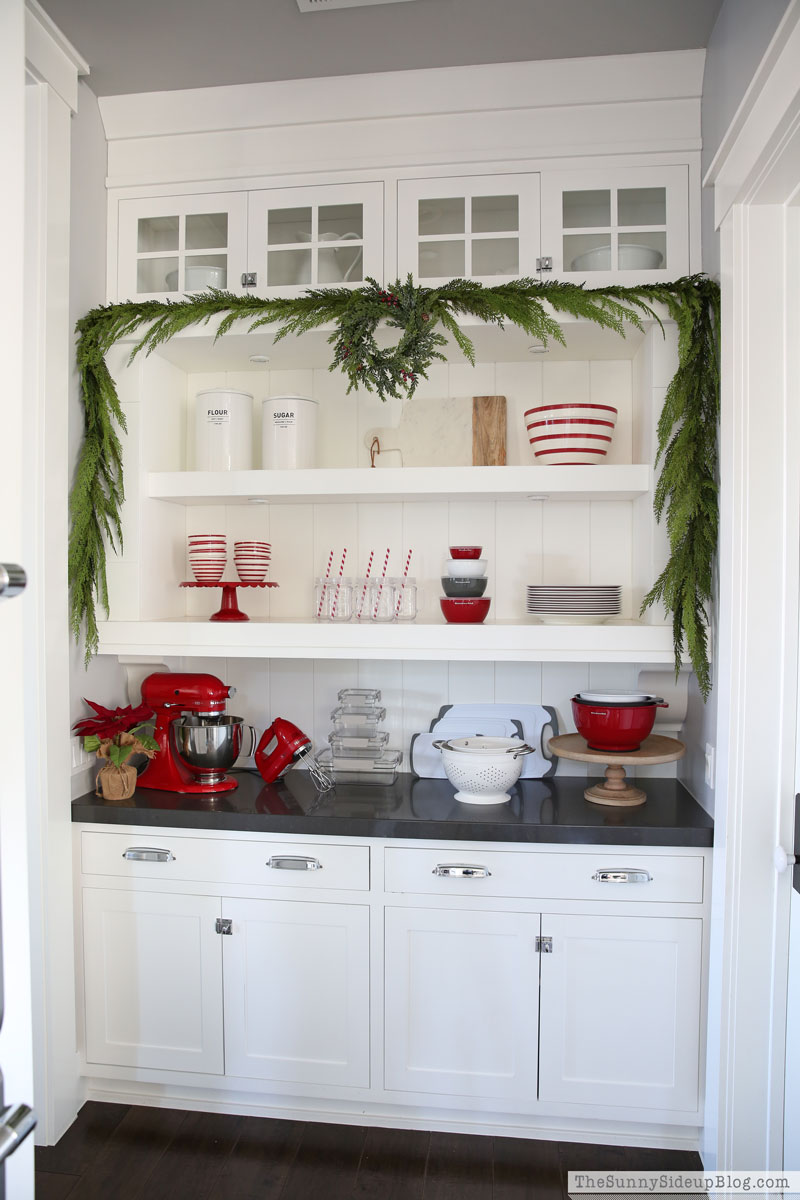 Happy Saturday everyone!  Do you like the garland I attached over my butler's pantry shelf this year!?  I hope so because it's all over my house. :)  Making things SO cozy!  I'm still styling this shelf and finishing up my decorating this weekend, but I set a few of my go-to's for holiday baking on the counter to share with you today.  With Thanksgiving right around the corner I thought it was a fun time to chat about a few favorites from Walmart that I use in my kitchen often!  Walmart has been getting in so many fun things for the holidays!
I always get excited when it's time to pull out my red KitchenAid mixer!  A sure sign that the holidays are finally here. :)  I picked up this KitchenAid hand mixer last year too (comes in lots of colors) and what a game changer!  It's SO much better than the other brands I had been using before.  I also love this set of 3 plastic cutting boards.  We have a pull out wooden cutting board built into our island that we love (you can see it in this post on my organized kitchen), but I tend to reach for these simple plastic cutting boards for the easy, every day stuff like dicing up an apple for Kole. :)  They are just so easy to use and quickly rinse clean!  This is also a great set of colanders if you need one!
What's Thanksgiving and holiday baking without good mixing bowls!?  These KitchenAid mixing bowls are my absolute favorites!  They have a nice rubber grip on the bottom, are dishwasher safe and I love the pour spout!  I have a set of 3 in a blue/grey color that I use every day and then a set of red I always pull out to use in Nov/Dec.  Right now Walmart has my favorite mixing bowls in red, white and grey that come in a set bundle with the cutest little bowls and lids for leftovers!  I picked up a few of them for gifts.  Everyone can use good mixing bowls.. especially this time of year!
I included a few other Thanksgiving dinner essentials below!  My mom does most of the cooking for Thanksgiving every year.  My job is usually to entertain the kids, decorate and set the table, and then organize the fridge with all of the leftovers after.  No complaints here!  I quite prefer it that way. ;)  But if I WAS cooking.. below are a few personal favorites.
parawood cooking tool set / 4- cup gravy fat separator / 7 piece mix and prep set bundle
double spoon rest / kitchenaid power hand mixer  / 2 piece colander set
 kitchenaid mixer / plastic cutting boards / baster, syringe and thermometer
 3-tier oven rack / plastic food storage containers / 22 quart roaster oven
 lifter set / stainless steel baster
And since I do handle the tablescape I also pulled together some cute items for an easy but stylish Thanksgiving table.  This 20-piece flatware set looks beautiful for such a good price!  And how cute is the pattern on this white modern farmhouse dinnerware set!?  LOVE it.
4pcs artificial eucalyptus bouquet / pumpkin napkin rings / bamboo large salad bowl
plaid geometric placemats / thankful serving platter
gold 20-piece flatware / 16- piece dinnerware set / taper candles
Enjoy what's left of your weekend!  I'll be over here trying to figure out how to squeeze 4 months of holiday content into a month and a half.
Honestly wishing I never needed to sleep right about now!  So much garland.. so little time..
;)
{POST SOURCES}





xoxo, Erin