Happy Monday! I hope you all had a good weekend!  We finally got some rain and it felt amazing. I honestly can't even remember the last time it rained in our area. Too long ago!  The rain and cold weather definitely made things feel holiday cozy and it was so fun to light a candle (this is my current favorite!) and work on my Christmas decorating!  I'll have lots to share soon but for now I'm kicking off my annual holiday gift guides with some fun ideas for teachers!  After the year we've all had it just seems like a good place to start.  I am so incredibly grateful for my kids' teachers this year and for all they have done to keep things rolling with such crazy circumstances!  As a former teacher I know how much work goes into everything they do and adding the extra learning curve of all things on-line.. I can't imagine!  So here are some fun ideas to help celebrate all of the amazing teachers out there.  If you are one of them THANK YOU!!!  Sending a huge HUG your way!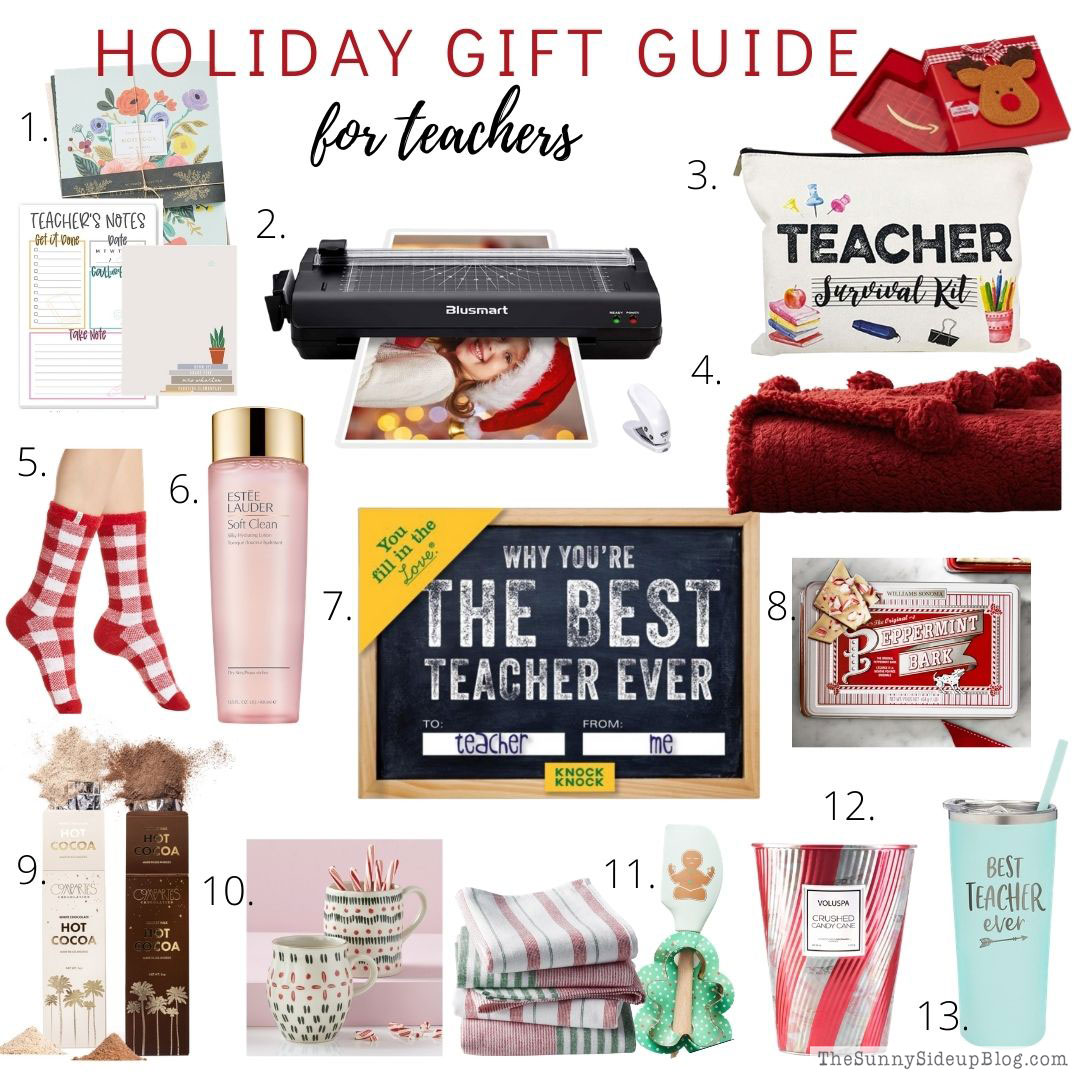 1 – Rifle paper journal / Teacher notepad / Minted personal notepad – A teacher can always use a good notepad (probably why I've always been obsessed with them!) and these are three cute options!  Add some pretty pens and attach a fun gift card if you want to spend a little more!
2 –  Laminator – This is a great gift for Elementary school teachers.  Even if they have access to a laminator at their school it's nice to have your own for smaller jobs at home.  Especially this year with a lot of teachers working from home!
3 – Teacher Survival Kit / Amazon Gift Card  – This is a cute little zipper pouch that you could fill with all sorts of fun things including a gift card!  After the year we've had I'm sure you could get pretty creative with "survival items".. masks, hand sanitizer/lotion, bubble bath and LOTS of Tylenol are coming to mind.. ;)
4 – Cozy Pom Pom Sherpa Throw – I LOVE giving throws for gifts!  Who doesn't love a cozy throw!?  These pom pom throws are festive and fun for the holidays and also perfect to curl up with on the couch.
5 – Fleece Lined Socks – Fleece socks are another great gift idea for cozy days at home this winter!  TONS of the coziest socks HERE!
6 – Hydrating Lotion – I've heard amazing things about this lotion!  I'm excited to try it and pick up a few for gifts this year!
7 – Best Teacher Ever Journal – When I taught school nothing meant as much to me as a handwritten note from a parent or child.  I saved them all!  This journal is a fun way for your child to share a few words of appreciation with a little prompting and help. :)
8 – Peppermint Bark – I share this as a gift idea every year because it is DELICIOUS!  I always give a few as gifts and buy a few for our family.  My kids get so excited when I bring it home!  This has especially saved me with male teachers because they are harder for me to shop for.  Peppermint Bark is always hit. :)
9 – White Chocolate cocoa / Milk Chocolate cocoa – Another easy gift idea that everyone loves!  Hot chocolate!  WS always has lots of fun options for hot chocoate too!  (And great gift sets if you want to spend a little more!)
10 – Holiday Mugs – If you're going the hot chocolate route how fun to give some with cute holiday mugs!  The mugs I put in my collage already sold out, but PB has SO many cute options this year!
11 – Williams Sonoma holiday towels / Om for the holidays cookie set – I've given these two items together for gifts the past two years and will probably do the same for a few new friends again!  WS holiday towels are my favorite and the OM for the holidays spatula feels especially appropriate this year!  (Breathe deep everyone.) ;)
12 – Candy Cane candle – A beautiful candle to bring some holiday to a teacher's home!
13 – Best Teacher Ever Tumbler – Such a cute tumbler for teachers on the go!  Would be fun to pair with a Starbucks gift card.
I hope that gave you a few fun ideas for the teachers in your life!  If you want an easy way to keep track of who you're buying for and what gifts you're giving this year give my free holiday planner a try!  It's always a huge help to me this time of year. :)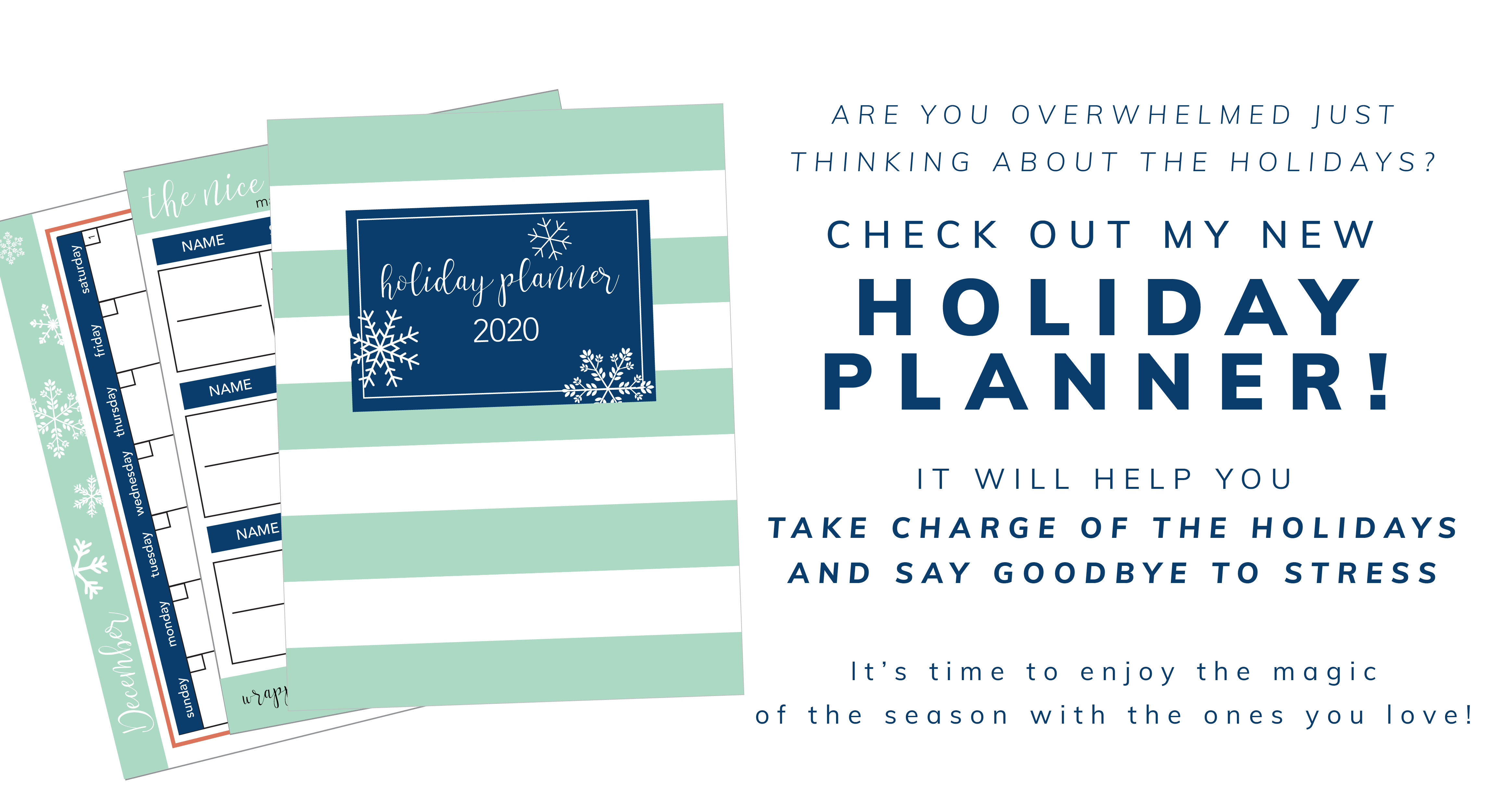 xoxo, Erin