*This post is sponsored by Walmart and affiliate links are used.  All opinions and product selections are my own!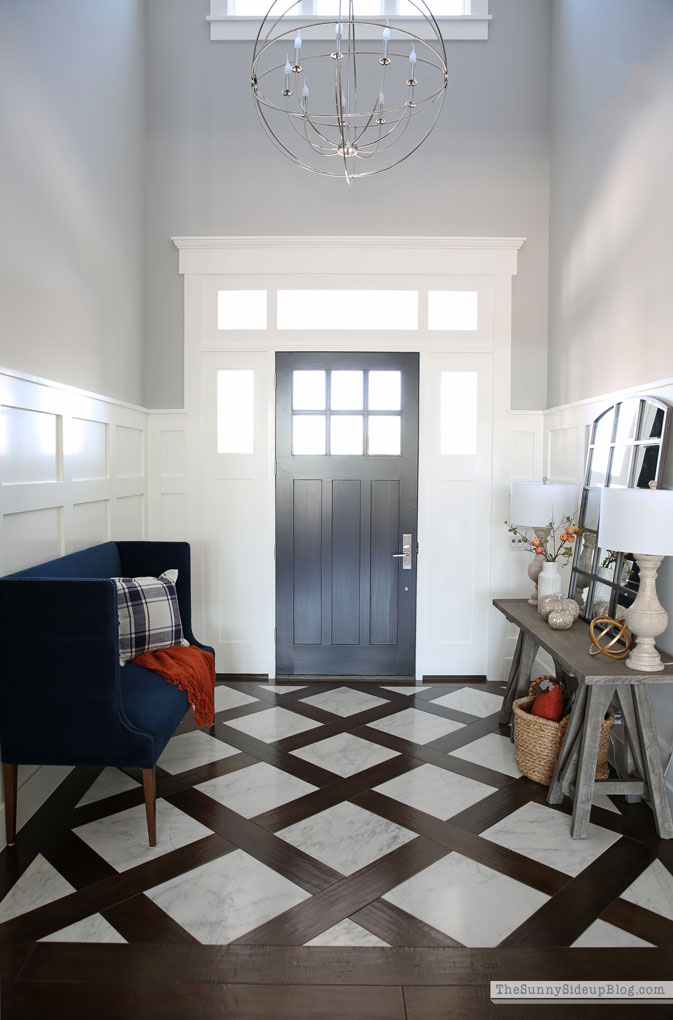 Sharing some fun updates I recently made to my entry!  The Fall decorating continues and will keep on keepin' on right up until it's time to pull out my Christmas trees.  All 3,000 of them.  Ha.  Oh my word.. that thought made me excited!  Anyone else?  I'm not ready to put away the pumpkins just yet but good things are coming. :)
I wanted to mix it up and try a more casual look in my entry for Fall so I moved the mirrored console table that I usually have here into my bedroom and switched it with this simple wood console table.  So fun mixing things up!  It made both spaces feel new to me again and totally reminded me of the time I moved my bunk beds to the opposite wall of my bedroom when I was 11 years old.  I broke the top bunk attempting to move it and it almost landed on my little sister.  My parents were not impressed and we slept on mattresses on the floor for a LONG time before we got new beds.  My little sister wasn't all that impressed either.  Ha!  So yeah.  I've been switching furniture around for 30 plus years now.  A fun little game I like to play.  The only difference is that now I have a strong husband to help me with my switching furniture game so things usually stay in one piece.  Although I can't say that he's all that impressed with my game either.  Crazy family.
This table is bit small for this space and maybe a little too casual, so I doubt it will live here forever, but so fun for a while just for a change!  The best part for me about this set up is my new Paneled Wall Mirror from Walmart!  It's large and beautiful and I've wanted it for a while now but didn't have a great spot for it.  I finally found a fun spot in my hallway and I might end up hanging it at some point, but for Fall (and maybe Christmas?) I'm trying it in my entry.  The squares play off of the square pattern on my floor and I loved styling some fun Fall accessories around it!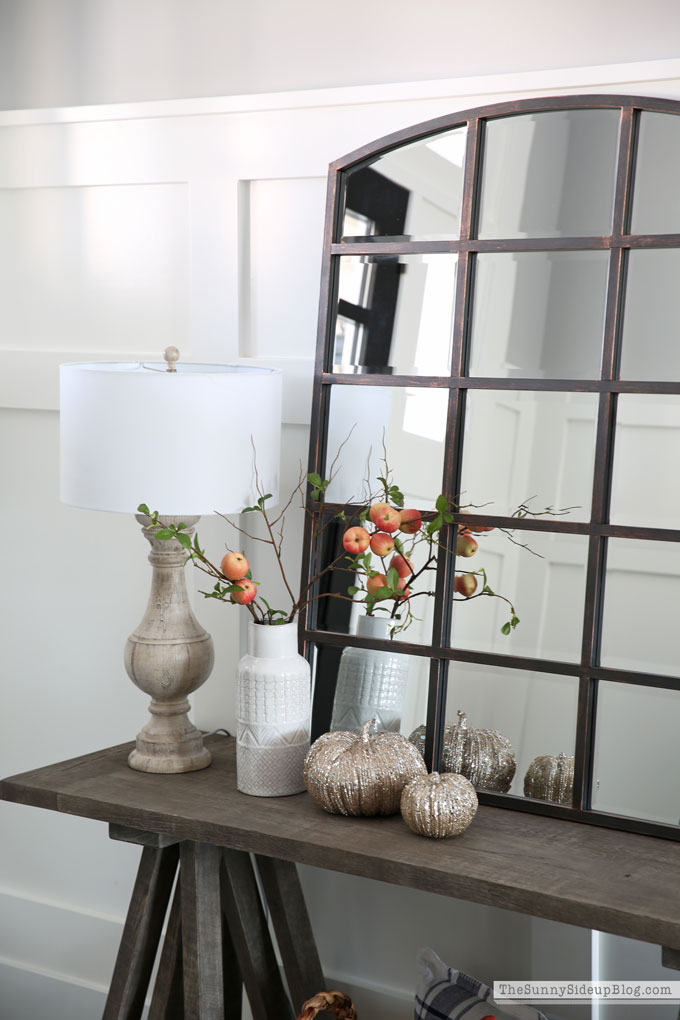 A cute white vase and some gold glitter pumpkins.
And I love these lamps!  They came as a set (such a great price) and I'm so happy with how tall they are.  I found the gold geo object at Walmart too but can't find it on-line.
Bench got a little Fall touch-up too with my favorite navy plaid pillows and this throw.  (Same throw I have on my porch!  Perfect color for Fall.)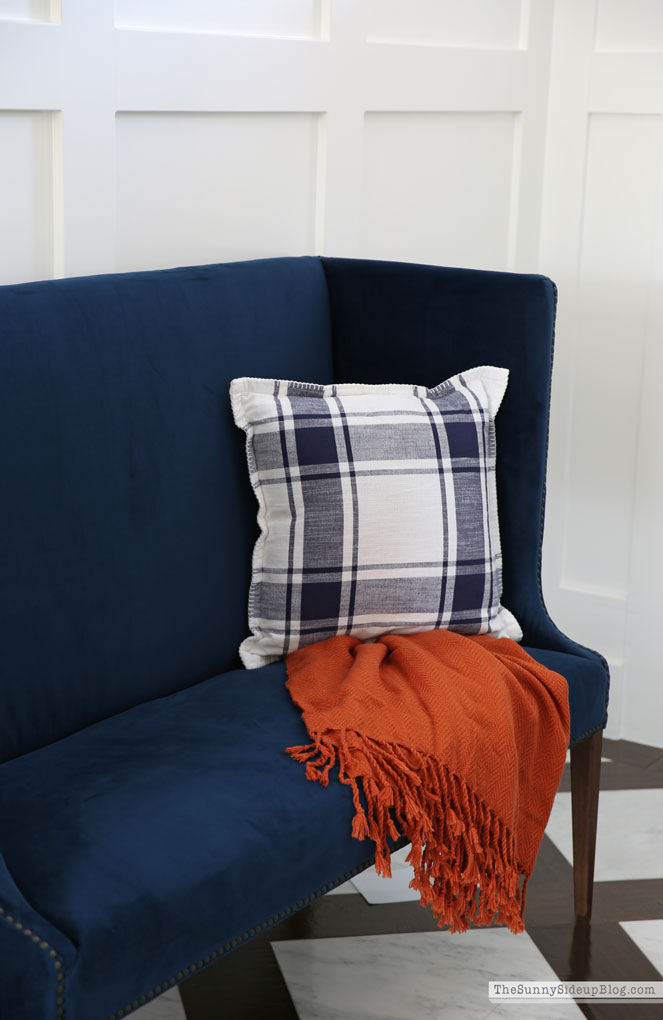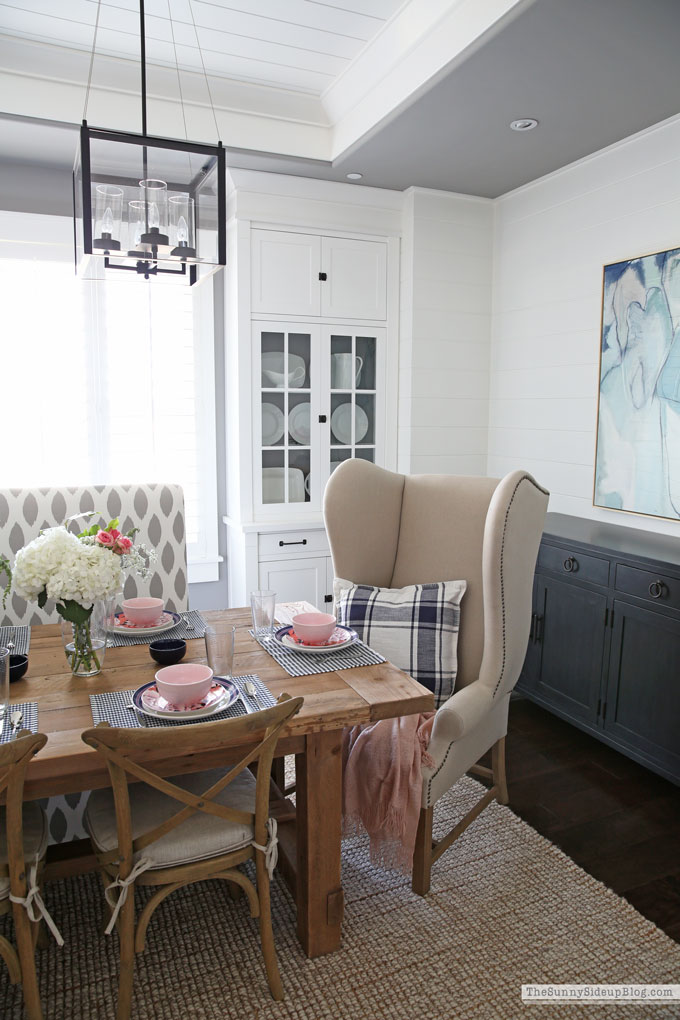 I used these cute navy plaid pillows in my dining room during the Spring/Summer too.  So cute for any season!
This picture made me laugh when I saw it.  Oops.  That's the tricky part about photographing mirrors and glass.  Hard to not get yourself in the shot!
I put this beautiful, large wicker basket under the table to hold some pillows for added color and to hide the lamp cords!  Simple decorating trick.  I learned that one when I was 11 years old too.  Probably during the time I was grounded for breaking our bunk beds.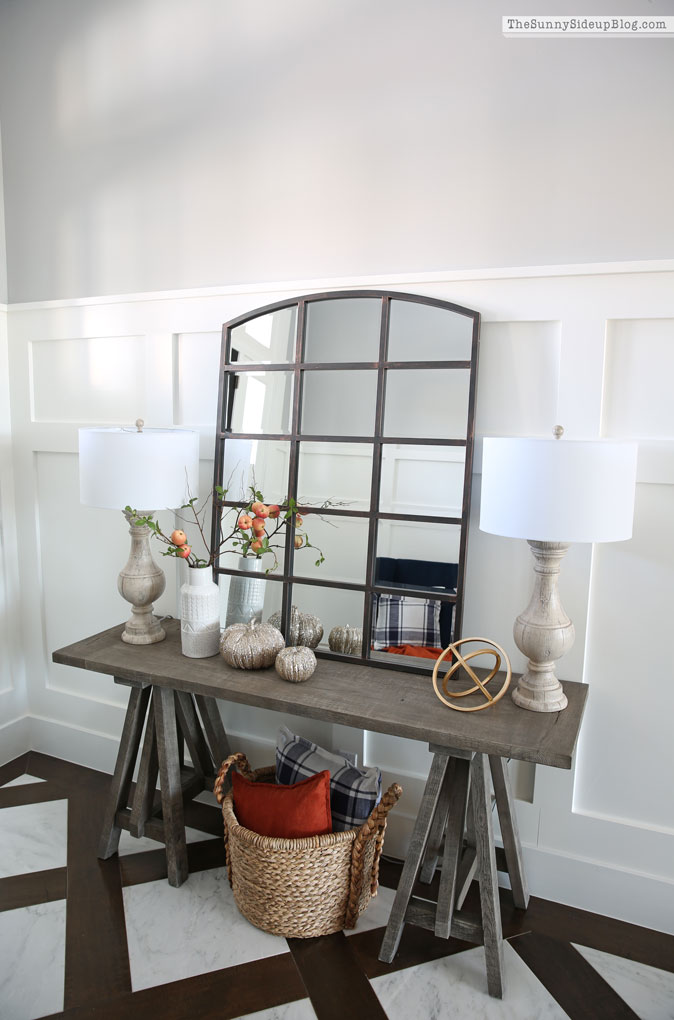 I love that when people come to our front door they are greeted by our porch and this entry.  All the Fall feels without even going too far into the house!  I hope it makes everyone feel warm and welcome.  Fall decor has a way of doing that doesn't it?  The best.
Almost as good as my 3,000 Christmas trees. ;)
I rounded up some additional favorite items from Walmart below if you're looking for fun ideas for Fall or just stylish, affordable basics!  Happy decorating. :)
1 – Wood/Metal Arched Wall Mirror  2 – Woven Seagrass Basket   3 –  Hexagon Mirror   4 – Linen Striped Runner
5 – Momeni Maya Plaid Rug  6 – Farmhouse Arch Wall Mirror   7 – Navy Plaid Pillow    8 – Oval Metal Wall Mirror
9 – Rustic Industrial Dining Chairs  10 – Nola Coffee Table   11 – Wicker Wall Baskets    12 – Bombay Console Table
13 – Dorel Jaya Accent Chair     14 – Lexington Dining Table   15 – Dorel Grey Striped Accent Chair    16 – Langley Bay End Table
{POST SOURCES}


xoxo, Erin