*This post is sponsored by Walmart and affiliate links are used. All opinions and product selections are my own!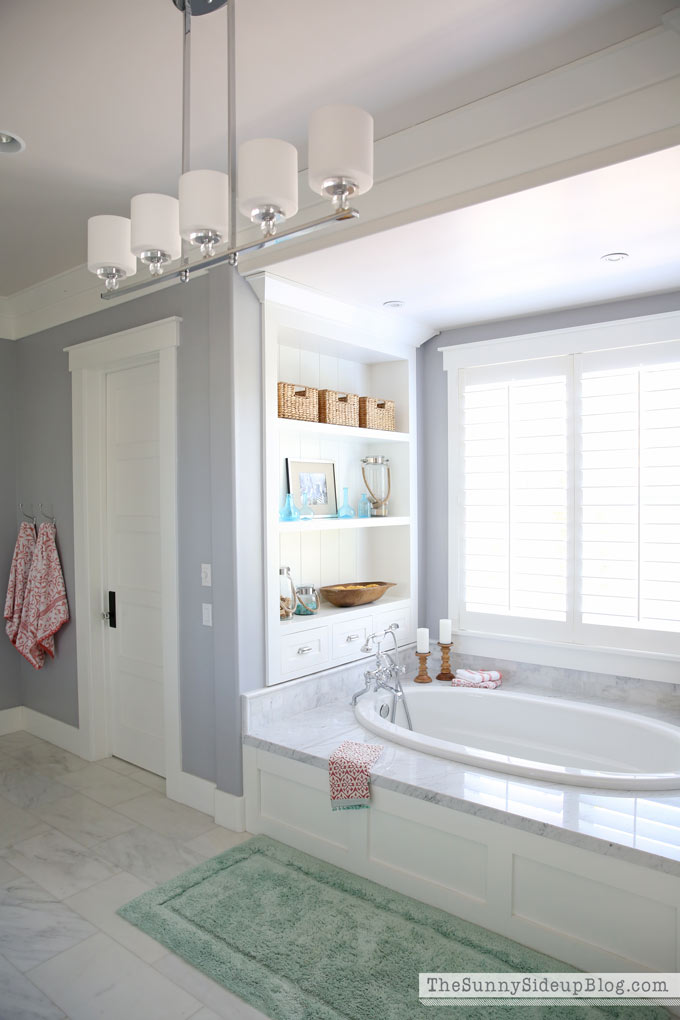 I'm so excited to share a simple master bathroom update with you all today!  Soon after we moved into our home (almost 6 years ago.. can't believe it has been that long!) I bought these mint green bathroom rugs for our master bathroom.  I took this picture a couple of years but today at this moment, my once fuzzy, soft rugs are really starting to show some wear and tear.  I knew I wanted some new bathroom rugs and have been hunting for the perfect solution for a while now.  I've been looking for three things:
1 – I wanted something neutral this time around.  I love coral and mint, but these two colors combined in our master bathroom always felt a little too Easter eggish to me.  Ha. :)
2 – I wanted a round rug.  This bathroom has a lot of square/rectangle straight lines.  From the tub molding to the marble floor to the mirrors.. I knew a round rug would soften this space.
3 – I wanted something large.  I love the look of my marble floor, but if I was building again I would put in tile or marble in a small pattern.  Just being honest.. these marble floors show everything.  Water spots!  I mean.. what bathroom doesn't get water on the floor!?  I wanted a large rug to cover and protect as much of the floor as possible.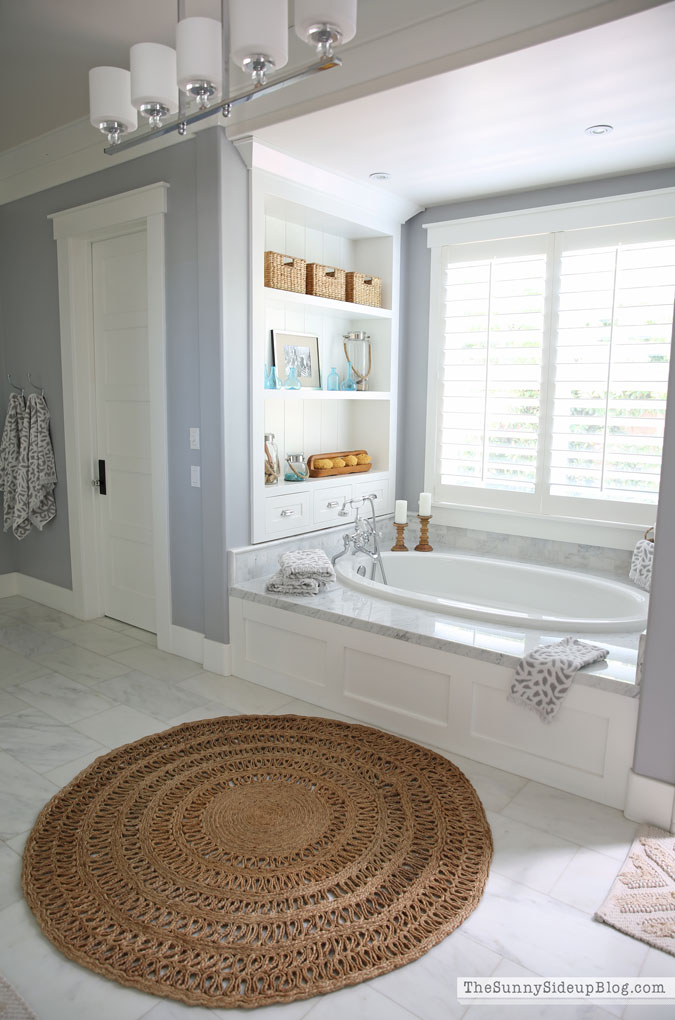 I found the best solution for this room and seriously couldn't love it more!  It's this round jute rug (from the same Flower Home Walmart line as my dishes) and it's beautiful!  And SO soft.  And every time I walk into my bathroom I fall in love with it a little more.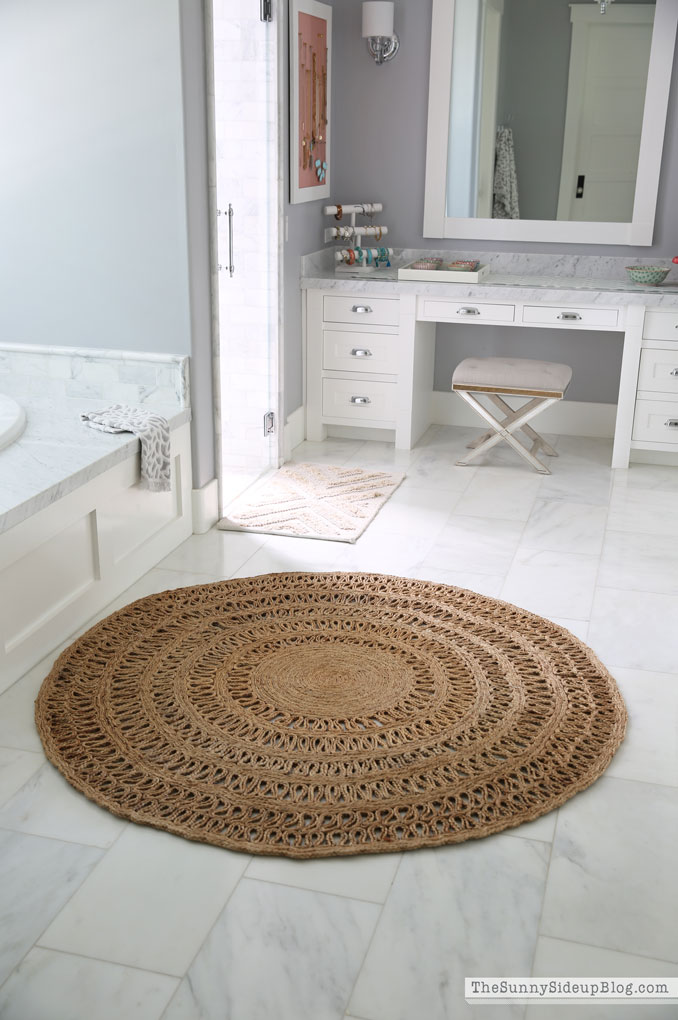 It's a little different for this space and that's part of what I love about it.  Isn't the floral and swirl pattern pretty!?  And the natural shade of this particular rug is perfection.  Did I mention it was on sale for just 79 bucks!  It comes in a larger size too.  (This is the 5′)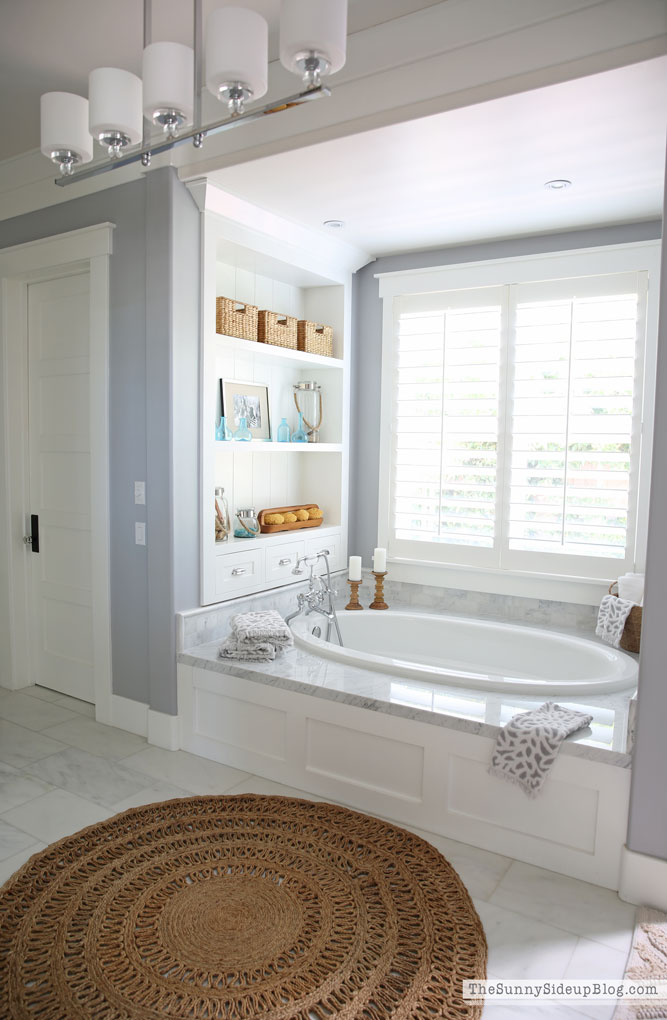 I especially love how well it ties in with all of my neutral bathtub shelf decor I've had for years.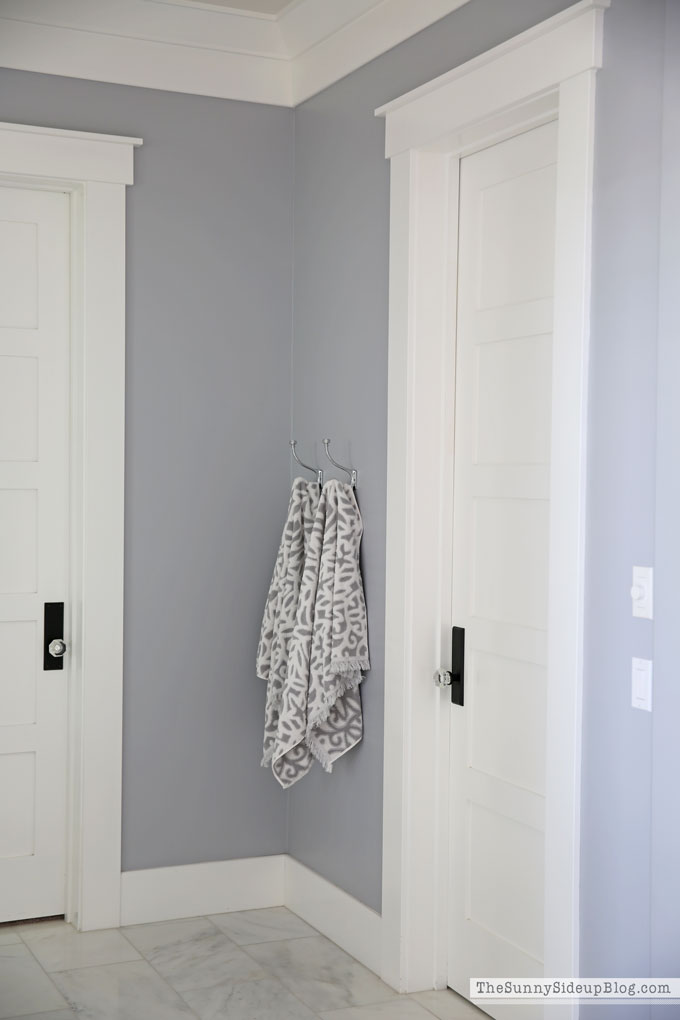 Once I had the neutral rug I wanted to take a break from my coral towels so I ordered these pretty grey cotton towels.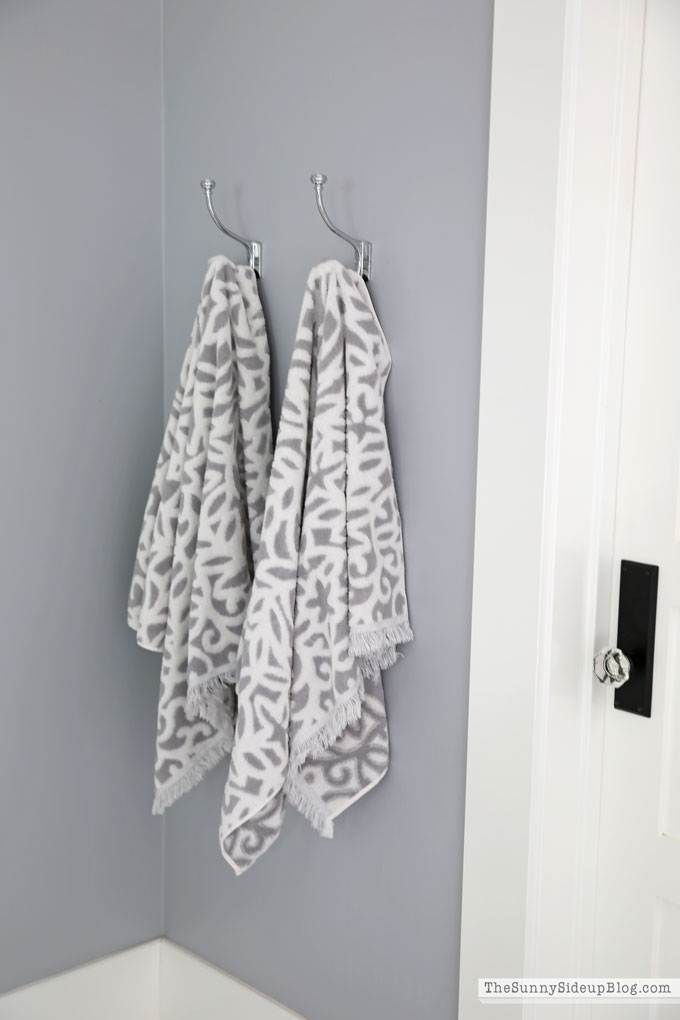 Perfect with my paint!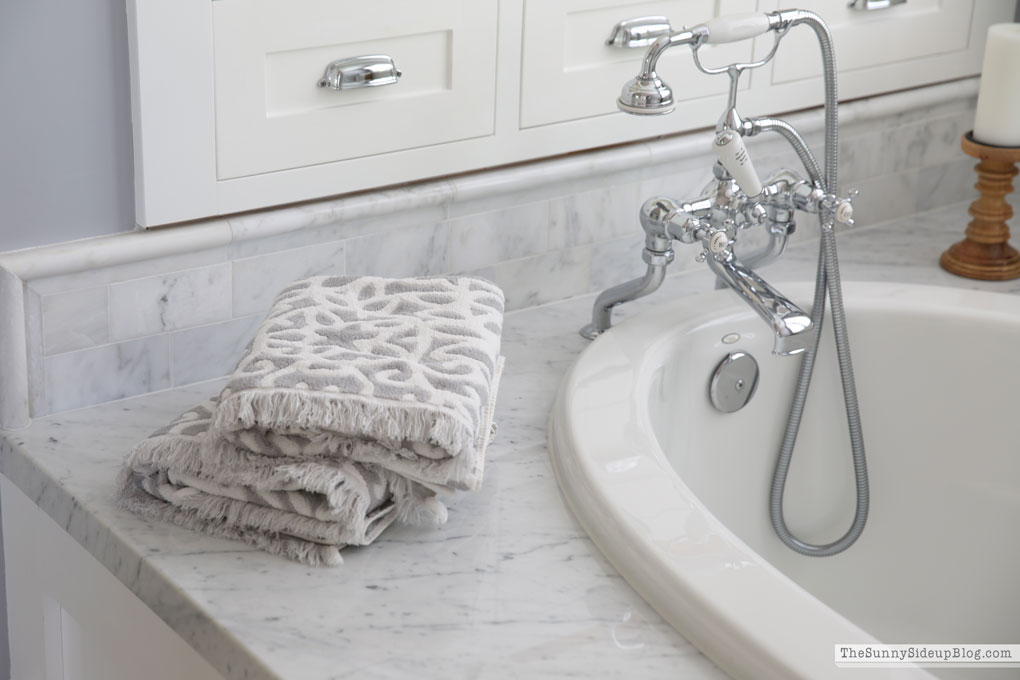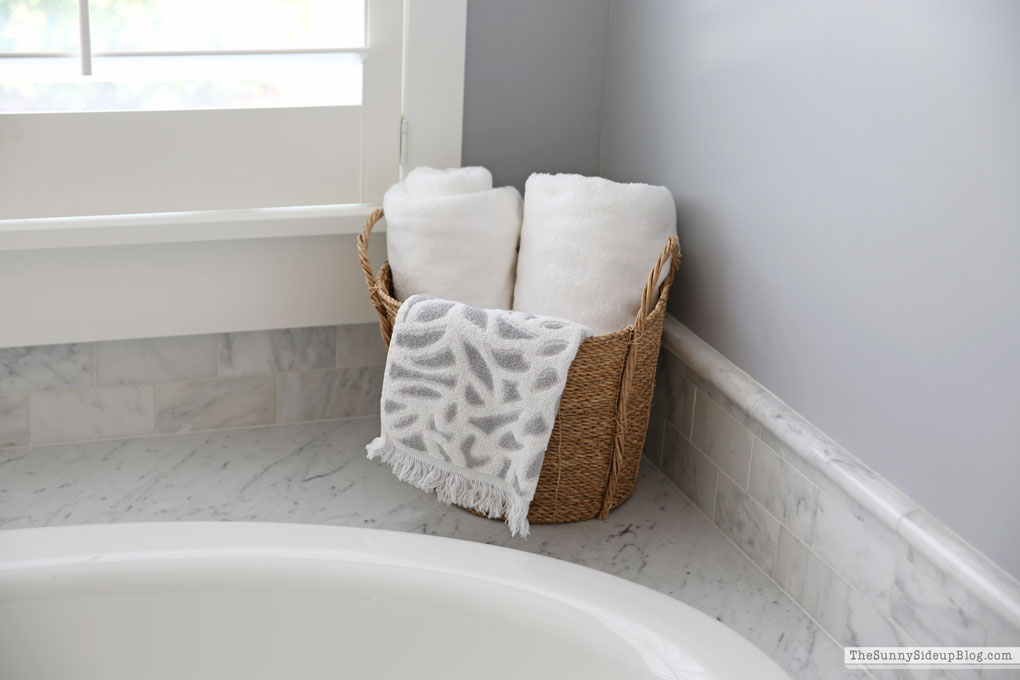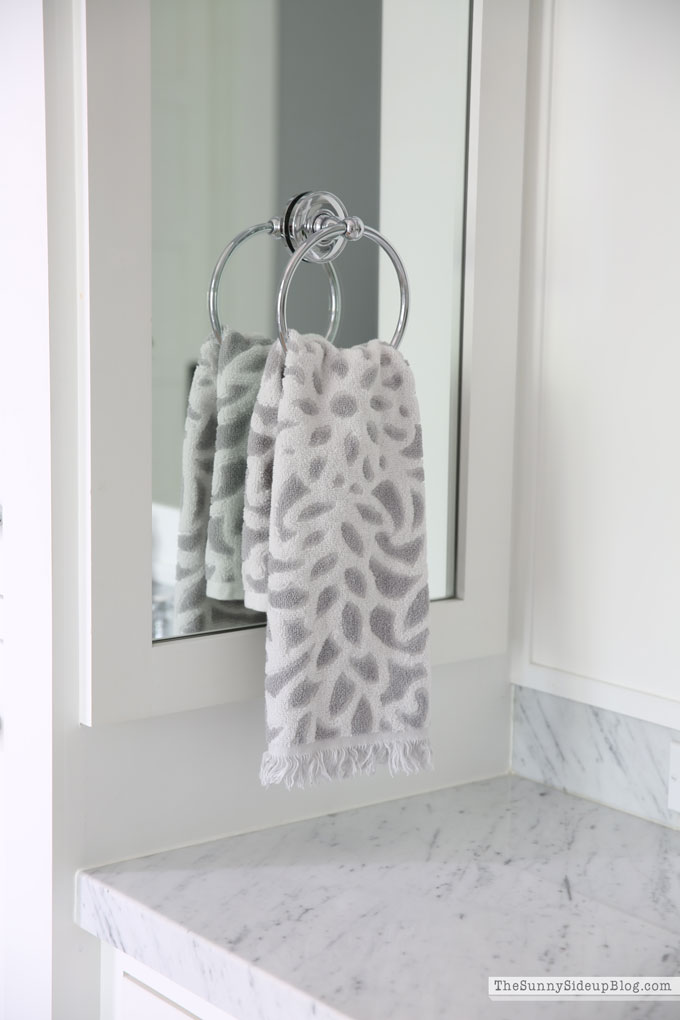 Such simple changes and suddenly this bathroom feels all grown up!  No more bunny ears included. ;)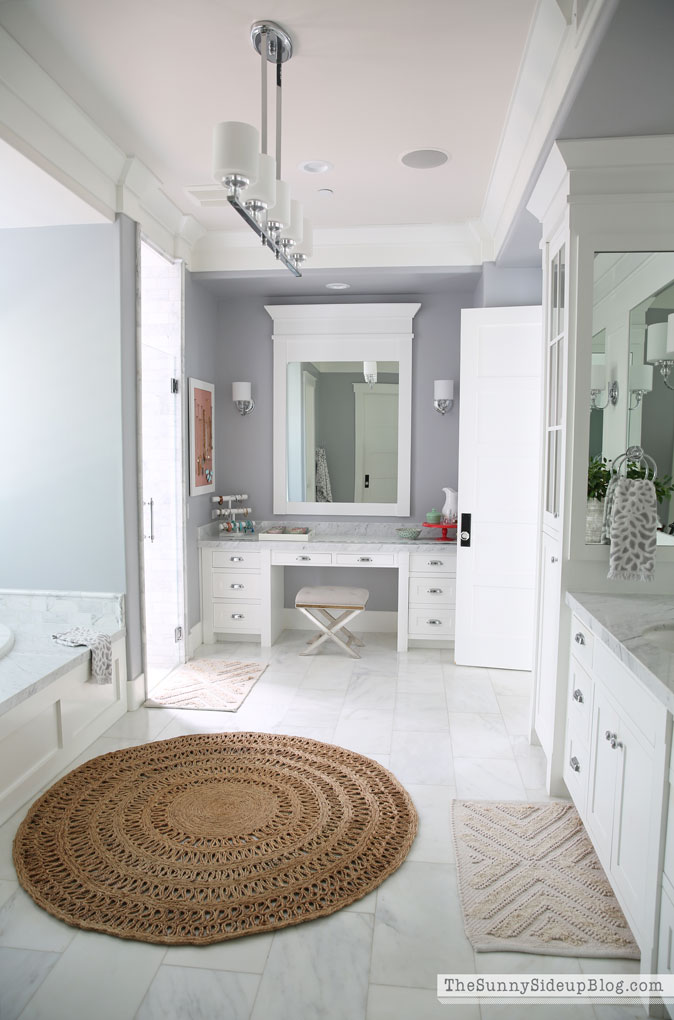 I showed my friend this rug when she was over and we were chatting one day and she fell in love with it too!  She is just getting settled in a new to her home so I picked up my new rug and we took it over to her house to try it out..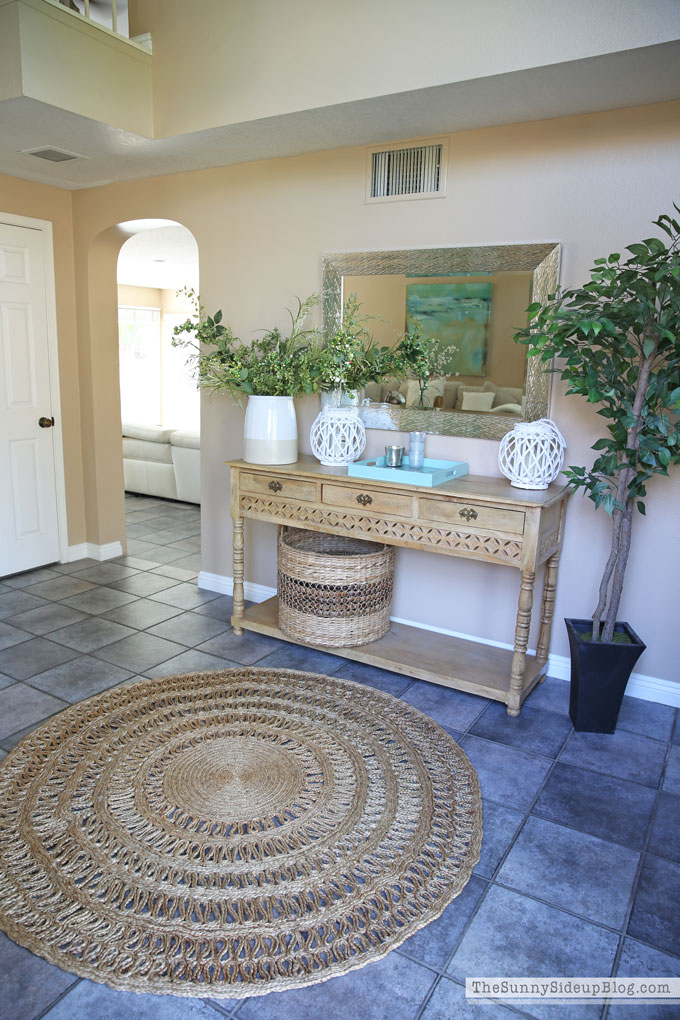 Ahhh!  So good right!?  We both fell in love with this rug all over again in her entry.  Perfection!  Needless to say we are now rug twins for life. :)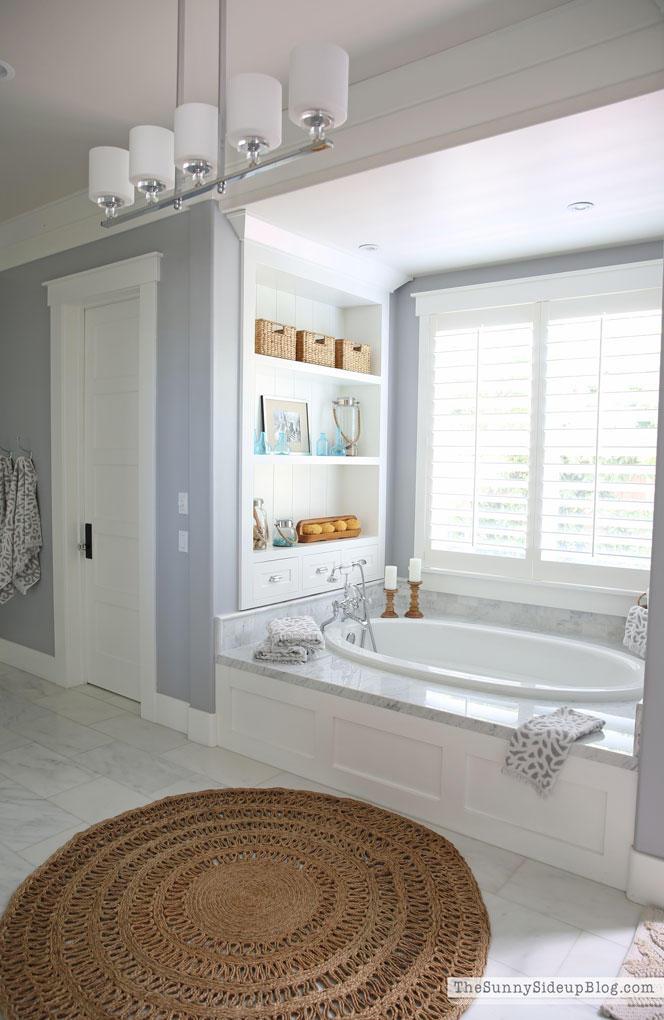 You know the movie "The Sisterhood of the Traveling Pants?"  (My husband's all time favorite movie to make fun of with all sorts of sarcasm.)  This rug reminds me of that movie.  Just like a good pair of pants that magically fit every body type, this rug looks good in every home.. in every space.
Try it in yours.. you'll see.
Kenny.. if you're reading, this post is dedicated to you and your all time favorite movie.
;)  
Below I've linked other favorites from Walmart!  Honestly.. I'm so impressed with their recent Home Decor items.  So many fun, affordable options!  What's your favorite?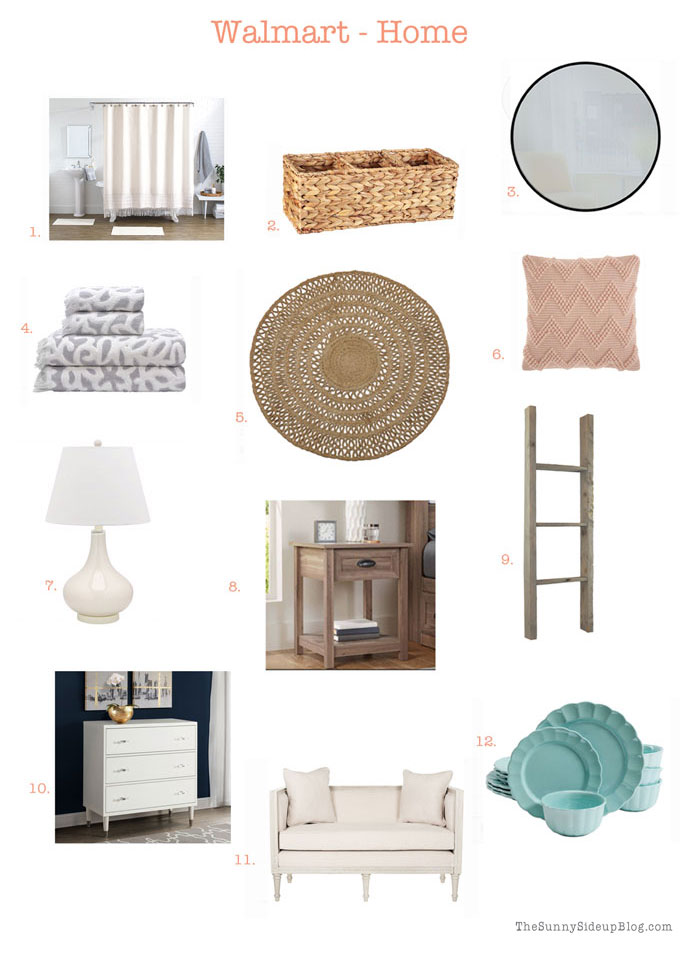 1 – Crochet Shower Set     2 –  Woven Hyacinth Basket   3 – PTM Round Metal Mirror    4 –  Botanical Bath Towel Set
5 – Round Jute Rug    6 –  Decorative Throw Pillow  7 –  Safavieh Glass Lamp  8 – Lafayette Night Stand
9 – Vintage Farmhouse ladder    10 –  White Chest   11 –  French Country Settee    12 –  Teal Dinnerware Set 
xoxo, Erin