*This post is sponsored by POLYWOOD.  All furniture selections and opinions are my own!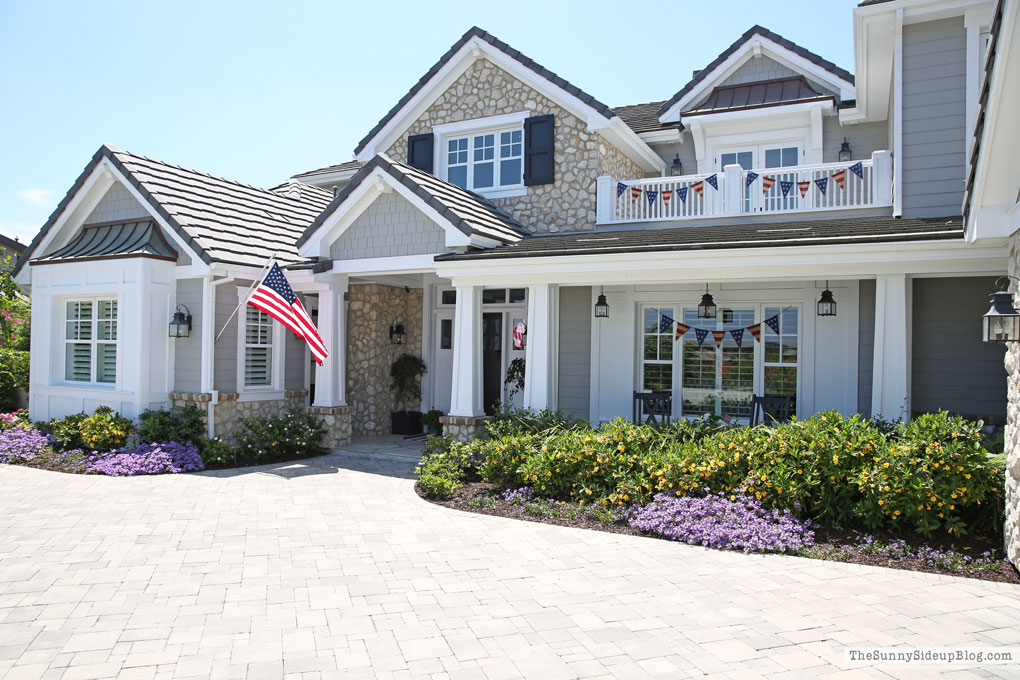 Happy July!  I spent some time this weekend giving the front of our house a little patriotic update.  Bring on the festivities.. we are ready for the 4th!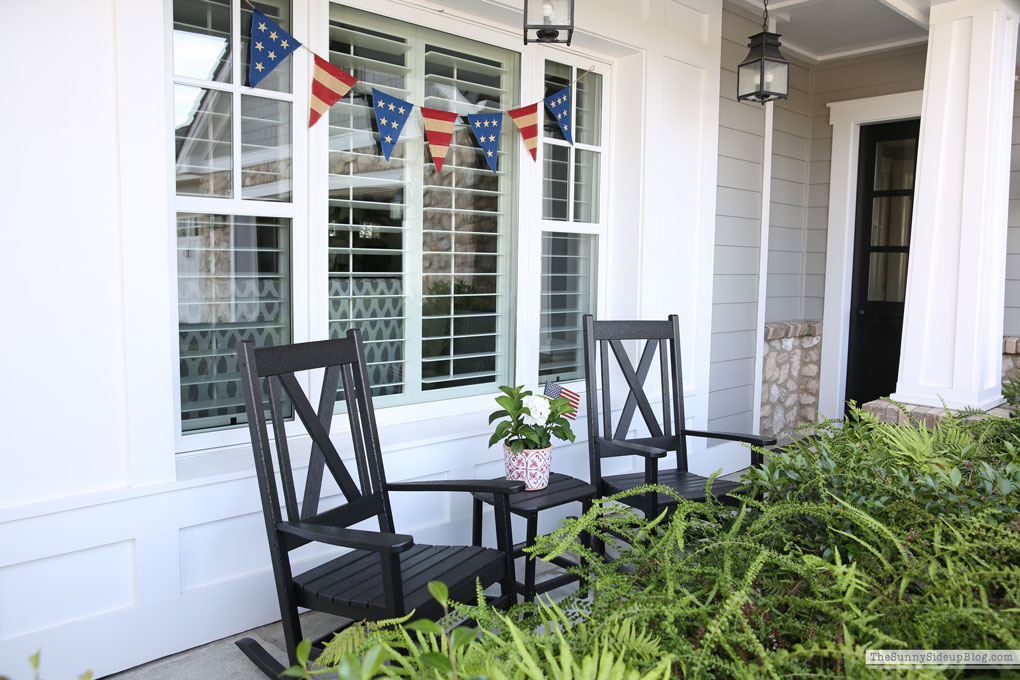 This fun update was inspired by the new black rocking chairs on my front porch.  I'm so excited about them!  I've been trying to figure out what to put on my front porch for years.  I tried a bench in this spot (borrowed one from the back yard!) but I didn't love it and I knew I eventually wanted something black to match our doors and shutters.  Then last month  POLYWOOD reached out to me to work together and I honestly did a happy dance in my living room because I love their outdoor furniture!  Really high quality, durable furniture made out of recycled plastic materials.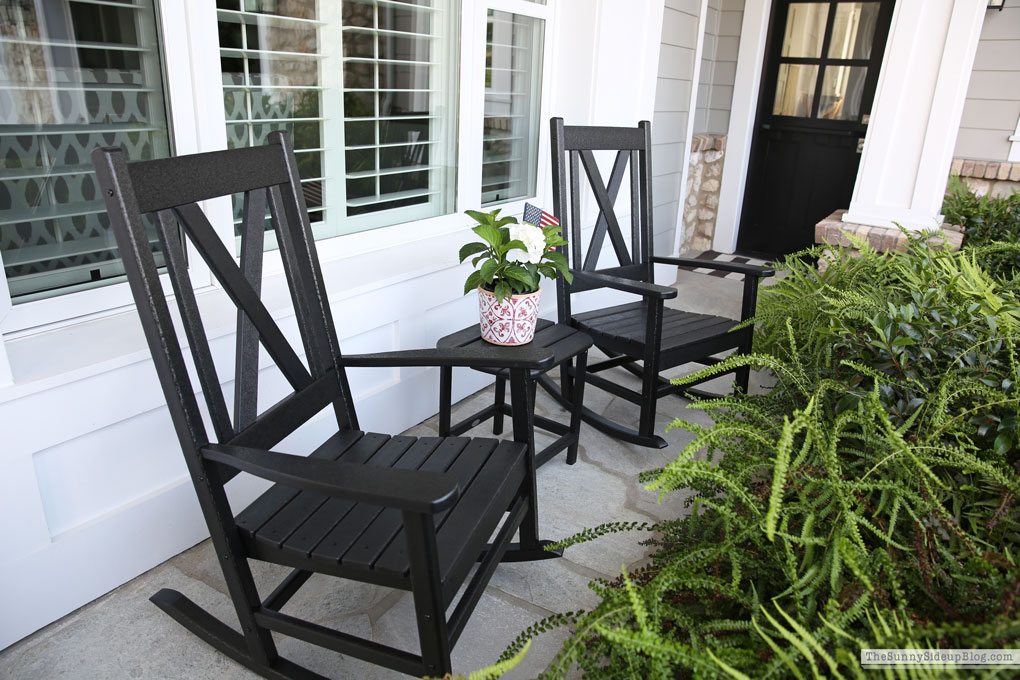 Plus they have so many fun styles to choose from!  I ordered this set for our backyard that I'll share pictures of soon and then I chose the Braxton 3-Piece Rocking Chair Set for my front porch.  There were so many fun rocking chair styles but I fell hard for this set because I LOVE the X back chairs!  They could not be more perfect for this spot on our porch.  (They come in lots of color options too!)  And yes.. I'm aware that the greenery in our front yard has turned into a jungle.  Ha.  It's covering half of our porch!  Now that I have my rocking chairs I'm planning to cut everything back this week so that there's room to walk.  Nothing like new furniture to inspire a little yard work. :)
I'm not the only one in my family who is excited about these rocking chairs.  Addison has a new favorite spot to read!  She has a list of books she has to read this summer for school next year and at least once (sometimes twice) a day last week I found her sitting out here rocking and reading.  Kenny also told me yesterday how much he loves the rocking chairs.  This porch is now his new favorite spot to sit and cool off after his evening runs.  I have to admit.. I picked out these rocking chairs thinking about how cute they would look on the porch and how fun they would be to decorate for holidays.
Bonus that my family is really using and loving them. ;)
I love the little table that came with them.  Perfect to hold a lemonade and a splash of holiday decor!
They really are so comfortable.  I'm thrilled I finally have my porch furnished!
You can see in this pic how bad I need to cut back the greenery.  It's taking over!  I love this time of year when everything in the yard grows like crazy and our mudroom dutch door is always open with a soft breeze flowing through the house.
Hello summer.  So happy you're here. :)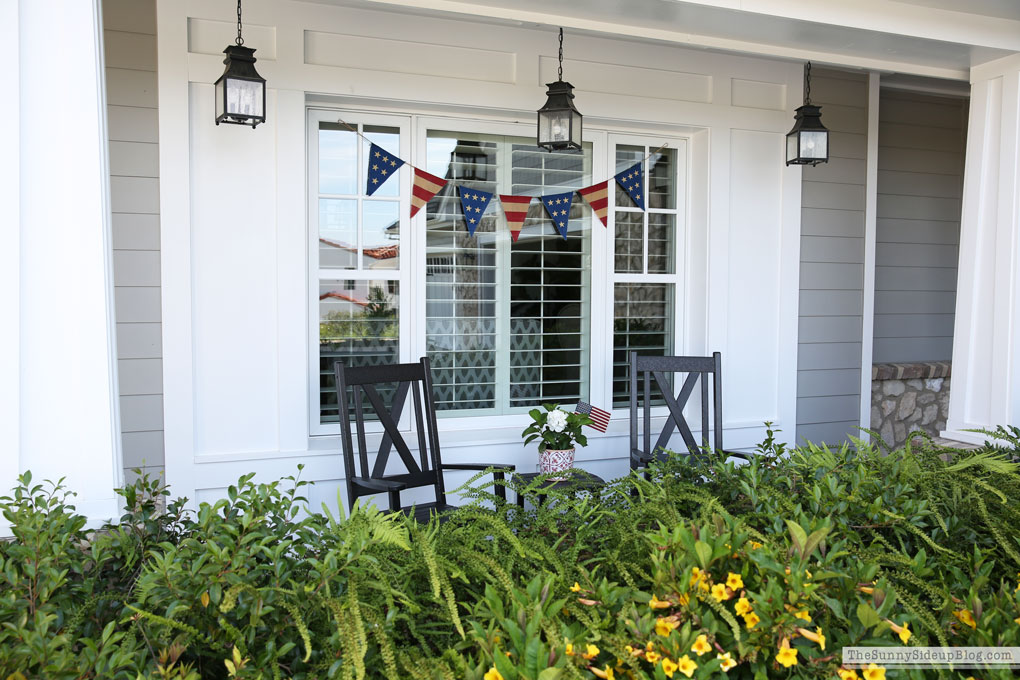 I got really tricky with my red and blue banners and hung them with some.. wait for it.. painters tape. :)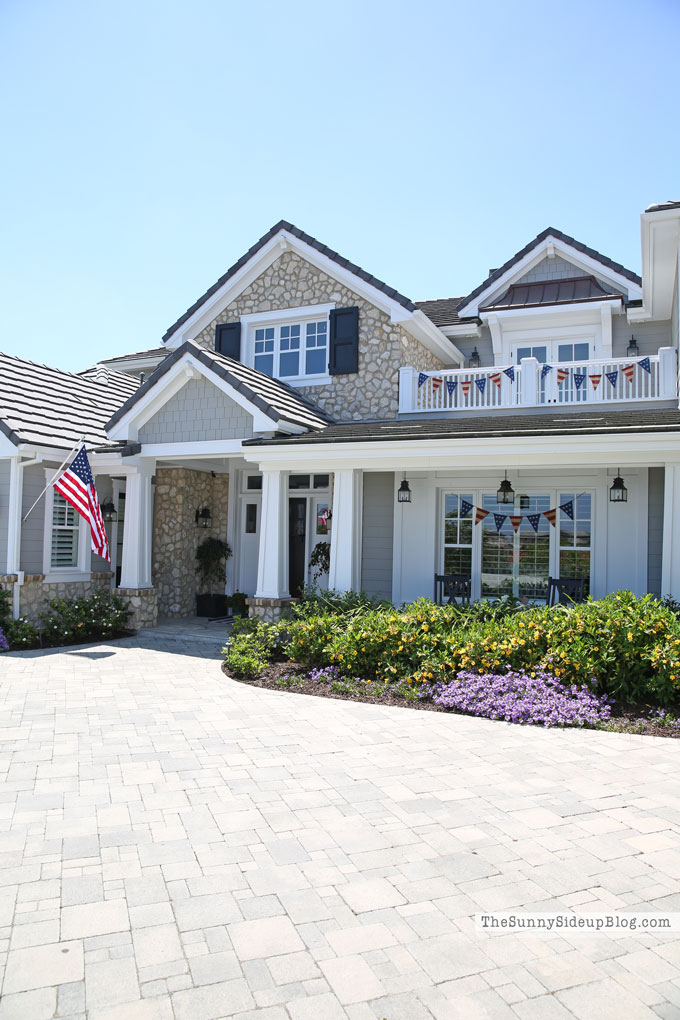 Then I put up our flag and watered the red potted geraniums on my front porch and done!  4th of July ready.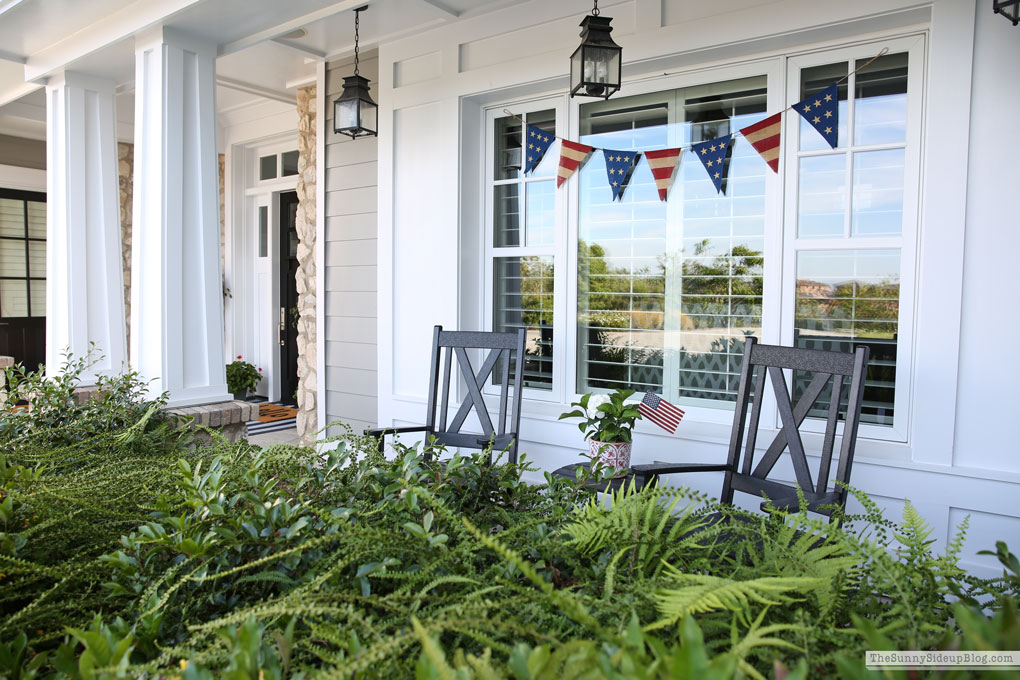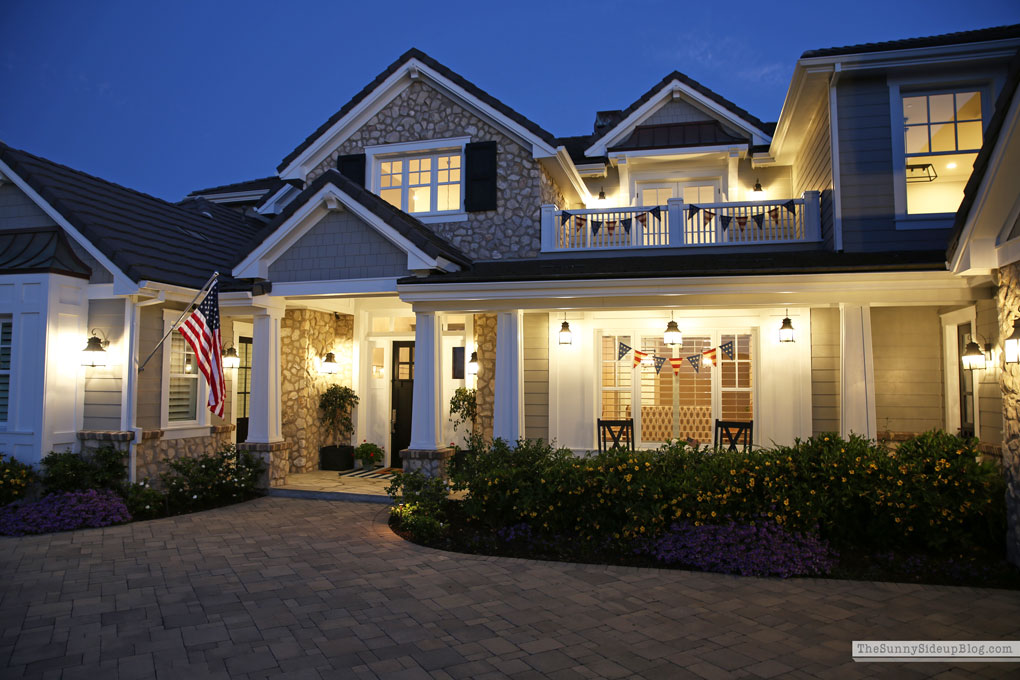 I snapped this picture quick last night after I pulled into our garage.  My kids were home alone for an hour (Ellie was in charge) and they had turned on almost EVERY light in the house.  Kenny and I were just shaking our heads and laughing pulling up.  Griswold Christmas lights moment!  You could see our house from a mile away.  They just go from room to room doing their thing and leave all of the lights on as they go.  We had to have another talk about energy conservation.  Wasn't the first and won't be the last!  But it did highlight my new decor and make for a pretty picture so I couldn't be too hard on them. ;)
Grateful I get to spend another 4th with this guy.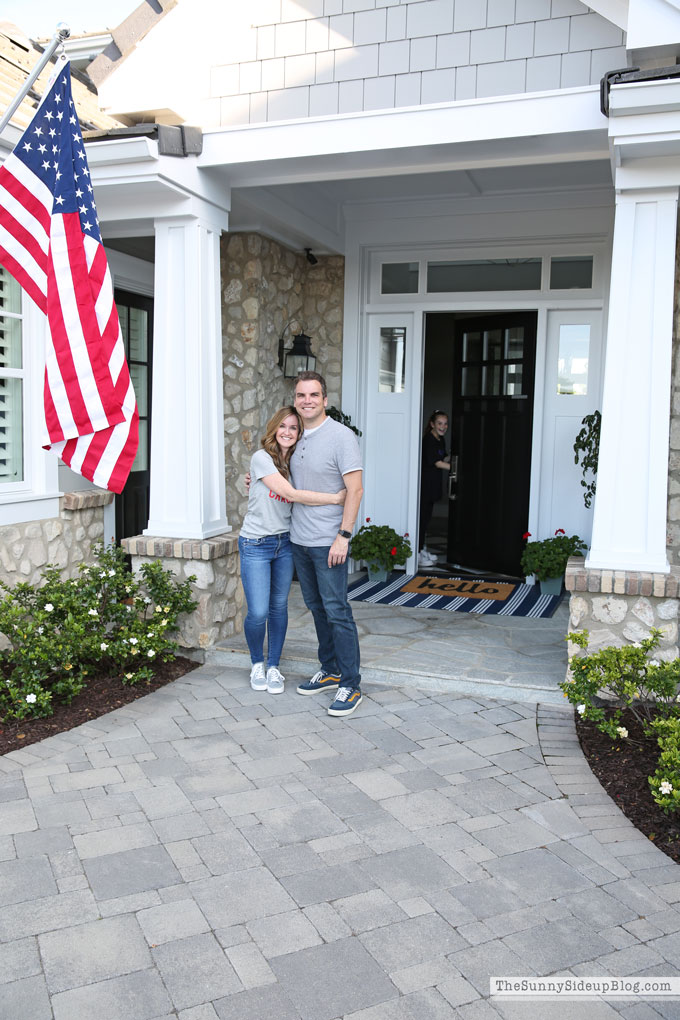 And with the photo bomber and her two partners in crime in the back. :)
*Huge thank you to POLYWOOD for sponsoring this post and gifting me the furniture.  We couldn't love it more!
xoxo, Erin