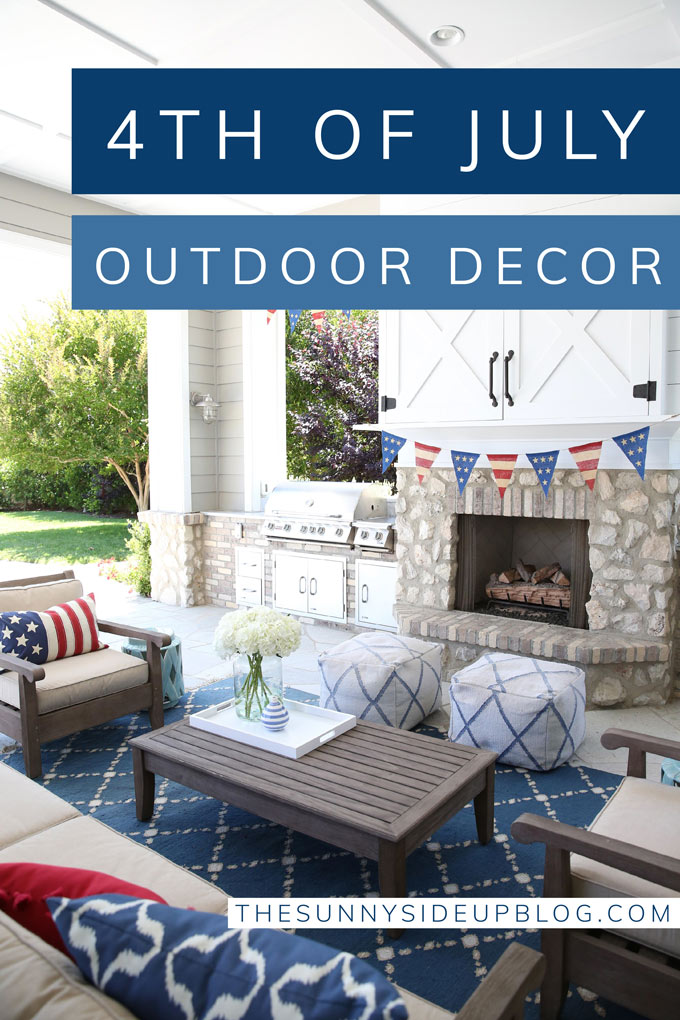 *affiliate links used
Happy weekend everyone!  I'm not gonna lie, last week was a tad brutal at our house.  Just way too much going on.  May has officially arrived!  Moms of school age kids.. brace yourselves. :)  We somehow survived and next week is looking a little calmer so I'm grateful for that!
I have SO many fun projects going on that I'm excited to share with you all!  I'm going to try to be better about sharing more progress on IG stories (I'm horrible at IG stories!) so follow me there if you don't already and hold me accountable. :)  I'm also hoping I'll have more time to post on the blog next week.  For today I'm popping in quickly with an old favorite post and some fun recent finds I'm excited about!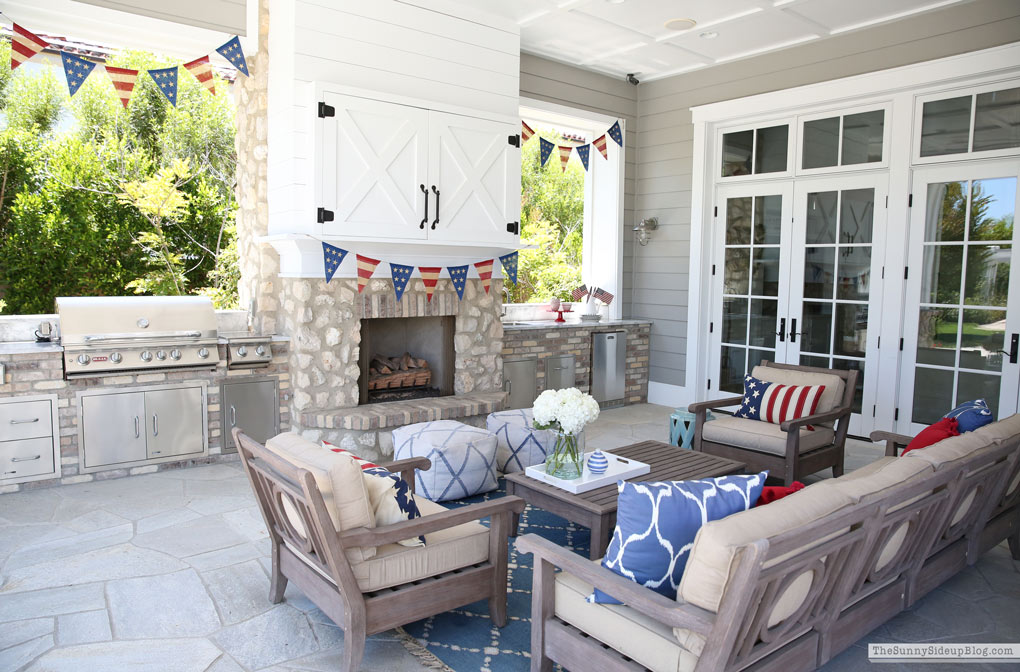 Remember when I decked our outdoor space last summer for the 4th of July?  Just a few small touches and we were ready to party!  I'm hoping to get this all up earlier this month so we can enjoy it for Memorial weekend too.  I thought I'd share this post again in case any of you want to start thinking about patriotic summer decorating!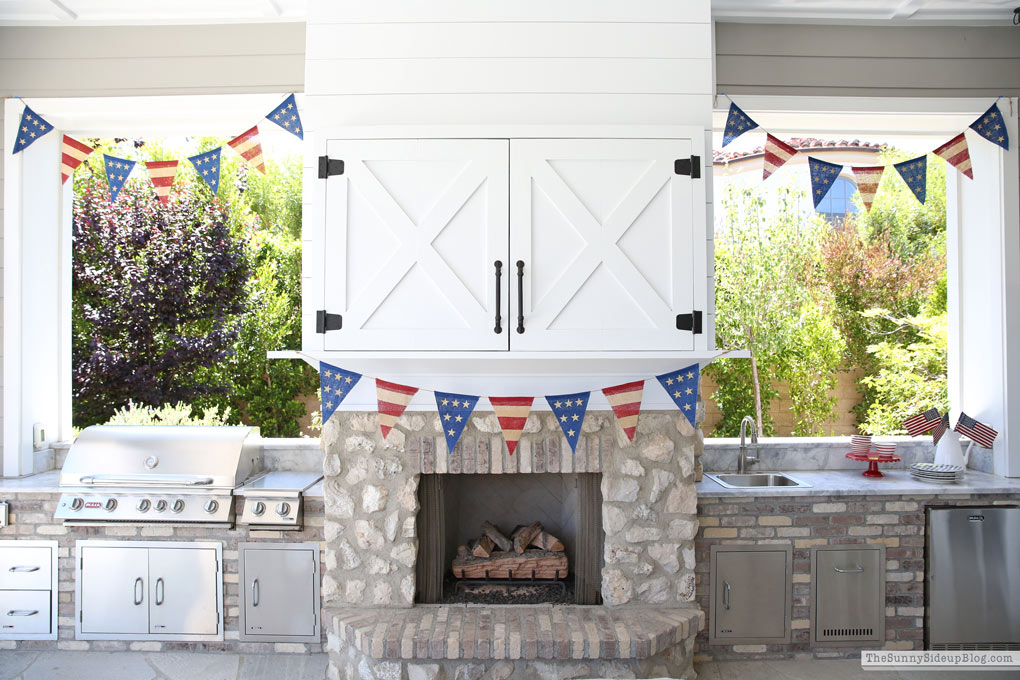 This cute Liberty Burlap Party Banner was so easy to hang.  I got extremely tricky and used painters tape.. but you knew that. :)  We had one windy afternoon and one of the banners fell down so I might have to come up with something a little sturdier this year.
My Flag Lumbar Pillow Covers are back in stock!  These sold out so quickly last year (so did the banner above) so don't hesitate if you want them!  I also linked similar fun options at the bottom of last year's post.  I want to get a couple for inside my home too!
Another favorite are these Liberty Burlap Flags.  So easy to pop in a vase for a simple table centerpiece or next to food at outdoor summer BBQ's.  Let the festivities begin!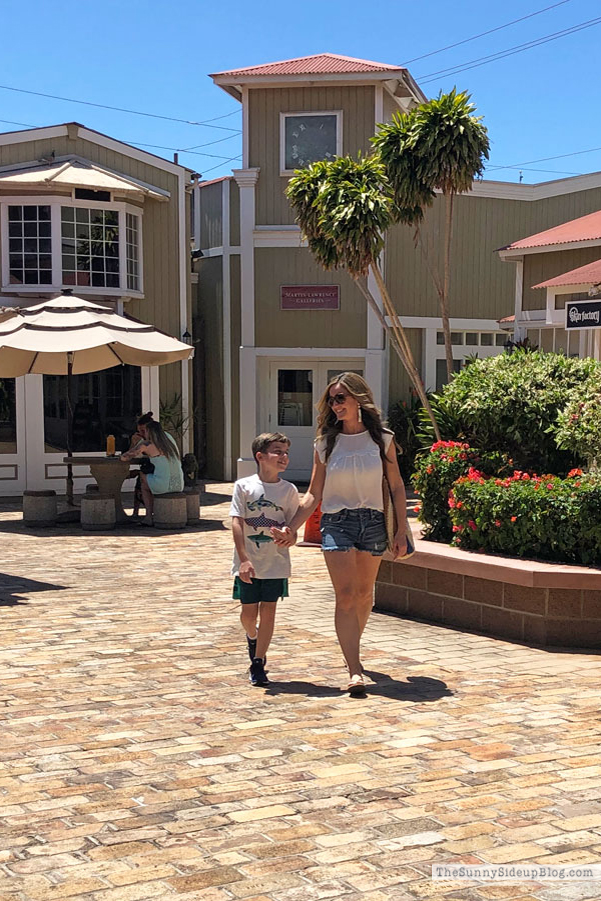 Ok.. a couple of favorites!  I shared this cute white scallop blouse in my what I wore to Maui post but it had sold out by the time I got my post up.  It just came back in stock!
Perfect top for summer.  I'm so ready!  And also so not ready!  Summer brings out mixed emotions doesn't it? :)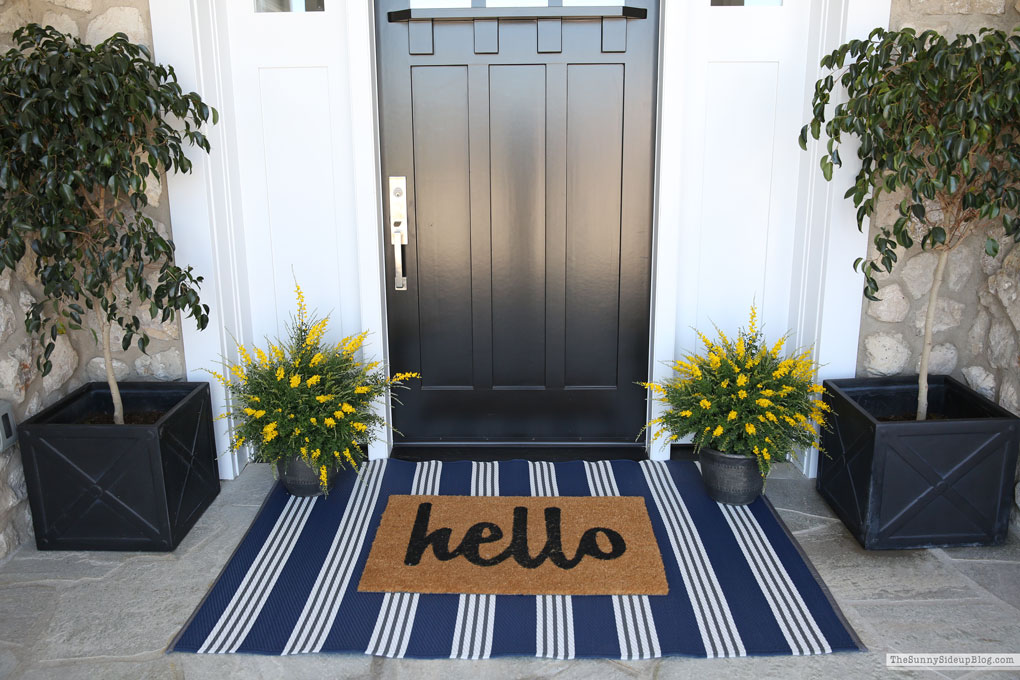 My favorite hello mat is never in stock and I get so many questions about it.  I always share similar options, but I found the exact mat here on sale!  Btw.. for those of you who were asking about my yellow porch flowers they are called "Sweet Broom."  I'm sad to say that they currently don't look like they do in this picture anymore.  One of them is sort of with me still and the other.. well.. RIP Sweet Broom.  I don't think I watered them enough.
Or I watered them too much.
The problem was definitely one or the other.  Knowing my record with living plants it's amazing I'm trusted with 3 children.
A couple new favorites!  I ordered this Flutter Sleeve Pom Pom top in white and it's DARLING!  I'll share a picture of it on me soon so you can see how it fits.. so cute for summer.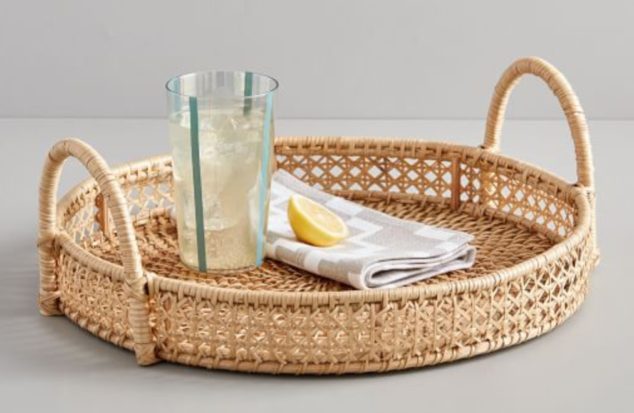 Another new favorite is this stylish Rattan Round Tray.  Oh the possibilities with a cute tray like this!  I'll share it styled in my home soon but I wanted to share it and the white top above quickly now because they are on sale this weekend.  Woot woot!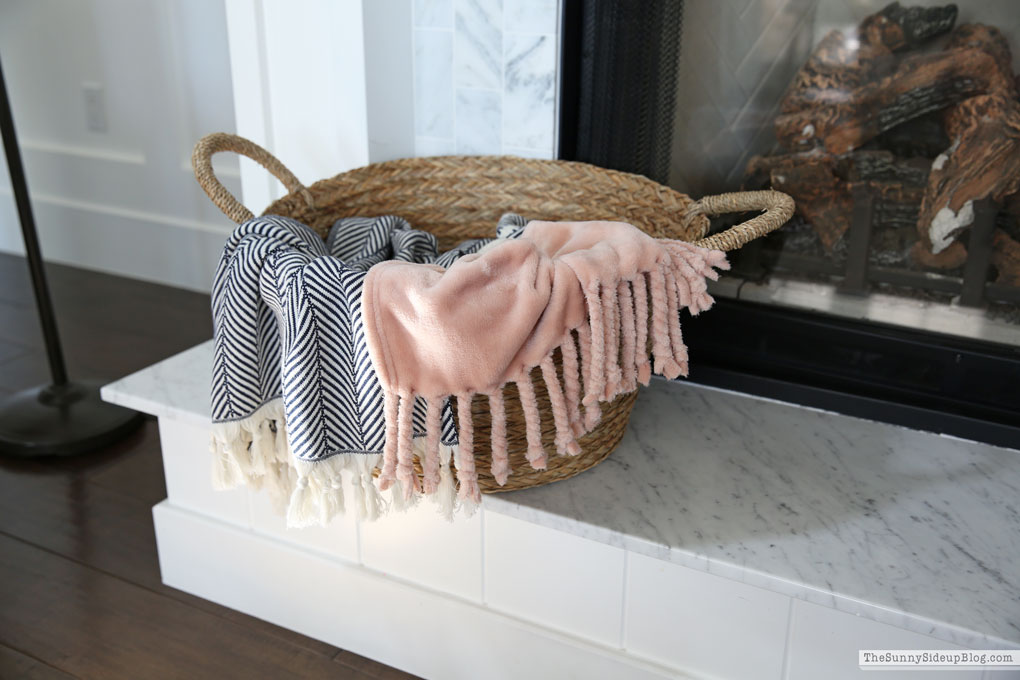 Lastly I have an old favorite Bliss throw paired with a new favorite Palermo throw in a newish favorite Moroccan basket.  I know.. I'm getting all sorts of tricky up in here. ;)  I love these three items so much and keep moving them back and forth between my family room and living room because they look good everywhere I put them!  (Btw this Bliss throw is the color Pink Peony.  It looks orange or peach on-line, but it's actually a perfect soft pink.)
Alright.. I'm off to bed!  Trying to prioritize sleep this month because when things get really busy around here that's usually the first thing to go and then suddenly mom isn't coping so well and the ship sinks fast. :)
Enjoy what's left of your weekend friends!
P.S.   I updated my FAVORITES PAGE and all of these items I've shared are linked there along with other things I'm loving lately!
{POST SOURCES}



xoxo, Erin