Happy Labor Day weekend everyone!  I hope you're all enjoying it so far!  We kicked off our weekend by hosting a pool party for my daughter's competitive dance team.  We hosted this party last year for the first time and I meant to share some pics and never did!
*affiliate links used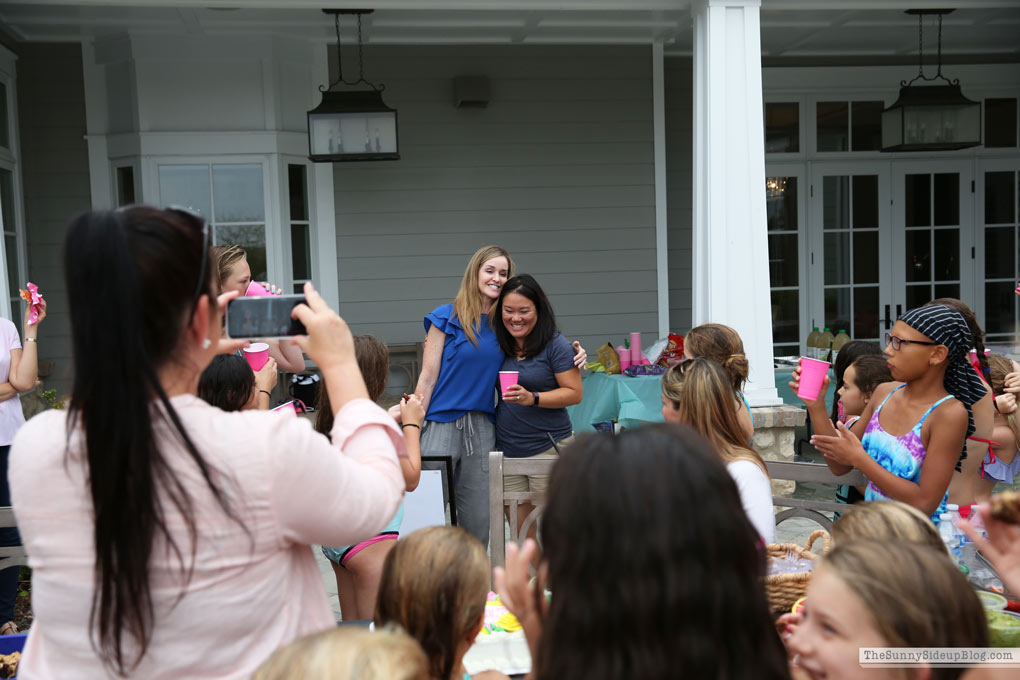 So here are a few pics I found from last year.  Not my best look here (ha) but one of my close friend's 50th birthday landed on the exact day of the company party so I presented her with a fun gift at the party.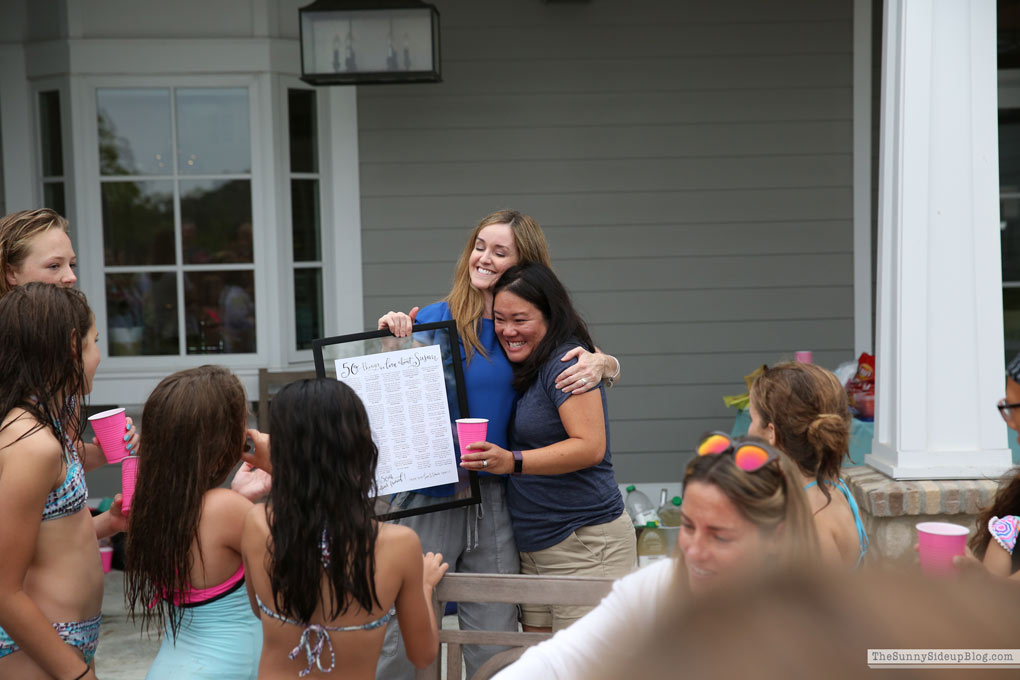 I had all of the team parents write down one or two things they love about her and compiled it in a "50 Things We Love About Susan" frame.  Some of my friends did this for me when I turned 40 and it was such a special gift!  She loved it. :)
Last year on the day of the party it was cloudy and we were having the worst humidity.  Just look at my hair in this pic for evidence!  Humidity and I don't get along.  It makes me turn into Mufasa from The Lion King.
We had such a fun time throwing the party last year that we were excited to host again!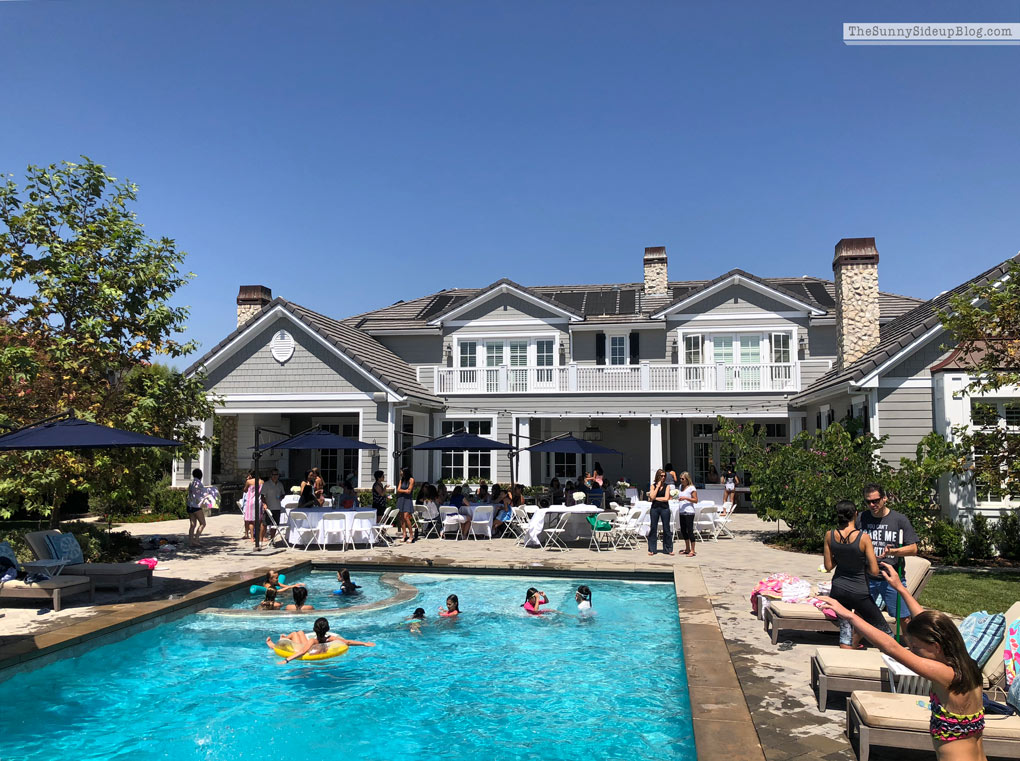 This year it was nice and sunny. :)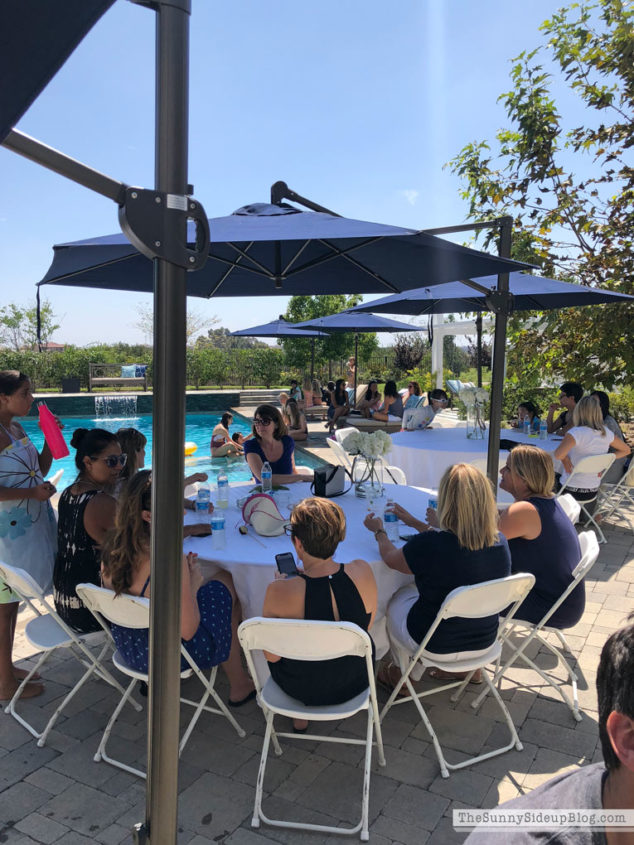 El's dance coach sent me the final RSVP a few days ago and it said 94 people were coming.  Mild panic set in!  Definitely the largest crowd we've entertained.  So we rented some tables and chairs and ended up putting our pool umbrellas over them for shade.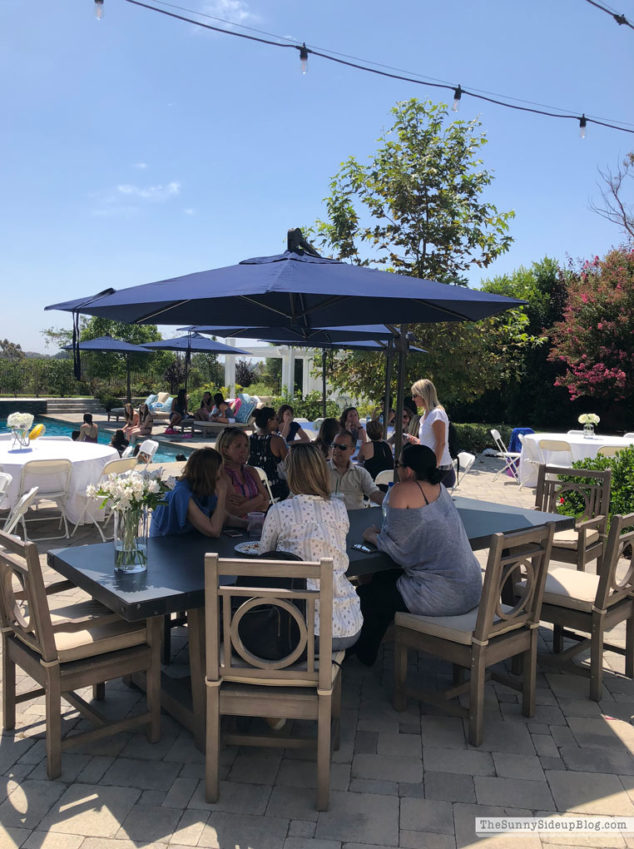 Adults had fun catching up.
Kids had fun in the pool.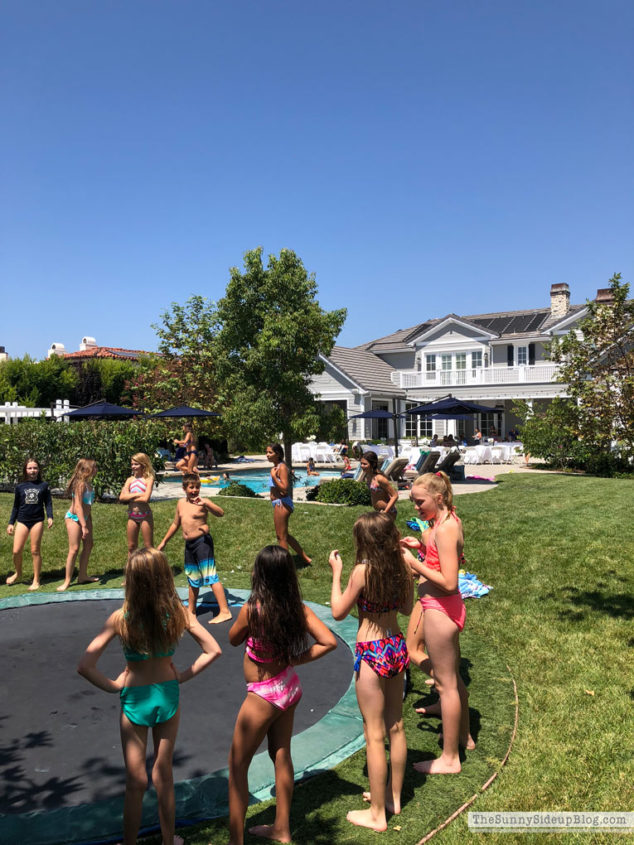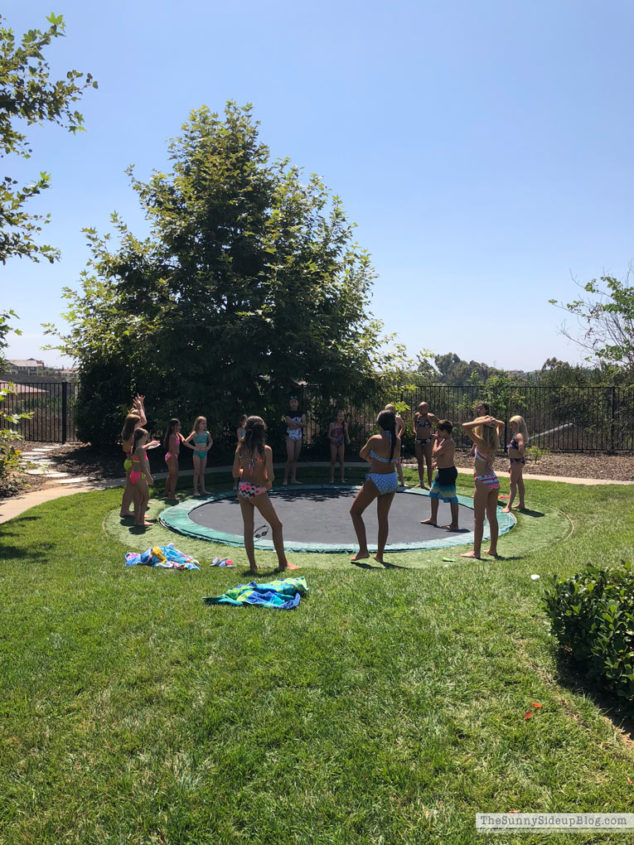 And of course the trampoline is always a hit.  I know I owe you all a post on this in-ground trampoline!  Seriously one of the best things we did when we built this house.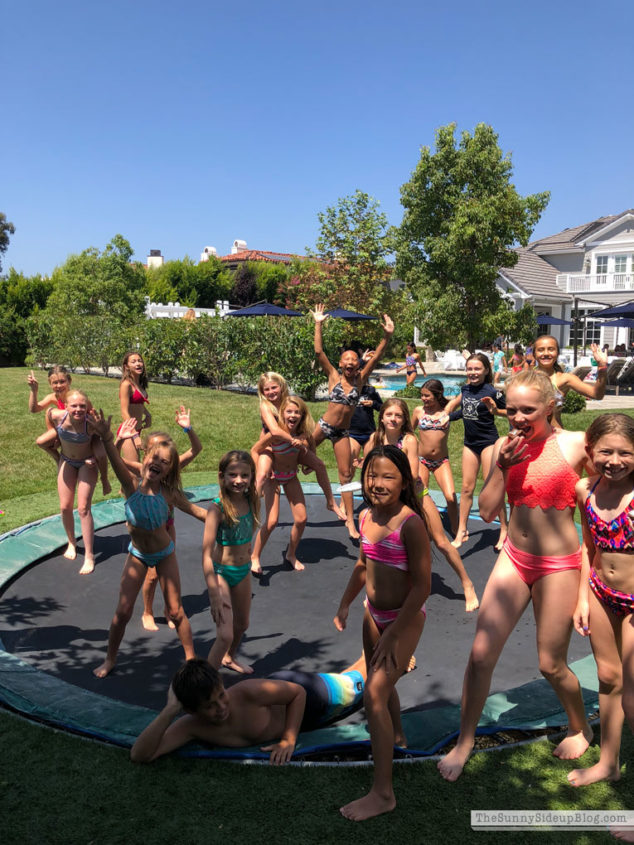 Hours of entertainment!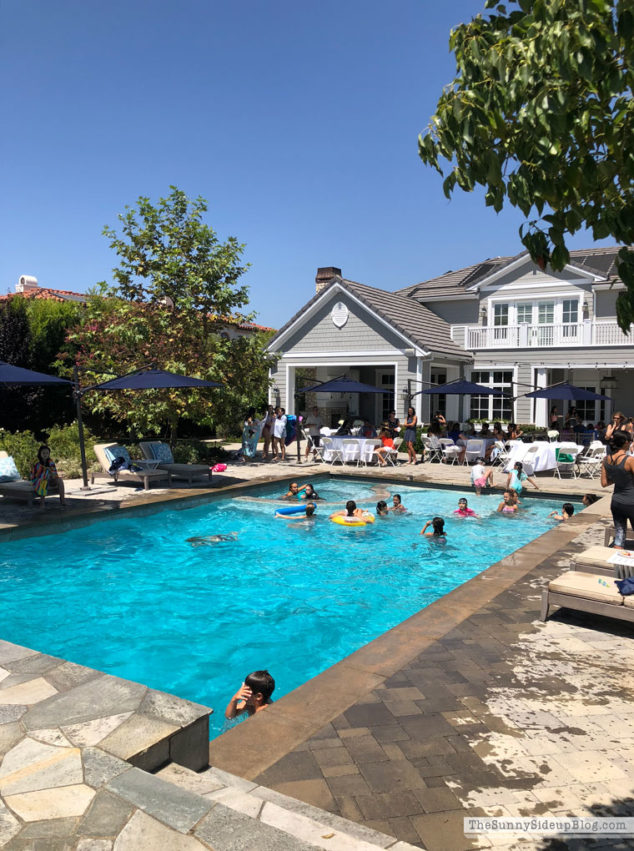 The girls soaked their dance coach!  She was a good sport. :)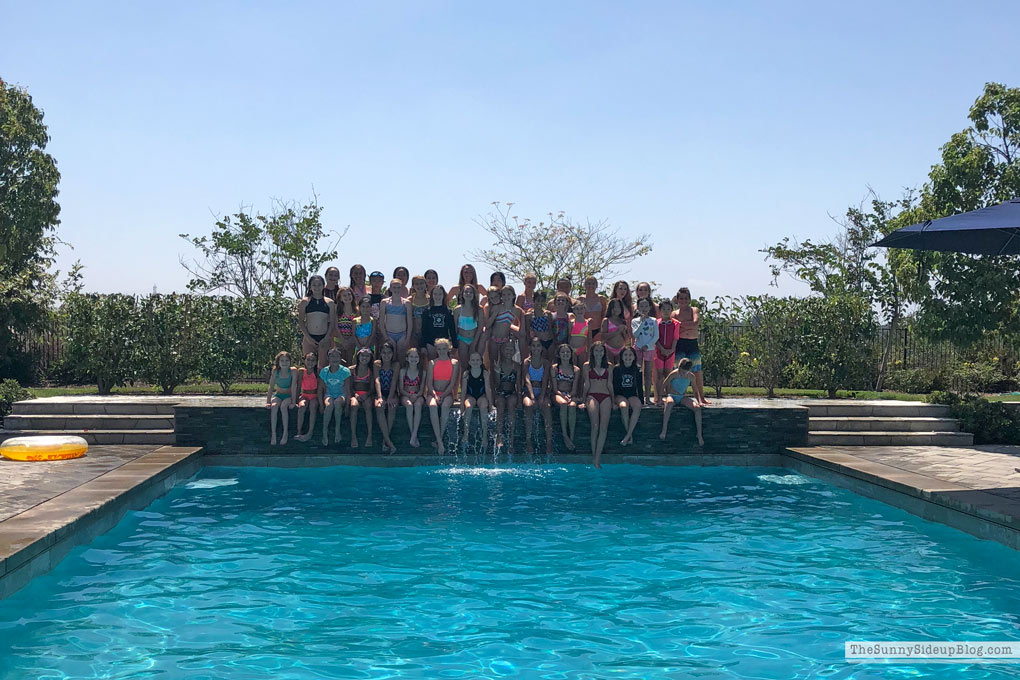 They are honestly all the sweetest kids!
With the sweetest moms.  They all feel like family after spending so much time together at dance competitions!
Kenny lived it up in the shirt our girls' gave him for Father's Day – remember my round-up post :) – and my hair stayed in tact so we called the day a success!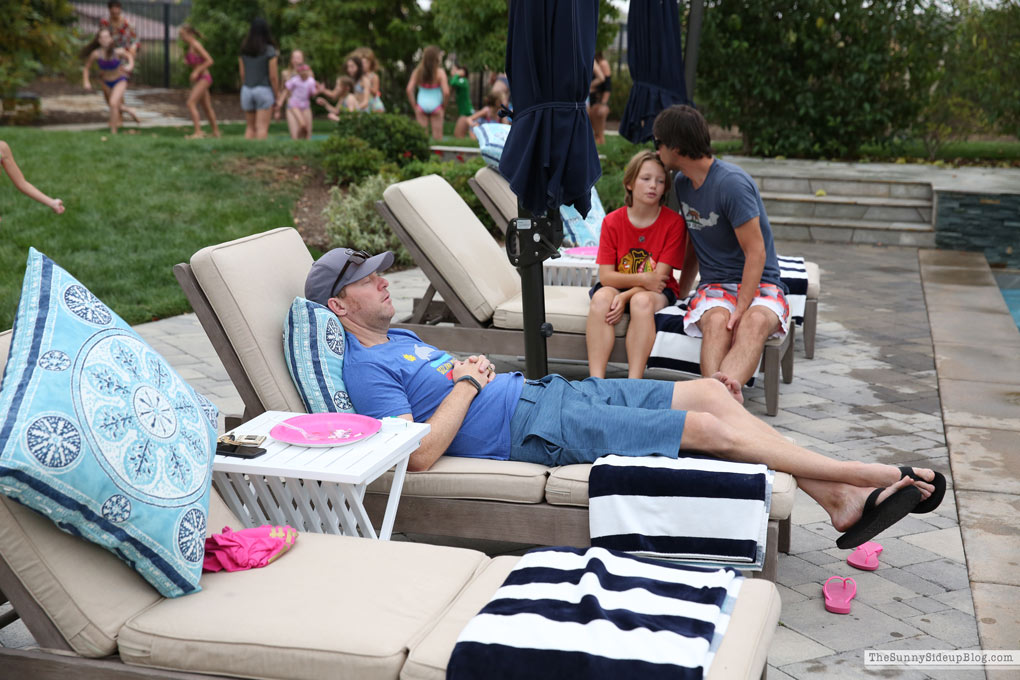 Of course after the party we felt like this guy.  Ha!  (This pic was from last year of one of our good friends.. he seriously cracks me up!)  The party was such a fun way to start the weekend and now we plan on spending the next two days relaxing and catching up on a few home projects.  I've been waiting for this weekend to order a few things for the house because the sales are always crazy good!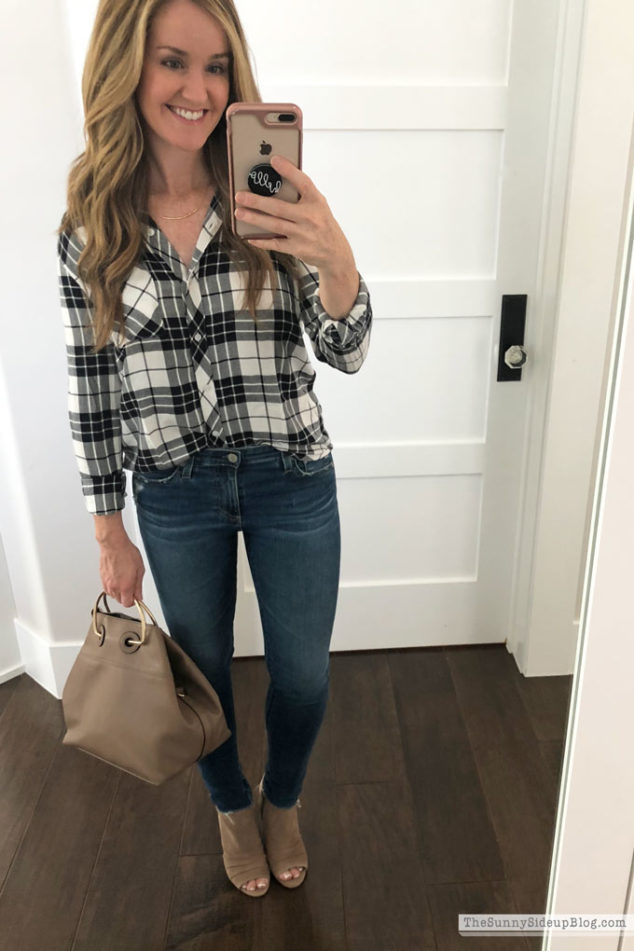 So many of my recent favorites are marked down!  Here are pics of a few clothes I have and love that are on sale..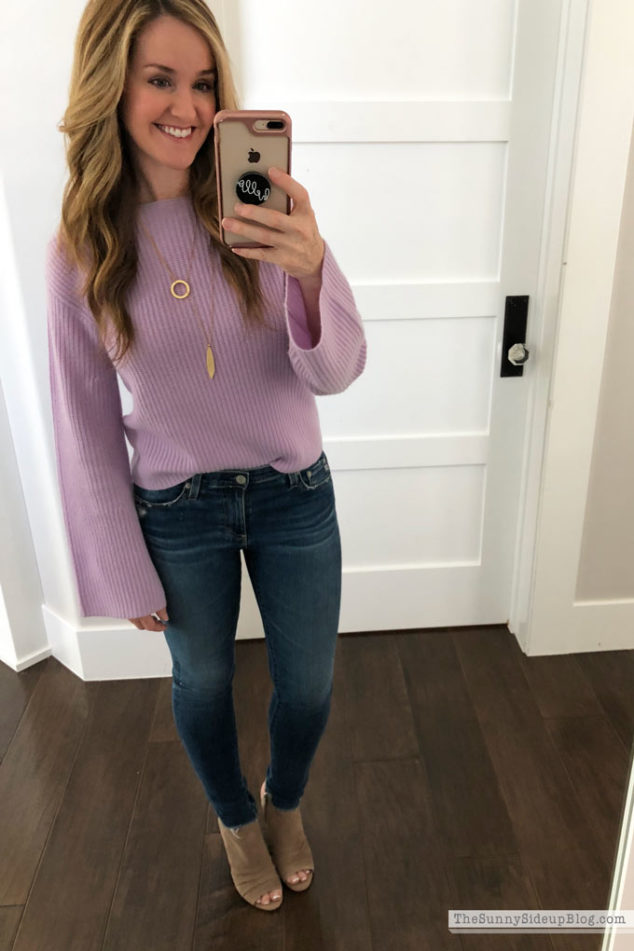 These outfits and my other favorites that are marked down this weekend are all linked below if you're doing some on-line sale shopping too!  I hope you all enjoy the long weekend!
{FAVORITES ON SALE}

SaveSave
SaveSave
SaveSave
SaveSave
SaveSave
SaveSave
SaveSave
SaveSave
SaveSave
SaveSave
SaveSave
SaveSave
SaveSave
SaveSave
SaveSave
xoxo, Erin