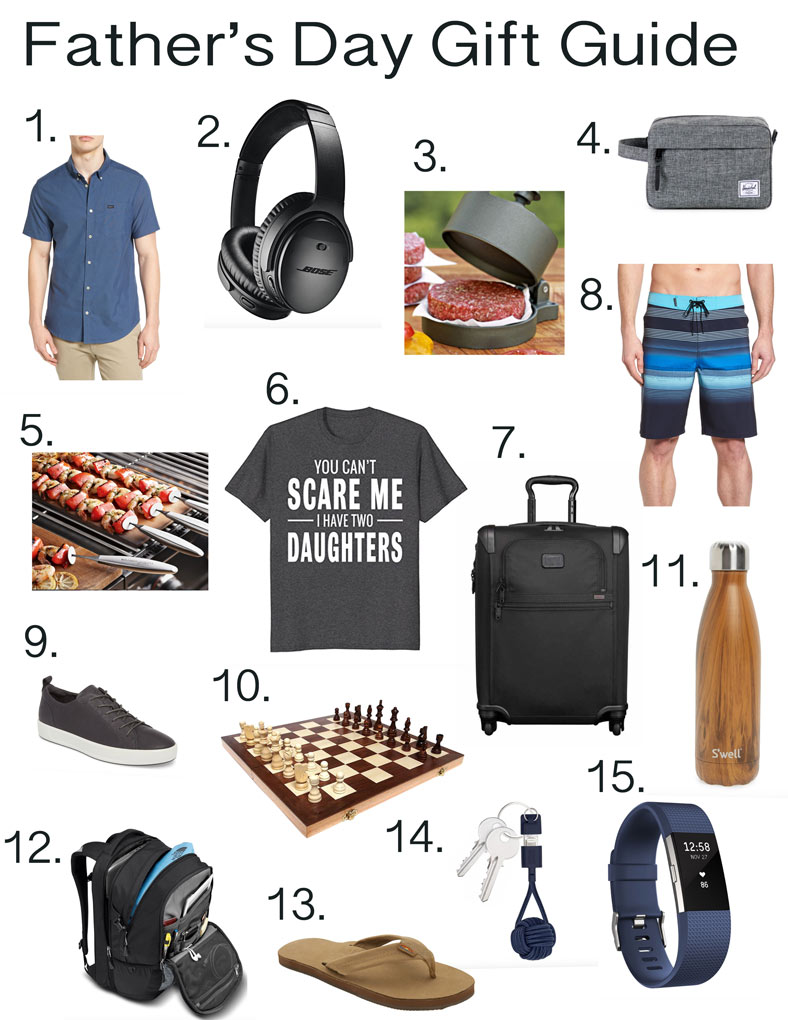 Happy Saturday everyone!  I hope you're all enjoying the weekend!  We have been so busy wrapping up the school year that I didn't realize until a few days ago how close Father's Day is sneaking up!  I went on-line (no time to hit the mall these days!) and found SO many fun things for Kenny and my dad.   (They know they aren't allowed to look at this post!)  I'm excited to share them with you all in this Father's Day Gift Guide!  I've also included a few of my husband's current favorite things to give you lots of ideas for Father's Day.  Dads do so much for us don't they!?  I love having a day to celebrate fathers.  (You can see my Mother's Day Gift Guide here if you missed it!  Fun gifts for women for any occasion.)
*affiliate links used
1 – Oxford Slim Fit Shirt – Love this shirt!  Ordered it for Kenny.  He loves the 'slim fit' shirts and wears this type of shirt to work most days.  The blue is a great price but there are also other colors on sale!
2 – Bose Wireless Headphones – We've had these for years!  Long time favorites.  Especially when we travel!
3 – Nonstick Burger Press – This looks so perfect for summer!  It has great reviews and is a fun gift for the man who loves a good BBQ.
4 – Herschel Travel Kit –  Every man needs a good travel kit!  This is a great size and I love Herschel bags.
5 – Stainless-Steel Sliding Skewers – So excited about these!  I've been looking for some good skewers and these have great reviews and look perfect for summer grilling!  Giving them to Kenny but really it's a gift to me when he does the cooking.
6 – You Can't Scare Me Shirt – #truth  Love this.  Perfect for any dad with daughters!  There is also one for 3 daughters and 4 daughters.  I know my husband will wear it proudly. ;)
7 – Tumi Alpha 2 International Carry On – I have a close friend whose husband travels a lot for work and she swears by this suitcase!  Her husband has been bragging about it all year.   It's durable, lightweight, has a lot of great storage compartments inside.  A perfect gift for a dad who is often on the go!
8 – Billabong Board Shorts – Every spring/summer I get new swim suits for me and the kids.  Then we go on vacation or hit the pool and I see my husband wearing the same suit he's had for going on 8 years. :)  Trying to be better about updating his swimwear and with lots of board shorts on sale right now that's easy to do!  These are a few favorites I'm choosing between..

9 – Ecco Soft 8 Sneaker – My husband has these shoes in black and grey and loves them!  So comfy and stylish and on sale for a great price right now!
10 – Wooden Chess Set – We gave Kole and Kenny this for Christmas and they love playing Chess together!  A fun game they bond over.  Another fun game Kenny loves playing with the kids is Clue so I just ordered this Harry Potter version of Clue for the kids to give him.  My husband just loves that we all give him gifts that benefit us too.  I'm tricky like that with my gift giving. ;)
11 – S'well Water Bottle – I love this wooden S'well!  Our favorite water bottles are Hydro Flasks, but we all have S'wells for times we don't want to carry our larger Hydro Flasks and they are great water bottles too.
12 – North Face 'Surge' Backpack – I'm so excited about this!  My husband has been using the same backpack for every campout and trip we've gone on for years and it is seriously falling apart.  This North Face backpack will be a perfect replacement!  I'm a huge fan of organizing compartments and this looks like it will hold every single item and then some.  Great reviews.  I know my husband will love it!  You're welcome babe.
Oh yeah.. you're not reading this.
13 – Rainbow Flipflops – Perfect gift for summer!  These are simple and casual and comfy.  My three requirements for mens flip flops.
14 – Key Cable – This keychain makes it a breeze to charge your mobile device!  Such a fun and creative gift.
15 – Fitbit – A great gift for any father who doesn't already have one!  Kenny loves his.
So that's it!  My favorites for Father's Day.  I hope this post gives you a few fun gift ideas to help spoil the dads in your life!
p.s.  Did I mention how excited I am that it's June and May is behind us!?  Seriously SO HAPPY about that.  You can download some fun summer calendar pages here!  
I'm also happy about my closet organization progress and my updated planning system, but that's beside the point.  
And posts for another day. ;) 
Enjoy your weekend and happy Father's Day shopping!



SaveSave
SaveSave
SaveSave
SaveSave
SaveSave
SaveSave
SaveSave
SaveSave
SaveSave
SaveSave
SaveSave
SaveSave
SaveSave
SaveSave
SaveSave
SaveSave
SaveSave
SaveSave
xoxo, Erin