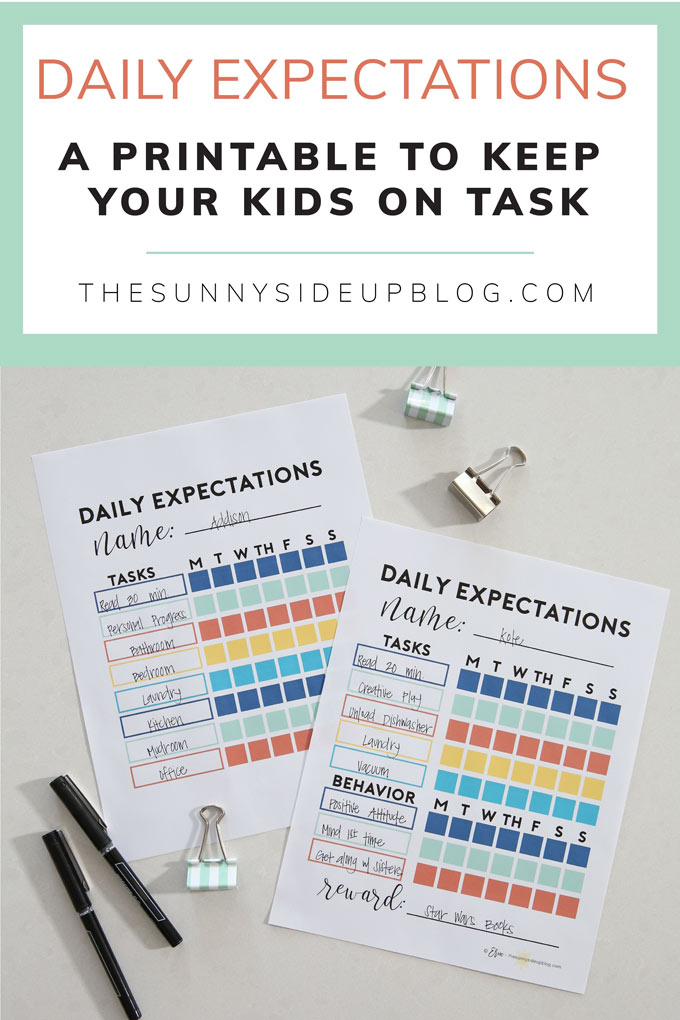 We are officially kicking off summer at our house!  While I love carefree summer days and plan to have a lot of fun with my kids, I still need some sort of order.  Without order our carefree summer days start to feel like one never ending unorganized hot mess!  Any moms out there relate?  I thought so. :)  I've come up with a fun "Daily Expectations" printable to help keep my kids on task this summer and to help me from losing my mind and hiding in my garage with a small bowl of peanut butter and chocolate chips.
Don't ask me where that example came from.. I assure you it has never happened before.
These fun Daily Expectation printables are available to download at the end of this post!  Clearly I care about your sanity too. ;)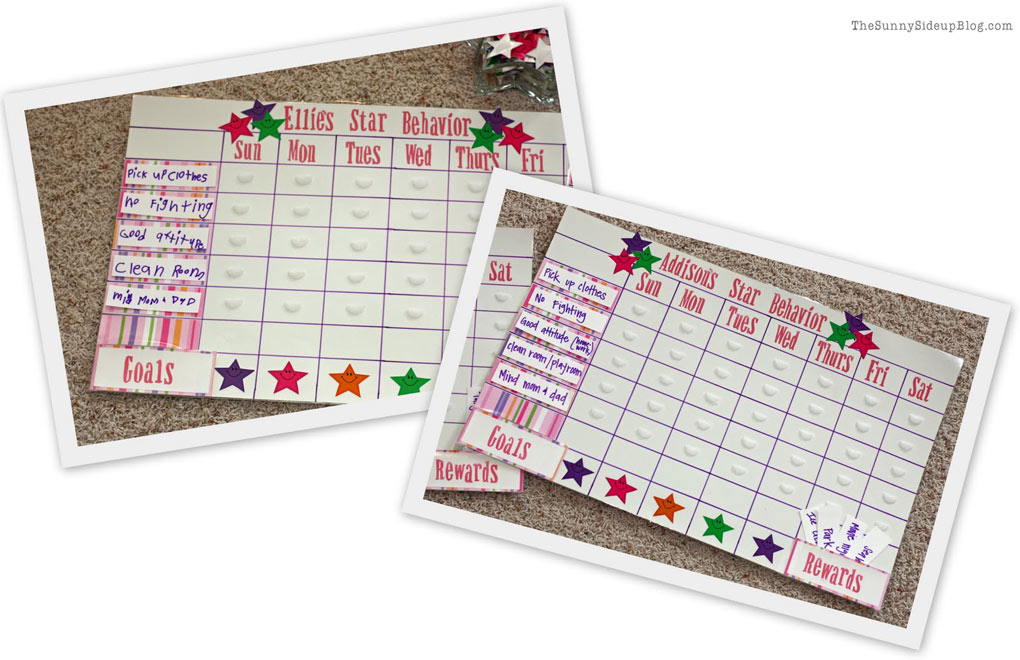 Does anyone remember these oldies but goodies?  When my girls were little I made these Star Behavior Charts for them to help motivate them to work on certain behaviors and to help out around the house.  They worked so well for us for years!  (I always smile when I see these charts with fond distant memories of the days when I actually had time to cut out individual stars and stamp individual letters and laminate everything in sight.. )  #goodtimes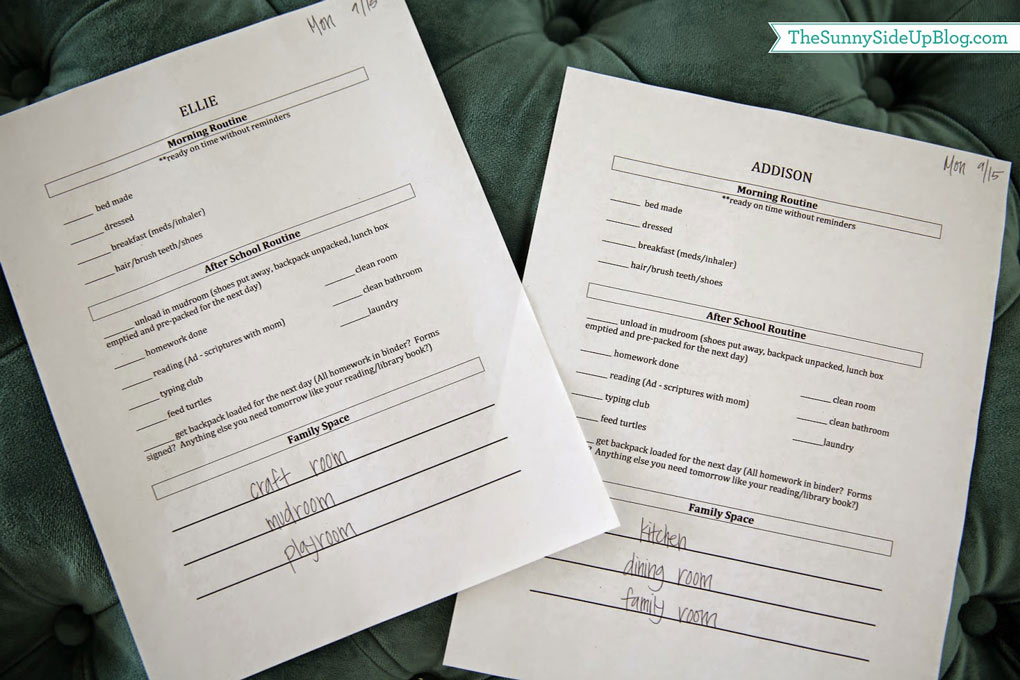 When my girls were a few years older I created these individualized chore charts to help remind them of things they needed to get done/work on each day.  Those worked well too, but for the current stage we are in I wanted something we could easily change up once a week.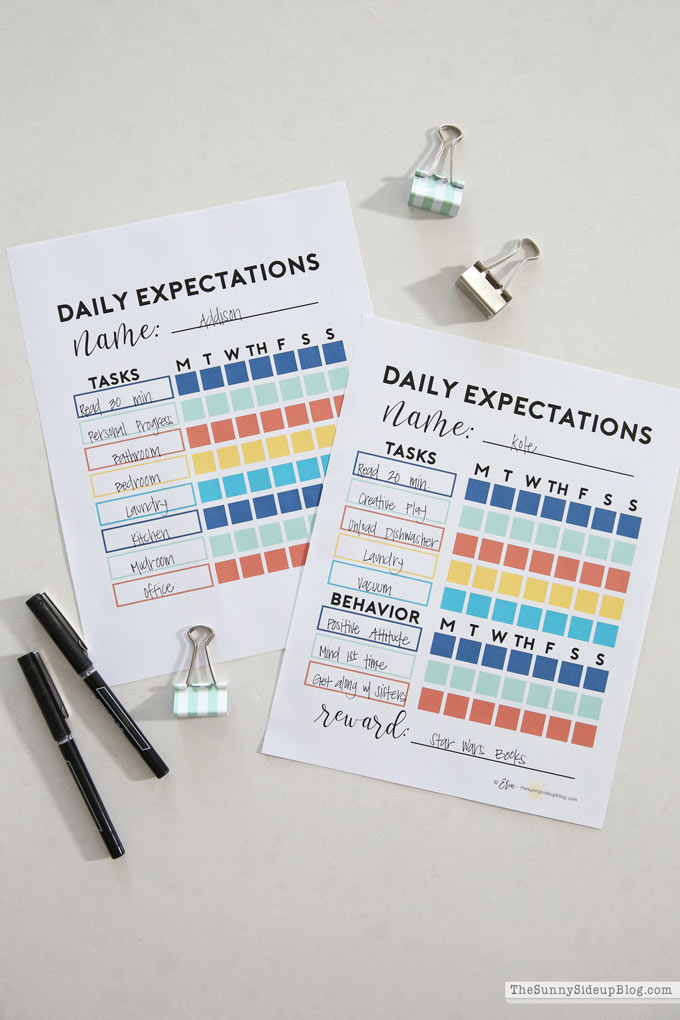 Enter my new "Daily Expectations" printables.  I'm so excited about these!  There are two different versions.  One for older kids like my girls (ages 12 and 14) and one for younger kids.  I filled out the first one for my kids this week but will have them fill out their own charts from now on.  I decided to call these "Daily Expectations" instead of Chore Charts because I wanted to add things my kids are working on each day that aren't (or at least shouldn't be!) chores.  Things like reading or creative play or drinking more water or writing down what they are grateful for each day, etc.  The list will include anything they are working on and need to remember to do each day.  Some will be chores and some won't, but they will all be things I want them to do daily or goals they are working towards themselves.
For Addison this week, aside from reading and personal progress (something my girls do for church), she has certain rooms she needs to clean or help me clean each day.  Next week we'll mix it up and I'll give her different rooms and give these rooms to Ellie.  They will always be responsible for keeping their bedroom and bathroom clean and for getting their laundry done.  Addison has some new personal goals she wants to include next week (work on lines for an upcoming play and eat more vegetables.)   When they finish their goals/chores each day they just check each item off!  My girls like to check things off of lists.. wonder where they get that from? :)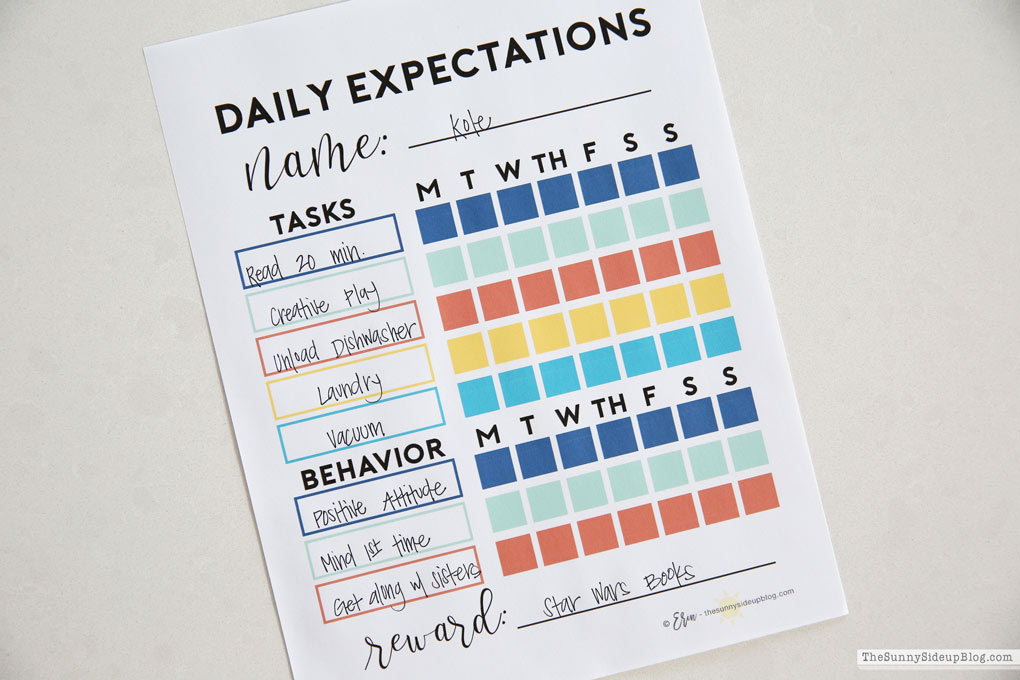 For younger kids I broke the Daily Expectations up into two sections: tasks and behavior.  I also added a reward because younger kids aren't as motivated by the checkmark alone. :)  This week Kole has been working on reading 20 minutes, playing creatively by himself (he struggles with this one!), unloading the dishwasher when dishes are clean, putting away his laundry and vacuuming.  He loves to vacuum. :)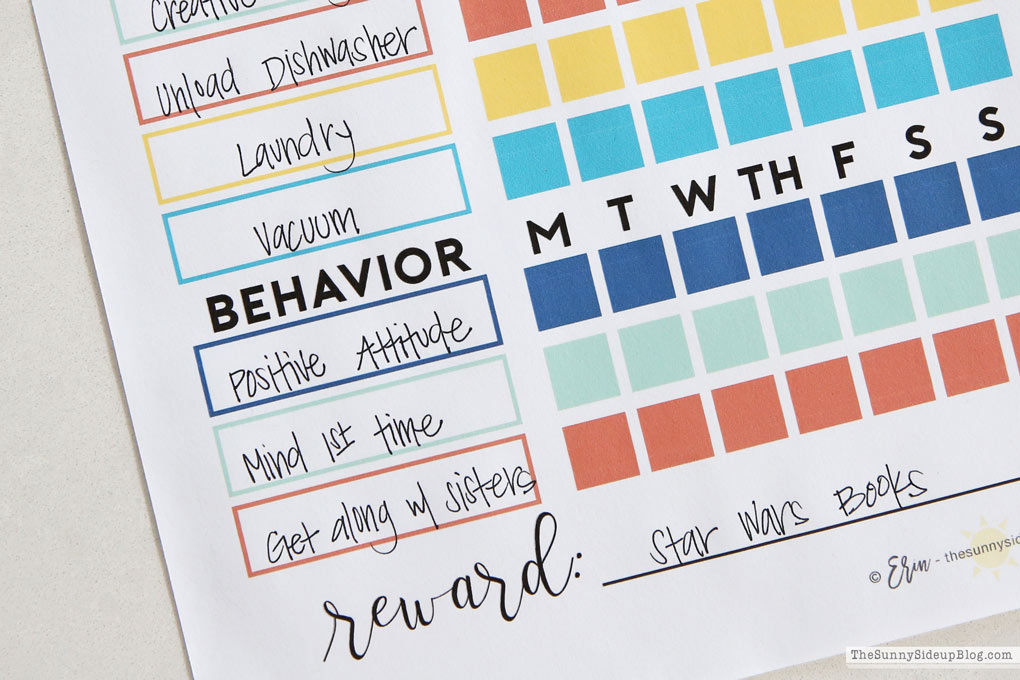 For behavior he is working on having a positive attitude, minding the first time (so I don't have to keep repeating myself!), and getting along with his sisters.  Work in progress around here for sure. :)  For the reward I usually like to have my kids choose an outing or experience (get ice cream, go to the park/mall, have a playdate, go to the beach, etc.) but Kole has really been wanting some Star Wars books so I let him put that as his reward this week.  I'm trying to have him read (or read to him) as much as possible this summer so anything that helps encourage that goal I'm all for!  He has to check off all of the boxes for a whole week to get his reward, but if you are using these for really young kids it could be a reward they get at the end of each day.  You could also use stickers to put inside each box instead of a check mark for little kids.  Anything to make completing their tasks fun!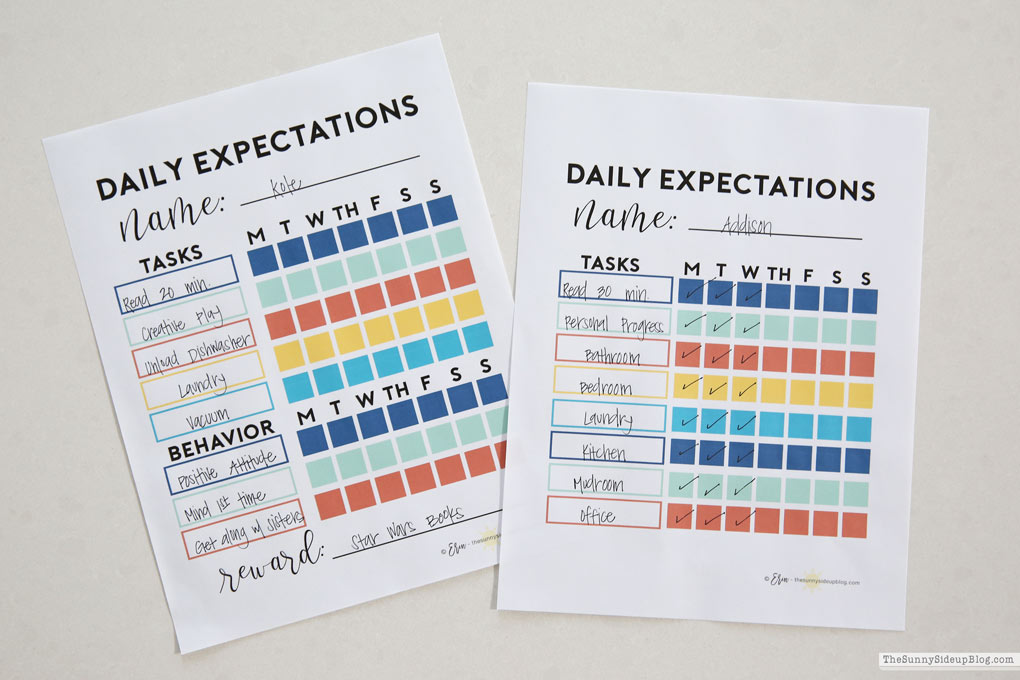 I absolutely LOVE having something like this during the summer.  Aside from motivating my kids to be productive and help out around the house it also makes it easier for me to parent!  When they want to play with friends or swim or get on the iPad or watch a movie I can simply say "have you done everything on your list?"  If they have it's time to party!  I'm all about fun as long as everyone is pitching in and working hard on the side.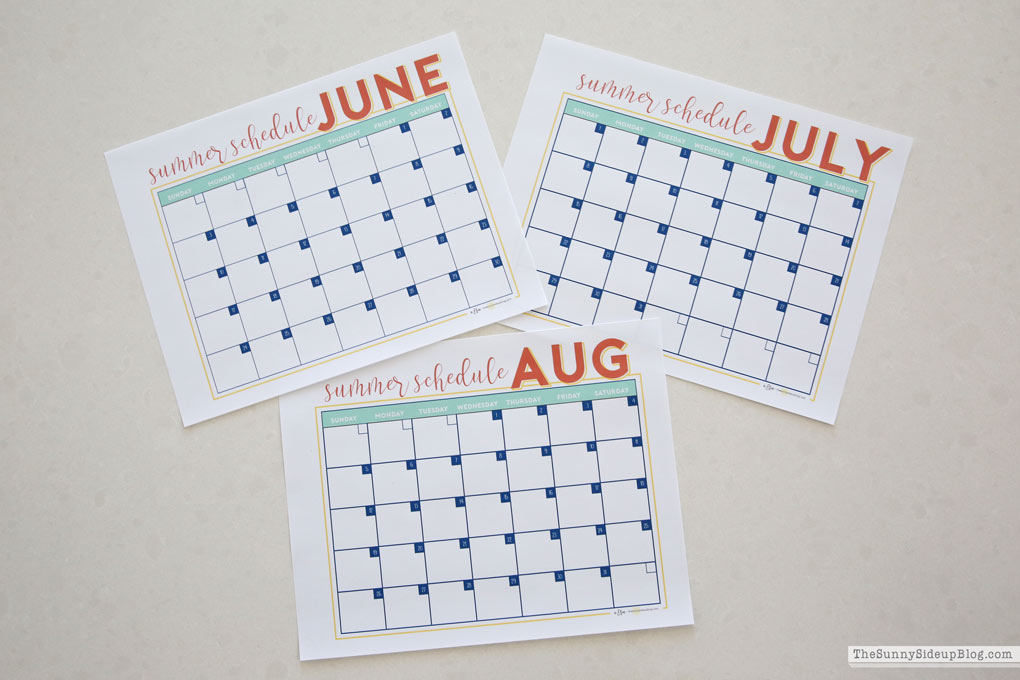 The colors I used for the Daily Expectation printables are the same colors I used for my Summer Calendar pages so they all coordinate!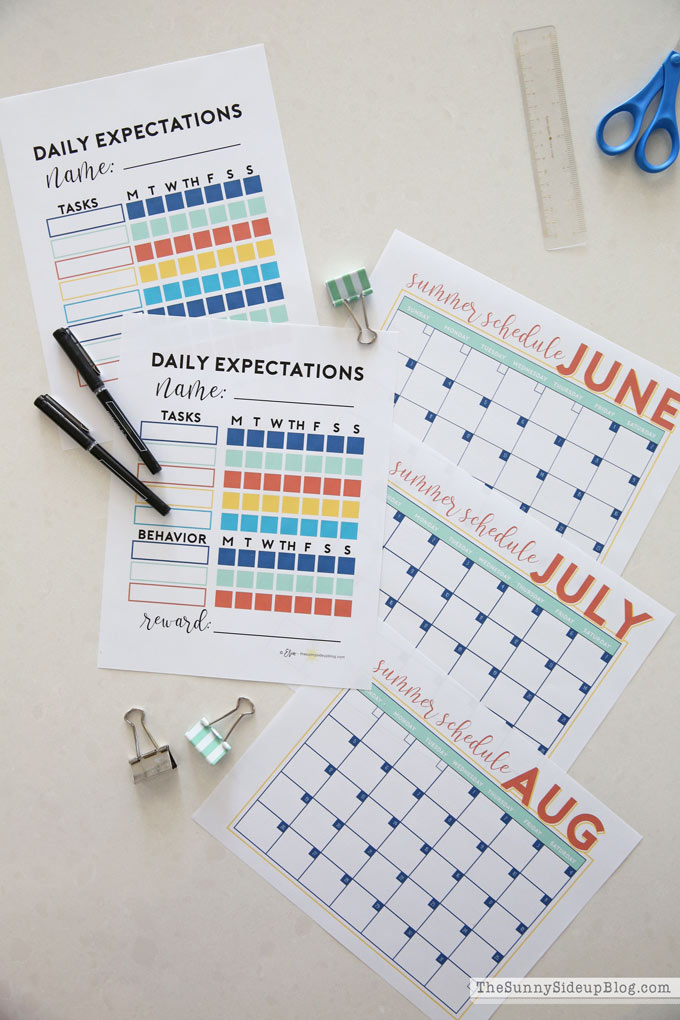 Can you tell I went to a happy place with these printables!?  I hope they help some of you this summer as much as I know they are going to help us!
(If you are already a Sunny Side Up subscriber just enter your info. again to get the printable.. it won't add you twice!  Also, if you sign up and don't get an e-mail soon after check your junk mail!  Once in a while it lands there first.)  
Here's to summer and not needing to escape to the garage!
Although I'm not making any promises about no peanut butter and chocolate chips…
SaveSave
SaveSave
SaveSave
SaveSave
SaveSave
SaveSave
SaveSave
SaveSave
SaveSave
SaveSave
SaveSave
SaveSave
xoxo, Erin