Well!  It has been an eventful few days around here to say the least.  Thank you so much for all of the love and well wishes about my knee surgery!  It made my day to hear from so many of you on the blog/social media and truly helped get me through a not so fun week.  Surgery went well and after a few days of serious pain and nausea I am doing much better!  My sweet family is taking such good care of me.. my kids just piled in bed with me over the weekend :) and we are making it one day at a time.  I go in for my first post op app. tomorrow and will be able to take a shower for the first time since surgery after that so counting down!  It's the little things. :)  I will share more knee updates along the way but for now we are switching gears to talk about how to set up a productive home office!  Why?  Because productivity is a favorite topic of mine and it's especially fun to talk about when I'm laying in bed being sick and completely unproductive.  Ha. ;)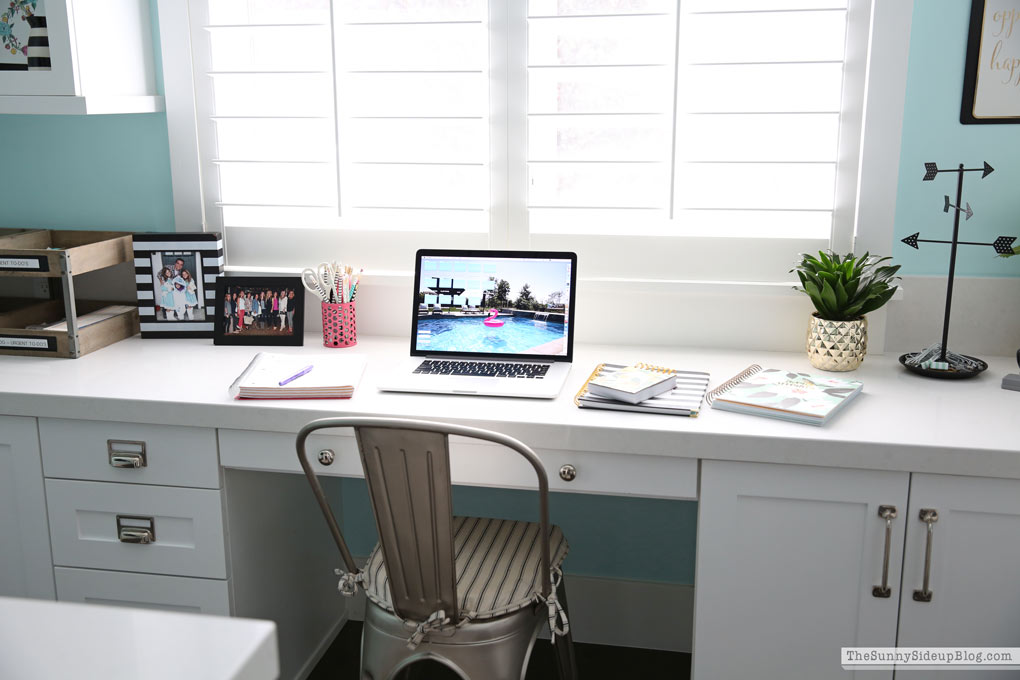 I'm always looking for ways to be more productive during my work day and one thing that really helped me last year was getting my office organized.  And by organized I don't just mean clean.  I mean organized and set up in a way that helps me to be more efficient with my time.
I while ago I bought these wood and metal 2-level trays for my office.  (I bought three of them to put together.)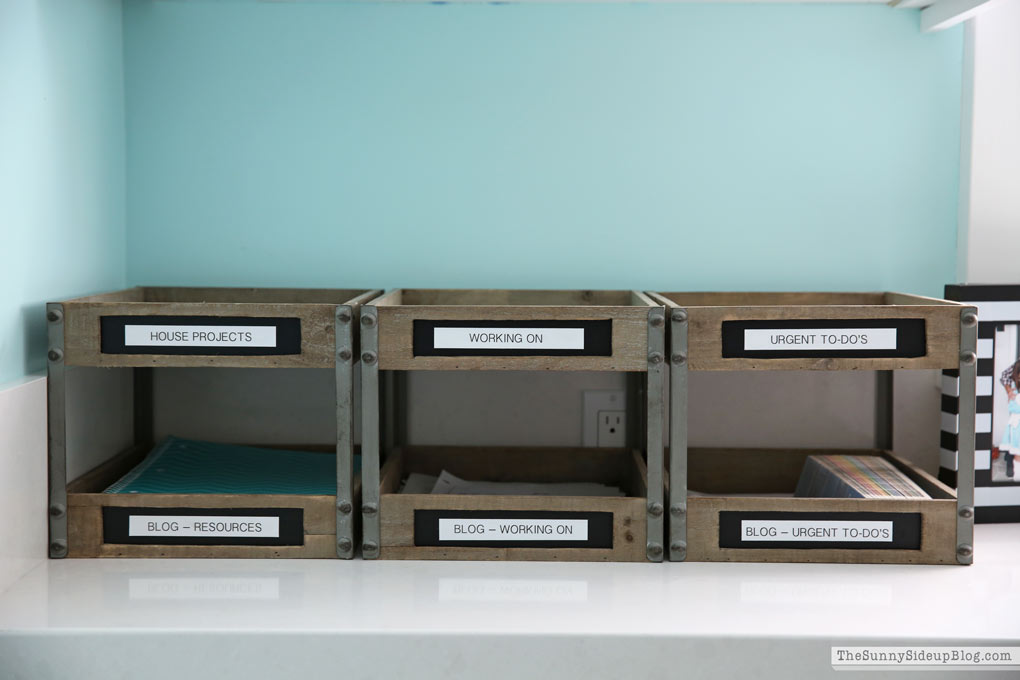 I made labels for each one and the system I've set up with these trays really helps me keep my paper organized and helps me to stay on task!  I use the top three bins for personal items and the bottom three are blog/work related.
The top right tray is for urgent to-do's.  These are the personal items that need my attention soon.  They might have their own deadline like a form that needs to be signed for my kids' school, or it might just be something that I want to go over soon with my husband.  Anything that I need/want to address and take care of within the week goes in this bin.
Right below that is the "urgent to-do" inbox for my blog.  Again it just holds things/notes/forms I need for posts and blog stuff I'm working on now.
The middle two trays hold personal and blog items that I'm "working on" which for me just means things that are coming up. Future posts and paper work that needs to be addressed at some point, but not necessarily this week.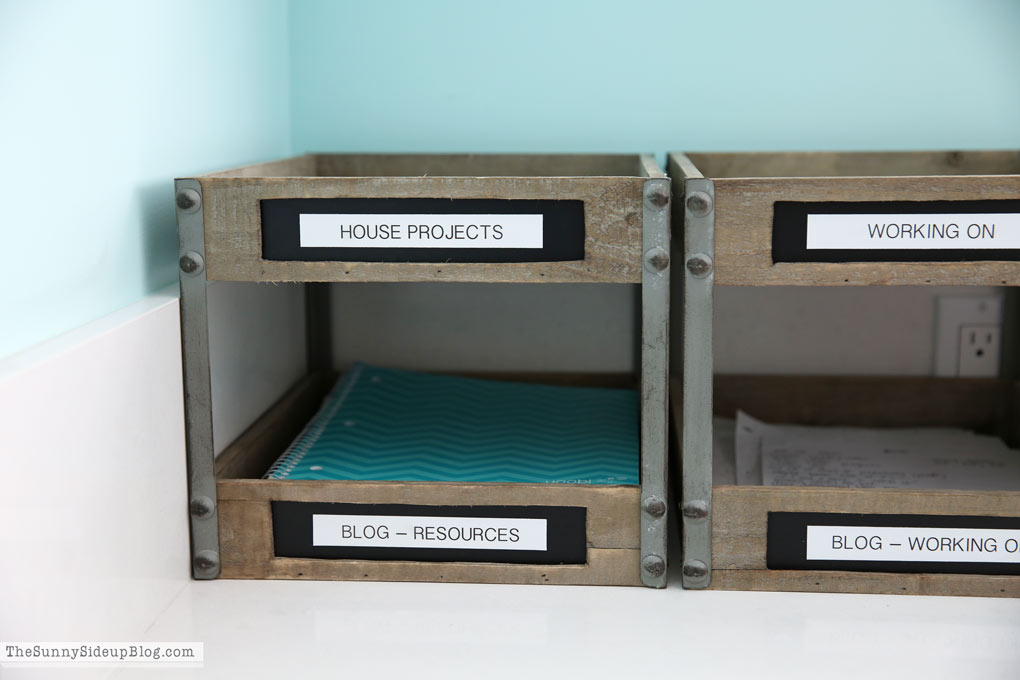 Then the last two trays hold paperwork for blog resources (mostly notes I refer to often) and house projects that are always in the works.  I love having a spot for house project odds and ends!  Notes I've written when I have an idea for something house related, a bid from a contractor for the theatre room, a magazine inspiration page, a paint sample I picked up and love, etc.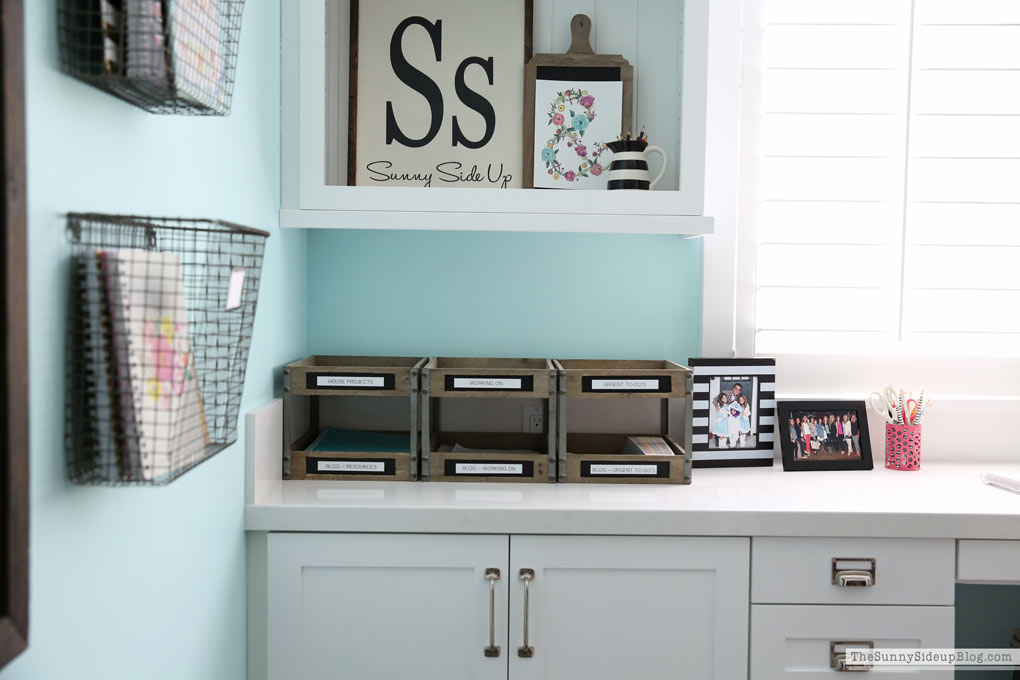 I've loved these trays because when paper starts to pile up it's so easy to go through everything and either trash it or file it here.  When I sit down to work after dropping my kids off at school in the morning I always start by glancing through my "urgent to-do" trays to make sure I'm focusing on things that need to get done soon.  Then I refer to my to-do list and work off of it.  The urgent trays have really helped me make sure nothing slips through the cracks that needs my attention!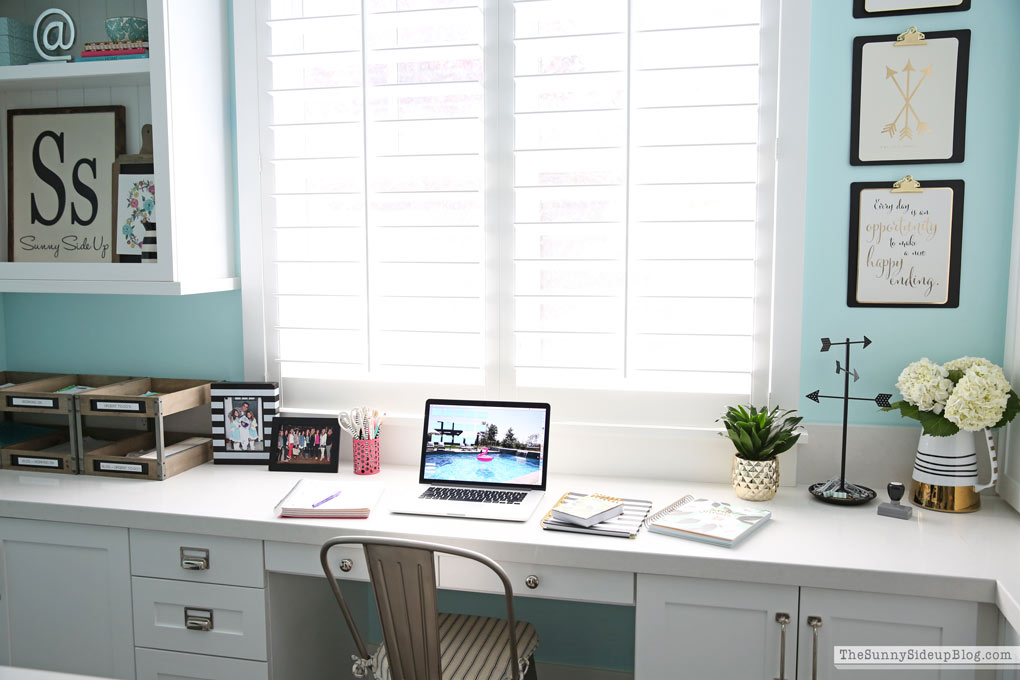 Soon after I bought my wood trays I started paying attention to what type of paper was piling up every day and that's how I knew what to label everything.  If you think something similar would help you organize all of the random paper that piles up in your house start thinking about what categories your paperwork would fit in.  Do you have items for a project you're working on?  Stuff for the kids?  Work related lists?  Paint samples and magazine pages cut out like me? :)  I think everyone should have some type of "urgent" or inbox tray that gets looked through daily for those items that require action.  That has been the most helpful for me!

I've shared these white hanging file folders before.  (I've had this for years!  You can find something similar here or here.)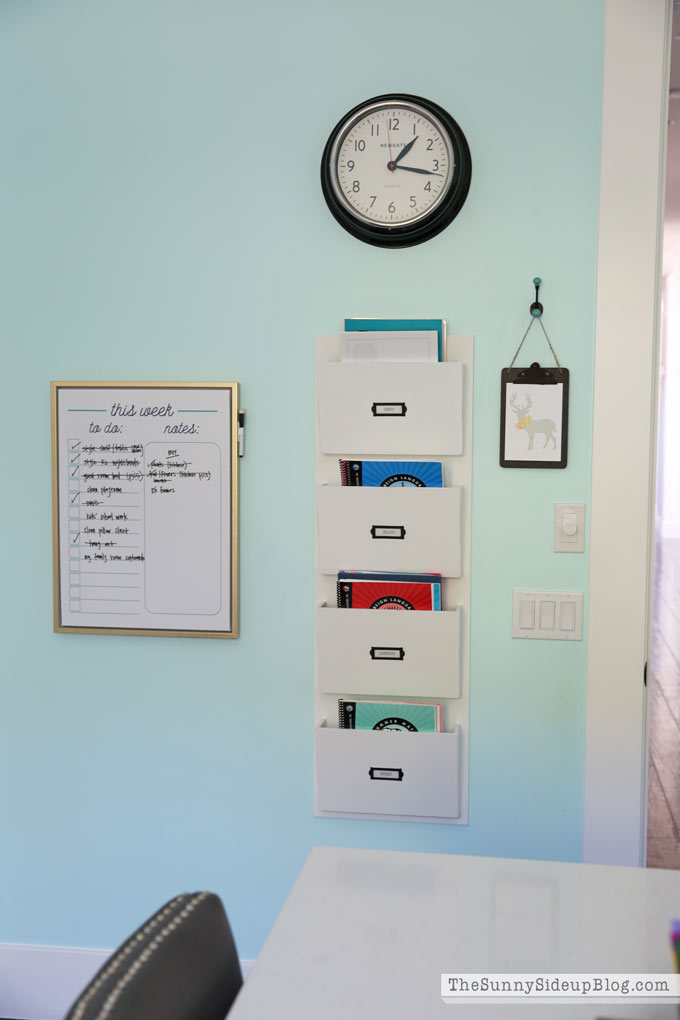 This is where all of my kids' paper work goes.  I took this picture last summer so the files are just holding their summer workbooks, but usually these slots are for anything my kids are currently working on (files are labeled with their names).  Study guide for a test coming up, notes to review, flashcards, Kole's weekly spelling list, etc.  Current things.  (I file their school/art work we are saving somewhere else!  That's a post for another day.) :)
This fun to-do board was a Home Goods find.  I took this picture months ago and keep forgetting to share it!  Nice to have a place to jot down random house to-do's I can work on when a free minute pops up.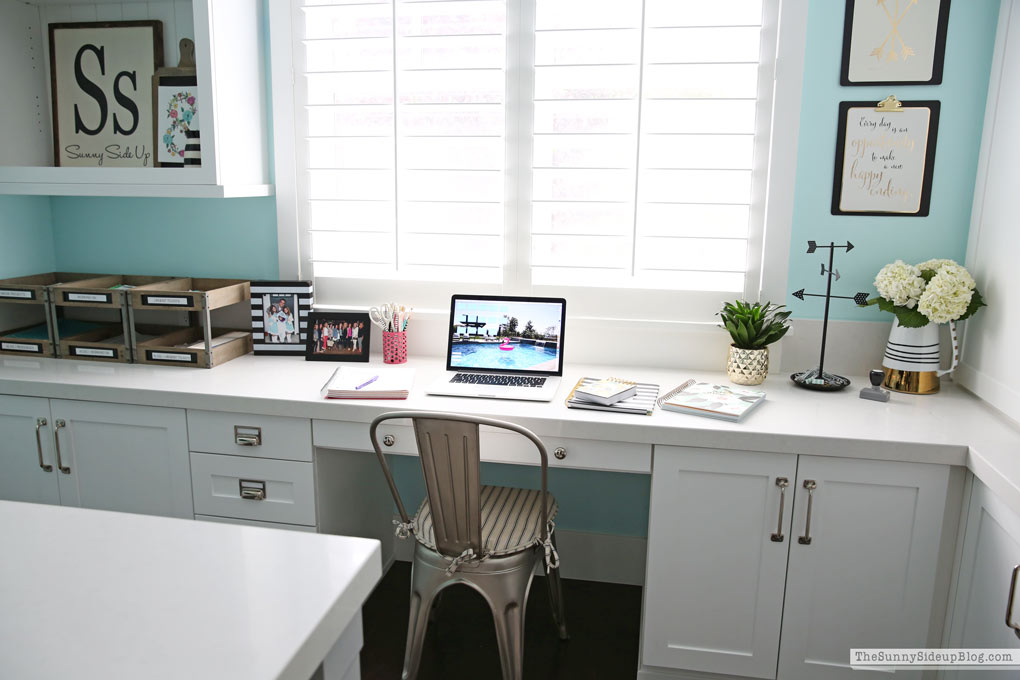 My desk drawers hold my favorite pens and highlighters.  List making essentials!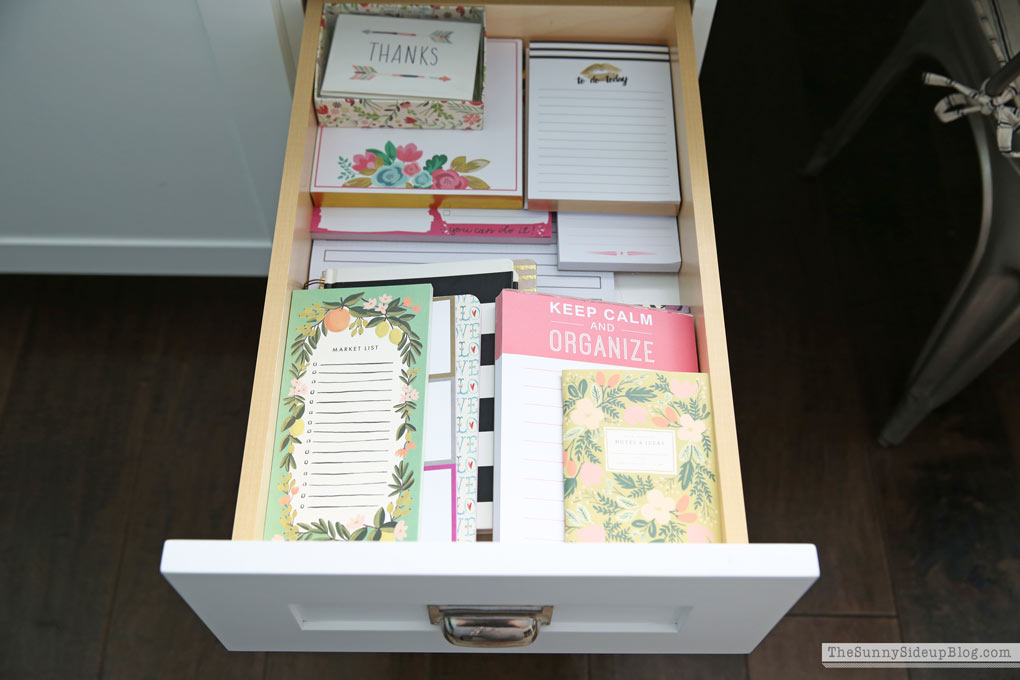 And below that.. my secret stash of cute notepads.  I know.. I hoard cute notepads.  It's a problem I don't want to fix. :)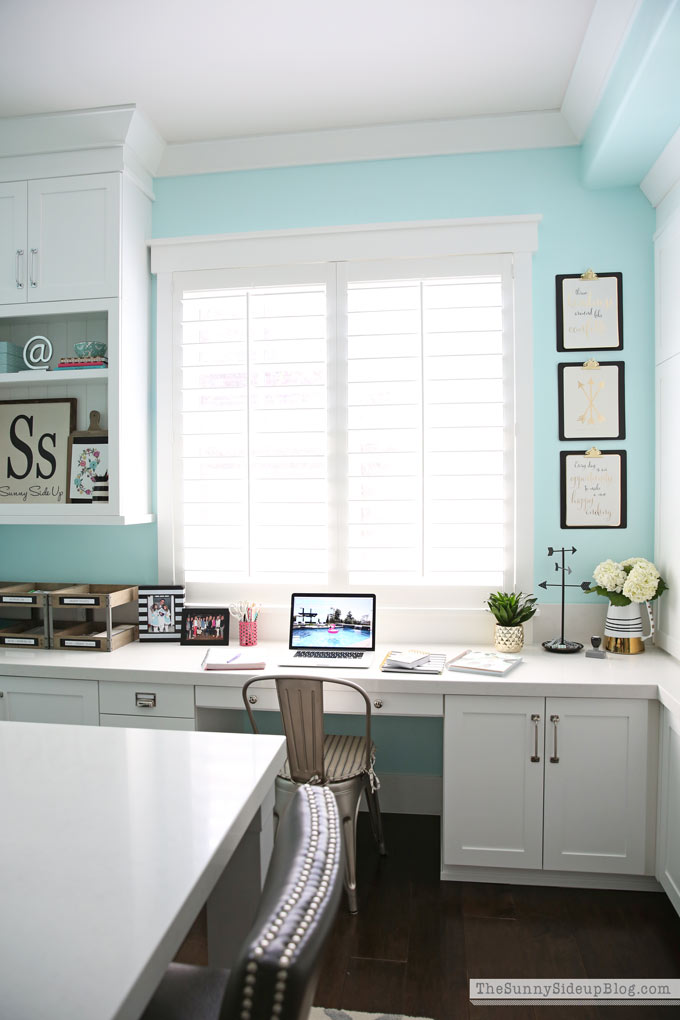 Those are just a few things I've done to set up a productive home office that have helped me be more efficient with my time!  Now if you'll excuse me.. I need to move from my bed to the couch which takes a great amount of effort and is the main thing I will accomplish today.
Working on a different set of to-do's around here for the next few weeks. ;)
{OFFICE SOURCES and SIMILAR ITEMS} *affiliate links used




xoxo, Erin