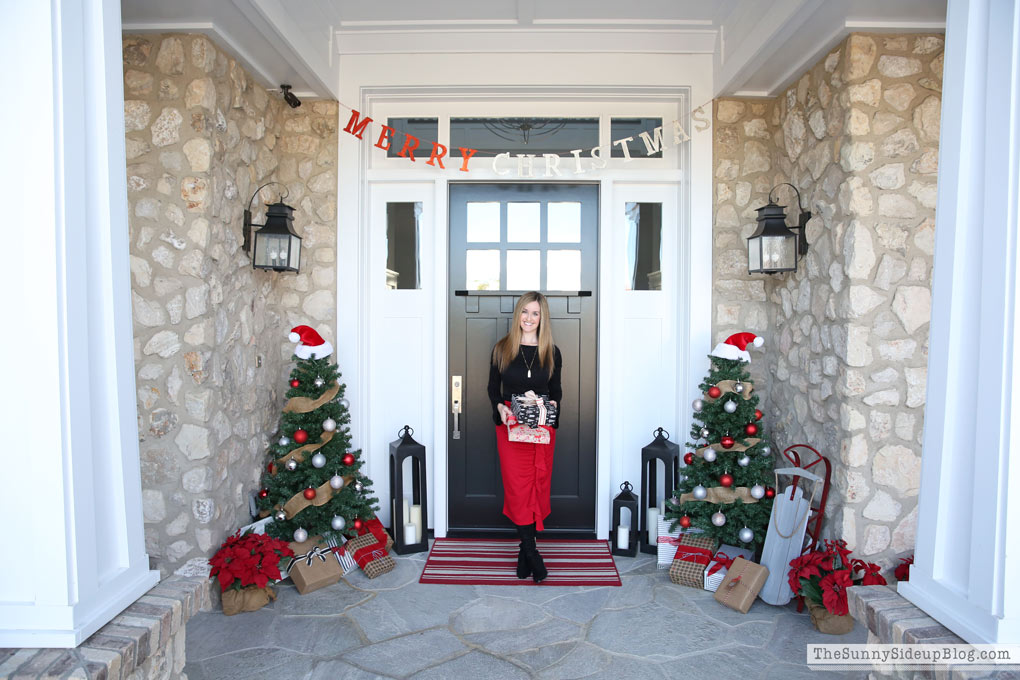 Wait.  Are you comfortable?  Sitting in a cozy spot?  Do you have at least 3 minutes to spare?  (Although 10 would be better.)  Is there a snack nearby?  No?  K.. I'll wait.  Go ahead.  Get comfy and grab the pretzels (that's what I'm munching on at the moment).   Things have been busy and my fashion selfies are piling up!  It's time for a major picture dump of favorite things I've been wearing.  SO many cute things you guys!  And a lot of them are on sale!  It's a Christmas miracle.  Well… not really.. but it's December so we're going with it. ;)
{Partnering with Nordstrom on this post!  Affiliate links used.}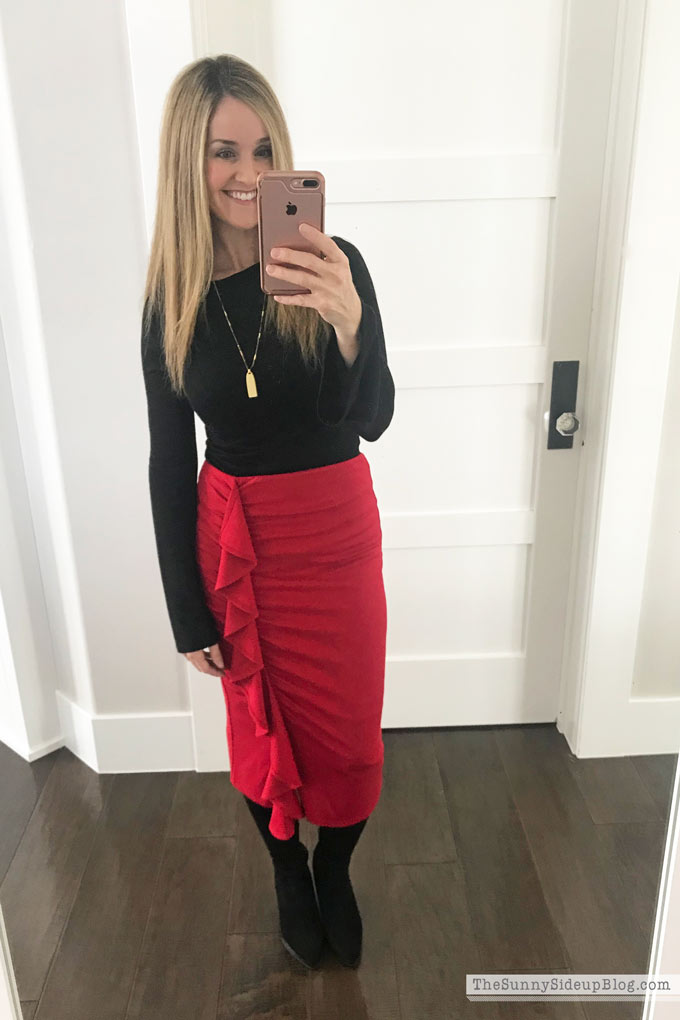 {Side Ruffle Skirt/similar Bell Sleeve Sweater/similar Boots/similar Necklace}
First up – I found the cutest skirt to wear this month!  I'm so in love with this side ruffle pencil skirt.  It has such a great fit.. not too clingy and I love the higher waist and length.  It's just comfortable and FUN.  Perfect for holiday get togethers that aren't formal, but you still want to dress up a bit for.  I'm excited to wear it to church on Christmas Eve. :)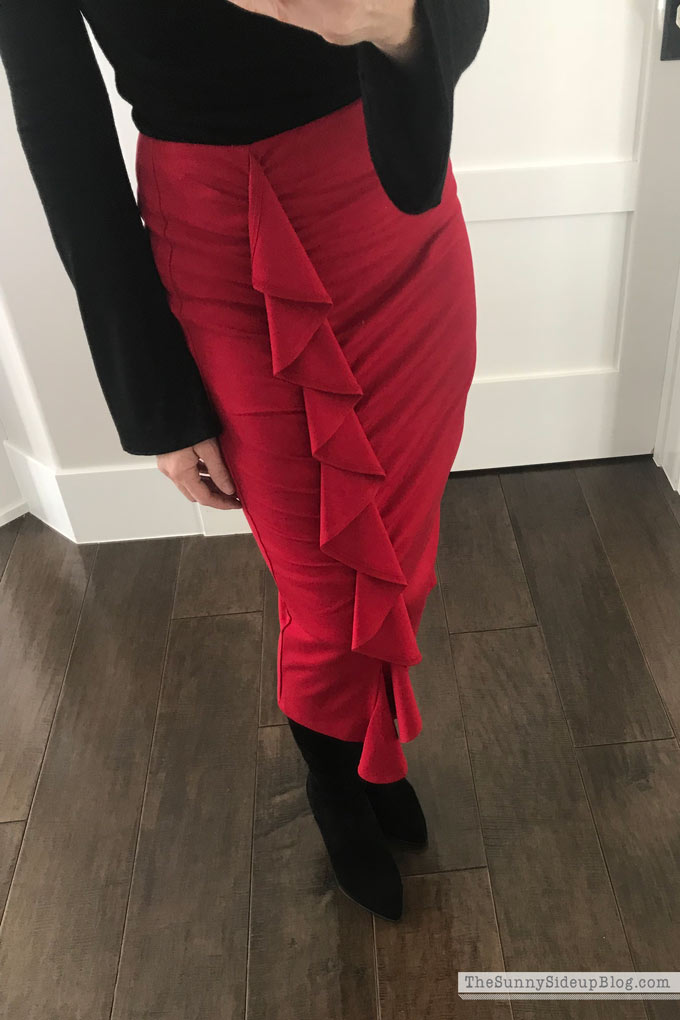 Cutest side ruffle right?  I loved it so much I bought it in black too!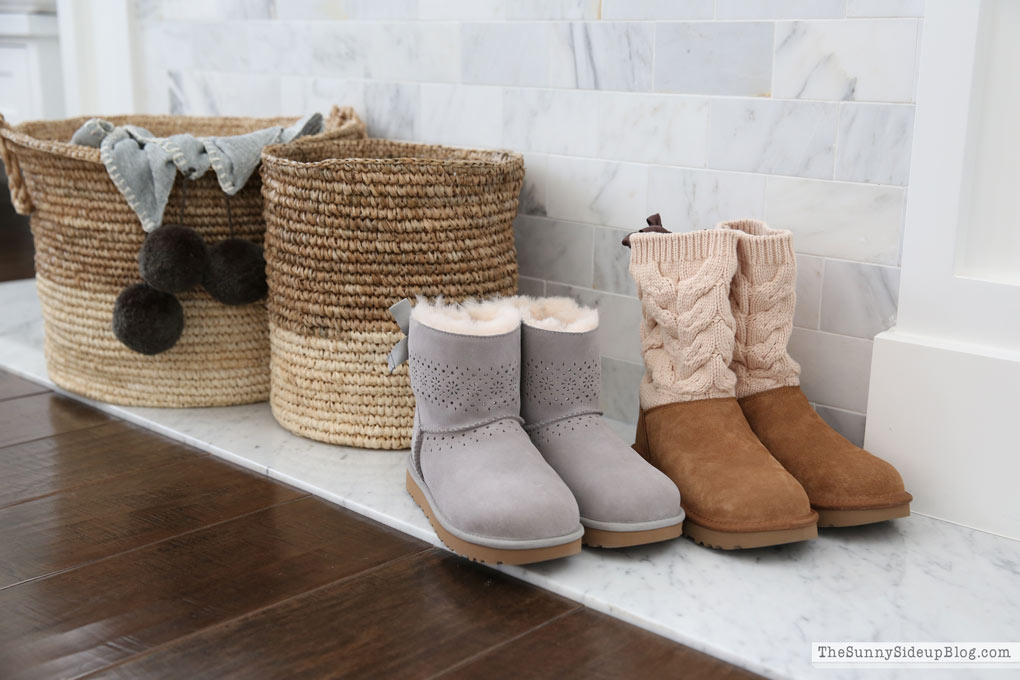 Part of my Christmas came a little early this year.  I've mentioned before that everyone in our family always gets a new pair of shoes for Christmas.  I've had the same pair of Uggs that I wear over and over since before Kole was born!  They aren't looking too hot as you can imagine (Kole is 7 1/2 – he always makes me add the 1/2) :) so it was time for a replacement pair.  Or two replacement pairs.  Even better. ;)  There are so many fun new styles of Ugg boots in Nordstrom this year!  I had a hard time choosing but went with these Dae Sunshine Boots and the Kiandra Boot.  During this time of year I wear my older Uggs every single day.  Most days I put them on in the morning to run my kids to school, then I'll change into something else for the middle of the day when I'm leaving the house, then I put my Uggs back on in the evening when I'm playing taxi driver.  These new Uggs are so cute that I don't think I'll want to change them mid day! I might never buy another pair of shoes again.
That would be a Christmas gift to my husband that isn't really going to happen.. :)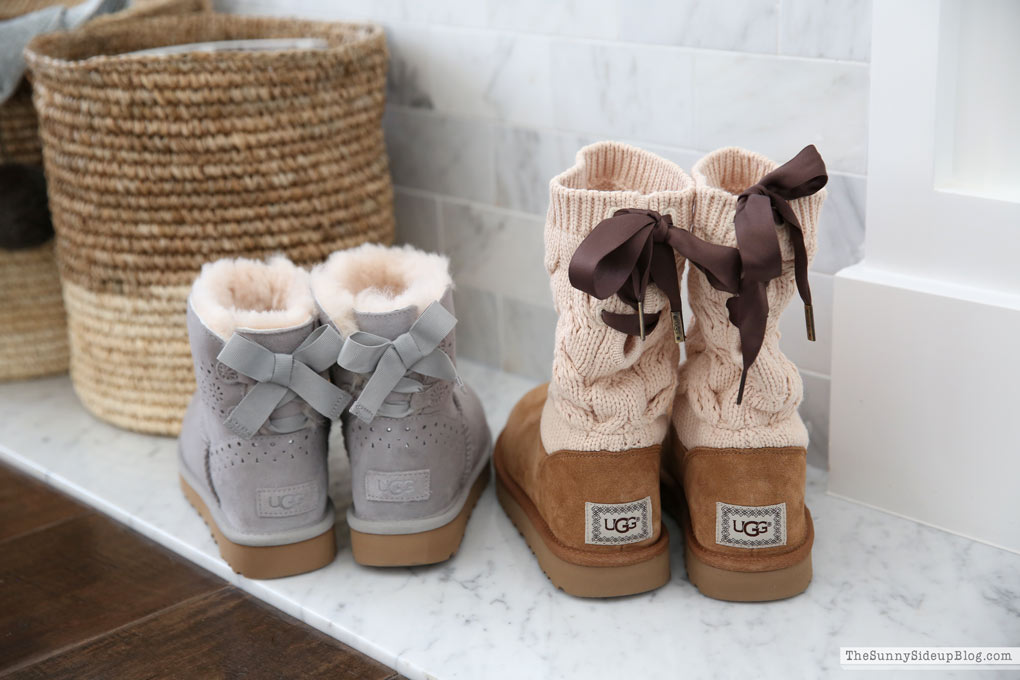 Aren't they cute in the back too!  Love them.  (And to my husband, thanks for the fun Christmas gift babe!  I know you don't know you got me these, but you did and I love them.  You are SO good to me.) ;)  
CUTE UGGS I'M LOVING: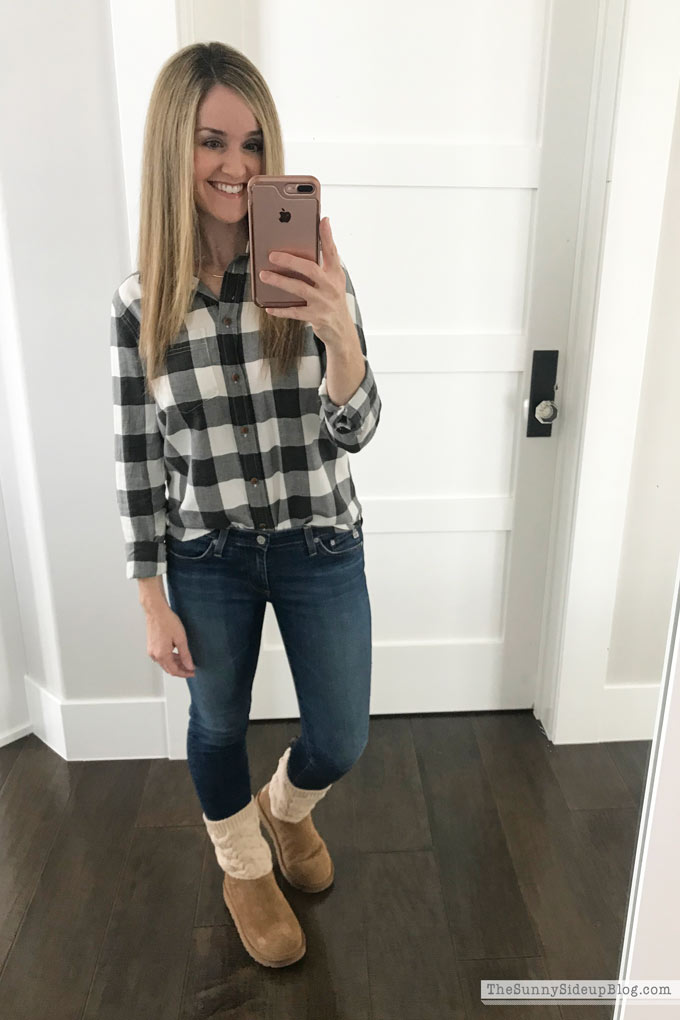 This J Crew Buffalo Plaid Shirt is a newish favorite!  I bought it just a few weeks ago and have already worn it about four times.  I love button up shirts with my tanner bar necklace (an older long time favorite).  So cute!  Jeans are my all time favorite AG raw hem ankle skinny jeans that are still on sale and were re-stocked in all sizes!  So if you missed them the first time they're back!  Such an amazing steal.  I'm wearing them in every picture in this post.. they are my go-to every day jeans.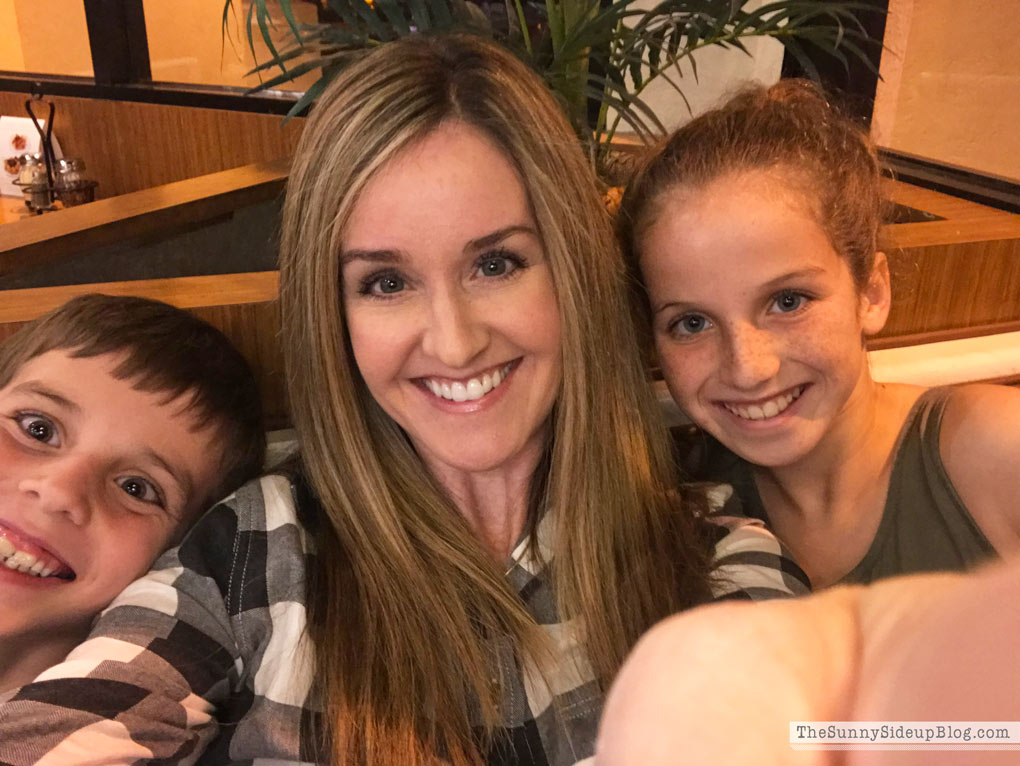 I actually just wore this J Crew shirt again tonight to a play and dinner with these two crazies.  Kenny took El to a dance competition so the three of us had a fun date night.  Clearly we need to work on our selfie skills since Kole is cut out and half of the picture is my hand.. ha!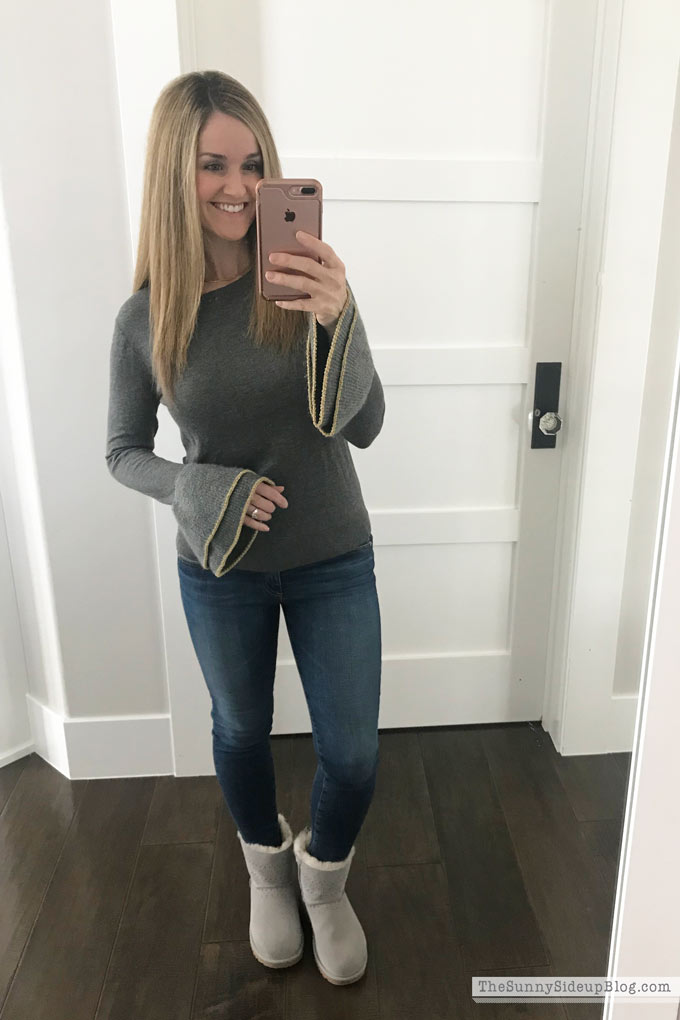 This Metallic Trim Flare Cuff Sweater is another newish favorite.  Just a bit of sparkle around the bell sleeves.  So fun.  Comes in lots of colors.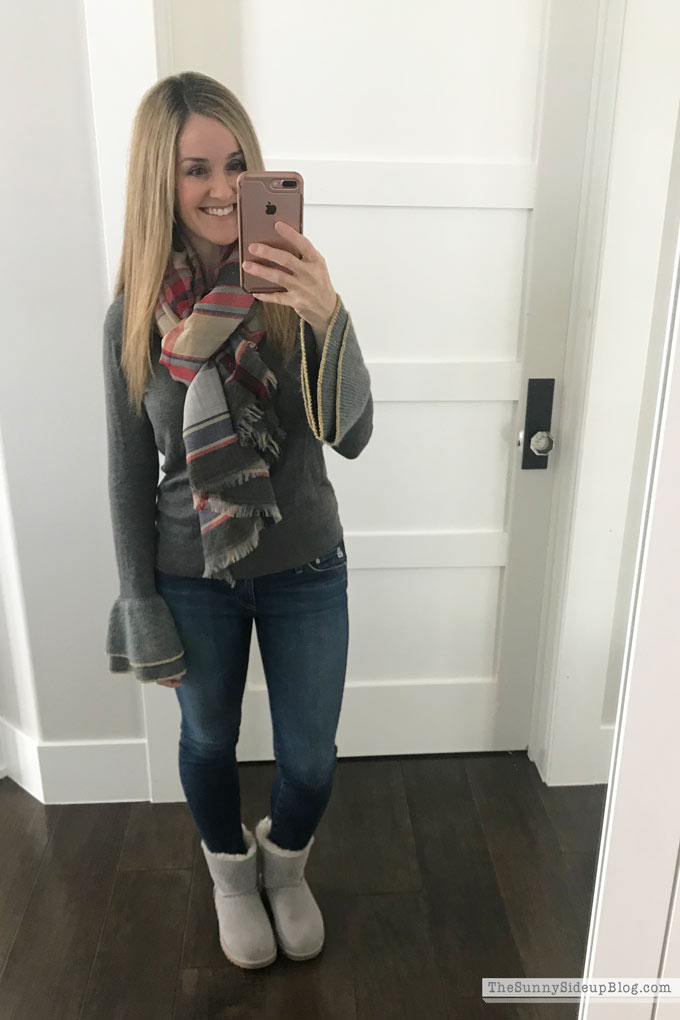 It's a great sweater to wear with a scarf!  This plaid scarf has been my favorite so far this season.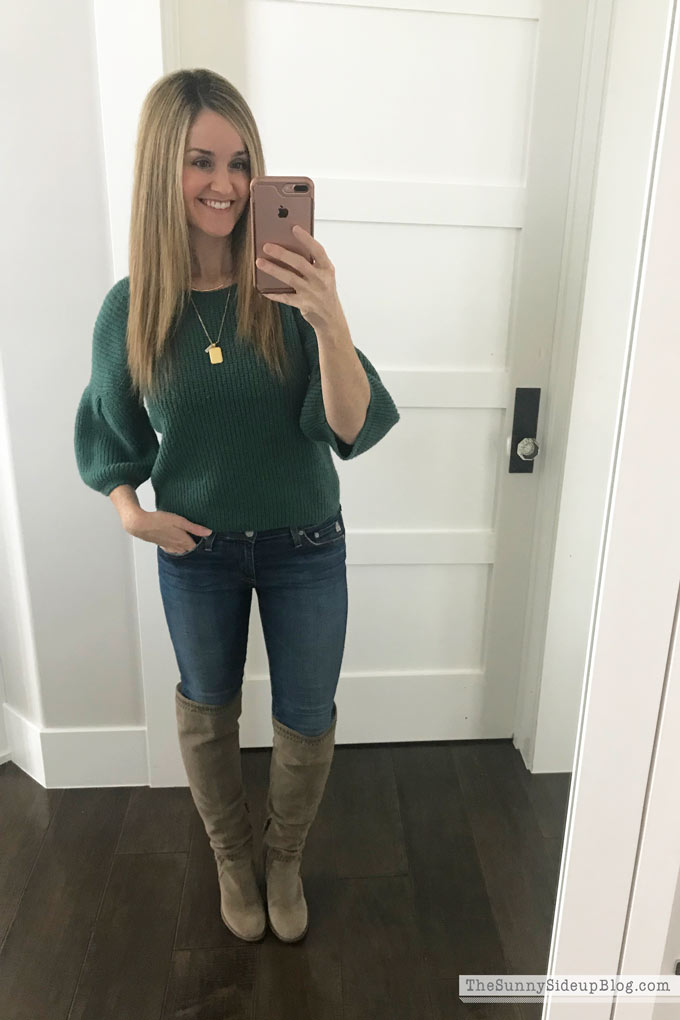 Bubble Sleeve Sweater – I love the green but it comes in other colors.  It's on the shorter side so I wear a tank under it.  The sleeves are my favorite.  These over the knee boots are still marked down!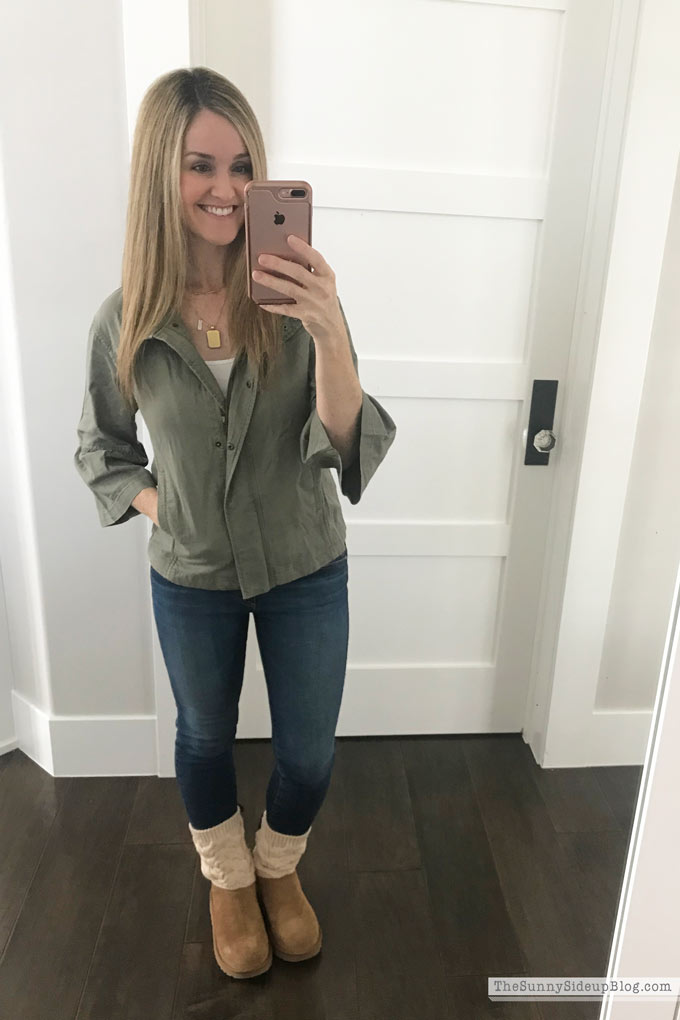 Flare Sleeve Utility Jacket – you all know I love jackets like this!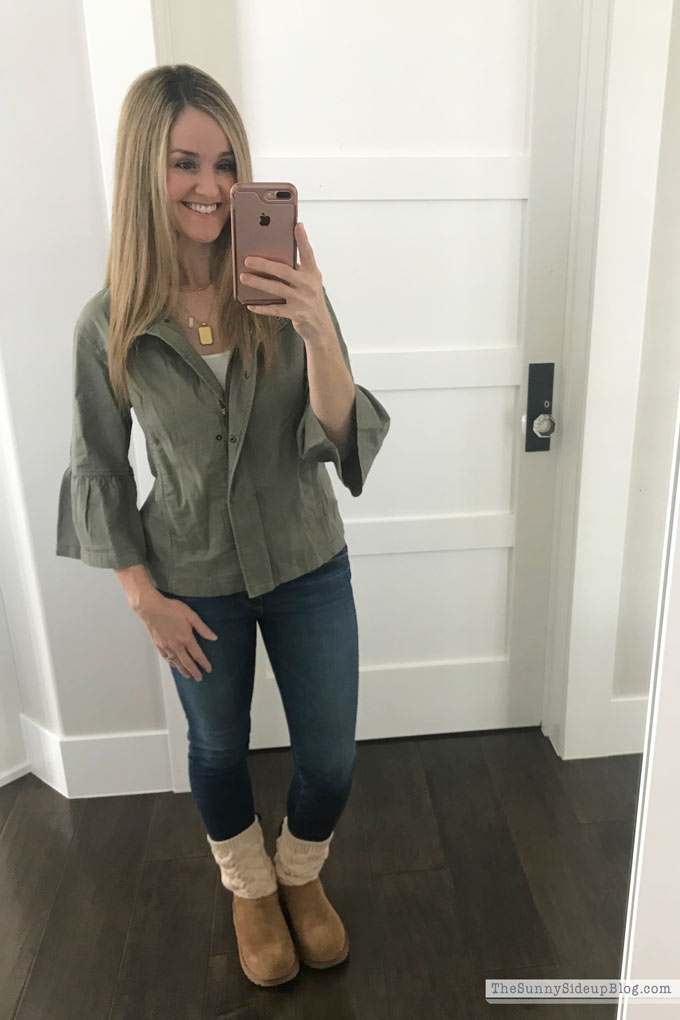 Aren't the sleeves fun?  This looks so cute buttoned up or unbuttoned with a top under it.  I've worn it a few times with graphic tees under it too and it's a really cute combo!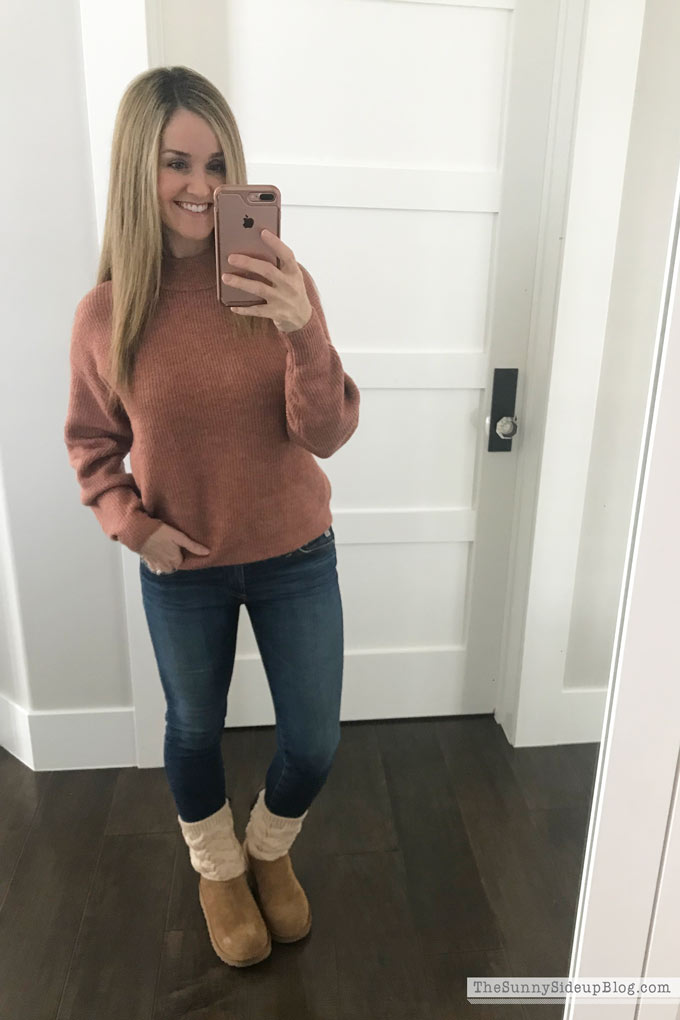 This Cozy Ribbed Pullover is exactly like it looks and sounds – COZY!  It's the type of sweater you want to throw on every day when it's cold outside.  It's warm and so soft.  I have it in the cream color too.  Love this!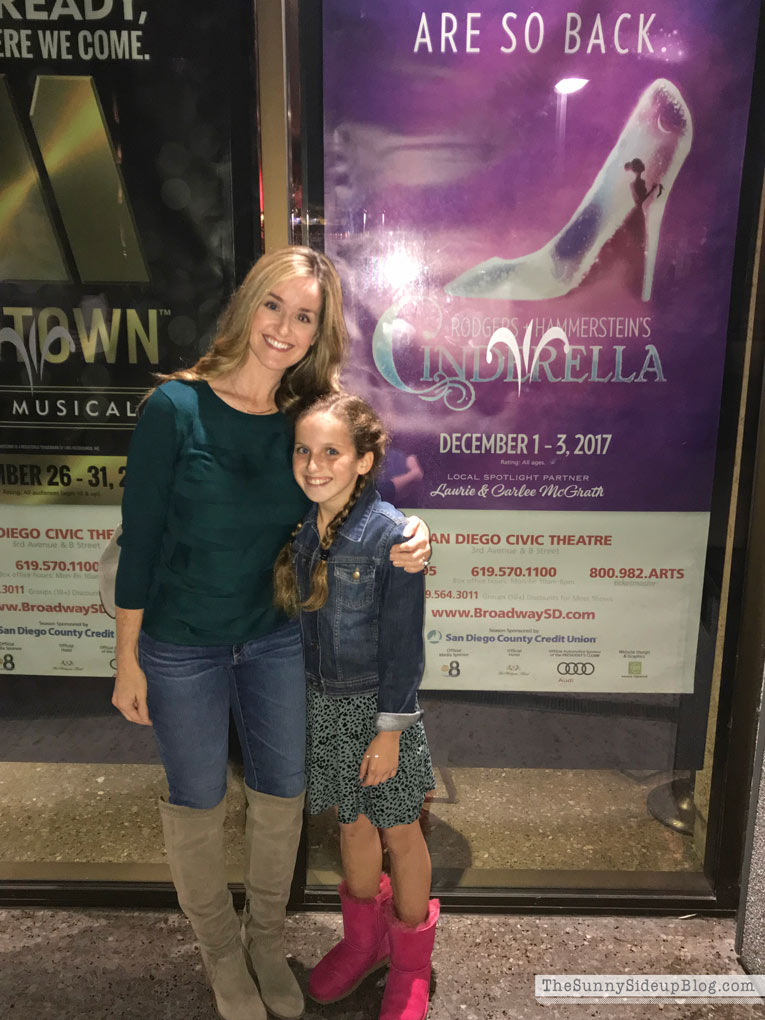 Wore this Zigzag sweater a few weeks ago to see Cinderella with friends.  I've had this sweater in black for years and it's such a good fit (Vince Camuto sweaters always are!) so earlier in the Fall when it came back I bought it in the green.  It's on sale right now!  (You can find Ad's t-shirt dress here – it's one of her favorites.  And kids' Uggs here – this new pair is darling isn't it!?). :)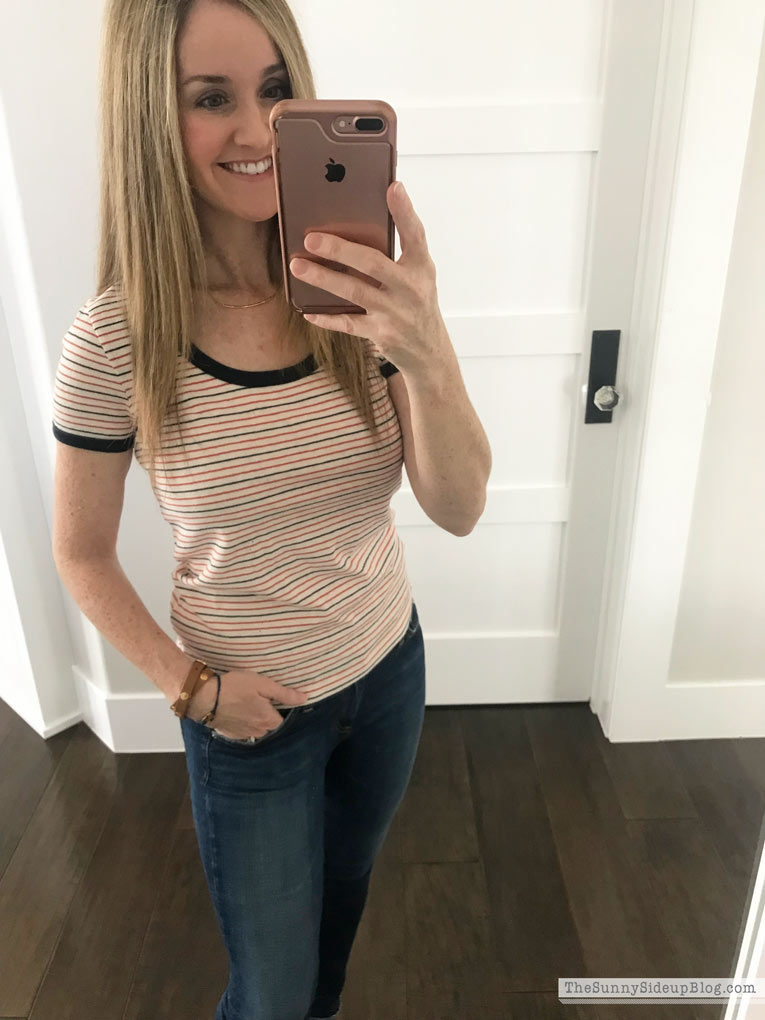 A cute striped Madewell tee I love and have worn a few times lately that's probably not warm enough for most of you. ;)  My Tory Burch bracelet is a favorite and a cute gift idea!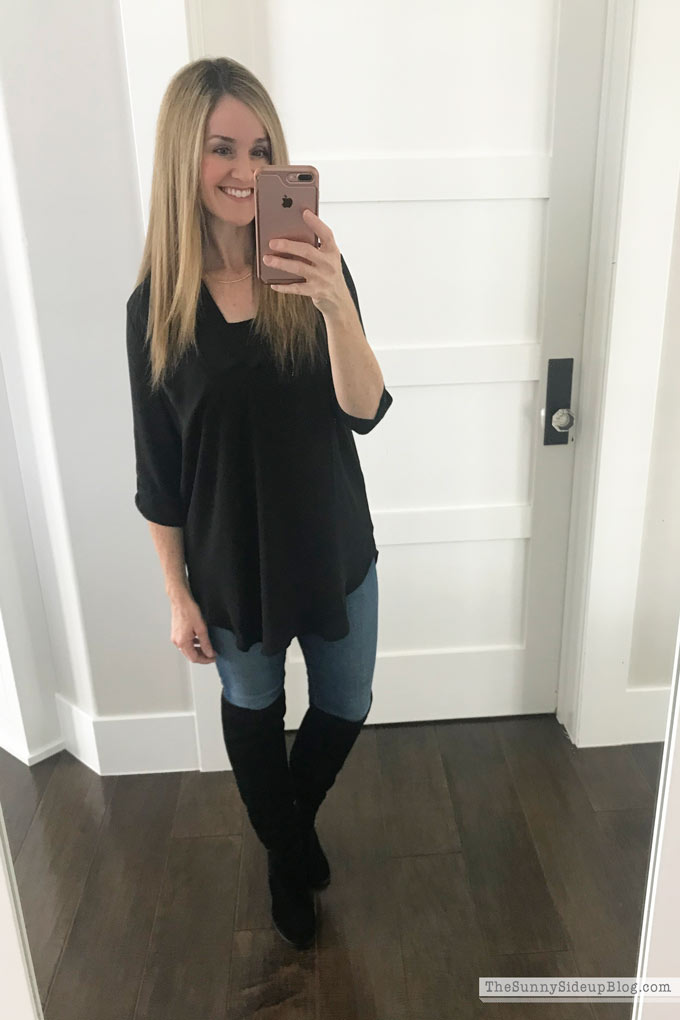 I couldn't resist picking up this Lush Tunic for only $27!  Dressy and longer and a fun change from the type of tops I usually wear. :)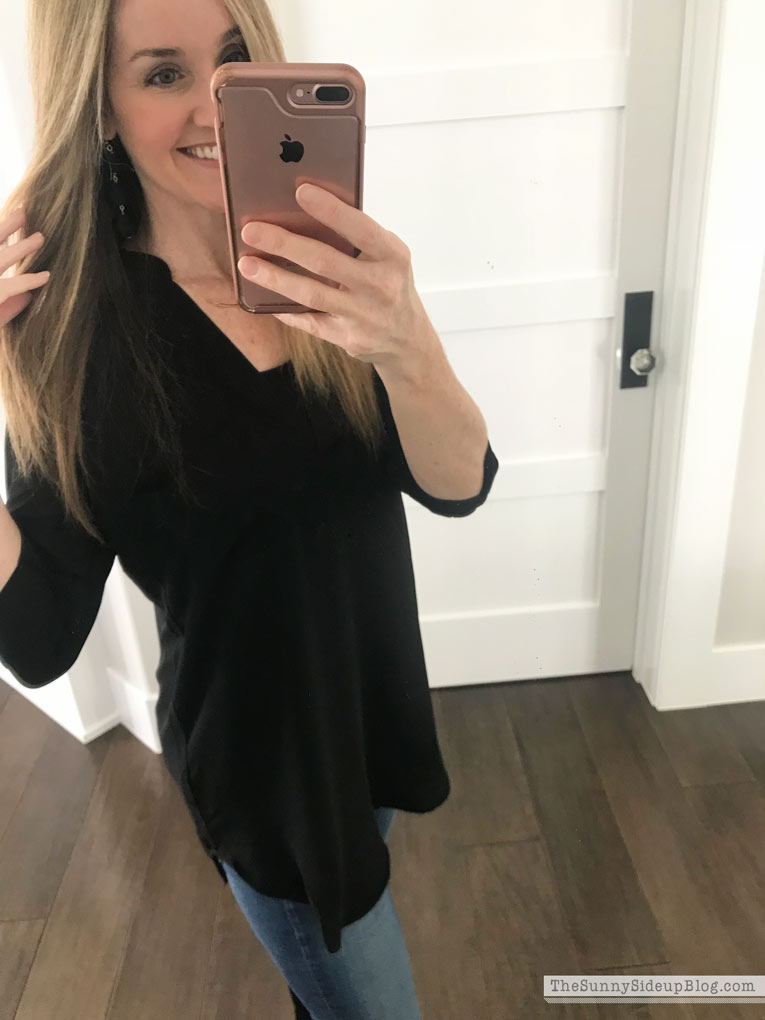 I love it with these cute ball drop earrings.  They are so cute, light weight and just $14!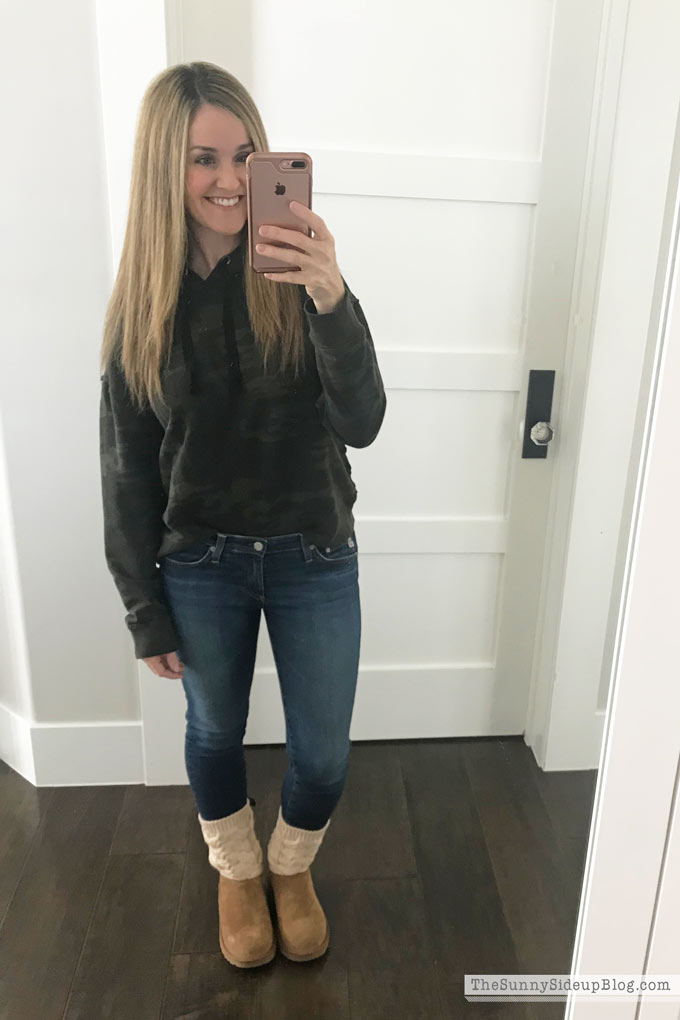 Are we doing ok?  I told you you'd need some pretzels!  This post is a marathon, not a sprint.  We must pace ourselves. ;)  CUTEST camo Venice Hoodie and it's 40% off!  I was giddy when I found this!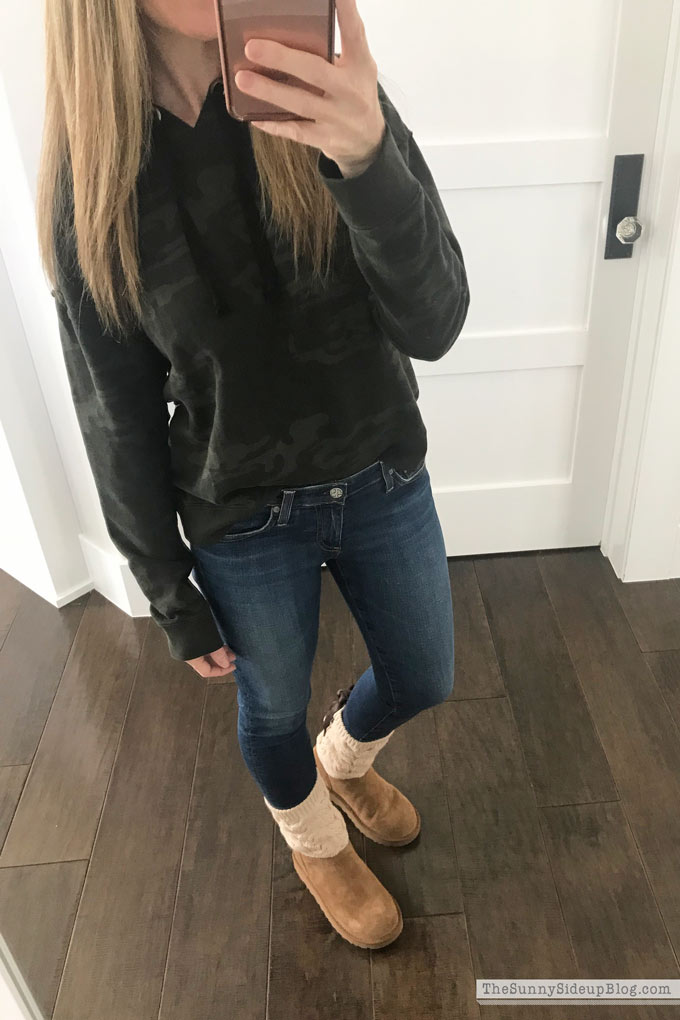 Slouchy and comfortable – such a cute fit – I know it will be on heavy repeat!  Want to know my favorite thing about sweatshirts like this?  You can wear them all day..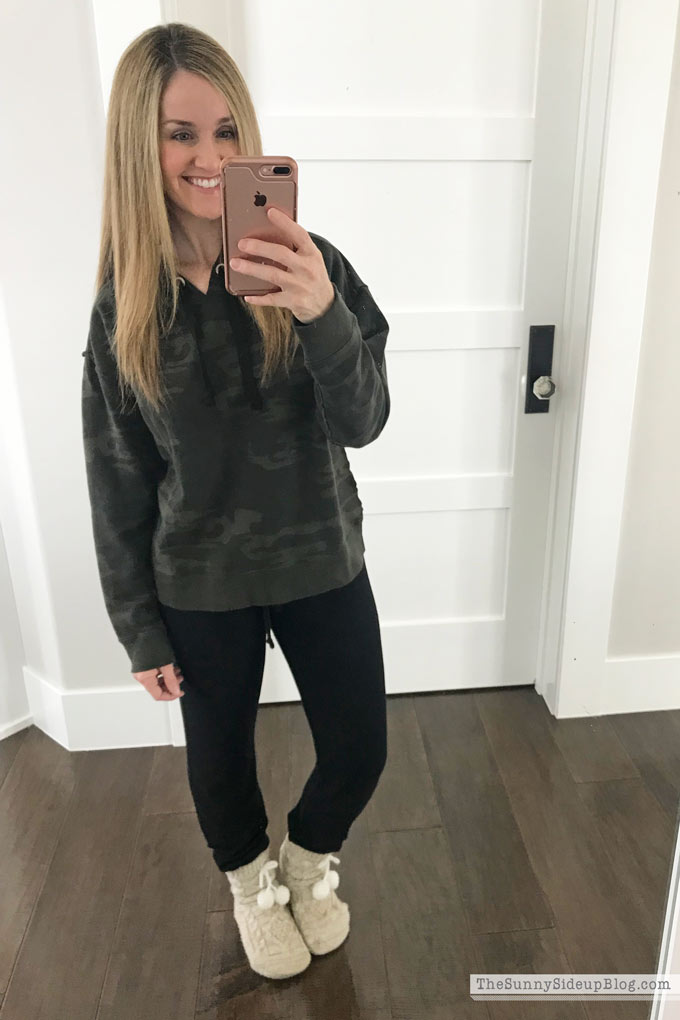 and then switch your jeans and boots to a favorite pair of jogger pants and Ugg slippers and BAM.. comfort!  In for the night. :)  (My Ugg socks above sold out but these Ugg socks are so cute if you like wearing shorts or nightgowns!)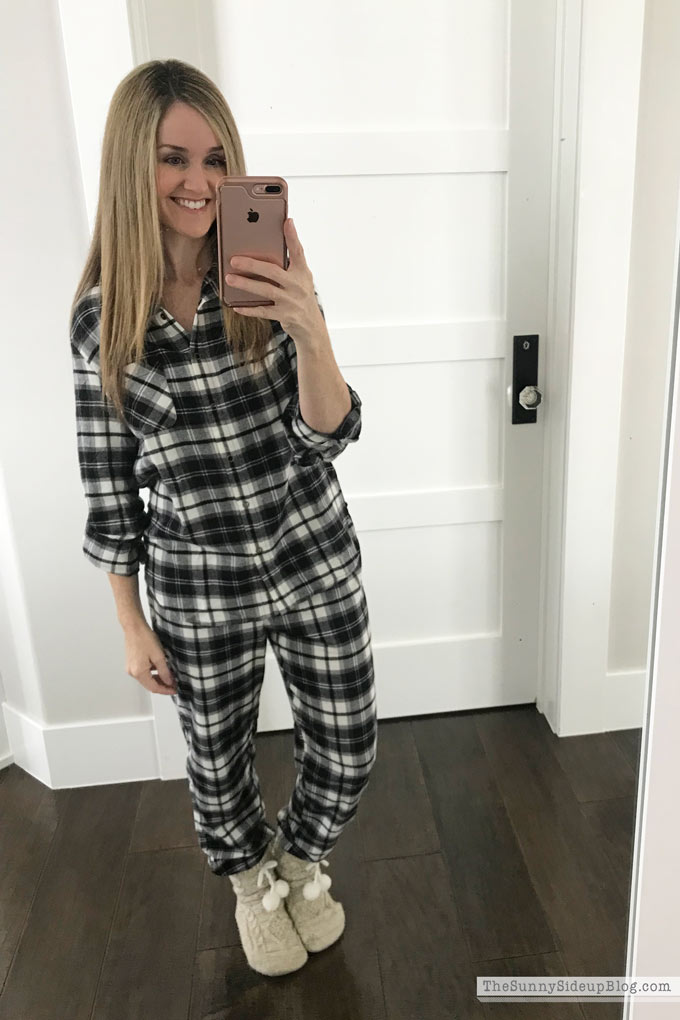 Speaking of being in for the night.. :)  If I could be a pair of pj's I would be these Flannel Girlfriend Make and Model PJ's. Seriously.  They don't get any cuter or more comfortable!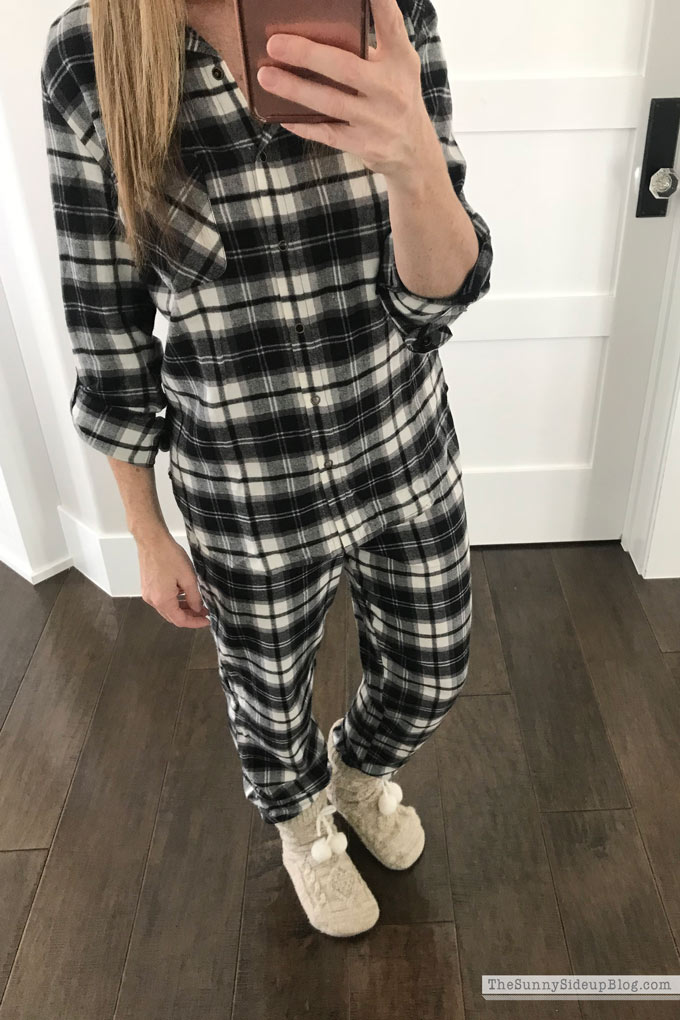 My husband always teases me about my pajama obsession but commented that he likes these a few nights ago so aside from being crazy comfy, these are also husband approved. ;)  There might be a few people on my Christmas list who are also get these pj's soon!  Cute for the holidays and also long after.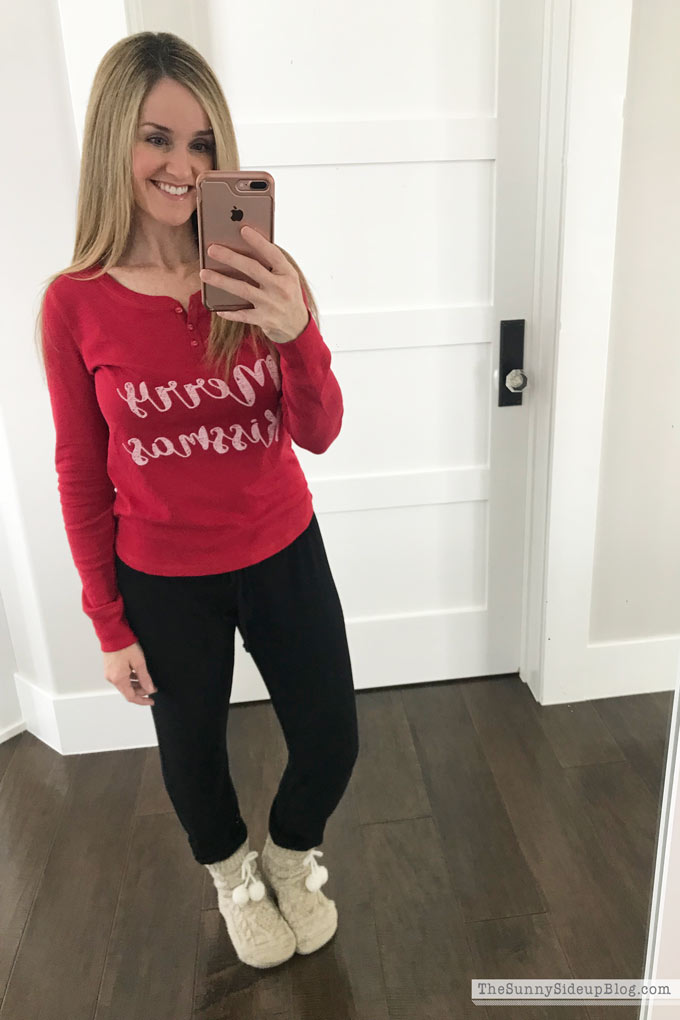 I've also been wearing this cute Merry Kissmas pj top a lot around the house this month.  It comes in a set with shorts, but I don't love the short shorts – maybe if I had the thighs for them? ;) – so when I buy a set like this I keep the top and give the shorts to Ellie.  She loves PJ Salvage shorts so it's a win win!  I much prefer my favorite jogger pants. :)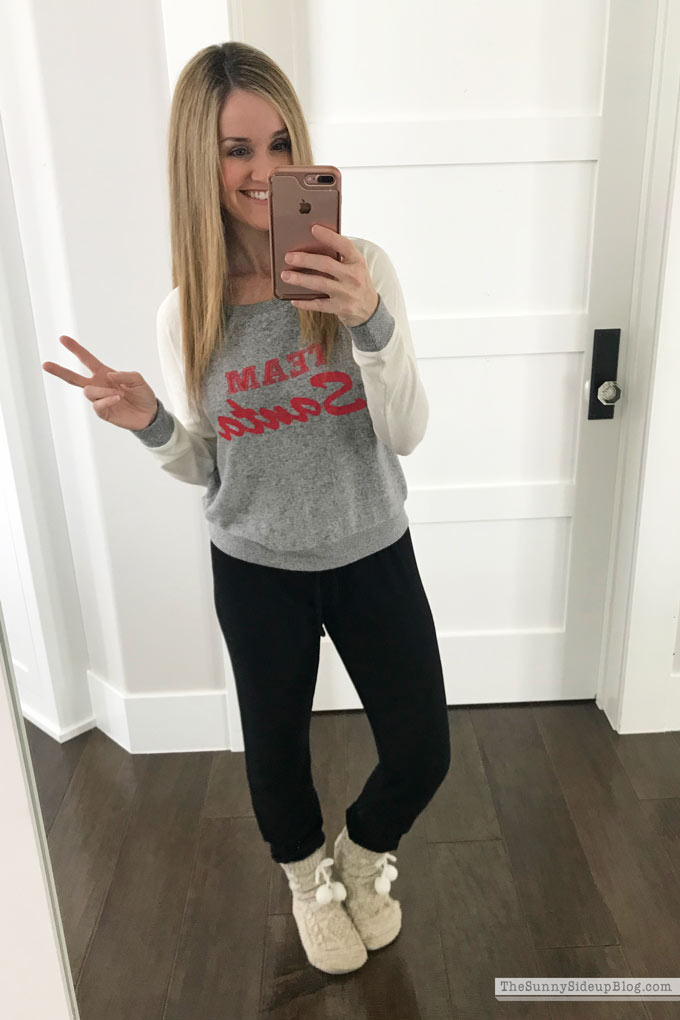 And of course I've been living in my Team Santa sweatshirt I picked up in October.  They have one that says Team Rudolph too!  Love it.  I honestly can't think of much I love more than Christmas pj's.  They make me so very happy.  Everything about this beloved time of year makes me happy.  My girls are out of school in a week (Kole goes a few days longer) and I can't wait to get my kids home so we can really start enjoying the season!  I have a lot to get done this week before they're out (hard to process all that needs to get done right?) but it will all get done.. it always does!
I hope you're still with me!  I know that post was a long one.  Maybe you added some hot chocolate with your pretzels?  That is sounding really good to me right about now.  I'm off to make some. :)  Come back on Monday for a Christmas home tour!  Or at least part of one!  We'll see how much of my Christmas decor I can squeeze into one post.  This post was good training so I think you can handle it.
Just bring a snack. :)
POST SOURCES – all things I'm loving this month:






xoxo, Erin