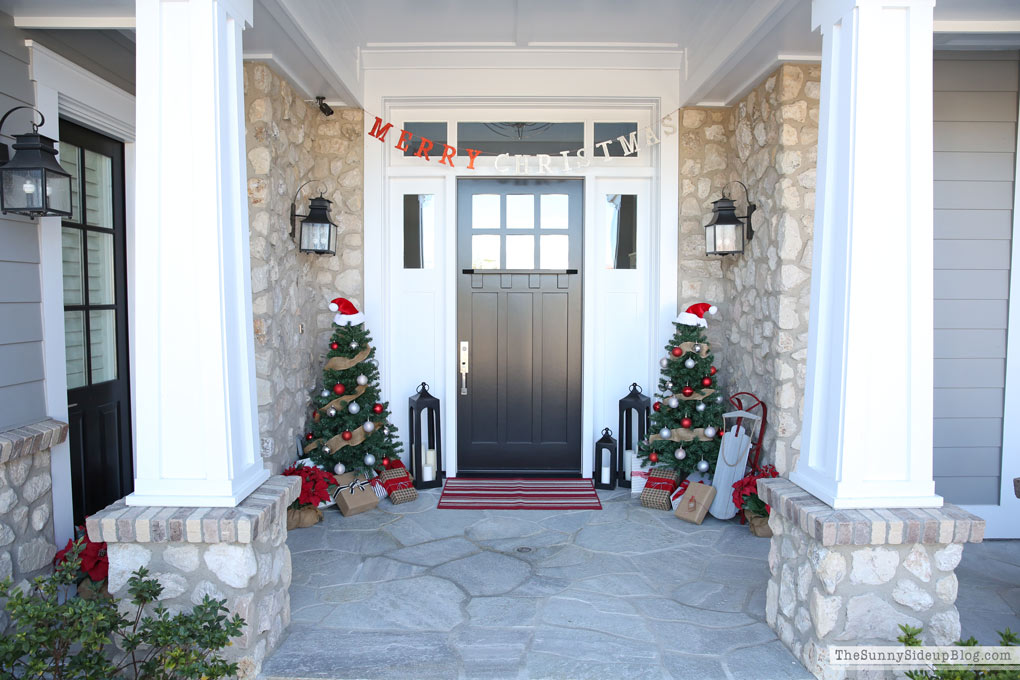 Oh my word.. is it really Friday!?  LIMPING to the finish line around here.  What a week!  December madness has definitely hit.  But the house is decorated and it makes me so happy to come home from a busy day or evening to this Christmas porch.  It just seems to say "welcome home.. come inside and put on your Christmas pj's and enjoy the tree lights and rest."
At least that's what I imagine it tells me. :)
I usually clean and decorate our porch with Kole – it's kind of our thing :) – but he has had activities in the afternoons and I wanted to get it done so I just did it quick by myself one morning.  So earlier this week I picked up the kids from school and pulled into the garage and told Kole I decorated the porch for Christmas.  He went running over to see it and came back and said "no defense mom (which always makes me smile because he says no "defense" instead of no "offense" – it's so cute I never correct him..) – no defense mom, but the porch looks the same as last year and the year before that.  I mean.. you added a couple of new things, but it's pretty much the same.  It's nice, but I like it when you do something different and EPIC.  The porch isn't EPIC mom.  I'll help you next year."  Then he went skipping into the house.  Oh my word.. that kid cracks me up!  So friends.. today I start this post with a very boring, very un-EPIC Christmas porch.  We'll cross our fingers and hope for better next year. ;)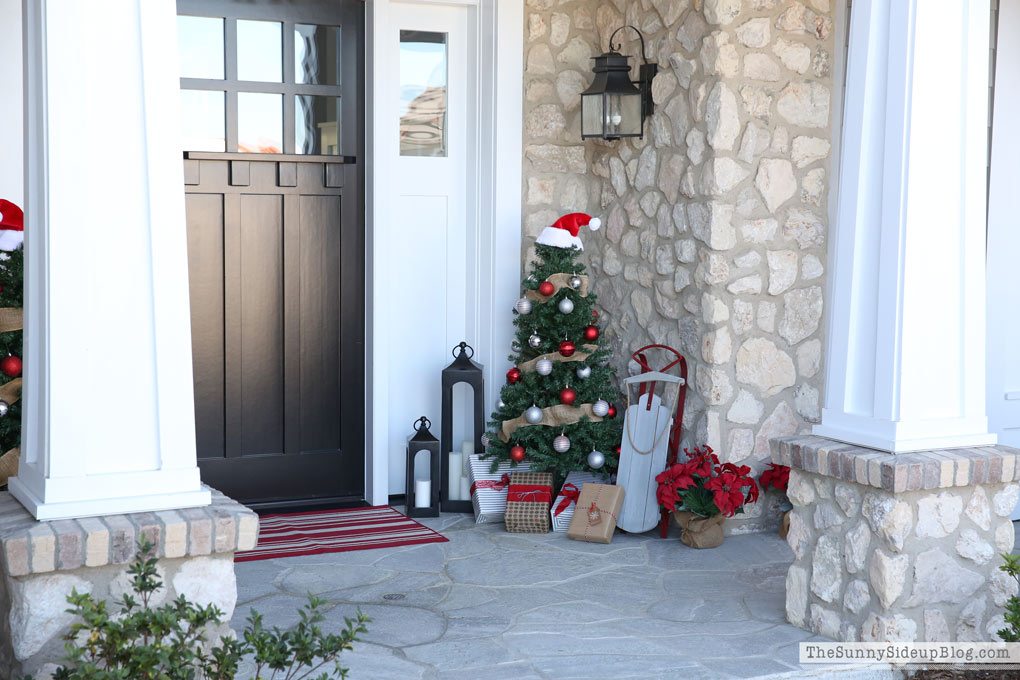 To be honest, I do use a lot of my Christmas decor the same way every year.  Mostly because well.. I like it the way it is!  It's familiar and tradition and since it's only up for a month or so I don't get tired of it.  Plus I just LOVE these little trees lit up at night so much that the thought of doing something instead of the trees bums me out.  But!  Like Kole noticed.. I did add a couple of minor new additions. :)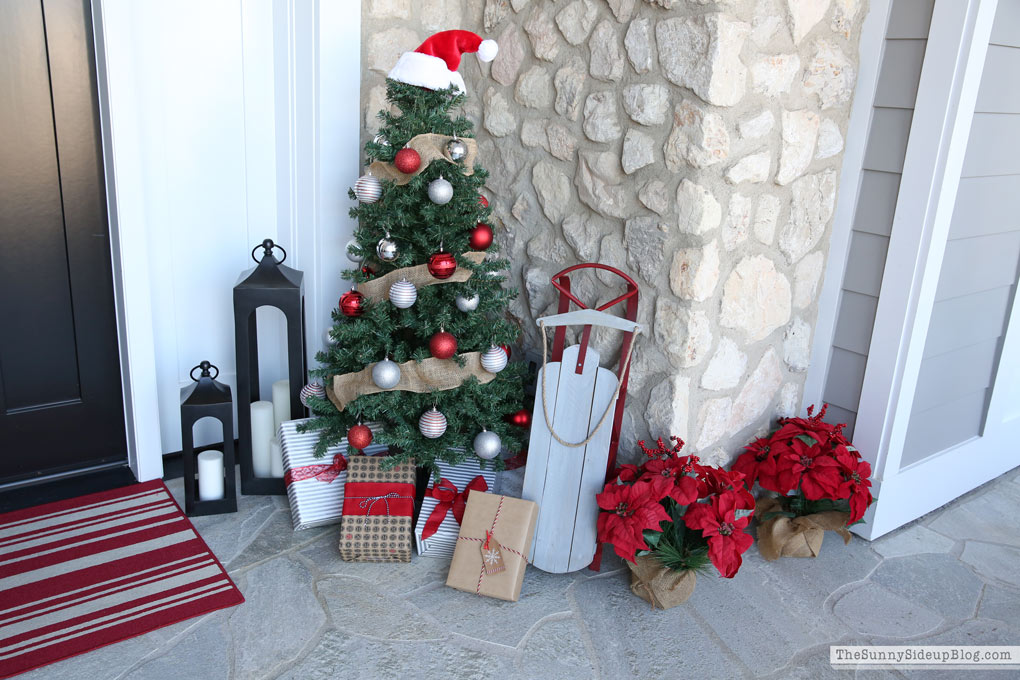 Santa hats on both of the trees, a few new presents (which have all of my cookbooks inside of them holding them down – they are getting more use this way than ever before)..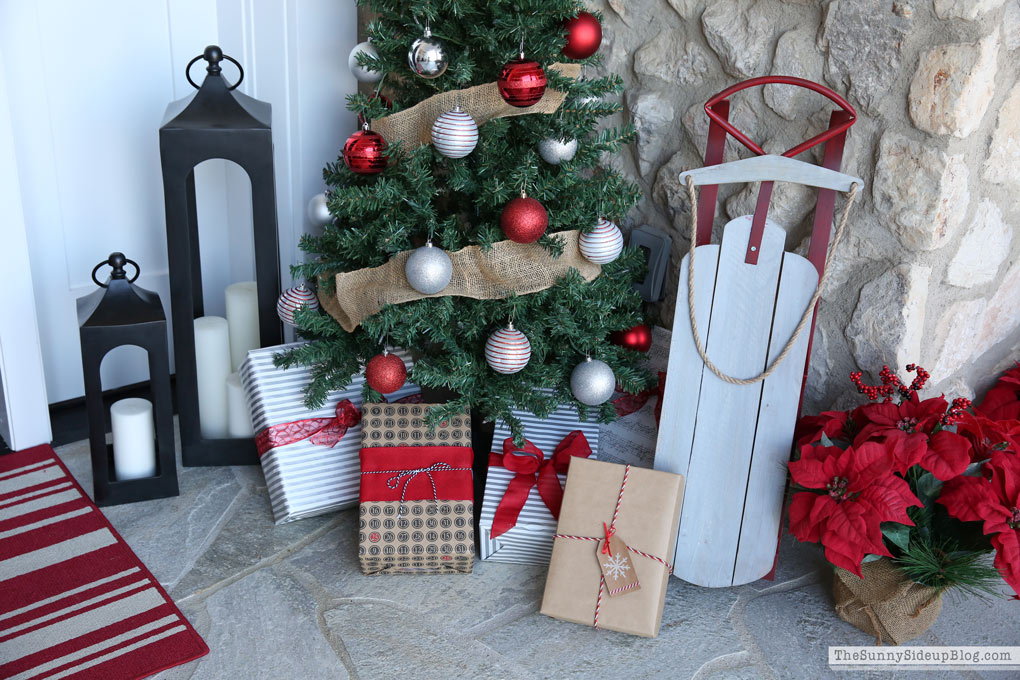 and my favorite new addition – this cute red and gray sled.  I've always wanted a sled for the front porch and I've found a lot of them on-line, but nothing I liked as much as this.  Plus it's on sale right now!  Personally I think it's pretty epic.
But that's just me. :)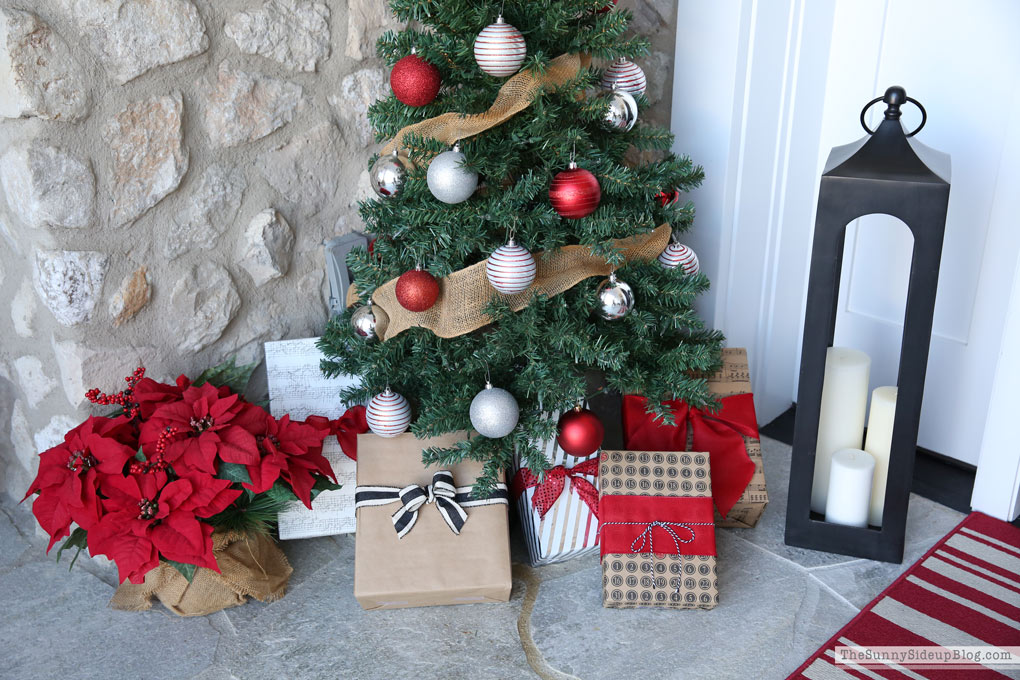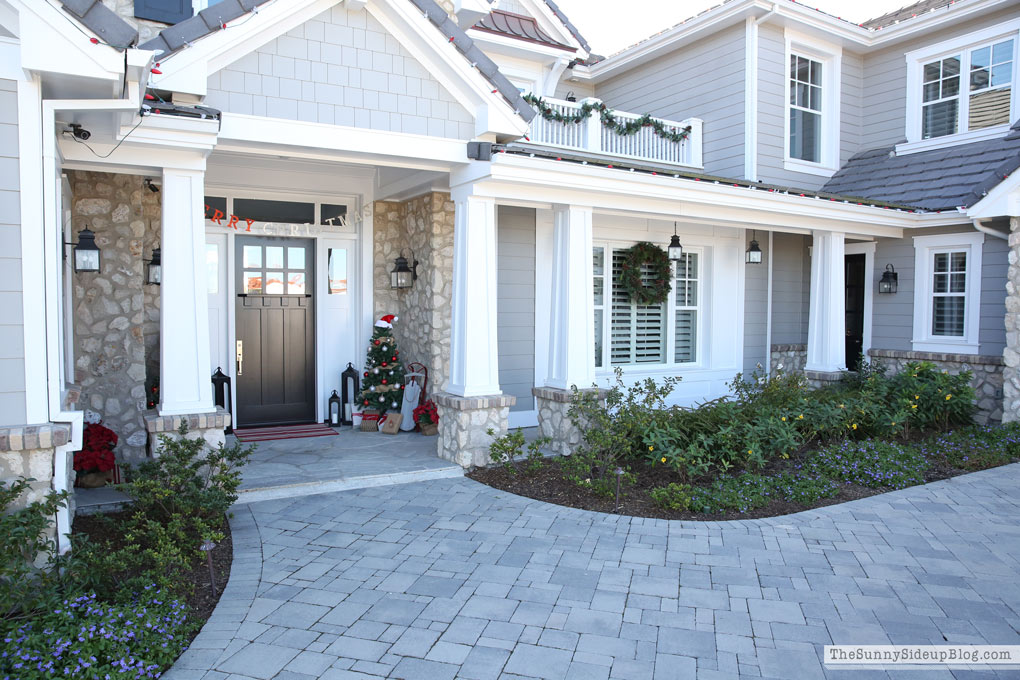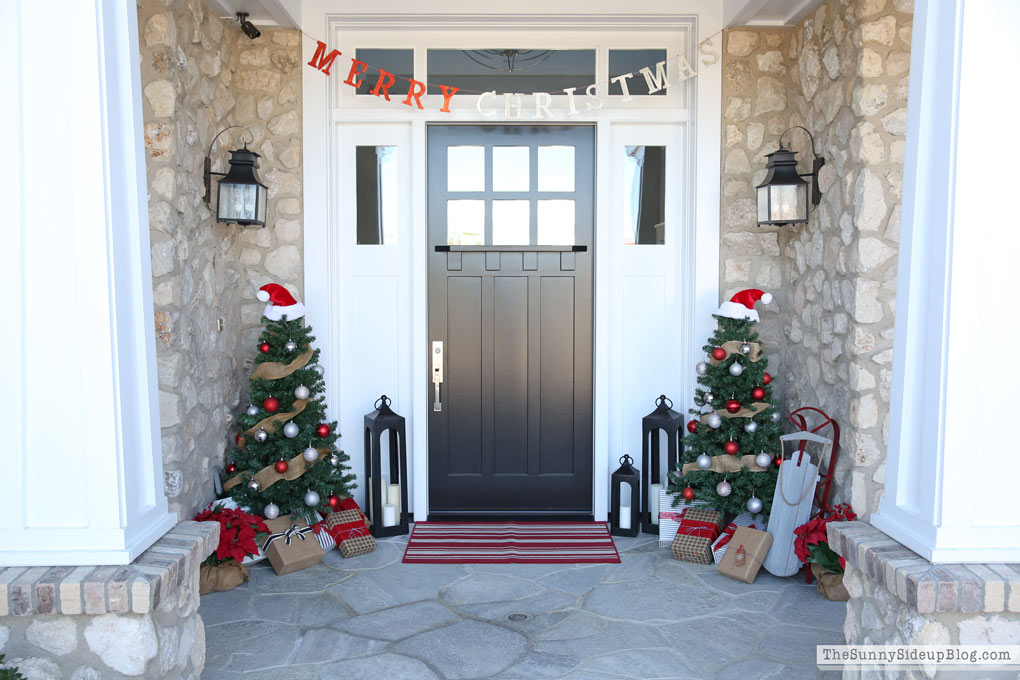 And random.. when I decorate I don't like things to be too symmetrical.  That's why I put two lanterns (and now a sled) on one side of my door and only one lantern on the other.  I don't know why, but when things are too symmetrical it bothers me.  Little tidbit about me you didn't care to know but I told you anyway. ;)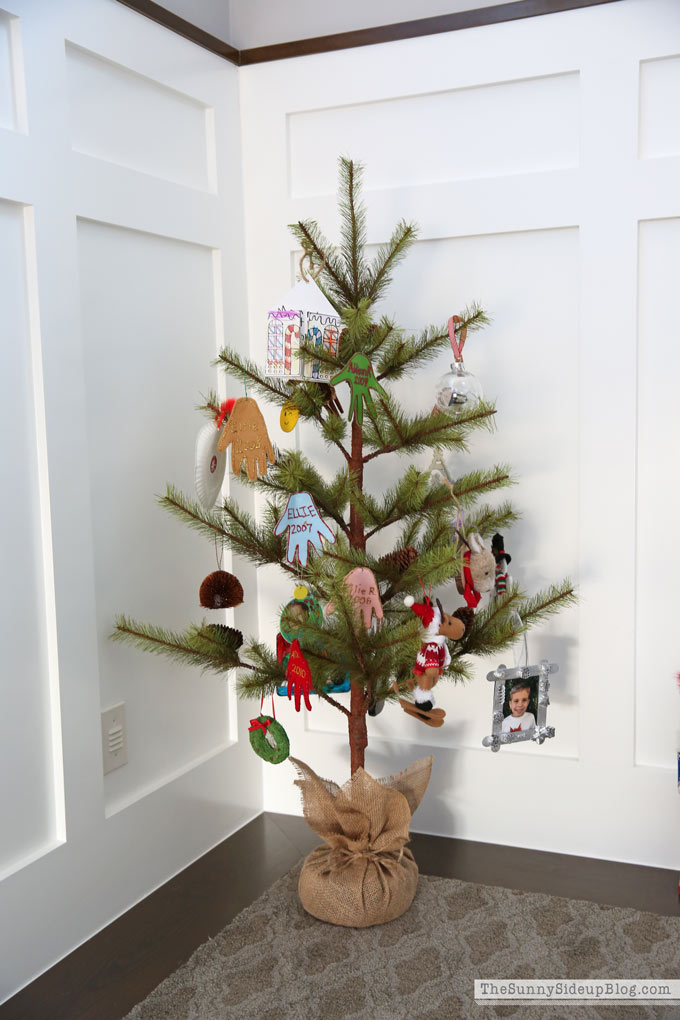 We have a lot of Christmas trees throughout the house this year all with different looks.  Several people have asked me what we do with the special ornaments made by my kids.  Sometimes they put them on the tree in our family room, but the past few years the kids have decorated a little tree in our stair landing with all of their homemade ornaments.  The tree I used to have on our stairs bit the dust last year (wouldn't stand up straight anymore!) so I replaced it with this cute Burlap Base Tree and I love the look of it (plus it's also on sale)!   This is an all kid tree so I try really hard to not move things around after they put them on.  That can be difficult for me, but I don't let myself touch it. :)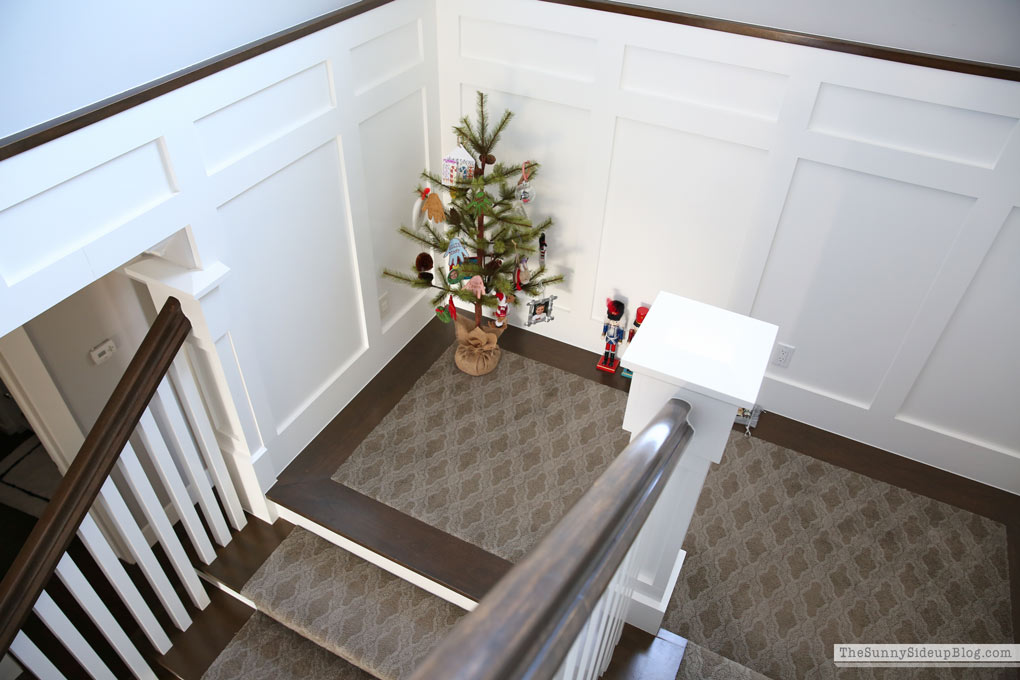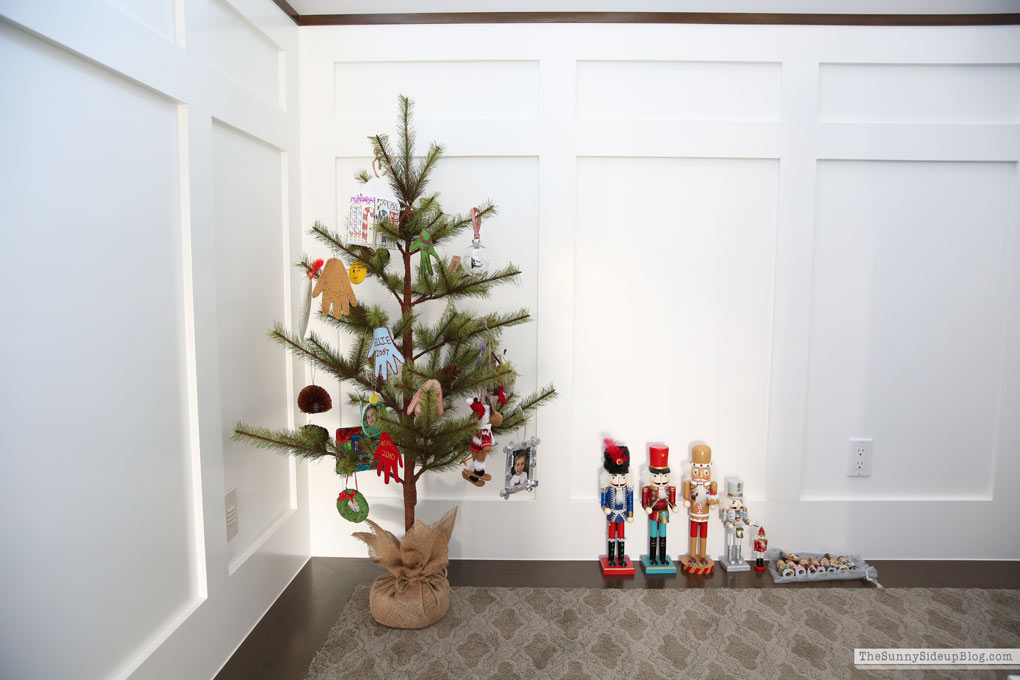 Kole added more decorations to the stairs by pulling out the nutcrackers.  Then he played with that little nativity set on the right for an hour and then laid them all down to go to sleep and made me promise not to move them.  Which is why they are in this picture and laying down.  I can't wake a sleeping nativity set.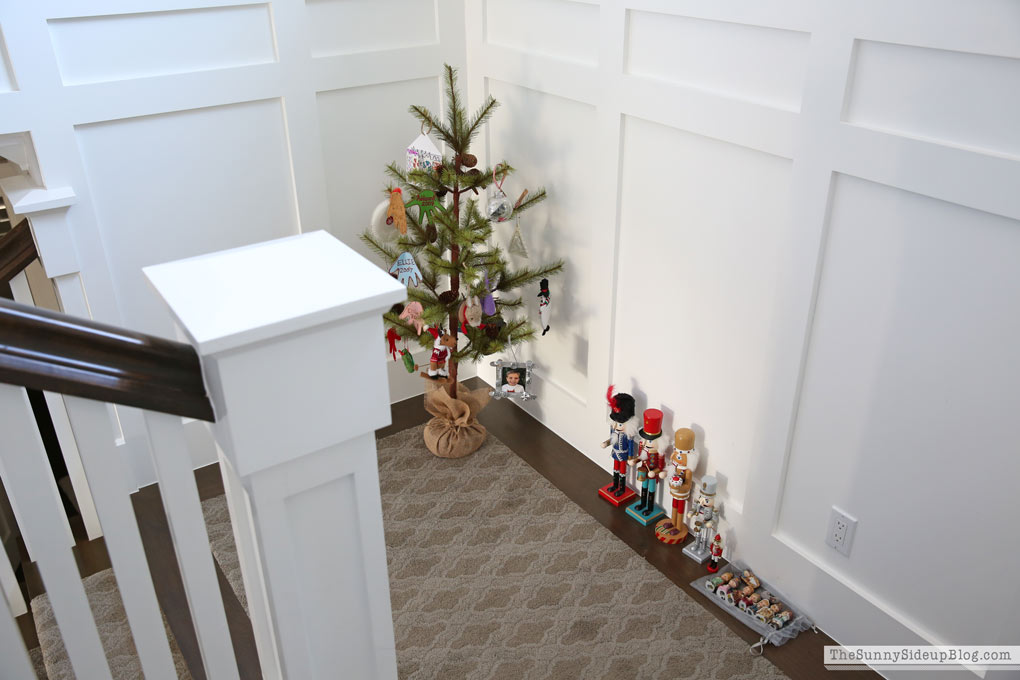 These are the little Christmas touches throughout our home I love the most. :)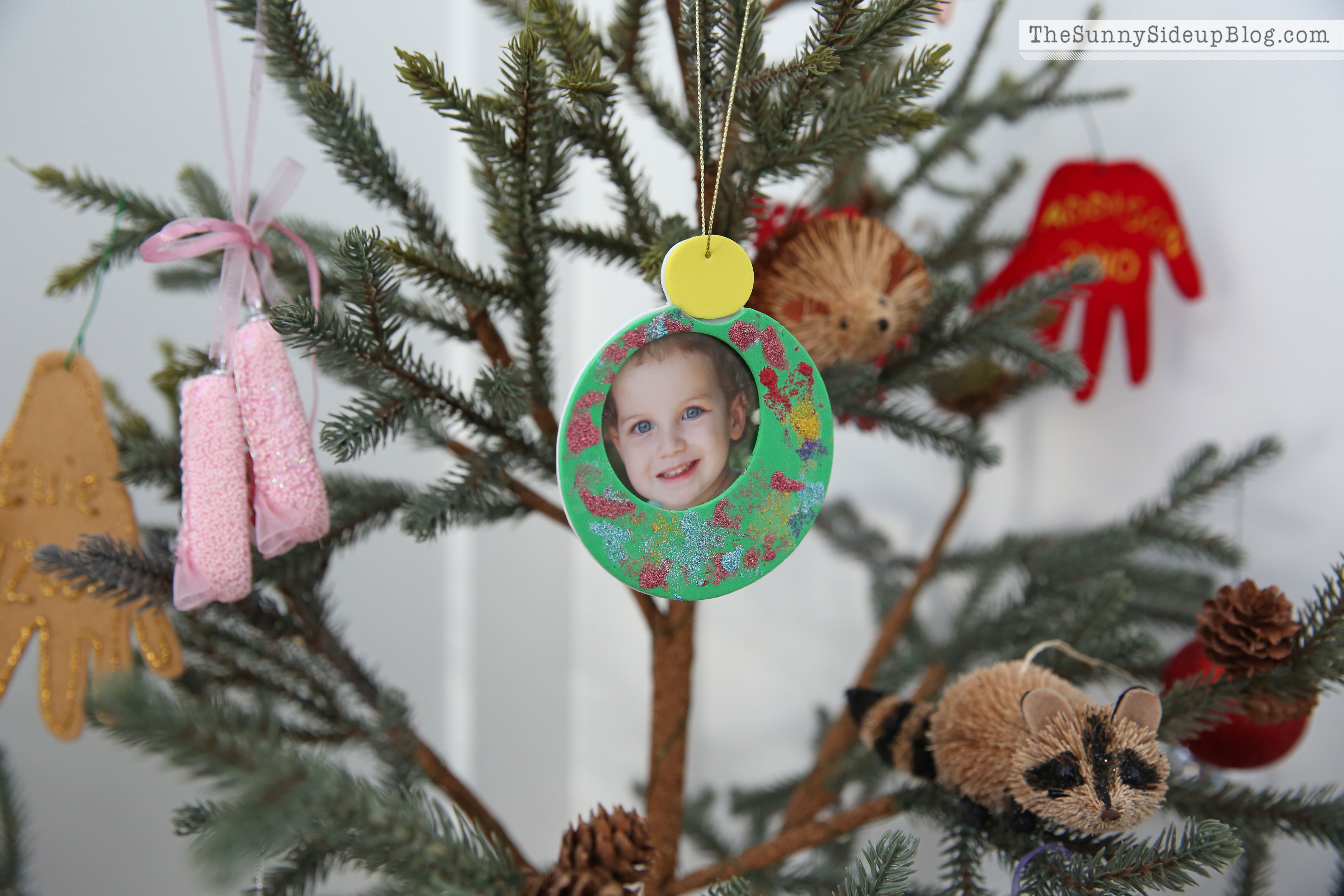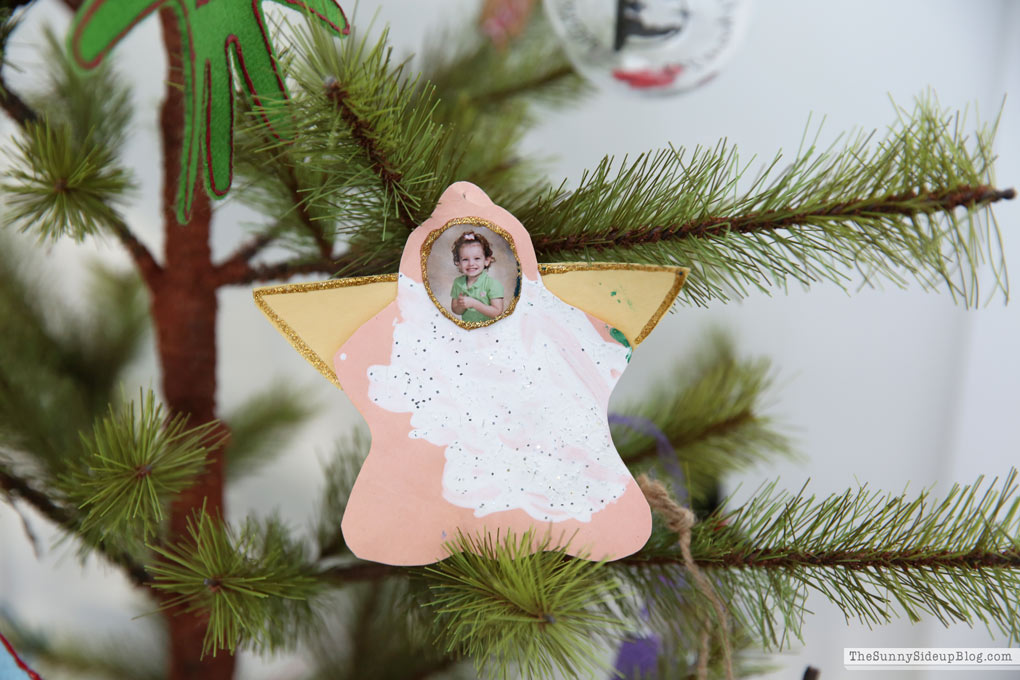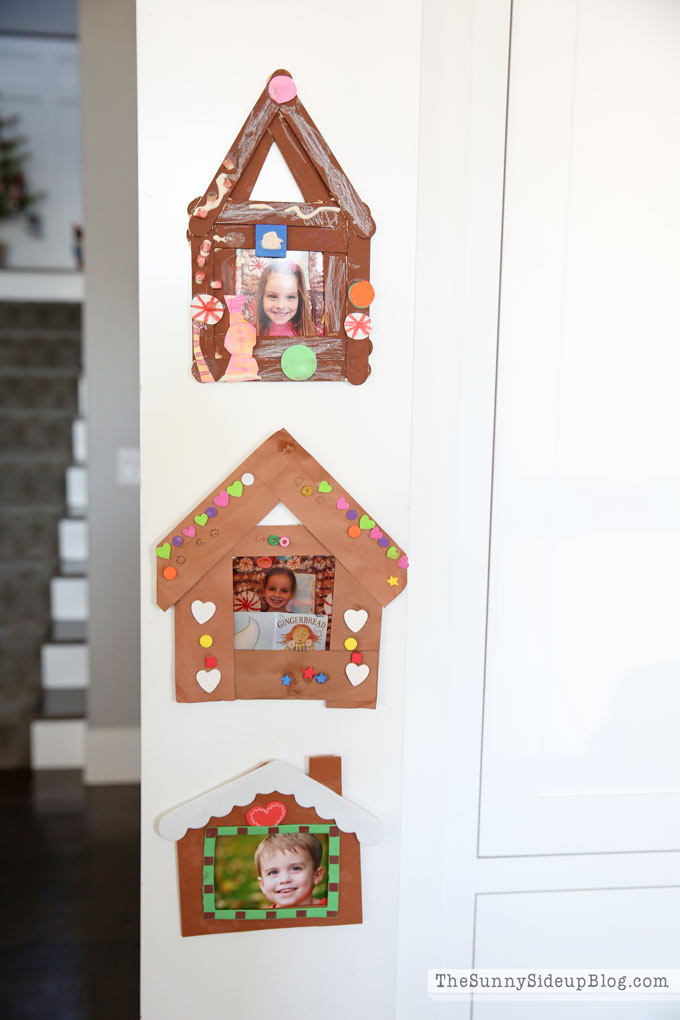 I also hung my kids' little school gingerbread houses next to the fridge and have their Christmas art displayed in our office.  Favorite Christmas decor. :)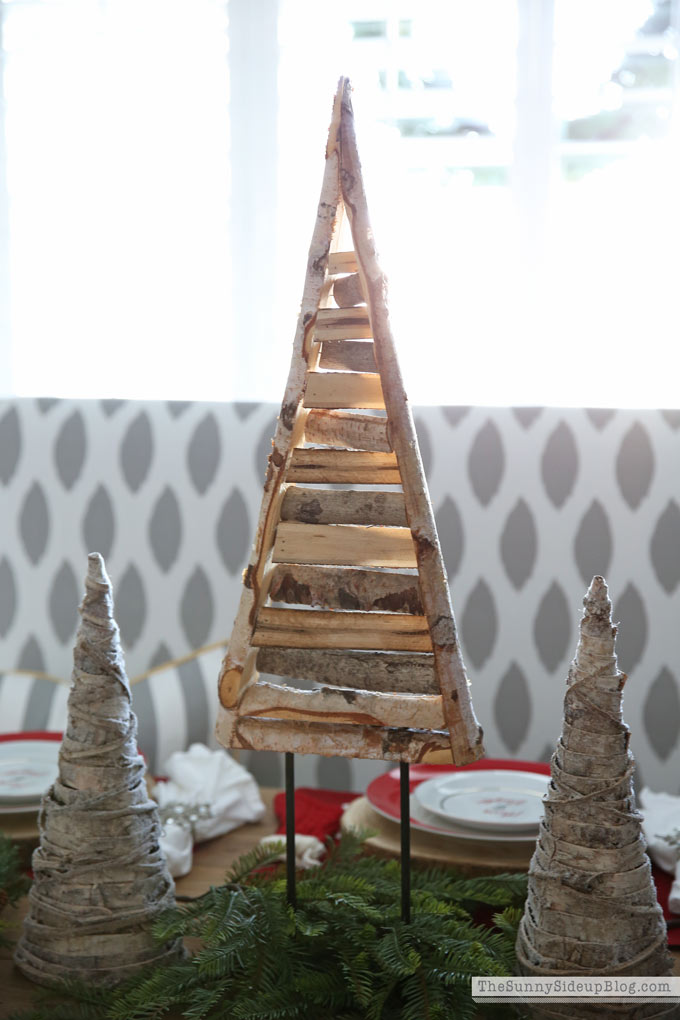 A few more new updates throughout my home from Nordstrom!  This cute wooden tree is the centerpiece on my dining room table this year.  So cute.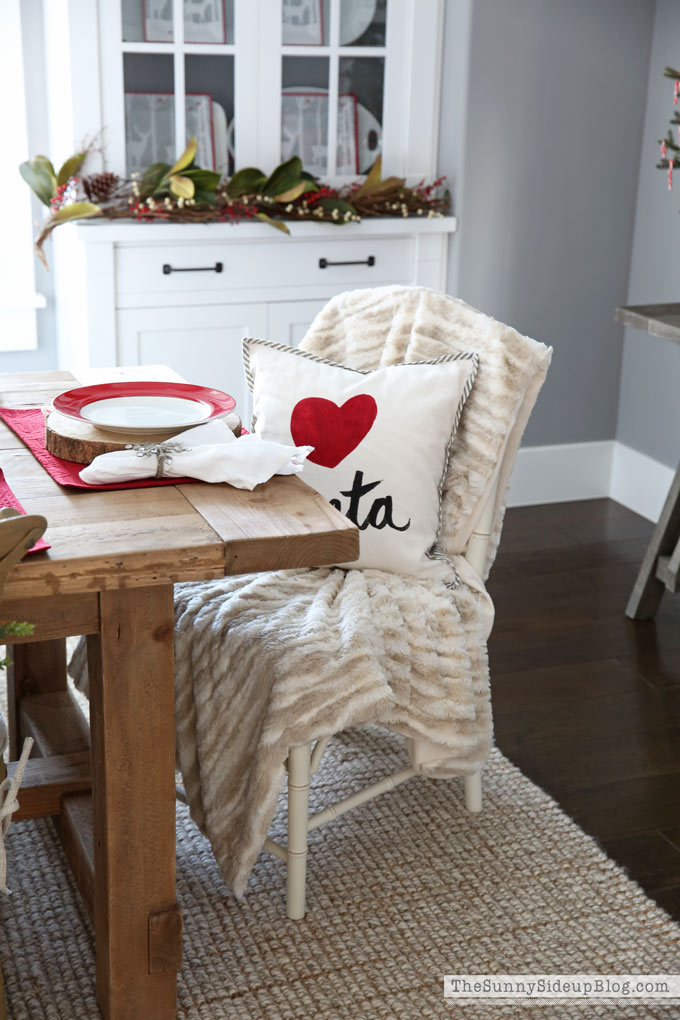 And this throw!  I know.. I have so many throws and love them all.  I can't help it!  Throws (and pillows!) are a major weakness for me.  But this faux fur throw is heavenly to curl up with and I love it draped over a chair!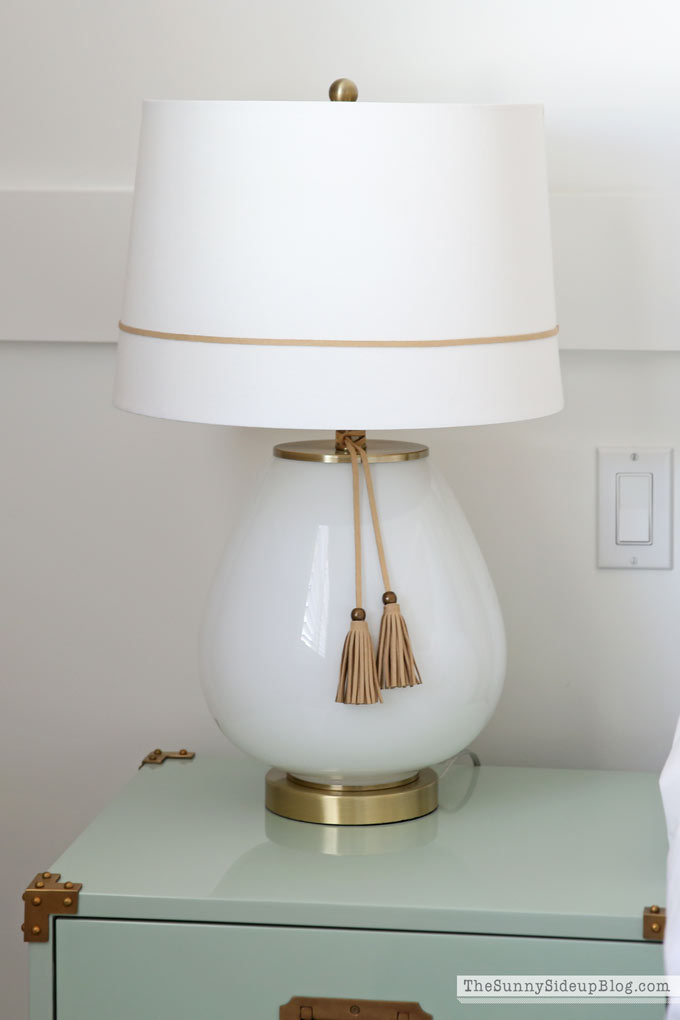 I'm so excited to show you my progress in our guest bedroom in the New Year!  Lots of bedroom posts are coming. :)  But I couldn't wait to show you all these Opal Tassel Lamps!  Aren't they stunning!?  So funny.. after I got them unwrapped and plugged in I couldn't stop walking by this room to look at them.  I just love them so much.  My husband was laughing at me… that lamps could make me that happy.. ha!  But they really do.  I love everything about them and because they are so neutral I think they would look good in any space around the house if I ever want to mix things up.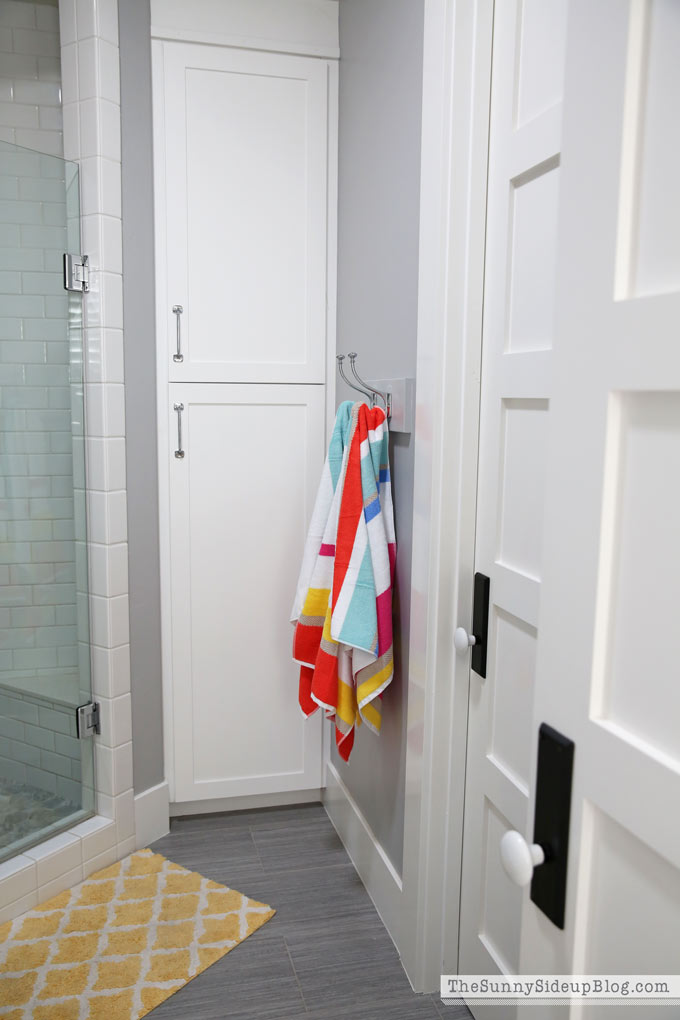 I got a few new Kate Spade Towels for my girls' bathroom.  These larger towels above sold out, but the hand towels I ordered in this same color pattern are still in stock.  Nordstrom has a great selection of really nice towels and towels are an easy way to instantly spruce up a bathroom!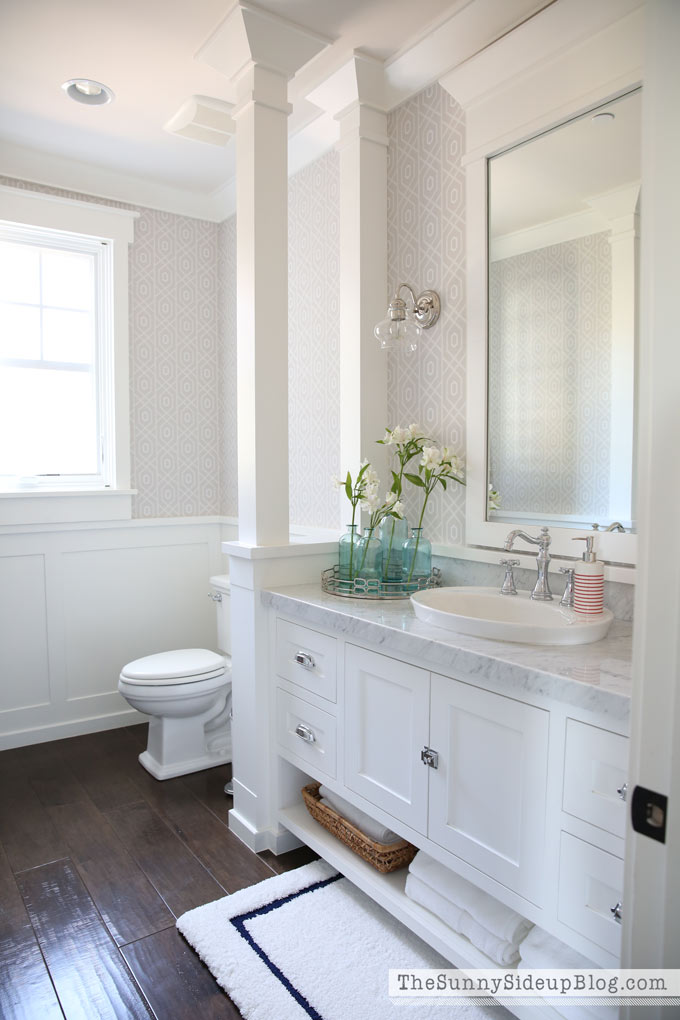 Last summer when I shared our powder bathroom decor I got so many questions about where I got the cute striped soap dispenser!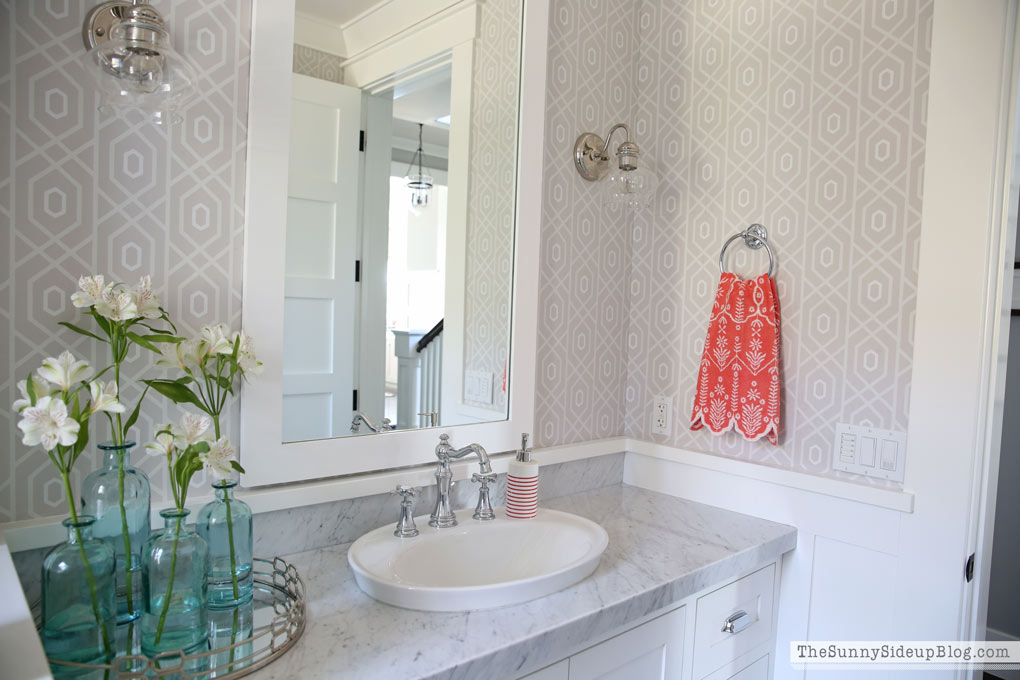 You can find it here.  Also in the home department at Nordstrom.  Can you tell it's a happy spot I like to hang out in?  :)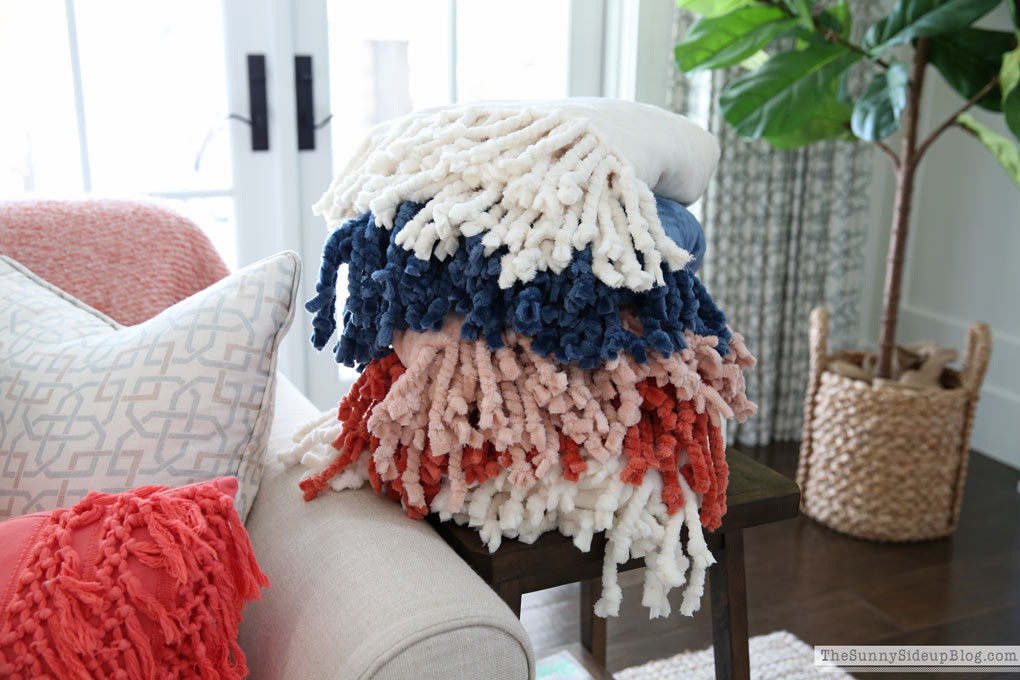 I wrapped up my favorite Bliss Plush Throws this week to give out as gifts!  I shared these in my recent Favorite Things post because I think they make a perfect gift!  Another Nordstrom Home department obsession.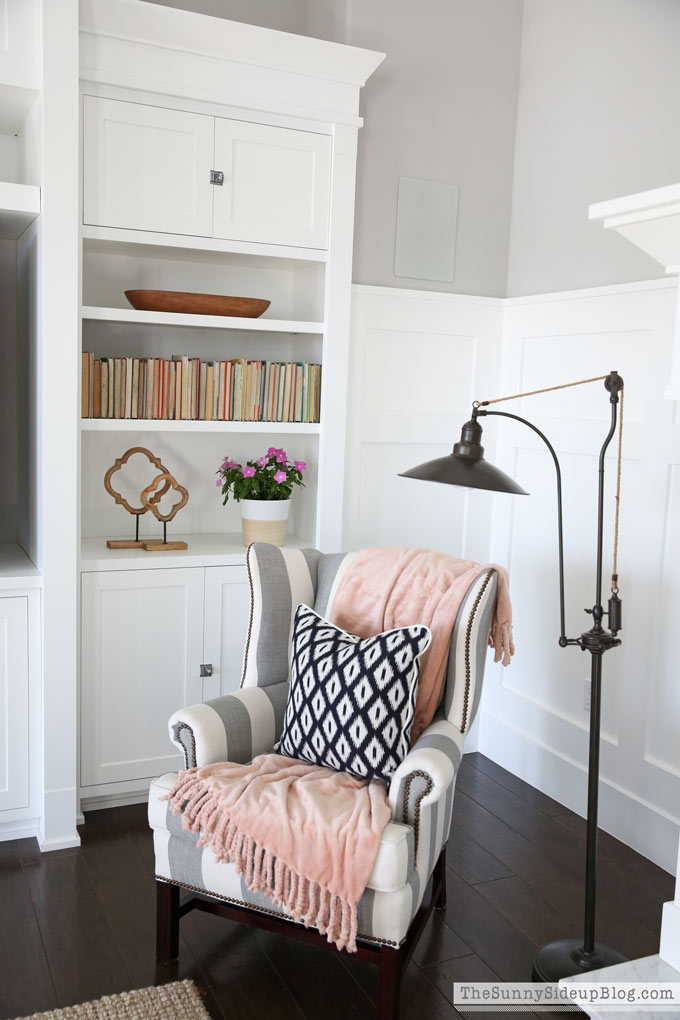 Alright friends.. signing off!  I have some cute clothes to share with you over the weekend and then Monday is Christmas Home Tour day!  So I'll be back soon!  And trust me..
it's going to be EPIC.
;)
Huge thank you to Nordstrom for sponsoring this post!  Your HOME department is a long time favorite. :)
{POST SOURCES}


{OTHER FUN GIFT IDEAS FROM NORDSTROM HOME.. so many of these things are on my wish list!}





xoxo, Erin