Happy Friday everyone!  I'm feeling all sorts of fancy in yet another black and white striped top I bought for myself.  Sorry.  None of you were there to stop me.  :)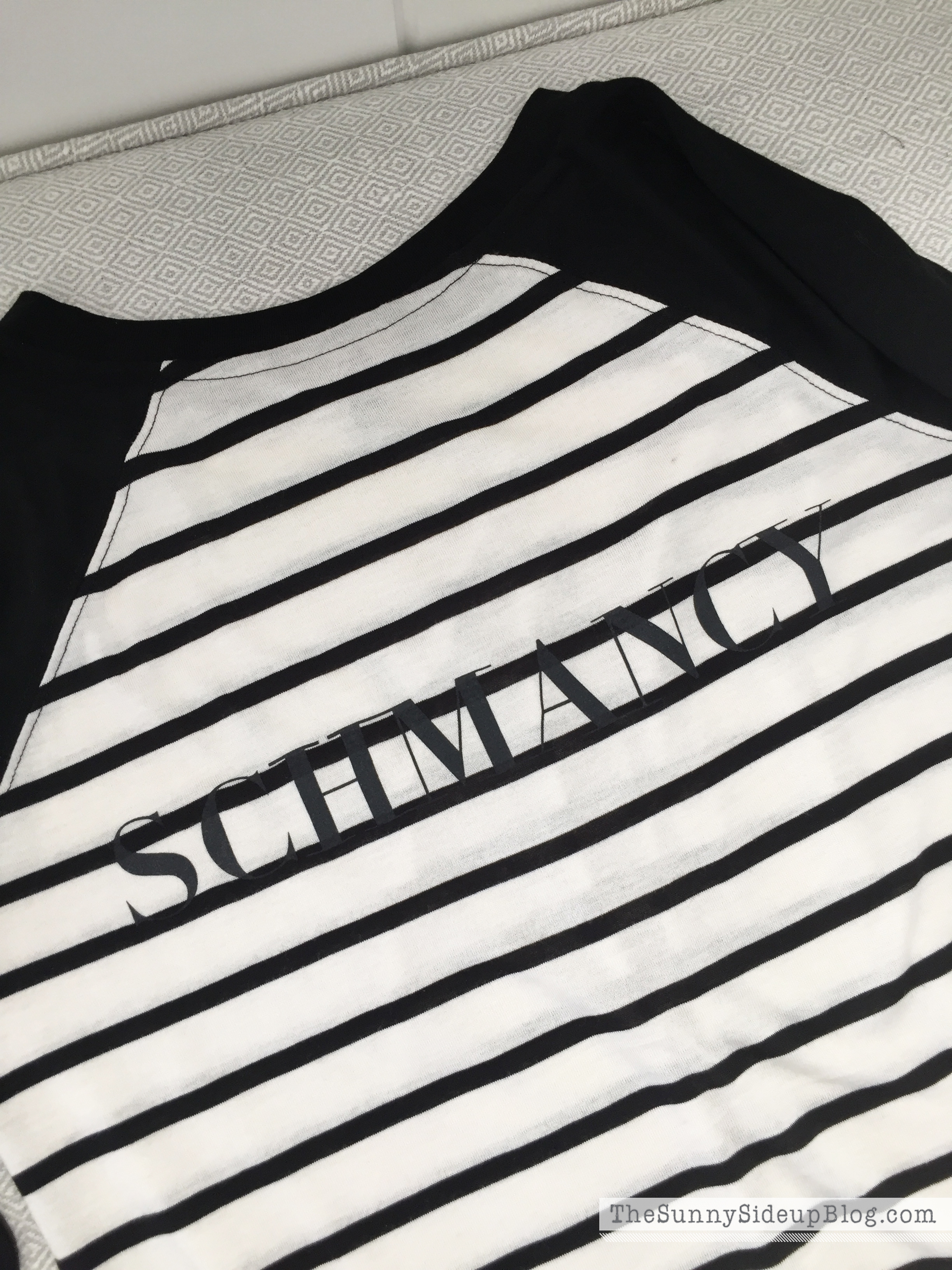 But when the front says "fancy" and the back says "schmancy".. AND black and white stripes?  #couldntwalkaway

The top is from Banana Republic and I can't for the life of me find it on-line!  If any of you find it, let me know and I'll include the link.  Wondering if I wasn't the only one who couldn't resist the fancy schmancy and it sold out quick.  I'm wearing it with my new Kate Spade watch (love it!), jolt jogger pants and Phoenix wedge sandals.  Yes.  Sandals.  It was in the 70's this week in my neck of the woods.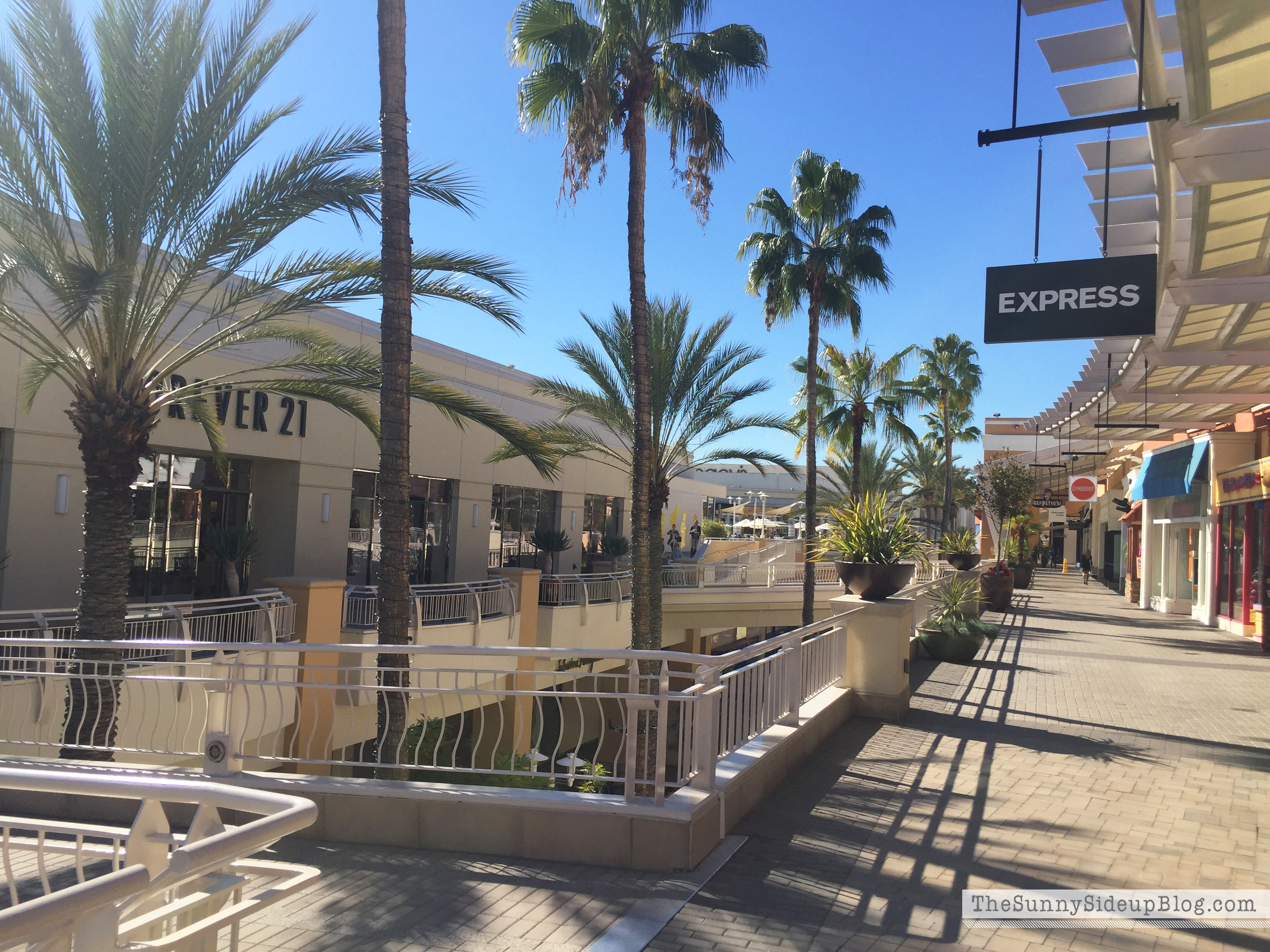 I snapped this pic at the mall a few days ago.  So crazy.  It's still cool in the mornings and evenings but the days have been sunny and hot.  I'm not ready to put away boots and scarves!  #sandiegoproblems  Do you all want to come and visit?  Or maybe we could switch places for a few days?  My kids need to build a snowman.  And I want a good excuse to drink hot chocolate.  In my boots and scarves.
Ok.. back to fashion.  Banana has SO many cute things that are an extra 50% off right now.  The only bummer is that sizes are limited.  I want this sweater and this sweater but my size is gone. :(  I did buy this navy top with a bird on it though (I'll have to share a pic later) and it's really cute.  40% off baby!  Love end of season sales.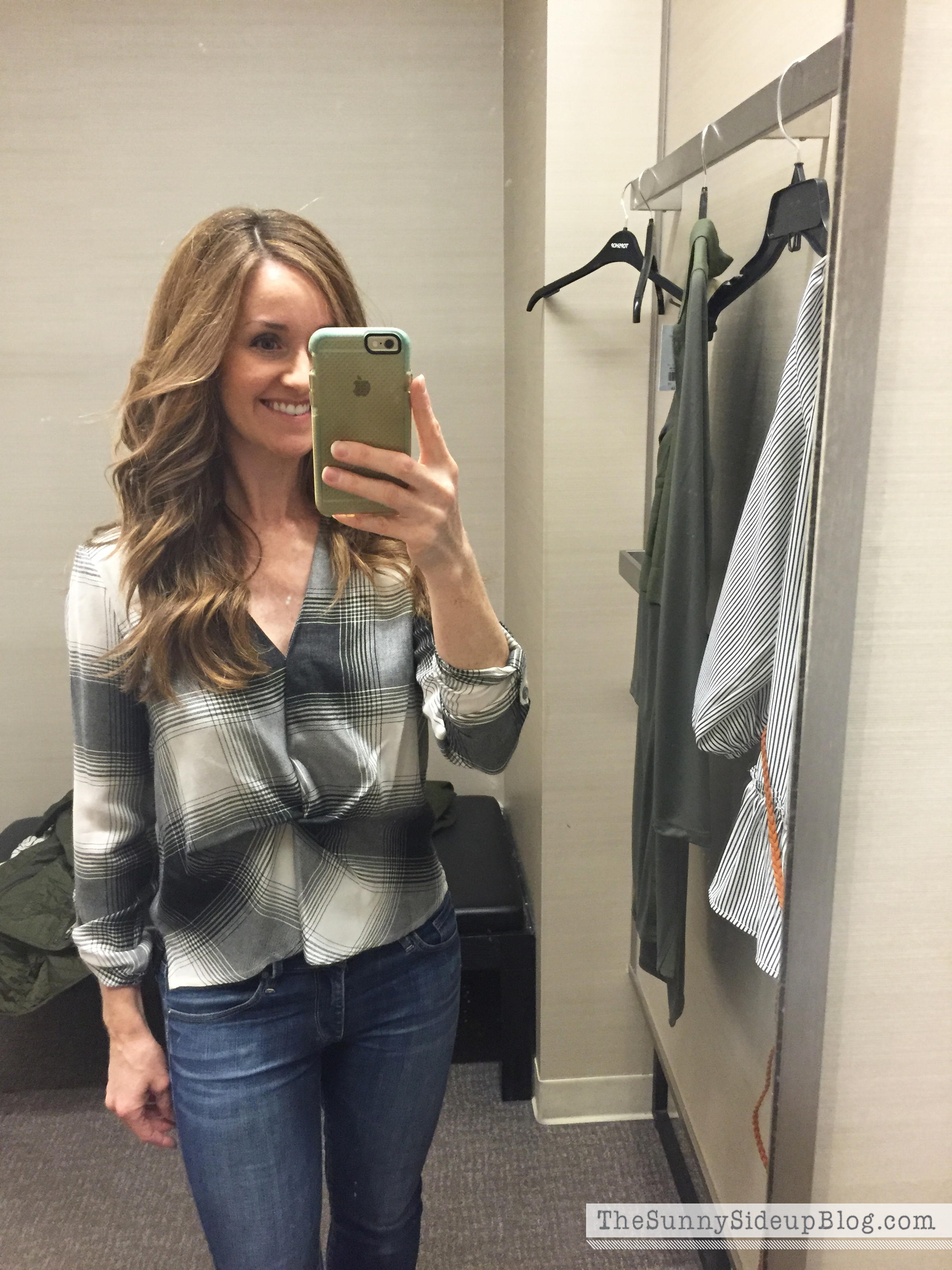 This is a cute top I found at Nordstroms.  I know.. lovely dressing room pic.  I haven't worn it yet.  It needs to be ironed and it takes a lot for me to want to get out my iron.  I might not be wearing it for a while. ;)  On sale for $35!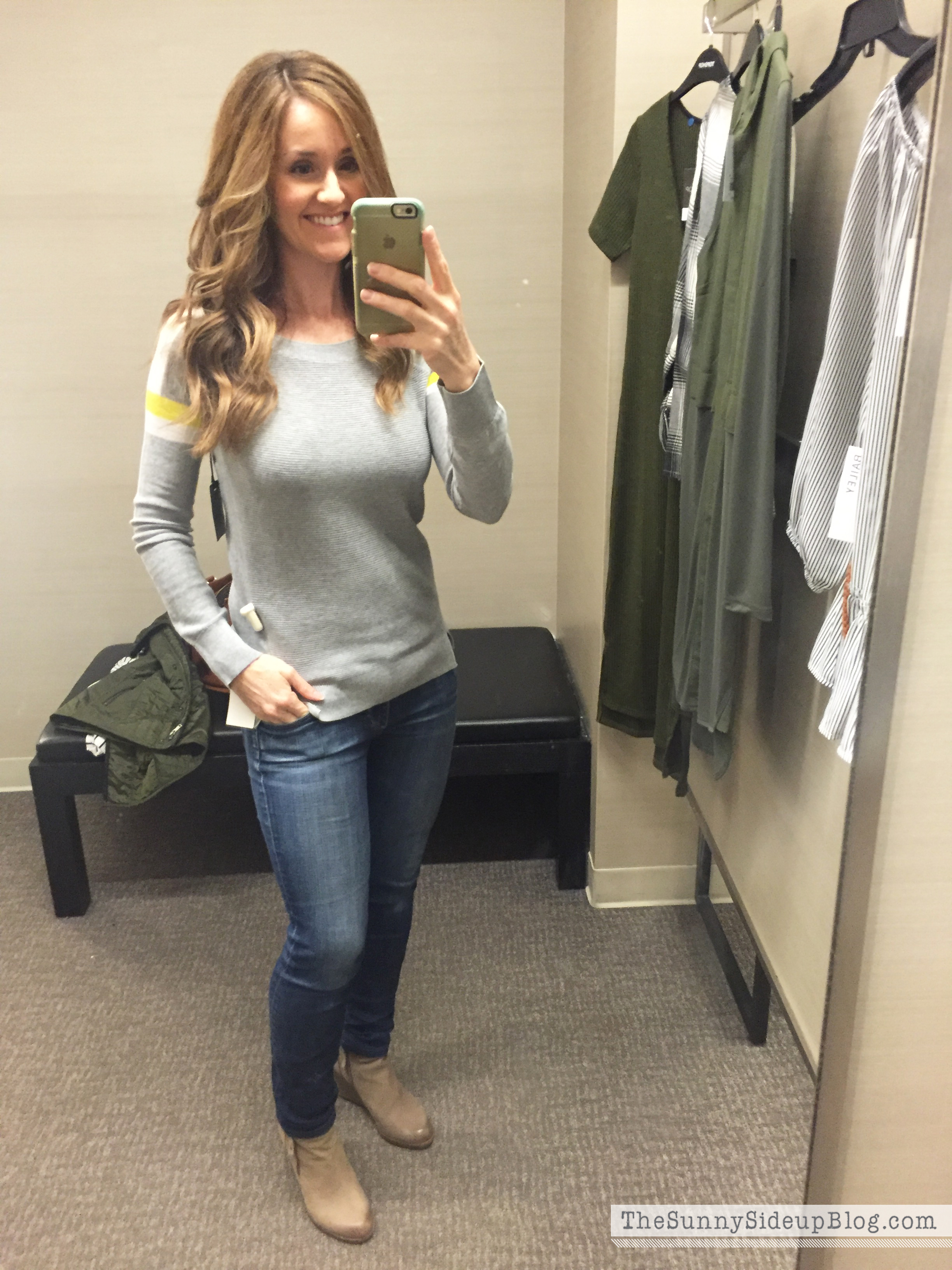 But THIS.  This sweater is my favorite recent find!  I had on my Ashton booties the day I tried it on – which I love – just not with this sweater.  

I came home and put it on with my Converse sneakers and my favorite jeans and could not be more excited about such a fun, casual outfit.  Casual is my favorite!

Here's a close up so you can see how cute this sweater is.  And how many lines and wrinkles I have under my eyes.  :)  Seriously though.  It's so comfortable and the fit is great (fitted and flattering but not too tight).  Plus I love the fun stripes on the arm.  It also comes in white with a red stripe but the grey was calling my name. 

This would look so cute with my favorite reversible bag in grey or the stone/blue.  I gave one to my sister-in-law for Christmas.  Dayna.. I may need to borrow it when I wear this sweater!  :) 


Here's my crewneck sweater again but with my camo pants.  Fun combo right!?  They don't have my exact pair of camos at Nordstroms anymore but they are similar to this cute pair.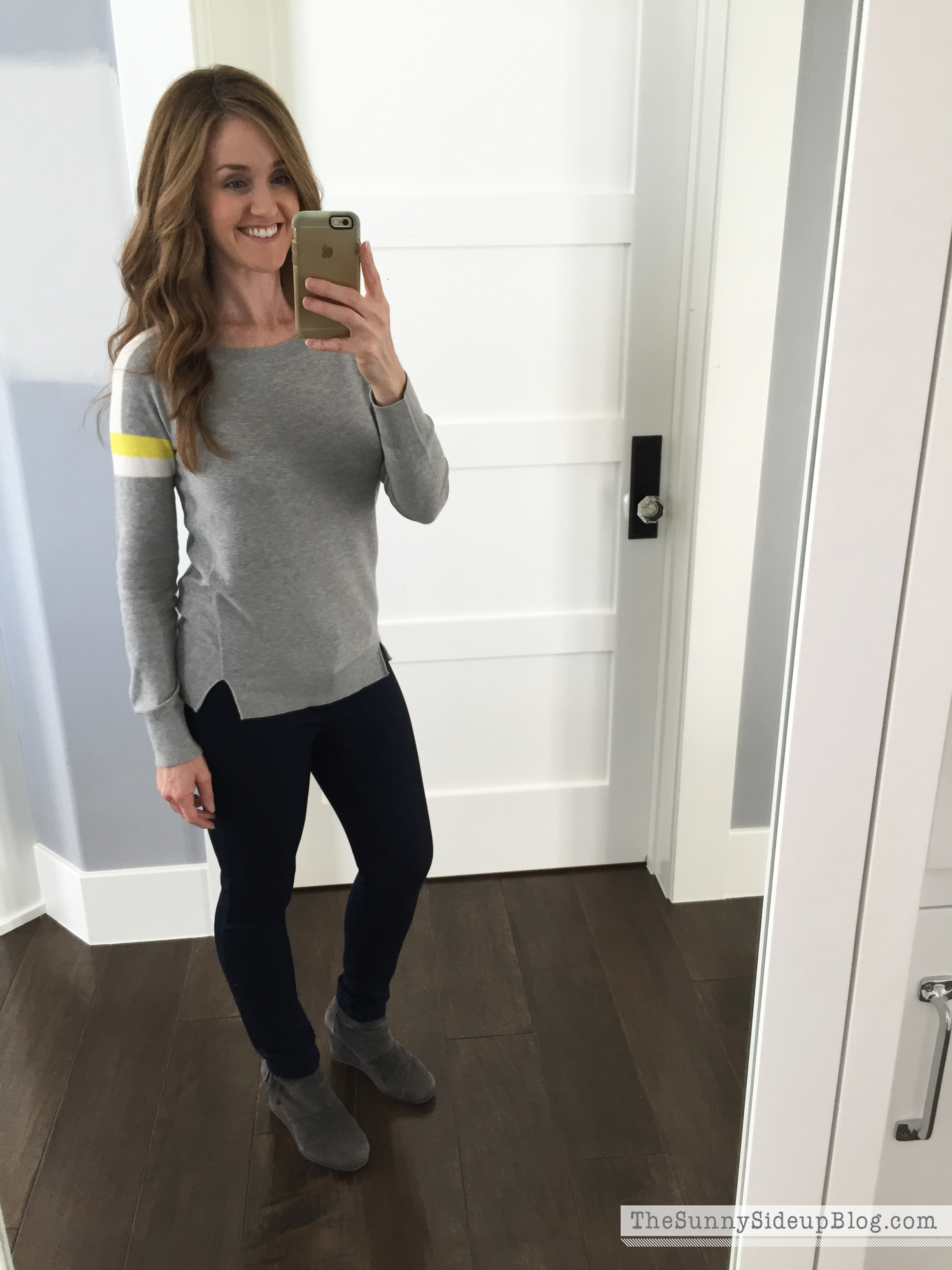 I also love this sweater with my navy legging/jeans and my Toms.  A couple of different ways to wear it since I know I'm going to be wearing it a lot!
Does everyone have fun plans this weekend?


We are going to be watching my little buddy play basketball.  This is his very first sport.  The past few years we have been so busy with his therapy and the girls' activities we just haven't had time.  I was so excited to finally be able to focus on a fun activity for him this winter.  For the first practice and game we got there early so Kole had first pick of the jerseys.  He wanted number 5.. "because I'm 5 years old mom!"  :)

Looking fierce and ready to play.  :)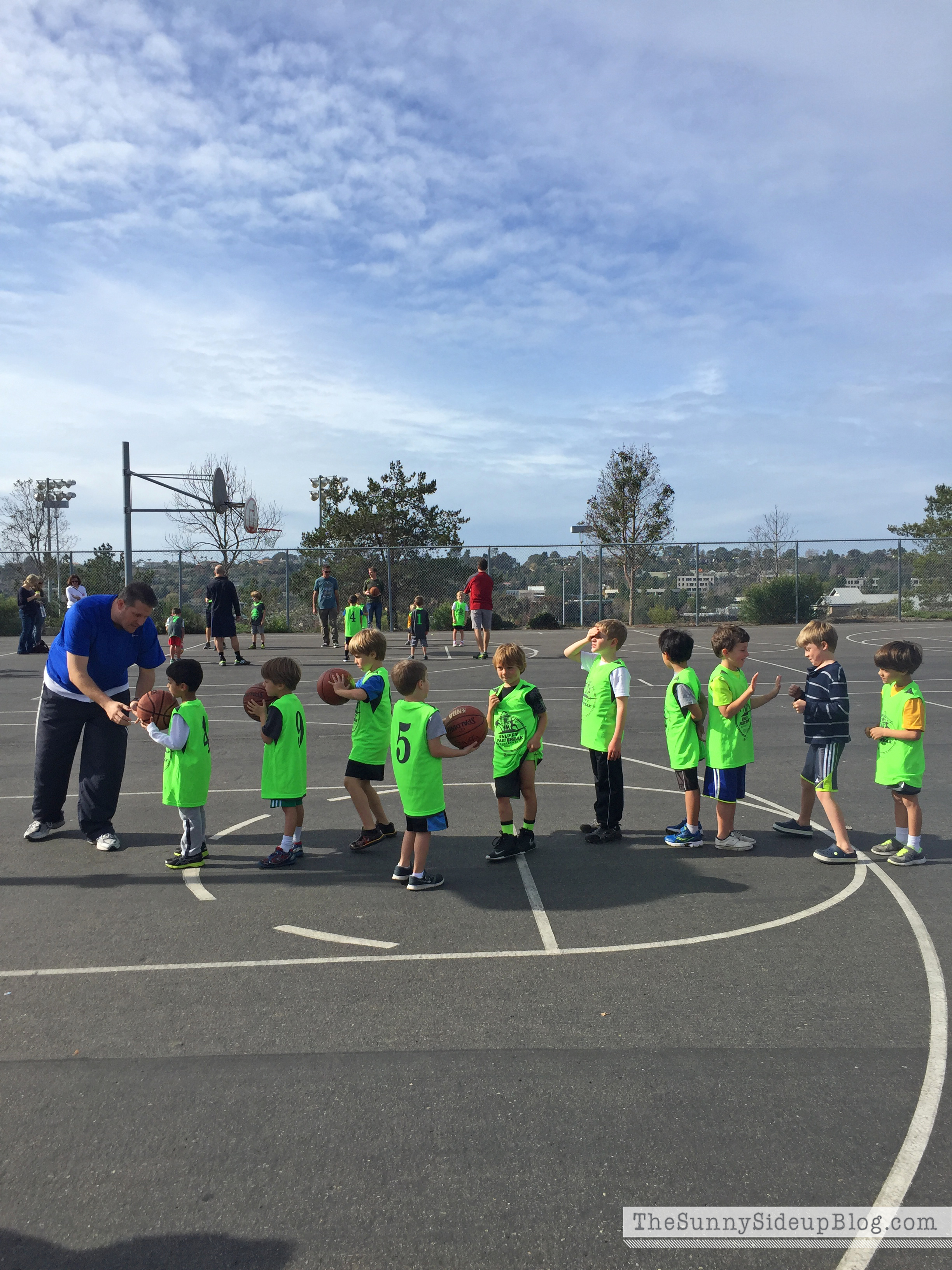 Oh my word.  Seriously the cutest group of boys.  They all got to know each other and took turns practicing.  

Kole made his first attempt at shooting a basket.  

And here's the coach scratching his head thinking "we've got some work to do…"  Ha! :)  The first game was too much fun to watch.  None of the boys really knew what they were doing.  They were all just so adorable running back and forth trying to play.  Kole had a few moments of great dribbling (we had practiced dribbling earlier in the kitchen – dad was in San Francisco so mom took charge).  Both times he was headed for the wrong basket (oops!  forgot to explain the back and forth to him), but hey.  He was dribbling the ball.  Baby steps.  :)  I don't know if basketball will be his "thing," but it has sure been an adventure trying it out.  

So if you need me this weekend, I'll be in this sweater at my little buddy's game.
Cheering #5 on to victory!
Or at least towards his own team's basket.
:)
p.s.  I'll pop in quick this weekend with the giveaway winner!  I need to get to bed.  You've all seen the wrinkles under my eyes..  ;)
*affiliate links used
xoxo, Erin