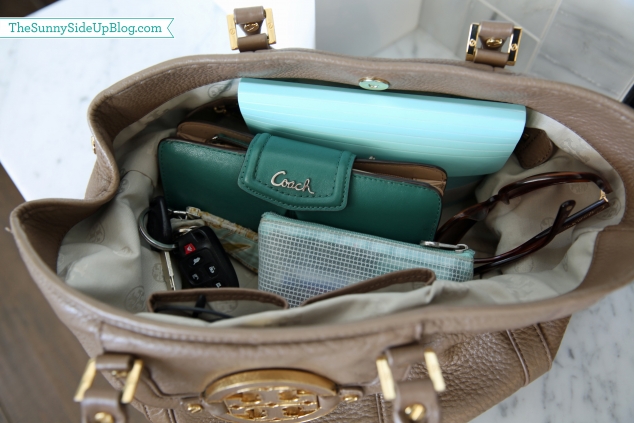 Talking purse organization today!  I've shared my organized purse with you all before.

In the past I used this card organizer to hold random cards and receipts.  It worked great, but I was ready for a change.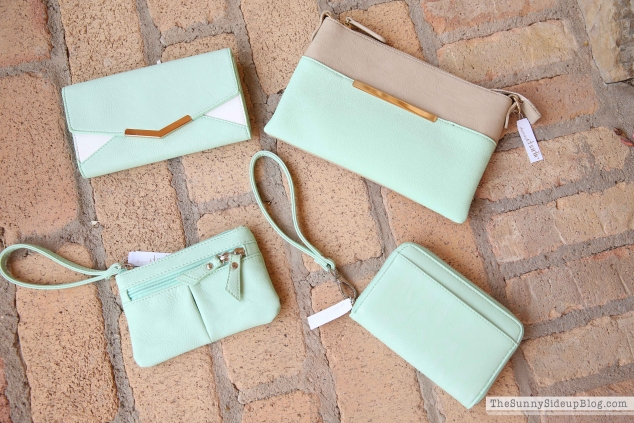 When I was visiting my family in Utah this summer I went to a fun boutique in my hometown and found these darling wallets.  Mint!  I LOVE mint.  My DMD (decision making disorder) kicked in and I couldn't choose which one to buy.  They were really inexpensive so.. I sort of came home with them all.  Does that ever happen to you?  :)  The clutch is to use once in a while when I just need my cell phone and a few things, but the other three wallets now live in my purse.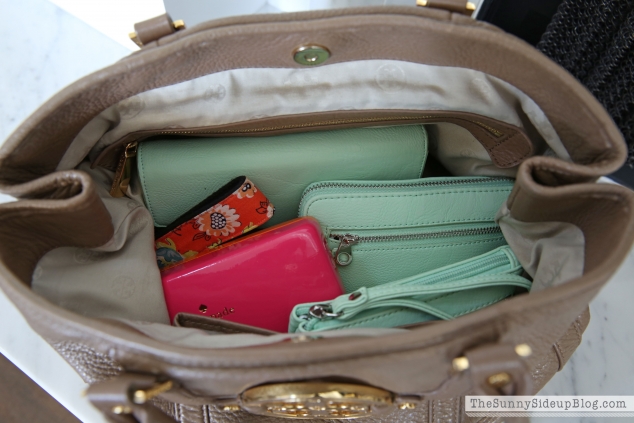 I've found that the best way to keep my purse organized is to not have anything loose in my purse.  If I have loose items rolling around in my purse, I keep tossing other loose items in my purse and before long, I have a hot mess of loose items in my purse.  And some fishy crackers.  Because if you have kids, you've had smushed fishy crackers living at the bottom of your purse at one point or another.  By keeping small items inside wallets it's so easy to find what I need and it helps me keep trash and other unnecessary items out of my purse.  There's no wallet designated for smushed fishy crackers.  :)


So here is what is currently inside my bag!  My cell, 3 wallets, favorite Kate Spade aviators, keys (key fob link in this favorites post), and my Sunny Side Up business cards.  Which I carry with me at all times to hand out to random people I meet on the street.   Kidding!  They were just still sitting in my purse from Haven.  :)


Aside from the mint I also fell in love with these wallets because of the black and white striped lining inside of them!  Mint AND black and white stripes!?  Be still my heart.  See why they all had to come home with me!?  Obviously this wallet holds my credit cards, check book, cash, etc.


This little zipper pouch is full of dividers (I so love dividers).  I have my cards all seperated – receipts, coupons, gift cards, etc.  SO easy to find what I need!  And yes.  I have my receipts paper clipped (this is where my mom starts shaking her head).  I toss most of my receipts in the trash, but if I'm buying something I might want to return I hang on to them for a while.  And if I have more than one from one store I clip them together.  Sorry mom.  I can't help it.  And no I'm not interested in medication.  Yet..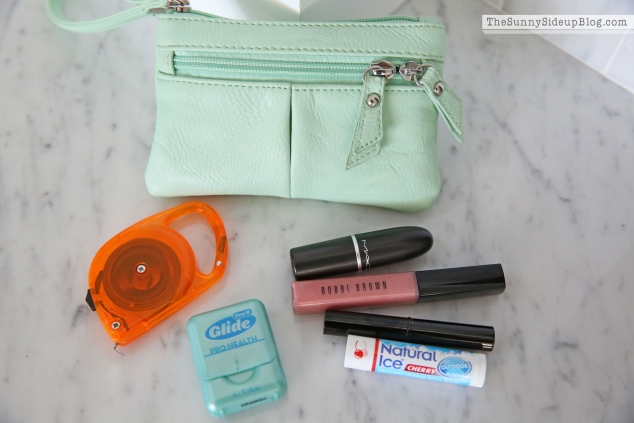 This little wallet has no dividers so it holds a few small must haves!  My lip stick (trying and loving MAC "Twig" right now), my all time favorite lip gloss that looks good over ANY lipstick (Bobbi Brown High Shimmer Belllini), my Bobbi Brown face touch up stick (Warm Sand) and my forever favorite Cherry Ice Chapstick.  I always keep floss with me (handy!) and a small tape measure.  Can't tell you how many times I've used that for measuring possible purchases for the house when I'm out and about.  Random I know, but these are my must haves!  If I need to grab some lip gloss while I'm driving, no searching through a messy purse!  So easy to grab and find what I need with my handy little wallet system.  :)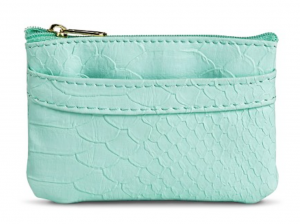 I found this cute mint wallet (and other fun inexpensive options!) at Target if you want to use something similar to organize your purse.  Crazy to have 3 wallets in your purse?  Maybe.  But my wallet system works!  Try it and you'll see.  :)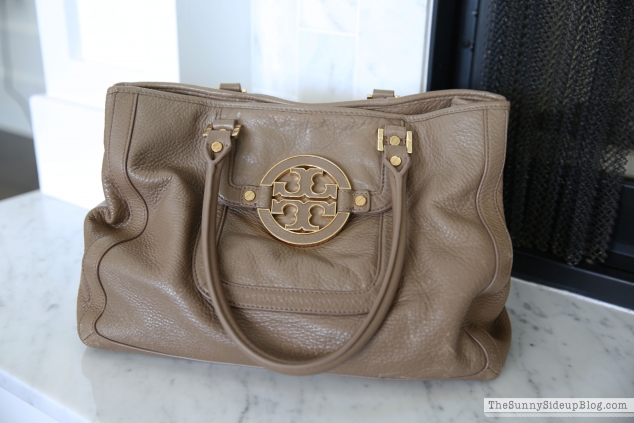 LOVE having my purse organized.  It makes me happy multiple times each day.  I'll be back tomorrow sharing my favorite new handbags for Fall!  I'm on a handbag kick, can you tell?
I've heard of worse things.
Like smushed fishy crackers.
:)
xoxo, Erin