Ok.  I have to thank you all for your sweet comments/advice when I shared my front entry bench dilemma with you earlier this week!  The bench is so fun there, but I think I've decided to leave it in the formal dining room (for now anyway!) and look for a new bench for the entry.  Since I started talking front entry with you all I thought I'd share another room in our house that is one of my many decorating projects for 2015 – our formal living room!  Makes me kind of laugh whenever I think about this space because the first thing I told our architect when we were sitting down to design our house was that I didn't want a formal living or dining room.  Rooms that don't get used as much and just sit and take up space.


And yet that's exactly what I have now.  :)  My husband really wanted the formal dining room so we compromised by him getting the space and me getting free reign to decorate it as UN-formal as I wanted.  :)  The formal living room came to be because for a while in our plans when you walked in the front door you were staring at the dining room.  Neither of us loved that idea.  I really wanted to walk in the front door and see out into our yard and pool so we ended up putting in a formal living room to look pretty when you walk in.  Sort of an extension of the entry.  I LOVE this room now (I had so much fun designing it!) and I think we actually will use it more than I thought we would once we get furniture.  It has been sitting empty for a year.  :)  But that's about to change!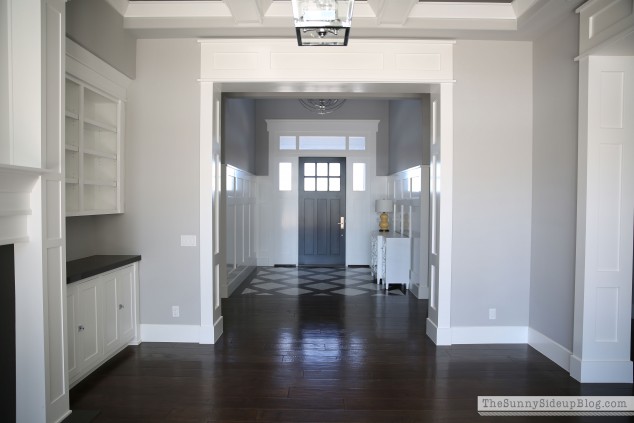 Here is a picture from the formal living room looking at our front door just to show you where this room is located.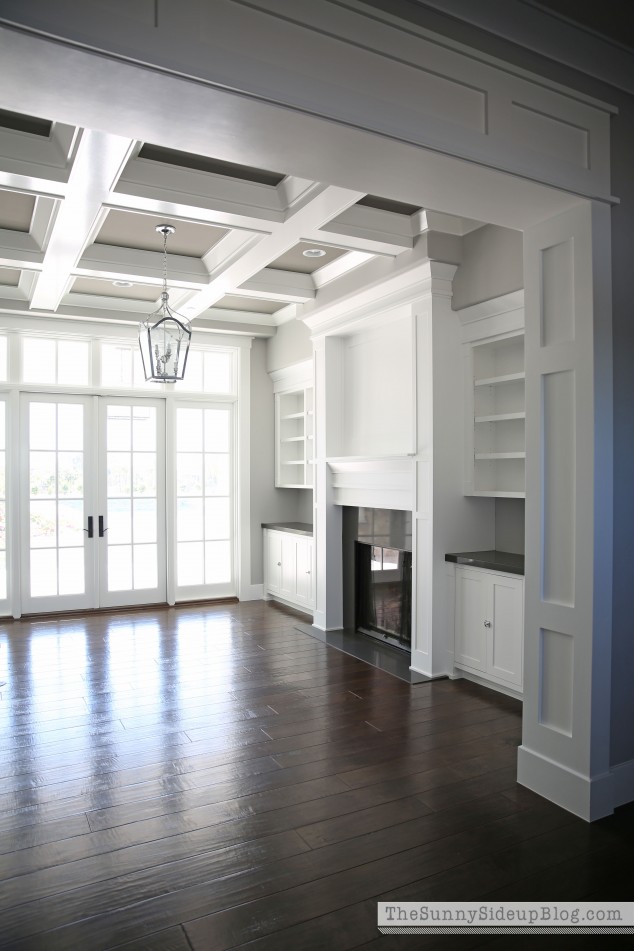 I'm not a very dressy or formal person but this room ended up being a tad on the elegant side because I'm so obsessed with molding!  I went a little crazy in here.  :)


I've been in love with this style of french doors my whole life so it feels like a dream to walk into my house and see them every day.  They flood this room with so much light!  It is such a bright, sunny room.  Makes it a bit tricky to photograph though.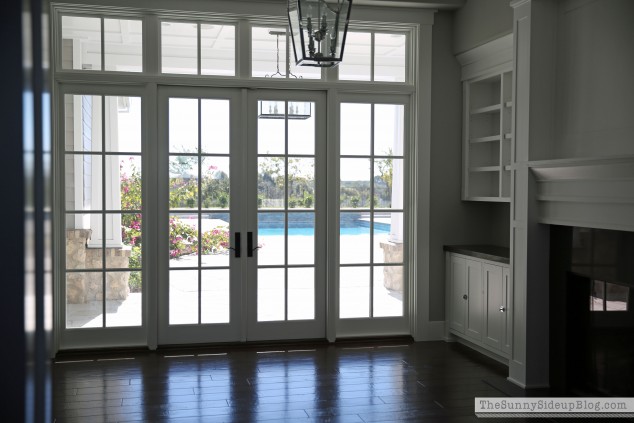 I made the room darker in this picture above so you can see the view of the yard that you see when you walk in.  Ignore the crazy overgrown plant all over our pavers.  It just got a trim last week but that was after I took these pictures.  :)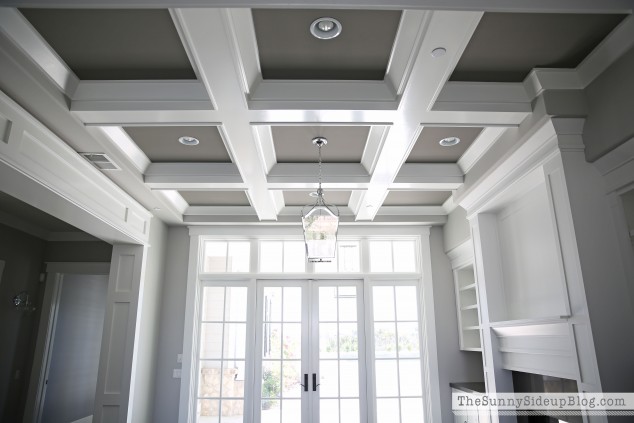 My very favorite part about this room is the ceiling!  I love traditional coffered ceilings but I don't like a lot of curves so I kept everything really clean with simple straight lines.  I had to draw and explain this ceiling countless times because everyone I was working with kept trying to make it a lot more fancy than I wanted.  So happy with how it turned out!  I decided to use a darker grey paint on the ceiling to set off all the white and then I liked it so much I wondered if I should have done that in the kitchen too.  Maybe someday..


These built-ins were something I added after our plans were finished.  I had to take space out of my pantry to get them (pantry and kitchen are on the other side of this wall) but so worth it!  I can't wait to style the shelves and mantel.  But I need a couch and a few other things first.  :)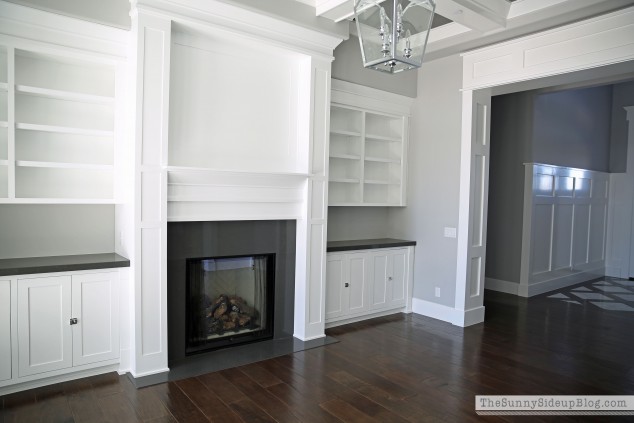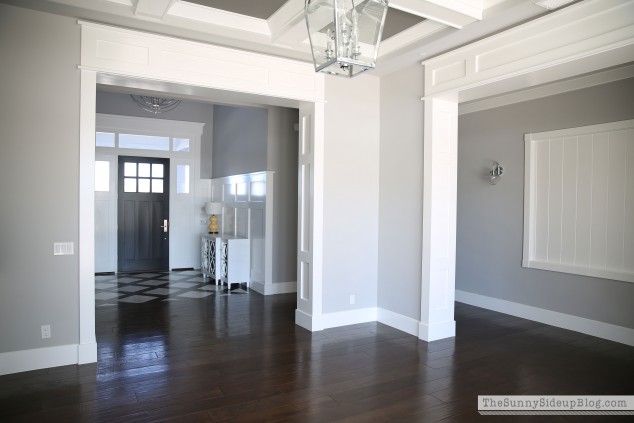 Touring you around the room with these pictures…


This opening was originally a wall but I told my architect to open it up because I didn't want a dark long hallway on the other side of this room.  Then I decided to add this fun planked inset in the wall as a background for a gallery wall or something fun.


This room is such a blank slate and I can't wait to decorate it this year!  I'm kind of a slow decorator.  Have you noticed?  :)  I like to take my time and last year I just wanted to focus on our family room and main living spaces.  I really like to buy things for my home that either mean something to me or that I'm just crazy in love with so my spaces are coming together s-l-o-w-l-y.  I'm ok with that.  My main goal when this house is finally furnished is for everything to just feel like US.  Even if that means it takes longer to get there.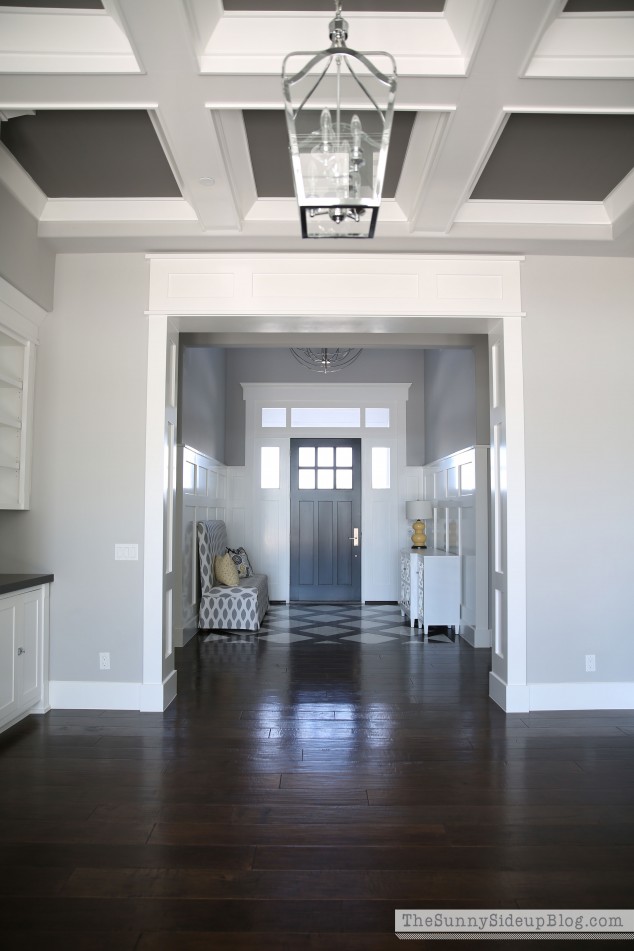 Sometimes my slow decorating drives my husband crazy.  He's ready to just get furniture already and be done with it!  Ha!  That's the difference between us.  I WANT the decorating to never end.  It's fun.  :)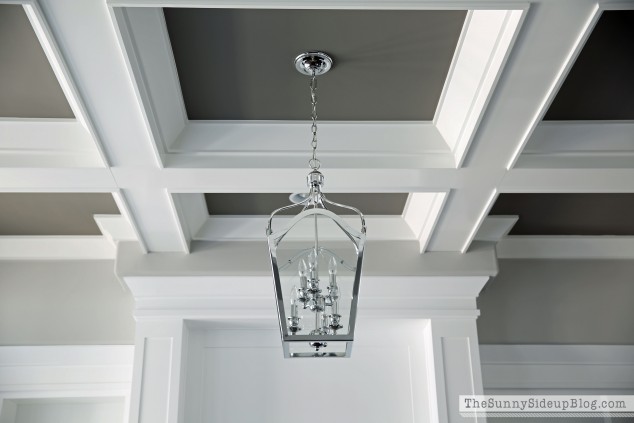 I called my decorator/friend and we had a meeting last week and I told her exactly what I'm envisioning for this space.  I hired her to help me move this process along!  My husband loves that about her.  I always know what I want but tend to take 3 weeks to make a final decision before I purchase anything.  :)  So I am currently hunting for couch options and she is hunting for chair/coffee table/rug options and hopefully I will be on my way to furnishing this room soon.  I will share all the details as they unfold of course!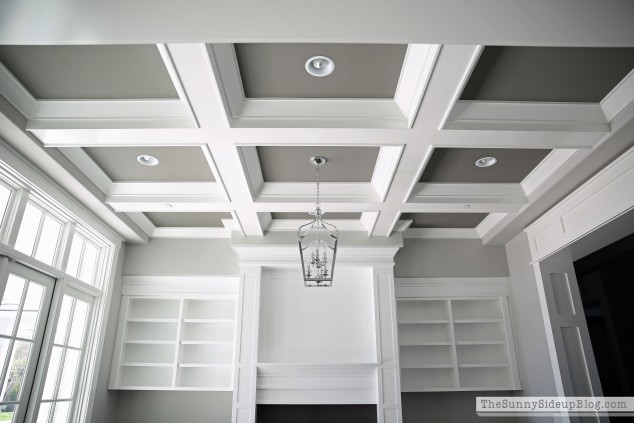 I know I didn't share any room details/sources for this room in this post so I will add that later!  I had a minute this morning and wanted to get this post up before my kids get home from school.   Ask any questions in the comments and I will update things tonight!  As soon as we are done with the kids' Valentine boxes and cards.  Oh my word.  You should see our craft room right now!  It looks like a red and pink tissue paper bomb went off.  An extremely messy bomb.
But a happy one.
:)
xoxo, Erin