**UPDATE:  If you are new here (hello!) you can see my latest kitchen decor post here!  And don't forget to sign up to be on my e-mail list so you don't miss a post! ;)
Happy Tuesday everyone!  Sorry for the delay in posting.  I seem to have a lot of beautiful distractions in my life lately.  They are the very best kind of distractions, but distractions none the less.  :)
I've added some touches of Fall to the kitchen!
Simple groupings that are making things feel cozy.  That's the word that pops in my head when I think of Fall.  Cozy.
I picked up a few plants and so far they are still alive!  Going on two weeks so this is a new record for me.  Feeling good about that!  I put the larger plant in a wooden crate.
And then placed a mini white pumpkin next to it in one of my bowls.
You can't tell in these pictures, but that bay window has such a beautiful view out to the backyard.  It's one of my favorite spots in the house and the view makes doing dishes not quite as painful.  Nice to finally have some greenery on the inside as well!
I shopped around my house for a few things to place next to my new blue jars.  Baby breath is so inexpensive and adding a bit of it here and there added some Fallness to the kitchen.  Is Fallness a word?  Is to me now.  I'm adding it to my mental dictionary which is full of all sorts of "words" that my husband tells me aren't really words at all.
Except he's wrong.  :)
 Then added a couple more white pitchers in a tray on the counter.
My display cupboard?
 You guessed it.
Added a few white pumpkins there too.
Because why not?
Easy way to Fallify the cupboard.  Is Fallify a word?  It is now.  :)
Do you love how I photo bombed my own picture (far right)?
Here is a picture without the glass so you can see what's on display without me looming in the shadows.  Things are spread out a bit to accommodate for the cupboard doors.
I added a couple of pumpkins to some old candlesticks and a pitcher full of flowers for a centerpiece on my table.. but I didn't love it.
I've already changed it around.  And most likely will five more times before I find time to post about it again.  That's my decorating ADD coming out to play.  Did you know that you can have OCD and ADD at the same time?
True story.
I'm living proof.  :)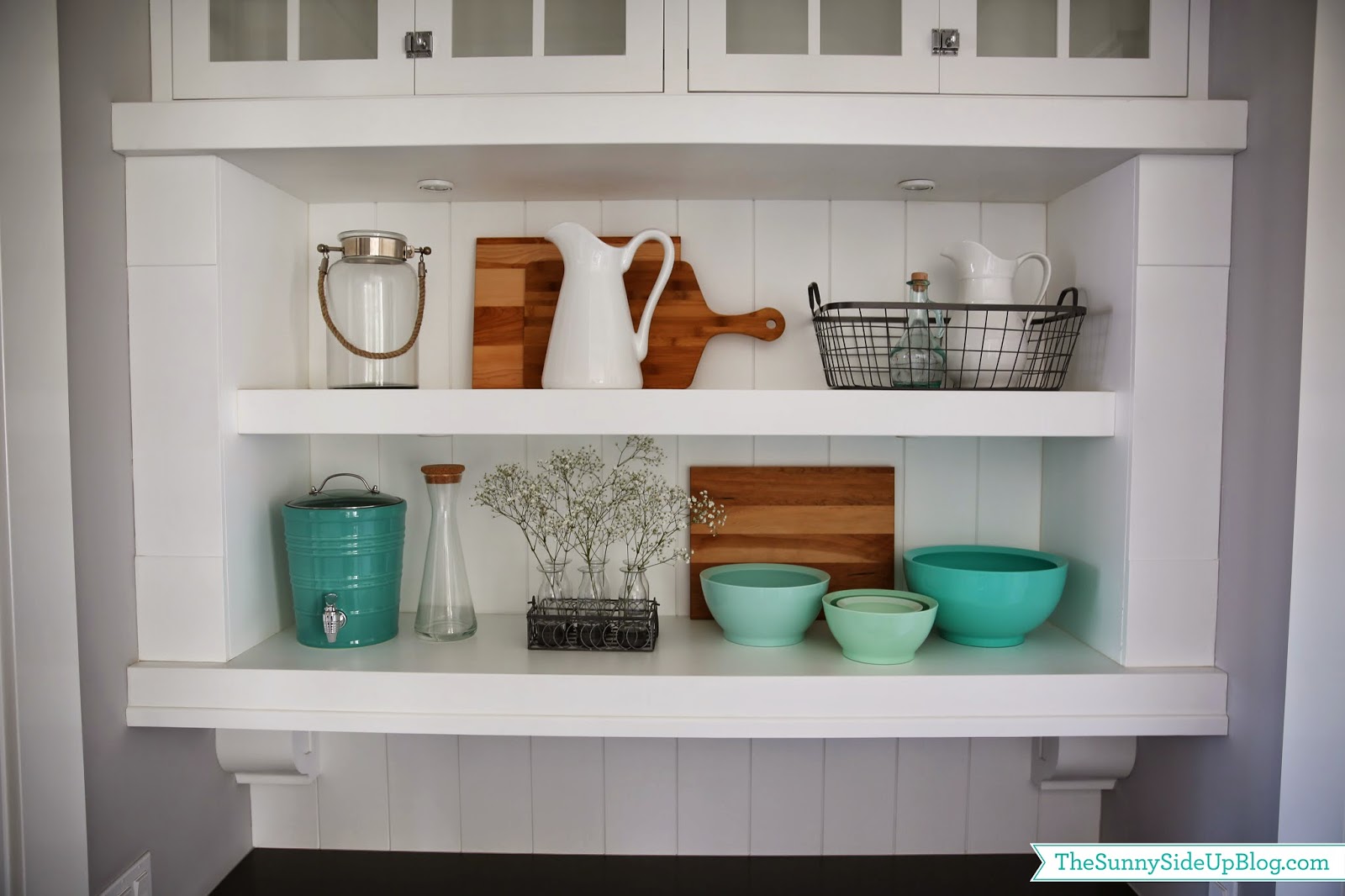 Added some baby breath to the butler's pantry too.
Fallifying the kitchen!
One white mini pumpkin and made up word at a time.
:)
xoxo, Erin