Ok.  Finally sharing the current state of our family room!  It still feels unfinished to me, but progress has been made.  I'm warning you all that I took way too many pictures of this space.  Then the indecisive side of me came out to play and couldn't decide which to post/not post so apologies in advance for the picture overload!
 Added a few pops of coral which instantly livened things up.
And I'm in LOVE with this new lamp and my "happy when skies are grey" sign I happened upon in Utah over the summer.
I have a few seasonal ideas for the right side of this console.  I love color but something about this room calls out for more neutral pieces to me.  Blues, greys, whites, woods, tans…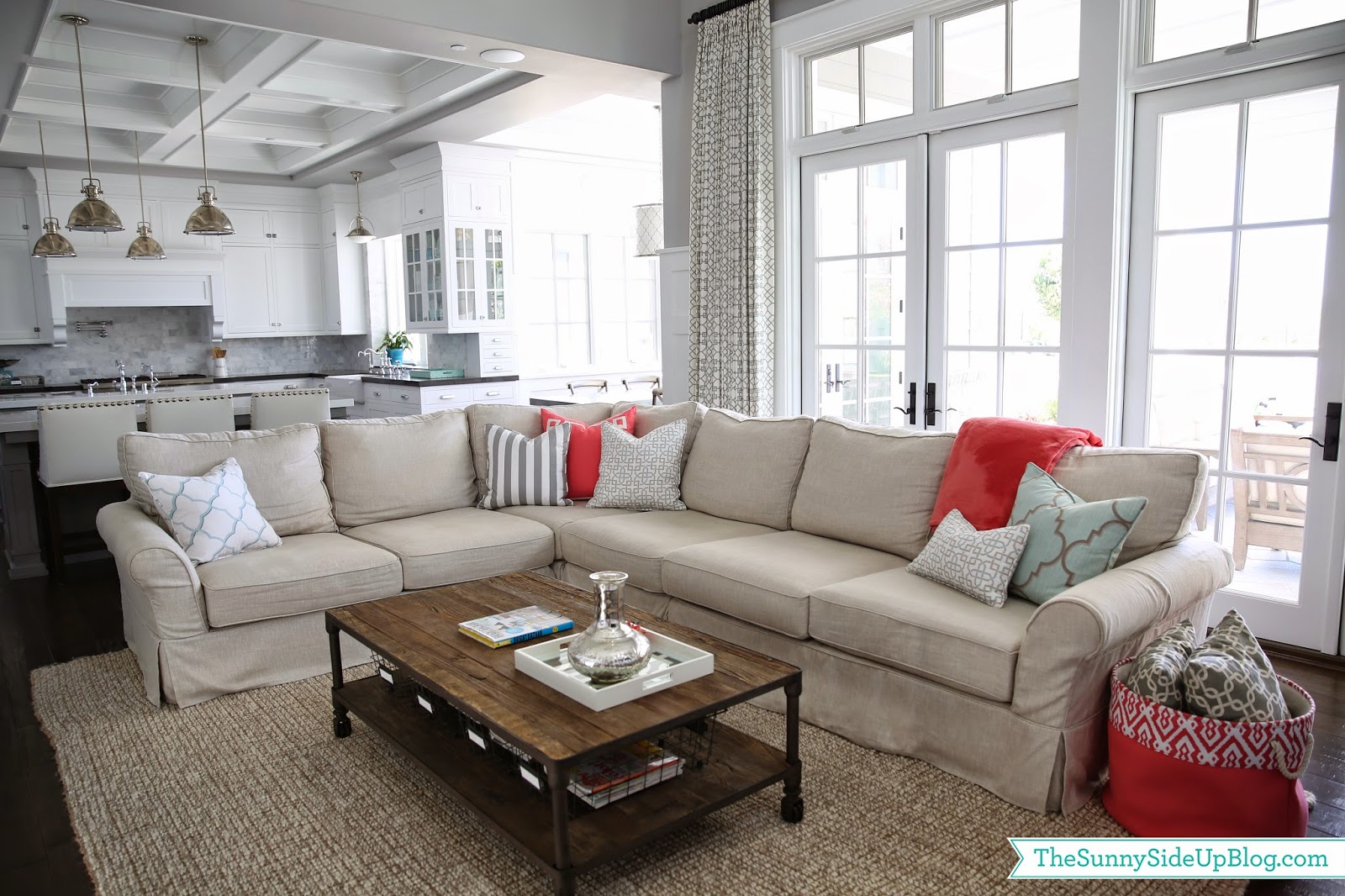 I'm still looking for a better couch throw.  The coral blanket on the right side of the couch in this picture is one we've had for a while and it's too thick.  My kids love to snuggle in it though so it will always be close by.
 Ellie decided to photo bomb this picture.  :)
I haven't styled the coffee table yet.
Just a start with this white tray, mercury vase and coral flower.  I'll put some pretty flowers/plant in the mercury vase at some point.  (Tray and flower are both from Target!)
K.  I have to say that these bookshelves are kind of driving me crazy!  I've had them styled so many different ways and I still don't love the way they look.
I think I just need larger/less items than I'm using.  From far back in the kitchen they look too cluttered to me.  But they are an improvement from previous attempts so they are good for now.  "Now" meaning  for the rest of this week of course.  :)
 I did add a few Fall touches with my all time favorite picture of my little pumpkin at the patch.
And these mercury pumpkins from Pottery Barn.  SO in love with the white/silver striped pumpkin!
Remember when I shared my all time favorite Fall quote?  I wanted to frame it so I was thinking about how to write it myself and then decided to hunt a little on-line first.  Lo and behold I found this chalkboard print on Etsy!  Too perfect!
Still loving the new floor lamp we scored for such a great deal over Labor Day.  I'd love to add a small end table next to this chair too at some point.  This is a great chair for reading (one of my girls is always in it with a book!) so it would be nice to have a place next to it to set things.
And we finally found a mirror for over our fireplace!
I love its clean lines and it's the perfect size, but what a pain to hang!
Quick blurry phone pic of my husband and our carpenter attempting to get this perfectly straight.  Took almost two hours!  Let's just say this baby isn't going anywhere for a while.  :)
Excited to add more accessories to my mantel at some point.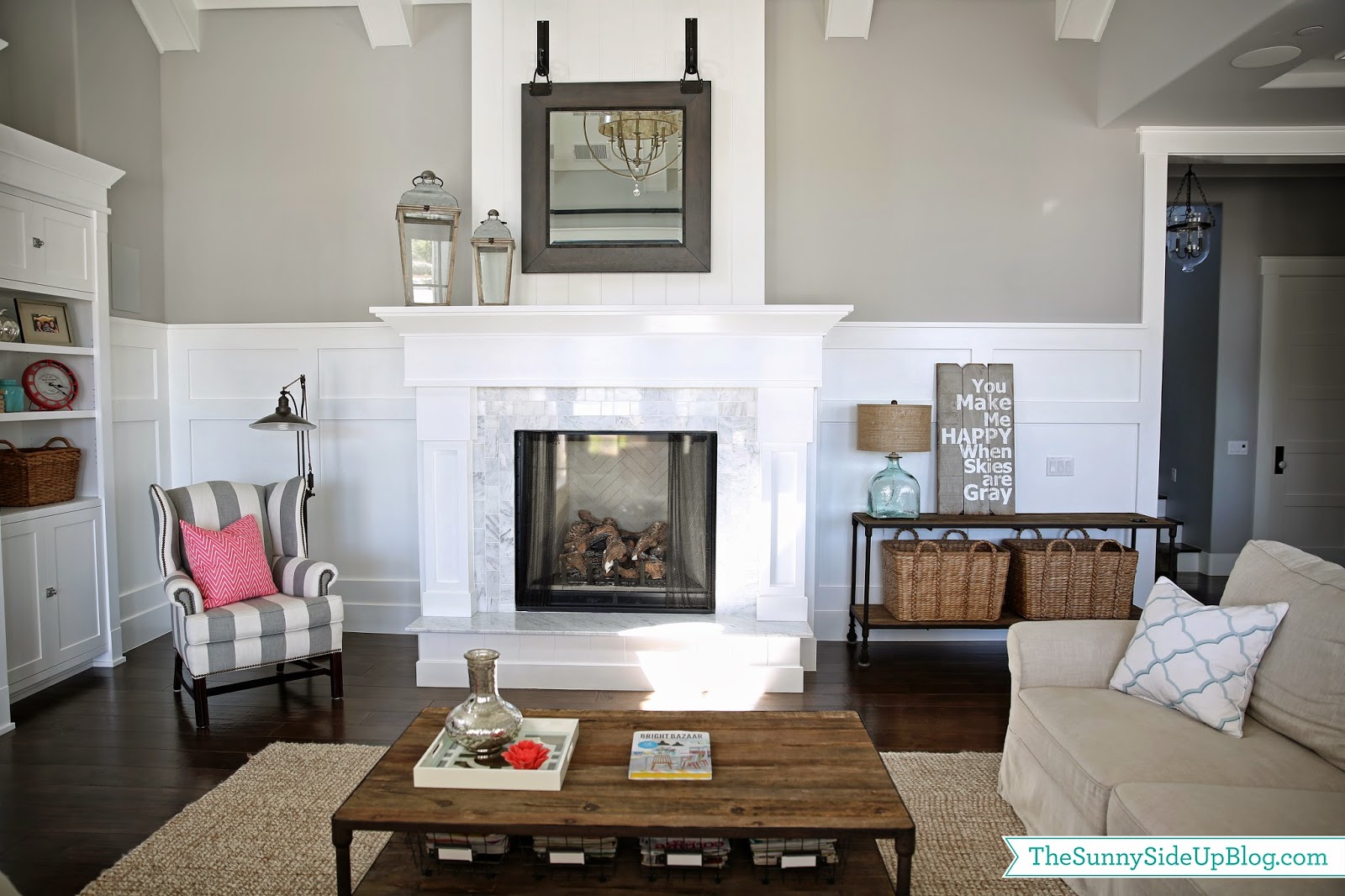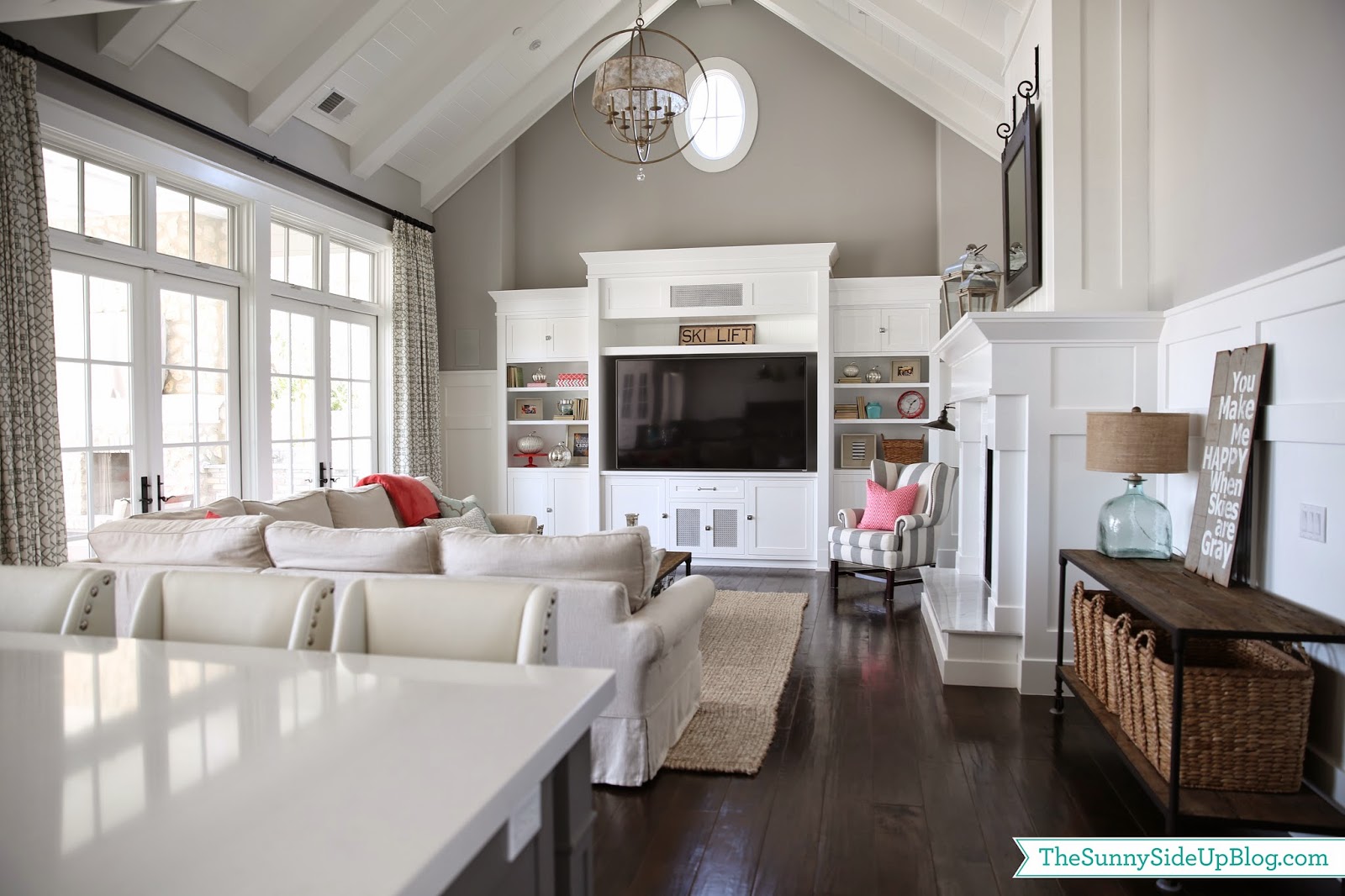 A quick view from the kitchen.  The ski lift sign above the TV is a new/old addition.  I've had it for a couple of years and always planned to use it with my Christmas decor in the new house.  A few weeks ago I remembered it and decided to try it above the TV and I really like it there!  I grew up snow skiing so it feels like a piece of home to me.  Plus we don't get snow in San Diego so I figured it brings a little "cold" into our lives around here.  :)
I haven't added anything new to the kitchen.  I'm too busy just trying to keep it clean!  But I plan on styling it better and maybe trying to bring some of the coral accents in this space as well.
I'm also planning to add more greenery and just haven't had time to do it.  Thinking a fiddle leaf fig plant might look good in that left corner?
Like I said, progress since I last shared pics!  Sorry if I just took up all of your free time that you didn't really have with that post.  :)  If you have a question about a certain item let me know and I'll answer in the comments.
Enjoy your day everyone!
xoxo, Erin