Well! The last few days have been eventful to say the least. We made a quick trip to Utah to finish up some house stuff (hooray for picking carpet and shutters! finish line is in sight!). And of course to hang with family.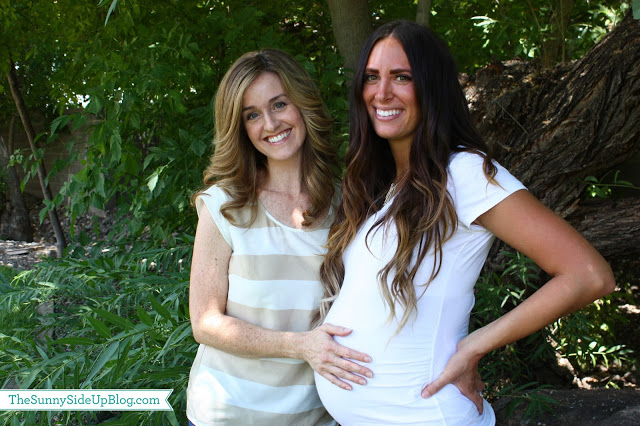 My cute SIL is pregnant (due in a month and so thoroughly enjoying being 8 months along in 115 degree heat). She had a dr. appointment soon after we arrived and came home and casually mentioned she was dilated to a 4. What!!? A 4! I told her to pack her hospital bags. She told me the doctor said it could still be a week or two. I told her to pack her hospital bags. I also told her to get busy working on a boys name because it was going to be a boy. (They decided not to find out and EVERYONE other than me thought it was going to be a girl.) Girl name was picked out. Nothing confirmed if it was a boy. Then I made her take some pictures to show off how beautiful she looked. (Hello – I resemble a watermelon at 8 months. This is how I look at about oh…. 4 months along. Where's the justice in that? Not fair tall people. Not fair at all. Wearing my tallest shoes in this pic!)
Dayna with her sweet Drew (Kole's partner in crime).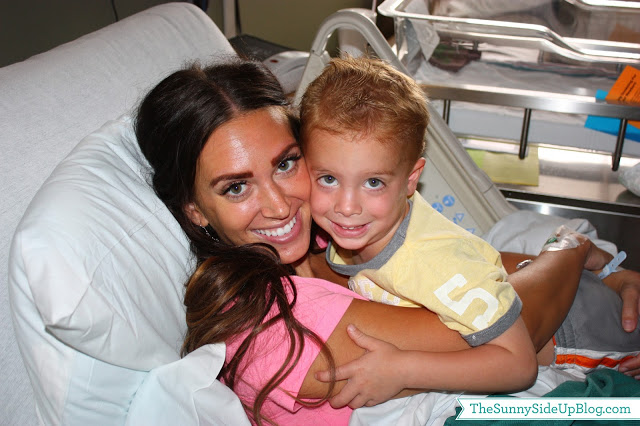 And sure enough, the very next day I was taking pictures of her and Drew again.
Only this time in the hospital.
When I went to meet my new baby nephew. And to say "told you so."
:)
Dayna's water broke in the middle of the night and it was so funny hearing them tell the story of scrambling to get out the door. Austin was like "you're kidding – you're bringing your earrings?" We were laughing. Rule #1 during pregnancy – pregnant women get to bring WHATEVER THEY WANT to the hospital. Men – don't question. Just do as you're told. Dayna looked amazing and I think the earrings added the perfect touch.
Plus I just don't think my brother has the right to question his wife when he showed up in a Broncos hat and a shirt with Yoda in pink sunglasses on it. (Real classy Austin.)
But the baby! Oh my word! He is absolutely perfect! Isn't he!? He weighed 7 lbs 8 oz and they named him Finn. When I walked in the hospital room and picked him up I was so overcome with love for the little guy I burst into tears. There is just something about a new baby that brings so much love and happiness. My eyes were still a bit red in this picture. I sent up a quick prayer of thanks that this happened while I was in town. I felt so lucky to get to be here when this sweet little angel came into the world.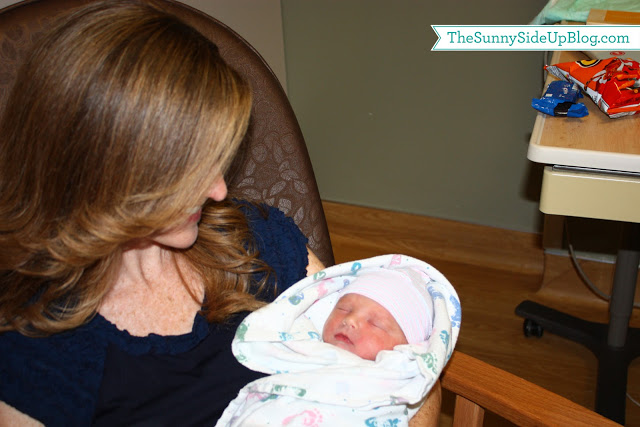 Here's a better picture of his face. He is so tiny and precious!
And look at that fuzzy little head! His sleepy smiles and facial expressions combined with the intoxicating smell of a newborn seriously made me want another one! Right up until I went to bed at night knowing that unlike my brother and SIL I would actually get some sleep.
Proud grandma. This makes grandchild lucky #7! And he broke the 3 girl 3 boy tie.
Now boys outnumber the girls.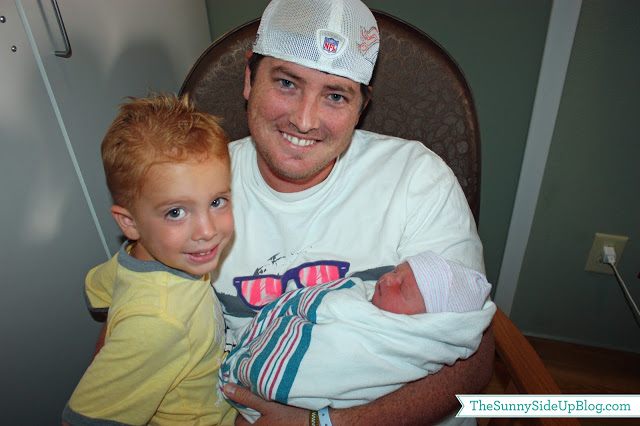 Proud daddy. Austin was the youngest with two older sisters so he spent a lot of time as a child forced to play dolls with us. His years of Cabbage Patch Kids and Rainbow Bright are about to pay off. :)
My favorite picture from the day. I love the look on Drew's face…
"Am I doing this right!?"
So adorable. Seeing Drew hold his new little brother made me tear up again.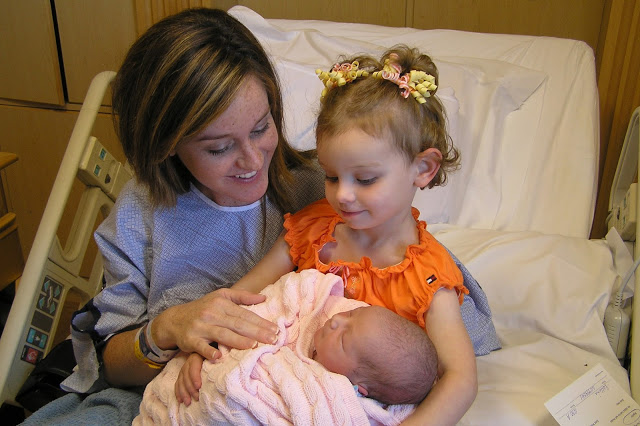 A few memories came flooding back all at once.
I love this little family so much. They are the greatest.
Congrats again Austin and Dayna! So happy for you both!
xoxo, Erin