Do you love to go through model homes as much as I do? Every time new home developments are going up I love to take a walk through the model homes. The models are always decked with so many beautiful moldings and furniture. Yes – they are totally staged and far from what "home" really looks like. And they are usually full of way too many silk plants and overly themed bedrooms, but still. So fun to get decorating ideas that you can tweak and apply in your real home. I went through some model homes recently and thought I'd share a few pretty pics I snapped with my IPhone.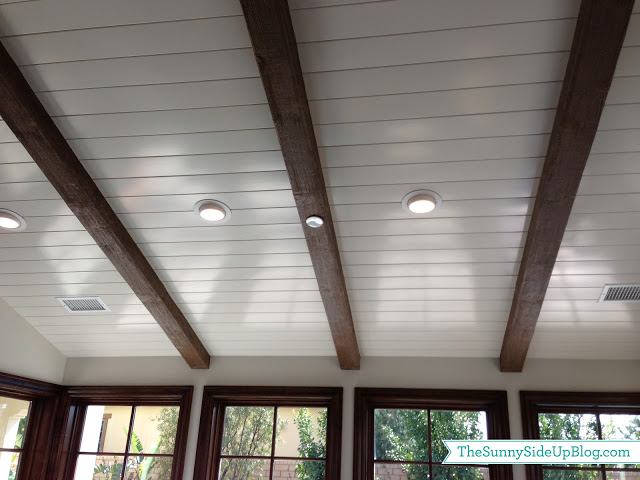 Loved this ceiling.
I also loved this display shelf. Minus one or two silk plants. :)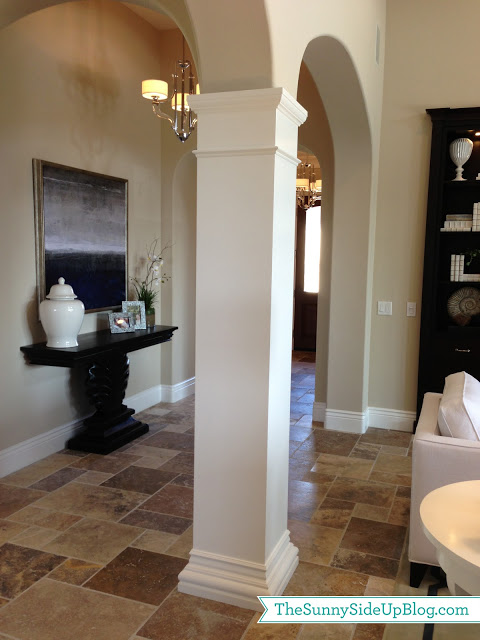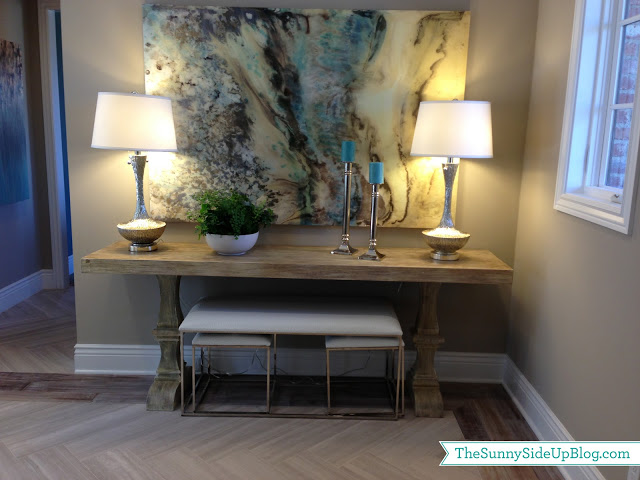 How cool are those floors!?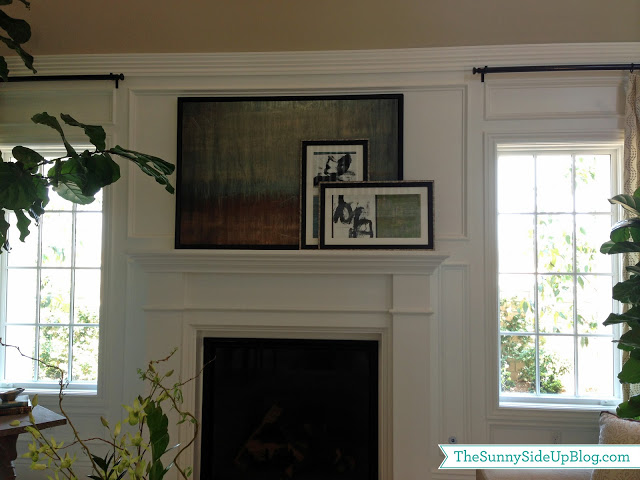 I thought this was a fun idea for a fireplace mantel – just a painting and two pictures on the right side. The painting isn't really speaking to me, but I love the simplicity of this.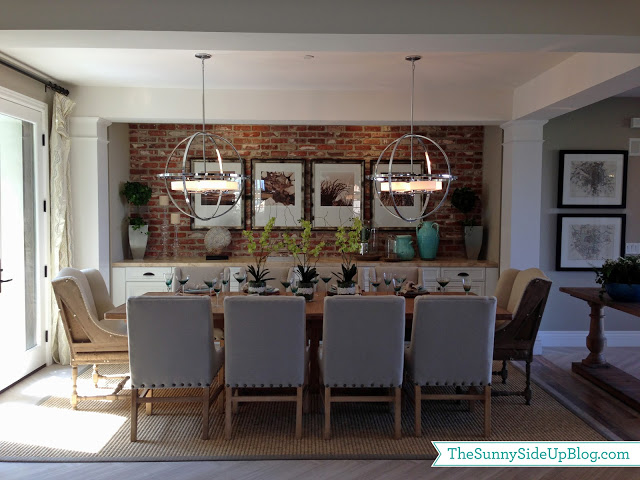 LOVE this formal dining room. Aren't those lights cool? It made me want to add a brick wall to mine.
But I chickened out. :) My sister has a brick wall in her formal dining room that she and her husband put up and it is gorgeous too.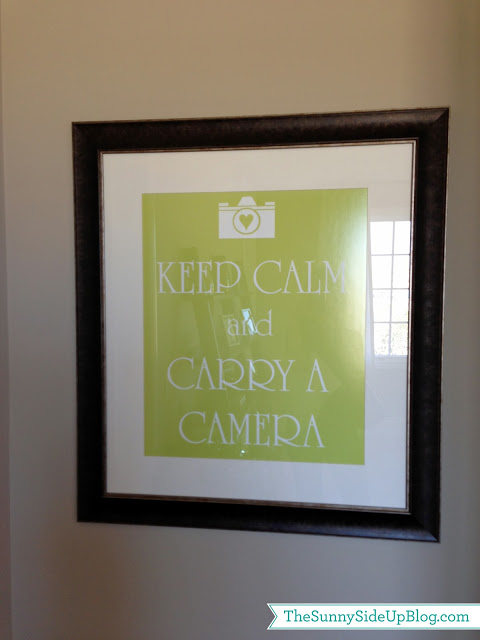 I do believe I will. :)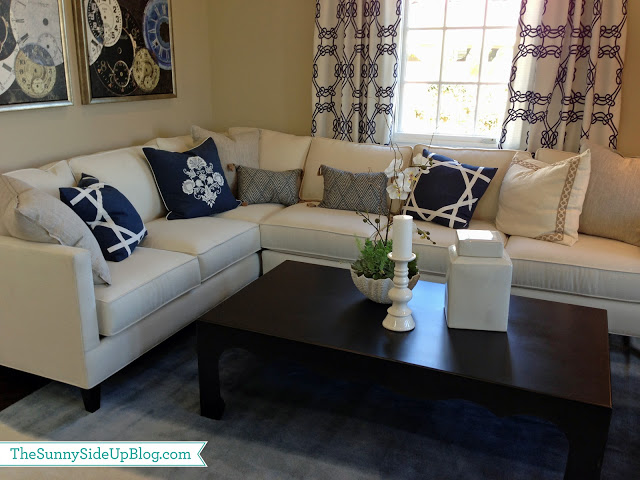 Navy is always fun.
I especially liked the print on these chairs.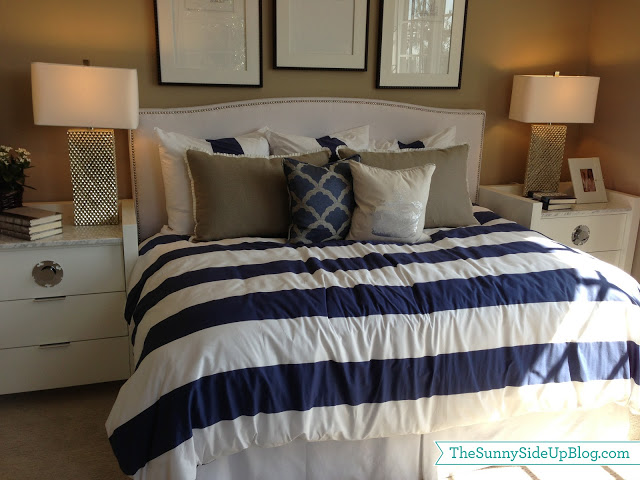 These stairs were gorgeous! Fun sitting area – you know – if you get tired half way up.
There's even a place for the dog to take a breather.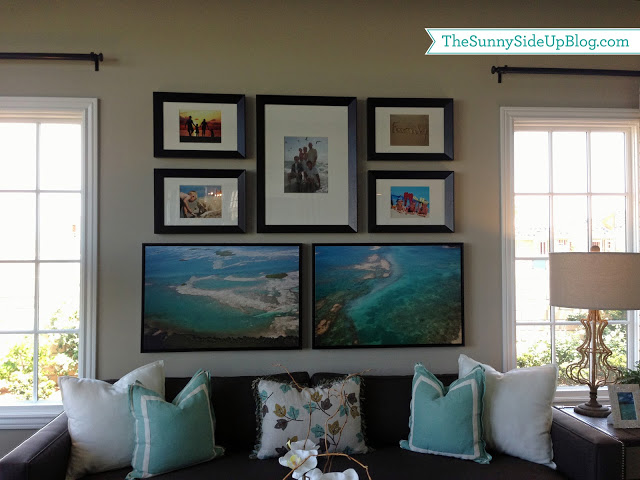 This is such an easy arrangement for a picture gallery. Saving it for future inspiration.
The right side of this media built-in was a bench seat. I don't know how much that would get used in our house – everyone wants to be facing the TV. :) But it sure looks pretty! Plus you all know I can't resist anything that has a few wide planks in the background.
Want to see the whole room? It was my favorite!
Ahhhhh. LOVE this! Love all of the crisp white with pretty blue accents and dark furniture. And I especially love that coffee table! It's huge! My kids would be camped all over that thing with every toy imaginable so fast my head would spin. It wouldn't be a coffee table in our house. It would be a fort and a boat and a barbie party pad. :)
Like I said, model homes may be a bit staged, unrealistic, and a little too perfect, but they are also full of fun inspiration! Thanks for taking the tour with me. :)
Happy Thursday friends!
xoxo, Erin