Well hello all! Sharing a few pics from the past few days. Kenny took the girls camping over the weekend and the girls were worried that I would feel lonely.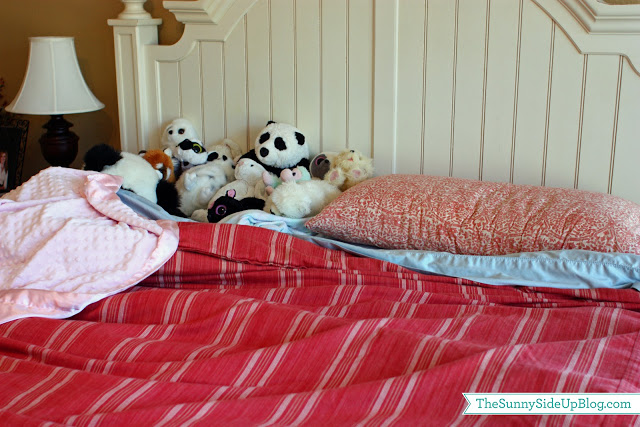 So they filled half of my bed with their "friends" to keep me company. Lucky me. :) They made me promise to look after them all and keep them in my bed so I slept among stuffed dogs, monkeys, and of course – several pandas.
Speaking of … when I saw this shirt at Gap I knew a certain someone had to have it. :)
Kole loves to have complete access to the girls stuff when they're gone. The monkey backpack works for school, but when he's home his real favorite is this old pink backpack of Ad's. I always smile when he puts it on and starts marching around the house. It's almost as big as he is.
He's hiding from me in this picture. I love it. :) This has got to be one of my favorite things about toddlers – when they close and cover their eyes and think you can't see them anymore. It just never gets old to me.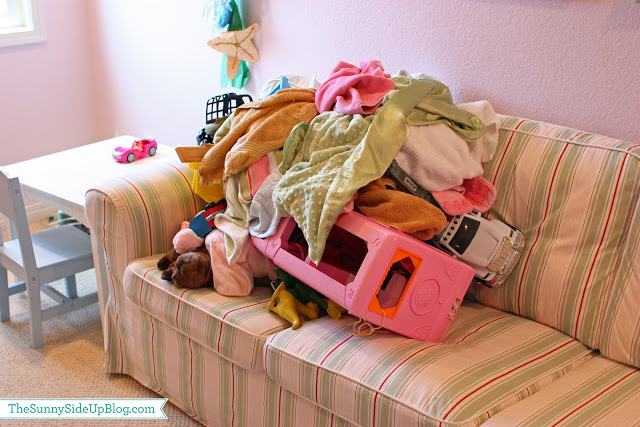 When Kole wasn't messing with the girls things he started a new little trick. Putting all of his toys (along with a few towels and blankets) into one huge pile on the playroom couch. I can only handle so many messes like this one before my skin begins to itch. :) So after a while I took him in the backyard for one of my favorite toddler activities. If you have a toddler, take notes…
Get a bucket and a paint brush. Add a little water to the bucket and teach your little one how to "paint" the wall. This is my favorite way to occupy a toddler in the summer time. They love it. And by the time the wall is finished the water has started drying so it's time to start again! I told him what a great painter he was and thank you so much for all of the help. He was in heaven and I was able to get the dishes done and watch him from the kitchen window. Score for both of us.
My girls used to do this for hours when they were little too. :)
Of course a little organizing was in order. The kids' bathroom cupboards were getting cluttered again.
So I cleaned them.
I wish I could show you some "after" pics of my scrapbook space but I'm afraid I went a bit crazy and only made the mess in that room even bigger. :) It always gets worse before it gets better, right!?
We met friends at the park tonight for dinner and I brought a fruit salad and my favorite fruit dip. I've shared this before, but thought I'd post it again in case anyone missed it. Because if you missed it and haven't tried it yet, well, I just think that's a true tragedy. It is GOOD.
8 oz. cream cheese (softened)
7 oz. jar of marshmallow creme
2 teaspoons of Maraschino Cherry juice
Perfect for summer BBQ's! Love this time of year.
K. That was a bit of a random post! Everything and nothing. Works for me.
:)
xoxo, Erin