A few exterior pics today!
We have officially gone from a yellow house (with a fabulous blue porta potty in the yard – adds a nice touch, don't you think?)…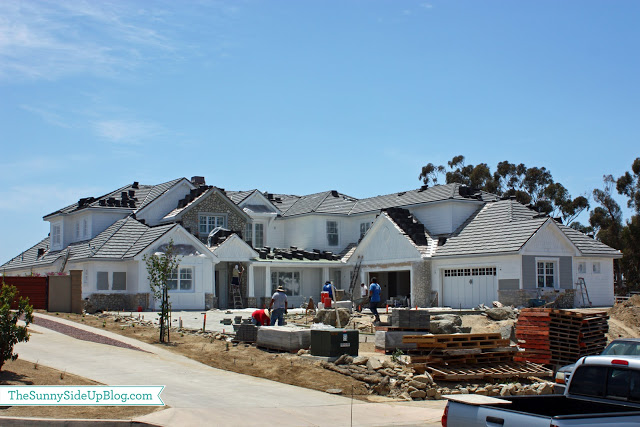 to a white house! Which is not the final destination! But one step closer! This is the primer color. And it is BRIGHT! I can't approach the house without sunglasses. And a hat. And I still squint. :) The windows and doors and rock are all taped off and covered in plastic. We are primed and ready for paint! In fact, the white trim was all painted today. Which is hard to tell because well. Everything is white. :)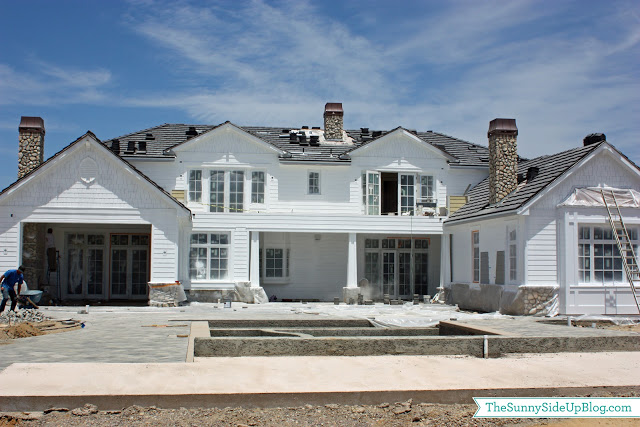 Back of the house.
Another yellow…
to white.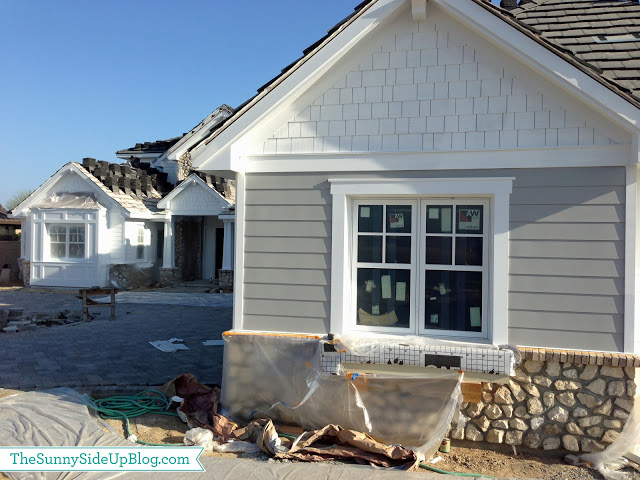 This is the shade of grey we are leaning towards right now. My painter put it up around this window so that we could see what it will look like with the white we chose for the trim. I really want the black roof to be a contrast so I've been leaning towards lighter colors. Man. Exterior paint has been so hard! In the beginning I was trying to match the stone, but whenever I'd try out a warmer grey it would look too green or too brown. Plus the colors look different during different parts of the day (in the shade/sun) and on different parts of the house. Our painter is putting up this color one shade darker tomorrow and then I need to just make a final decision. They will start painting as soon as I say GO. I've been so indecisive about color! Kenny told me today that it's amazing I was ever able to make the decision to marry him. I quickly answered that decision was a breeze because it wasn't nearly as important as big decisions. Like what color I should paint this house. ;)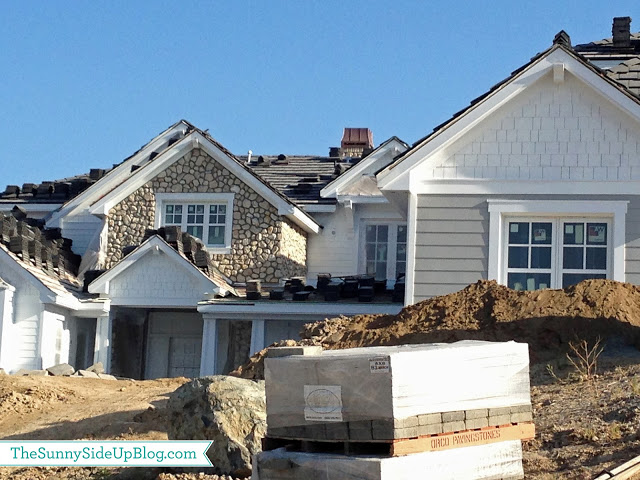 The above pic I snapped with my IPhone so it's a bit grainy, but it's a good shot of the paint near the stone. Both of the windows in this picture will have black shutters on them so I'm trying to envision the whole picture once landscaping and all of the finish details are done to decide if this is the right shade of grey or not. That has been the tricky part with this whole building process. Envisioning the end result! I'm great at deciding if I like or don't like something once it has already been done. :)
The other thing I'm considering is all of the pavers we have in the front and back of the house. They are a cool grey closer to the paint we're leaning towards. The pavers are grey (cool) and the stone is a bit more brown (warm) with grey mortar. Fingers crossed it all comes together.
So! That is my decision at this point in the game! By this time tomorrow it will be made and done and my house will be well on its way to its final color!
Hopefully.
:)
xoxo, Erin