Before I started this process magazines were piling high on every surface!
I bought this magazine holder from Ballards to keep them all in one place. I wanted them in a central location that was easy to get to since I was referring to certain pictures so often. Another alternative is to just buy a big basket to hold all of your magazines.
What to do with all of the pages you are tearing out of magazines? I went to my happy place (Martha Stewart supply section of Staples) and picked up a binder and a large accordion file.
Then I sorted all of my inspiration pics into piles…
labeled each room…
and filed away!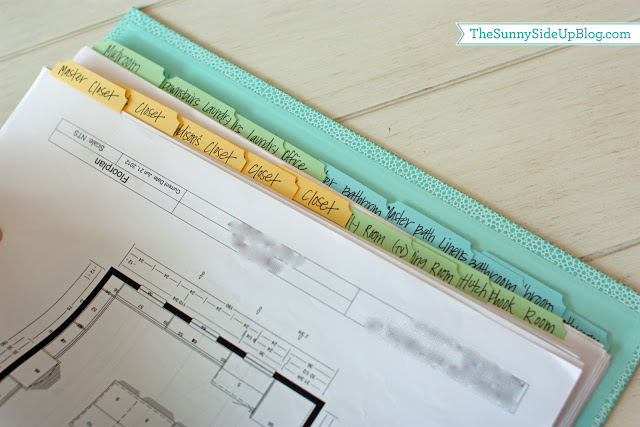 I bought tabs and organized all of my cabinet and built-in sketches by room.
Then I labeled a spot in my time management notepad "new house" so that I have a place to jot down notes and to-do's as they pop up.
We don't have drawers in our current house for files so I just bought a simple crate to organize random house related papers.
Pick up some file folders. Fun colors are a must.
Then organize away! I initially started this file box for papers for the kids but lately have added several folders for new house forms as well.
I have our house and landscaping plans in big baskets hidden behind the living room couch. Find a location that is easily accessible because you will be pulling these out ten times a day!
Next to our plans I have everything else house related. Files, binder for sketches, plans, paint swatches, etc. Oh. And throw in some diapers and wipes for good measure. :)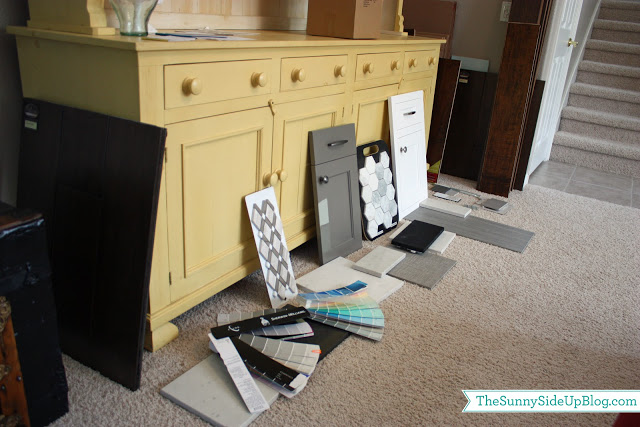 As far as larger samples go, a closet or specific place to house them all would be lovely. We don't have room for them. Or for much of anything which is why we are building. :)
For months I had samples all over my living room floor.
Now that I've picked out all of our tile and counter tops I've moved most of our samples to the garage.
A few other things that might help:
5) Keep a bag in your car with a tape measure, a notepad and pen, and a pair of shoes that you don't care about for hanging out at the job site. Every time I visit our new house I have these things handy!
6) organize e-mail folders in your inbox for specific house related e-mails.
I have separate folders titled:
– cabinets (all of our cabinet sketches and e-mails regarding cabinets)
– design sketches (all of our random design sketches)
– yard (every e-mail about landscaping that I need to save)
– finish work (e-mails on finish work)
– inspiration pictures (e-mails including pictures I've sent)
– finances (e-mails pertaining to finances) — although I don't have much in this folder. Unfortunately I can't give you a lot of advice on how to organize the finance component of building because that is Kenny's job. He has spreadsheets galore going on to keep track of it all. While I love the design aspect of this project, the finances are one area I am more than happy to turn over to him!
Like I said before, this beast has been a hard one to stay on top of. :) I hope a few of the things that have helped me stay organized throughout this process helps some of you as well!
xoxo, Erin