Isn't this the best quote? I stumbled on it a few weeks ago and I haven't been able to stop thinking about it since. I was especially thinking about it today because I had so many things I needed to get done and instead found myself on the floor for an hour making letters out of train tracks. :) It's so easy as a stay at home mom to feel like you are just spinning your wheels. Not being productive. Not getting anything done. Like your day consists of snack time and play time and meal time and park time. Because most days it does. Especially with a baby or toddler underfoot – phone calls are hard to make, e-mails are impossible to send, and you consider yourself extremely lucky if you can spend more than 5 minutes getting ready. Sometimes children can feel like distractions from things we "should" be accomplishing. But this beautiful quote reminds us that is not the case. Children are not the distraction, everything else is a distraction from them.
One way that I have tried to focus on spending quality time with my children while feeling like I am getting something done as well is to involve them in every day housework.

A few pics of Kole "helping" with the laundry today. :) My little assistant helps me sort the piles and put the clothes in the washer – all leading up to his favorite part – pushing the start button.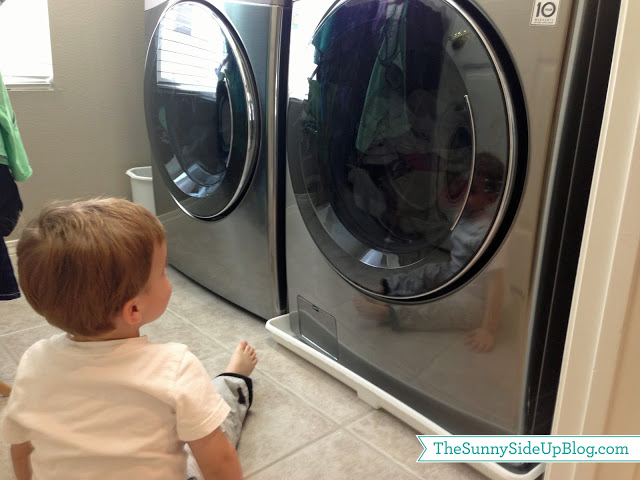 Sitting back to admire his work.
I know that one day in the not so distant future I will be able to make a phone call. And answer an e-mail. And spend more than 5 minutes getting ready.
And I am going to miss my little "distraction" terribly.
xoxo, Erin