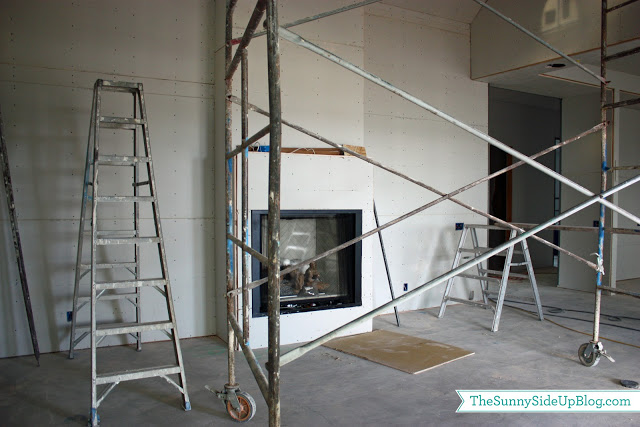 A few pics I took last week of the drywall going up in my family room. I love this room! But I'm afraid my fireplace mantel is too high. It's way taller than I am. Which isn't saying much since I'm only 5'4. Ok. 5'3 1/2. But still. I will have to stand on a chair to decorate it. Oh well. Everyone helping me insists it needs to be that high because of the tall ceiling. And so that there is room for the surround and molding. So I am rolling with it. Or trying to. :) Too late to change it now! I am in a place where I have to stop looking back and just keep moving forward. So I take that all back. My mantel is the perfect height!
Just keep swimming… just keep swimming…
:)
The drywall is all up and they started mudding it today. I can't believe how different everything feels. I'm so excited to be in this stage of the process.
A bit of door news… because doors have been a priority this week.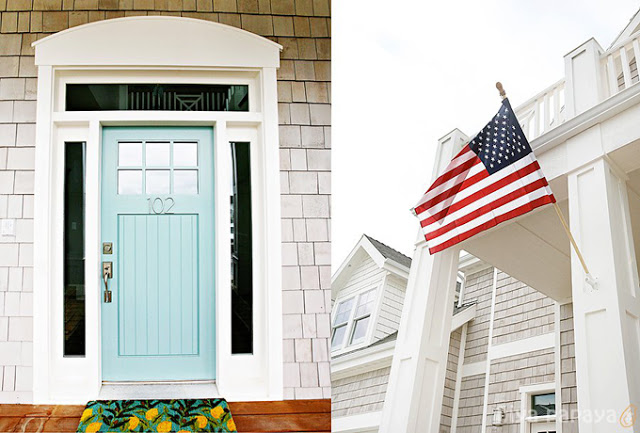 I love this front door shown on House of Turquoise so I used this picture as a starting point in the design phase for my front door.
I changed the top pediment to a straight panel instead of an arched one to match my windows. Then I added lines in the top transoms. I wanted the side transoms to be a little more private – you know – for when I peek through the door to see if I dare answer it in my pajamas :) – so I only kept the top half glass. I love the planks on the inspiration door, but decided to change them to inset panels and a shelf so that it will tie in with my dutch door. And done.
It was delivered today! :)
Happy Wednesday everyone!
xoxo, Erin