Just popping in quickly to share a few recent house pics. Sorry this week is house heavy on the blog. It is all consuming at this stage!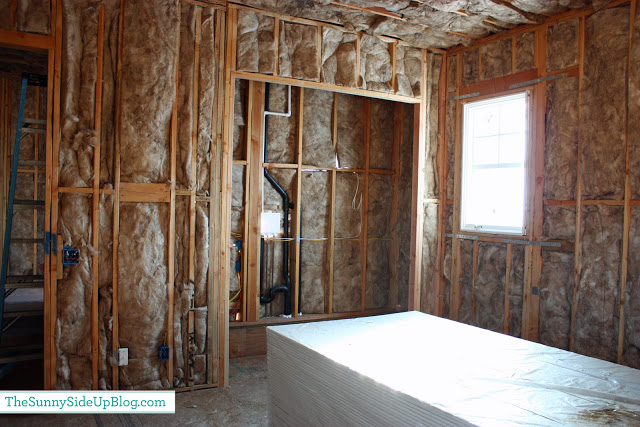 Two weeks ago everything was insulated. Above is a picture of the playroom and the playroom closet. A happy place for my kids to play and for me to organize all of their toys. :)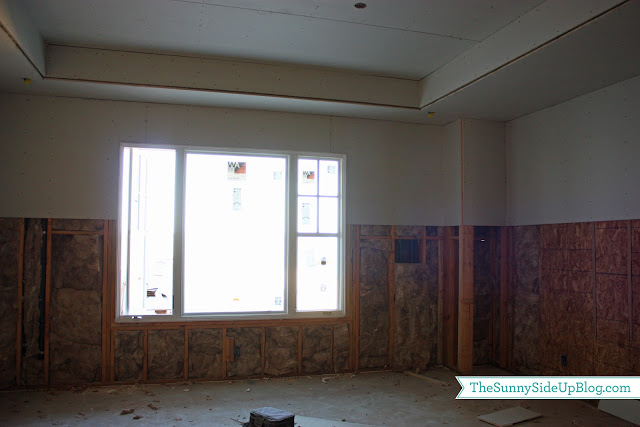 Soon after insulation a huge crew moved in and started drywall.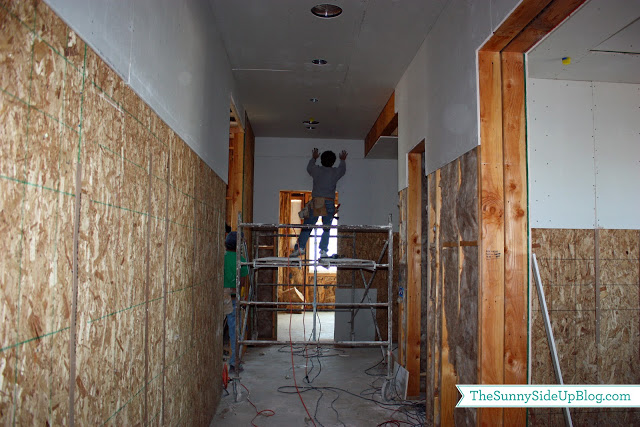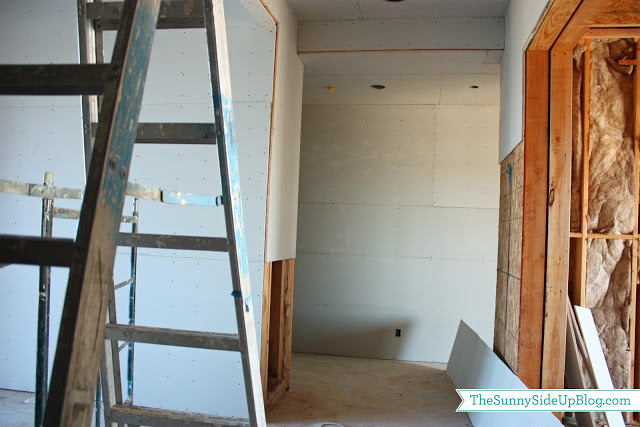 The drywall will be completely done by Friday and then another inspection. Just a few weeks and we will start installing bathroom tile and cabinets! We will also start the finish work! Then my house pictures will be a bit more fun to look at. :)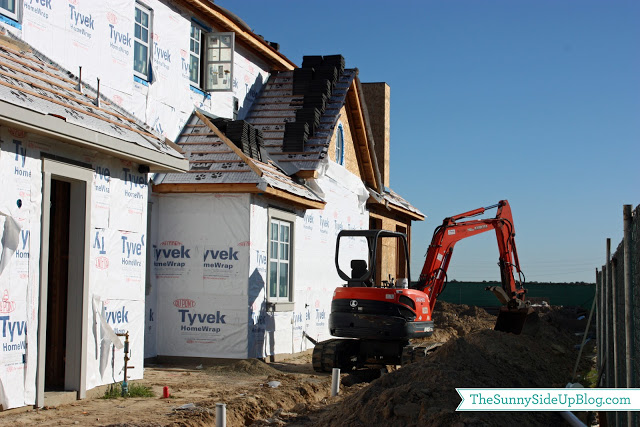 The outside of the house was completely wrapped and there are holes and tunnels all over the back and side yard for pool and landscaping.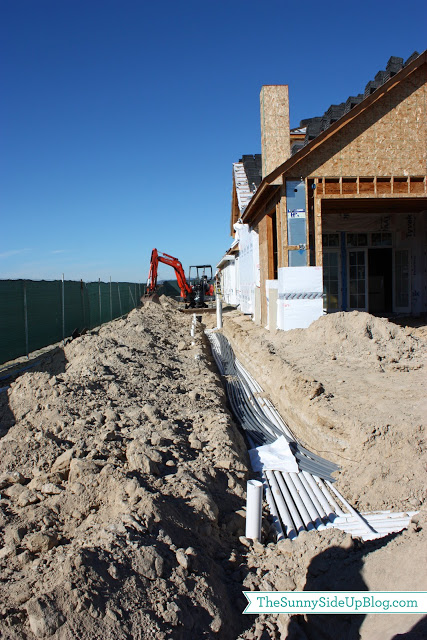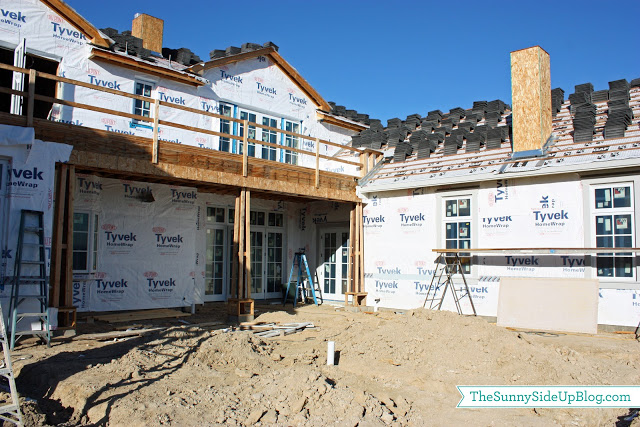 My porch pillars are framed! In the back…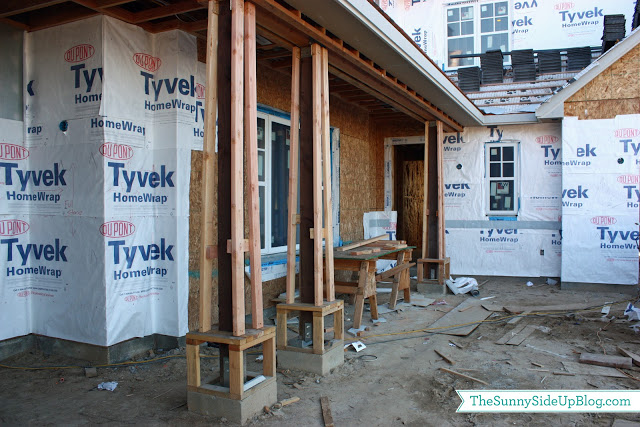 and in the front.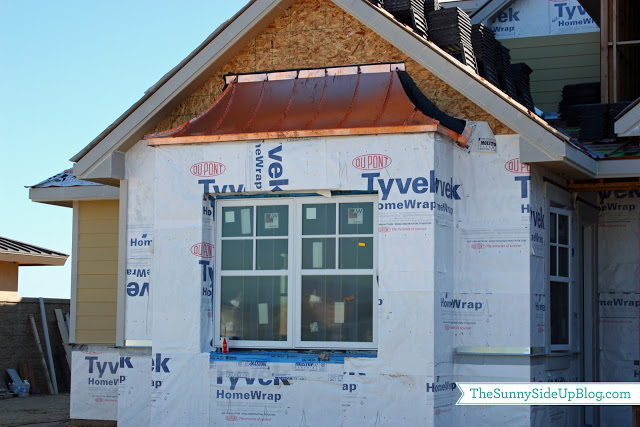 And one of my copper roofs is installed. Fun! Because of our coastal weather the copper won't take long to patina so it will only be this shiny and bright for 3-4 months.
At some point it will be a nice blackish color.
At least that's what I hope it does. :)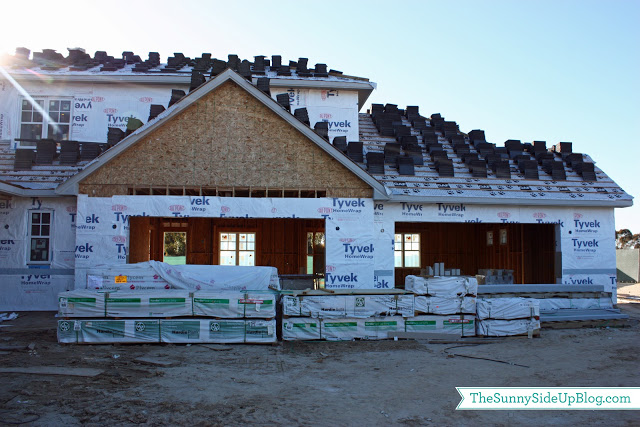 Then sheets of siding were brought in…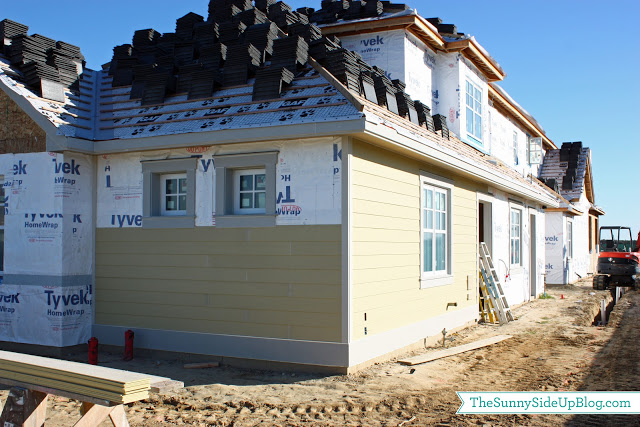 and installed! YEA! We have siding! And I know what you're thinking – a yellow house? Not so much. Just the color of the siding before it's primed and painted. The siding will be a nice grey at some point with lots of white trim.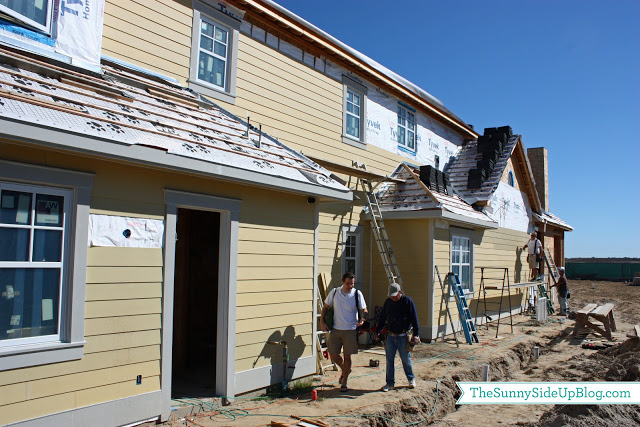 The sides of the house are almost finished and they are moving around to the front and back tomorrow.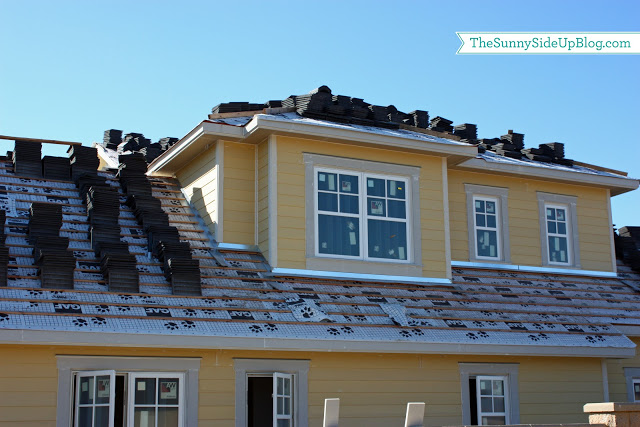 Kole's pop out window. :) The siding is moving fast. It amazes me how much is done each day. I love to pop in to check on the progress.
And to shoot the breeze with these two. OK. I know I keep saying how much I love hanging out with everyone working on the house and how amazing everyone has been but I have to say it one more time. My siding guys are THE BEST. So friendly. And hilarious! I knew the second I met them we were going to get along famously. They are so happy and funny. They sing. And tell stories. And we ponder and discuss life's mysteries. And then I ohh and ahh at their work. And offer to bring them food. But they never let me. Because they are so nice and hard working. And funny. Did I mention they are so funny!? They really are.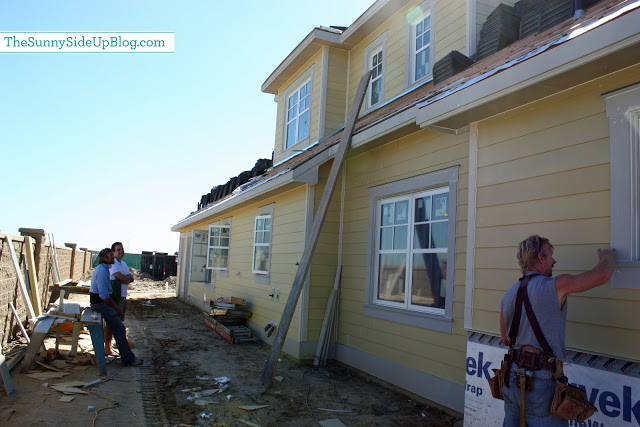 K – so I have a question for all of you and I would really love and appreciate your feedback!
Should I keep the house yellow?
No. I'm kidding. :)
Here's the real question.
I've mentioned before a time or twenty that I don't have as much time for my blog right now.
When the house is built (and new house stuff isn't eating away so much of my evenings) I will be able to blog more, but for the next 5-6 months I have been debating a few options.
I will still blog as much as I can, but on days that I don't have time to post which would you prefer?
OPTION 1
–
a guest post
– I receive emails often with people offering to guest post on my blog. I've been hesitant to start guest posting because personally when I visit a person's blog I want to hear from that person, not someone else. But I'm wondering what your take is on that? Do you enjoy guest posts? (Obviously if I decided to do this it would just be once in a while and I would be selective and only post things I think you would enjoy).
OPTION 2
–
a re-run
– it is so easy to re-post something I've posted before. Are the re-runs fun or not so much?
and
OPTION 3
–
just post nothing
. Crickets anyone?? :)
Just curious what your opinion is. Thanks so much for taking a minute to give me your two cents! I always love to hear from the incredibly sweet and intelligent people reading my blog. Am I buttering you all up in hopes to hear from you? You bet I am. :)
Happy Thursday friends.
xoxo, Erin