Wow. Christmas is in less than a week! Are you ready? I'm not. No matter how hard I try to avoid scrambling during the last week of December, I'm always scrambling during the last week of December. Oh well. I guess it wouldn't be Christmas without a bit of that "harried/stressed gotta find a way to fit everything in" feeling. :) Because this has been an especially busy December for us with added new house meetings I have had to work really hard to stay organized and on top of things. Usually I use my time management binder each day to help me organize my life.
(Time management binder post here.)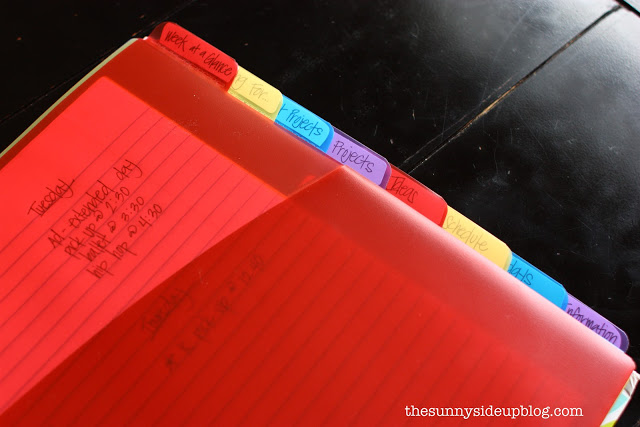 I still love my binder. It is where I completely DUMP my brain each day. But once the month of December hit I could tell I needed to simplify things. So I made a drastic change. My Time Management Binder became My Time Management Notepad. Ok. Maybe not so drastic after all. :) But I've been surprised at how much better this notepad has served my needs this month.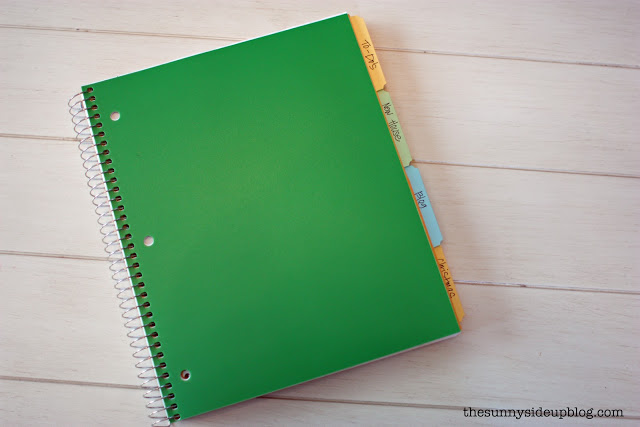 I don't have time for any of the "extra" stuff right now (home projects, scrapbooking, etc.) so I kept things simple by buying a 5 subject notepad and dividing it into the four main areas I need to focus on each day.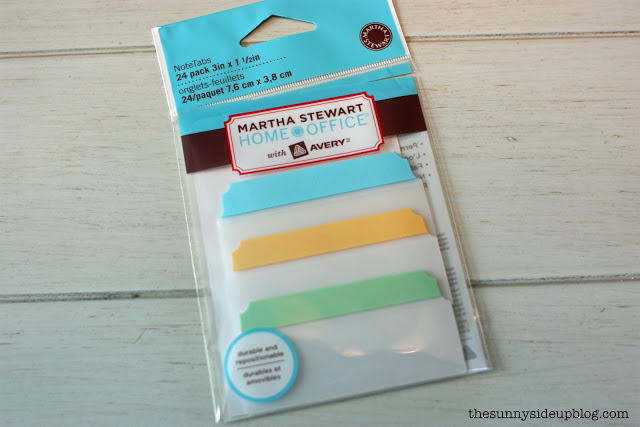 I placed my favorite Martha Stewart home office dividers on each of the notepad folders…
and labeled them TO-DO's, NEW HOUSE, BLOG, CHRISTMAS. Obviously these tabs would be different for everyone, but the idea is to break your to-do's down into 3 or 4 basic categories. What I like about the notepad vs. the binder is that #1 – there aren't as many categories (like I said, I needed to simplify) #2 – there is more paper and with the spiral binding it's easier to use to take notes. I am taking a lot of notes these days. Like the binder, there is a pocket folder for each section to hold loose papers.
Here is how I've organized
the Christmas section
of my notepad this year. And yes, I realize that while my notepad has helped
me
organize for Christmas, I wasn't organized enough to get this post done at the beginning of the month to help
you
! (SO SORRY!) I'm hoping this gives you some ideas for next December. Never to early to start planning ahead. :)
I used the pocket to hold random magazine clippings of toy ideas for the kids. I've also used it to hold receipts. I hang on to all of my Christmas shopping receipts so that if we need to do an exchange/return after the holiday we have the receipt ready to go. It's nice to have them all in one place.
On the paper inside the Christmas section I've written LOTS of things:
– Friends to add to our Christmas card list this year and addresses that have changed.
– What I've bought for each of the kids and where I have it stashed. Without this I would totally forget where I have things hidden. I've had to get so creative because we are tight on space and my girls are SNEAKY.
– A list of extended family. Gift ideas and what I've already bought each of them. **You can see why I couldn't share these pages on my blog. :)
– A list of friends/neighbors I am giving gifts to and what I'm giving each of them. I check each person off after their gift has been delivered.
– Grocery list for Christmas Eve/Day dinner. My mom is coming to our house this year for Christmas so we will have real meals! YEA!
– Random Christmas to-do's including traditions/activities I want to for sure remember to do with my kids (make our Pretzel Hugs, visit Christmas Card Lane, etc.)
The Christmas section of this binder has been so helpful for me this month. Each year after December I write down a list of things I want to do better/change for next year and I'll include that in this section too. That way next year I can glance through my notes (hopefully early Fall) and get a jump start on a few things. So that next year will be the year I don't have that "harried/stressed gotta find a way to fit everything in" feeling. :)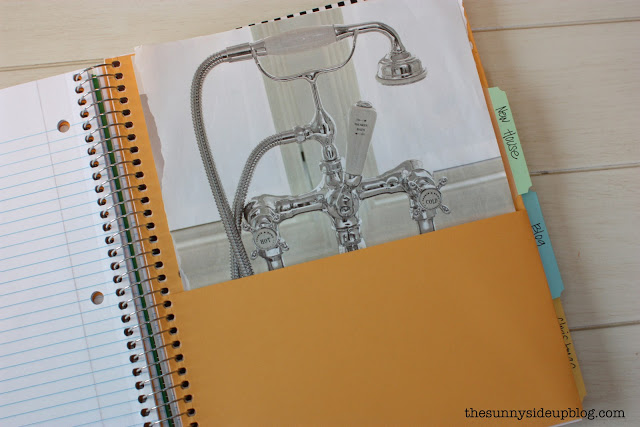 The New House section has also been a huge help for me this month. I keep random magazine clippings and notes that I need in the folder. Plus I love having the notebook to take with me to the house. It's so easy to use for jotting down notes.
These are a few things I've been working on this week. See why my blog posting has slowed down a bit? :) Every day there are decisions that need to be made which always involve research and a lot of phone calls and e-mails. Having it all in front of me in my notepad has really helped me stay on top of things. Nothing makes me happier than pulling out a page of house notes and tossing it knowing those decisions are behind me! I think this system would work great if you are doing any re-modeling or re-decorating too.
The BLOG section of my notebook is where I jot down ideas for blog posts and a sad attempt of a posting schedule that I never really follow. :)
The TO-DO section in the front of my notebook is for all of those random day to day things that come up. It's my go to list each day to keep my schedule straight. I try to only write down things I HAVE to get done that day. There are so many things I'd love to do, but writing too many things down always overwhelms me and then I never get that satisfying feeling of checking everything off of my list. One of my best time management tips if you are struggling to stay on top of your life is to determine what your priorities are and be ruthless about trimming unnecessary stuff. I have had a hard lesson in that this year! Along with that, only write down your must do's each day. Be specific and realistic. If you keep your list short you are more likely to actually accomplish it. If there's extra time you can always do more. Ok. Maybe that was more than one time management tip. You know how I feel about this topic. :)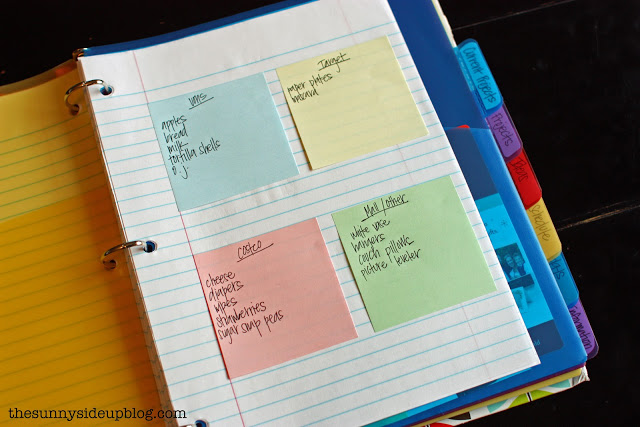 The only part of my binder that was lacking was my section to keep sticky notes for my "to-buy" lists.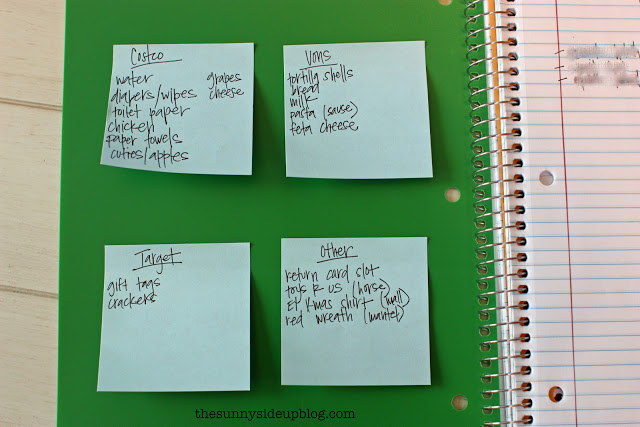 So I added them on the inside of the front cover of my notebook. When I'm running to Target I grab the Target list and toss it in my purse. My love affair with sticky notes lives on.
So as you can see, this is very similar to my binder. I just took out the extra stuff that wasn't a priority and added things that are a priority in my life right now. This would obviously look different for each of you, but the idea is the same. Having a place to dump your brain and organize your thoughts makes a world of difference.
Now if I could just get my handy little notepad to wrap all of my Christmas presents for me….
:)
xoxo, Erin