Happy Friday everyone!  I only have a minute to post today so I thought I'd share a few recent i phone pics.
We went to the park one afternoon last week and were the only ones there.  Love that!
My kids had a ball.
 Especially this one.
I love this picture because it appears as though Kole actually sat and posed for me.  Um no.  He was running all around the fountain, sat and glanced up for 1.1 seconds and I snapped a picture.
I've gotten extremely speedy thanks to this boy.  And if you think my camera skills are fast, you should see me chase this kid down the grocery isles.  Lightning.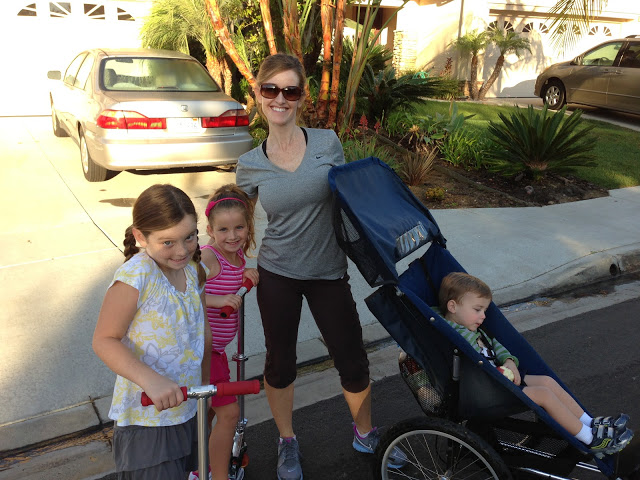 The fam on "walk to school day."  Although Kenny and I were the only ones walking since the girls decided to ride their scooters.  They were so excited to ride all the way to school.  Right up until we started going up all of the big hills and they realized just how long of a hike it was.  Then they wore out and decided maybe driving to school each day wasn't so bad after all.
Overall it was a good workout.  Especially for Kenny.  :)
Addison went to a birthday party and brought home these glittered beauties she made.  I said "oh how beautiful!  I love them!"  But was thinking now what in the world am I supposed to do with those?  Gear up for glitter all over the house.
Heading to school.  Poses in front of the roses.
Kenny just loves it when I do this.  We're running late and he's trying to get the girls in the car and Kole has escaped out the front door in his pajama's and I say "let's just snap a quick picture, shall we?"
In my opinion, there's always time for a quick picture.  :)
We have a fun weekend ahead.  Our designer and cabinet guy (who are both from Utah) are traveling down to go over design and get all of the measurements for our cabinets and built-ins.  I'm so excited to have them at the new house!  We almost have things finalized for the kitchen and I can't wait to go over details again in the actual space.  Toss in a Halloween party, a quick trip to the Pumpkin Patch (that we were hoping the girls would forget about this year but no such luck), a program at church, gymnastics for the girls and speech for Kole and I'd say things are booked.  Plus I started an organizing project that is half way finished and all over the dining room table and it's driving me crazy.  Fingers crossed I can squeeze in a minute to finish it up.  Fingers crossed I'm still alive at the end of this weekend.  If I am I'll have lots to blog about.  :)
Enjoy your day!
xoxo, Erin