Garage organization! It has been on my mind lately. And I'll tell you why. My garage is a MESS. Seriously. It's driving me crazy right now. Aren't garages hard to keep clean? They are such a catch all for anything there isn't space for in the house. Whenever life gets busy, my garage is the first thing to go.
Plus, as you know, there is a certain little buddy of mine who has made it his mission to un-do everything I've done in this space. :)
As soon as I get a chance I need to spend a few hours cleaning things up again, but the main problem with my current garage is that I never completely organized it to begin with. We did a few things that help keep our garage in order…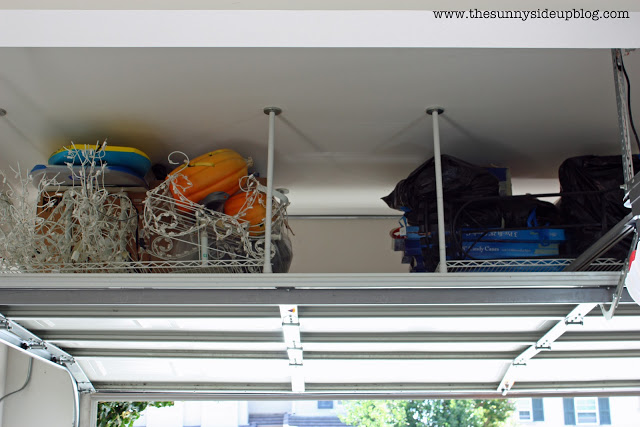 like adding some storage above the garage door,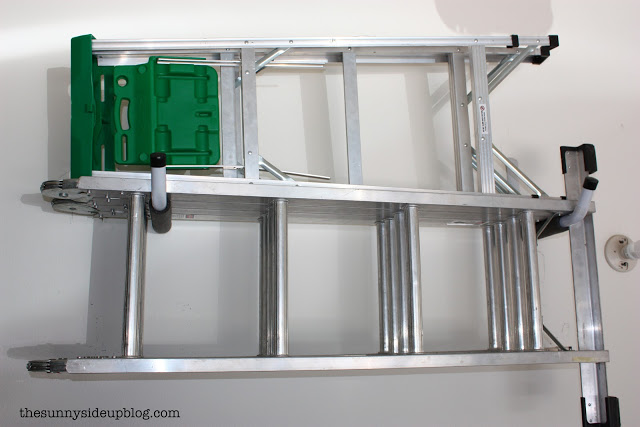 putting in hooks for our ladders,
hanging yard tools and coats on racks,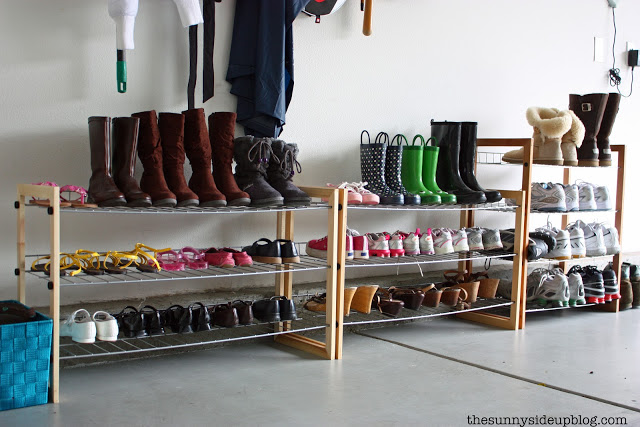 placing shoes on additional racks,
tossing flip flops in a designated basket,
The rest of the garage is a lot of storage sort of lined up along one wall. "Semi organized clutter" I like to call it. Boxes hold holiday decor but they aren't labeled. Kids' toys are tossed around randomly. There isn't a set place for a lot of the stuff we have along this wall. (I was going to take a picture of my garage mess today and then before I knew it, it was dark, but trust me – it's not pretty.) :)
"Semi organized clutter" is NOT going to happen in my next garage! Every time I'm at the new house I spend some time hanging out in the garages visioning how I'm going to organize everything. I can't wait! We are going to "lose" a lot of stuff in the move, let me tell you. It will be a great opportunity to simplify. If I wasn't moving, I would pick a day and completely re-do my current garage. There are so many effective ways to store garage items in an organized way. Here are a few of my favorite organized garages on Pinterest that have given me some great inspiration…
Simple shelving is a great way to display items often used. The bright colors of rain boots and baskets make the garage a much happier place.
Peg boards are perfect for organizing tools. I've seen so many fun peg boards on-line lately. Such an easy, in-expensive way to corral odds and ends.
Painting your peg board is a cheap and easy way to bring even more color to your garage space. Who says garages have to be dark? Love this idea.
I also love these simple storage shelves right by the back door with extras like paper towels. And how brilliant is the basket for balls!? Perfect idea if you have a house full of boys!
This picture shows how you can truly maximize your space by getting things up and off of the floor. I love the way everything is lined up! I'd be so happy to pull my car into that space every day.
Another fabulous way of hanging/storing everything vertically.
Love these long hooks for string and tape. I have things like this in a drawer in my current garage and I am always digging through it trying to find something I need. This solution is so much better!
A wall of hooks! Genius! So easy to find what you need.
Labeled baskets are another great garage option for keeping random odds and ends easy to locate.
These last two pictures made my heart skip a beat. Talk about organization! Every single thing has a place and a label. You sure wouldn't waste time hunting for what you need in these garages! I'm a big fan of clear containers because they allow you to easily see what's located inside. I'll take it! :)
xoxo, Erin